Best Freshwater Aquarium Sharks: If you are interested in sharks, you have probably wondered if you want one as a pet.
While keeping a real shark as a pet is nearly impossible, there are plenty of freshwater aquarium sharks that thrive in a home aquarium.
Technically speaking, these fish are not true sharks.
They are large, shark-like fish that normally belong to the catfish or carp family.
I mean, they look and often behave like sharks, and that's how they earned their name.
Interest in freshwater aquarium sharks has increased rapidly in recent years. People can't have enough!
It is great to have a shark no matter what type it is. These iconic fish have been an integral part of our relationship with water for hundreds of years.
If you see a freshwater shark swimming in your aquarium, it will never age.
So we did the following:
We have compiled a complete list of the best freshwater sharks you can keep in your aquarium. Some are big, some small, but all are amazing!
10 Types of Best Freshwater Aquarium Sharks
1. Bala Shark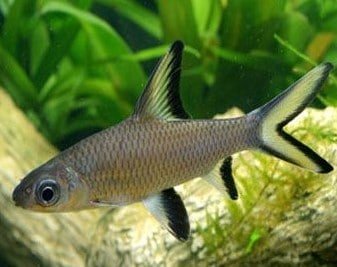 Young Bala sharks are only about 5 cm long, but don't be fooled by their small size. On average, they become about a foot long in adulthood, although they can reach up to 20 inches.
Balas need an aquarium that is at least 75 gallons in length and at least 4 feet in length so that they have enough space to stretch their fins. Balas, like most freshwater sharks, thrive in a large pool. So it's a good idea to buy the biggest one you can afford.
Taking care of them is pretty easy. They are not picky eaters, but they are omnivores and like a variety of foods.
A good thought about bala sharks is that they are not particularly aggressive, so you don't have to be too careful when choosing tank mates.
Just make sure that everything you choose is too big to fit in a Bala's mouth and not too aggressive.
2. Red Tail Shark
Red-tailed sharks look very characteristic. The slender black body and the bright red tail are particularly noticeable in a planted tank.
In fact, their preferred environment is an environment with lots of hiding places between plants, rocks, and driftwood, so a planted tank is the perfect place for them.
One thing to keep in mind is that these sharks don't like each other, so you can only have one in your aquarium.
Avoid other sharks and catfish, as well as fish with long fins. Red-tailed sharks are very territorial and can be very aggressive.
These sharks are not fussy about food, but like a variety of meat and plant foods. A flake-based pellet is fine, but if you add prawns a couple of times a week, your red tail stays very happy.
3. Columbian Shark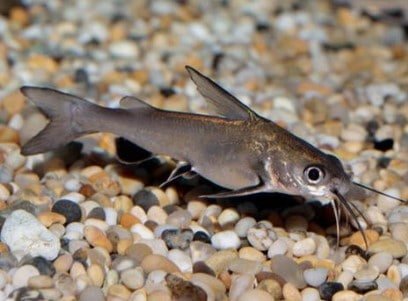 The Colombian shark is actually a big catfish and has the characteristic tall fins and long whiskers you expect.
You need an aquarium that is at least 75 gallons in size, and it must be configured to resemble your natural environment with lots of plants and stones.
Colombian sharks are not the easiest to hold and may not be ideal for beginners. They prefer brackish water and should switch to salty water in adulthood. Teenagers are approximately 3 inches long, but can reach 20 inches or more.
These fish are predators and eat anything in the tank that is small enough to fit in their mouths. They actually have toxic dorsal fins, so be very careful when servicing the tank.
4. Rainbow Shark
These creatures are sometimes called ruby ​​sharks or red fin sharks and give each freshwater tank a nice pop of color. Like the red-tailed shark, rainbow sharks also have a fiery red tail that stands out against a natural background. However, these fish also have bright red fins.
The fins are semi-transparent so you can see the sensitive rays. Each individual fin is red. Combine this color with the dark black tone of your body and you will have a very intimidating fish.
Rainbow sharks are generally not recommended for beginners. The reason for this is aggression. These are very territorial fish that are known to attack other creatures in the tank. It is an interesting behavioral trait that is not normally found in nature.
Despite their aggressive behavior, rainbow sharks can keep up with other fish. They are bottom dwellers, so you can support them with fish species that cling to the top of the water column. Assault is still possible, so you should always be careful.
5. Iridescent Shark
If you are looking for a giant shark, the ravishing shark is about 3 inches long as a cub, but can grow up to 50 inches.
To maintain a stunning shark, you need an aquarium with a capacity of at least 300 gallons.
In the right conditions, stunning sharks live with proper care for up to 20 years. It may be tempting to keep them in a smaller tank, but it is not a good idea. This pet is definitely an investment and not for everyone.
Although dazzling sharks are technically catfish, they are not bottom eaters. They are very active and need a lot of space to swim in the tank at different levels.
Iridescent sharks are very squishy, but they eat whatever fish are left in their mouths, and since they get so big, they can finally eat almost anything. If you really want tankmates, try spikes or tin foil spikes.
6. Silver Apollo Shark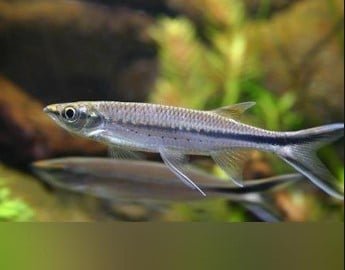 Silver Apollos are actually school fish that are quite passive and grow up to 6 inches in length.
Because they like company, they are best kept in groups of 5 or more people. They are fast swimmers and can even jump out of the tank. So make sure it's covered.
Although silver apollos are easy to feed and peaceful, keeping them can be difficult because they are very sensitive to changes in pH and even to the least amount of ammonia and nitrites in the water. They require a strong filter and 25% water changes every week.
These freshwater sharks are easy enough to live as long as their tankmates are not small enough to be eaten.
Although they are not aggressive, they are fast and live close to the surface, competing for food, and possibly preventing slower fish from eating enough.
7. Violet Blushing Shark

Unlike other freshwater aquarium sharks, the Violet Blushing Shark is quite passive. It does not show a territorial behavior as you would see it with other species. As a result, they do well in community tanks.
Still, you should avoid keeping these fish with smaller creatures that may consider them food. They are best suited for medium-sized fish.
Violet Blushing Sharks takes its name from its unique appearance. The fish are silvery white in color. You can see some glitter on their bodies, but only when they're under some strong lights.
The bodies are transparent so you can see the individual organs. The most striking feature of the shark body is the gills. The gills are visible through the body and make it look like the fish is turning red!
It is important that these fish have a well-maintained tank. You need stable temperatures between 68 and 78 degrees to stay healthy. Thats not all. The purple blush shark should also have plenty of room to swim.
The biggest mistake new aquarists make with this species is filling the tank with too many decorations. Plants, driftwood, and rocks are important for making fish comfortable. But that's a lot of open space for swimming! You must find the right balance to keep the purple blush shark in good shape.
8. Columbian Shark
Here's a species that can be challenging to maintain. The Colombian shark has some strict maintenance requirements. Unfortunately, there is a lot of misinformation out there.
Contrary to popular belief, these sharks are not freshwater sharks. As teens, they need brackish water to stay healthy. When setting up the aquarium, you need to add a little sea salt to make sure the specific gravity is between 1,005 and 1,010.
Colombian sharks also tend to be troublesome when kept with other fish. These are predatory creatures that hunt smaller species of fish. Therefore, you should avoid smaller passive fish.
Another way to prevent predatory behavior is to feed the fish well. The Colombian shark lives on a diet rich in protein with live and frozen food. They are also suitable for commercially available dry food and pellets. However, they prefer live food that they can hunt.
9. Black Shark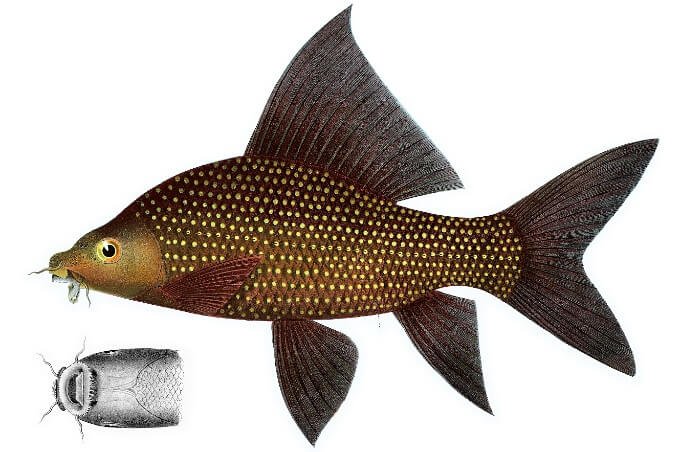 The black shark is a large species of fish with a semi-aggressive nature. Originally found throughout Malaysia, these fish are very popular due to their forbidden appearance.
The black shark is all black and has the familiar profile that many freshwater sharks share. This includes a massive dorsal fin. When the fish is swimming, the dorsal fin is usually relatively flat against its rounded body. However, it will also be high from time to time when the fish brags.
The black shark can become very aggressive and predatory. They should not be kept with small fish species. Most aquarists will host them along with other aggressive species that can handle the intimidating nature of the black shark. This includes some types of cichlids.
Interestingly, these fish do not need a diet based on pure protein. Some proteins are good, but they are omnivorous that eat almost everything. They have a penchant for plant-based foods. In fact, these fish are known to eat plants.
Therefore, the black shark is recommended for tanks that are scarce in the factory department. It is best to do this with plenty of open space for swimming. Many caves are also recommended so you can rest.
10. Roseline Shark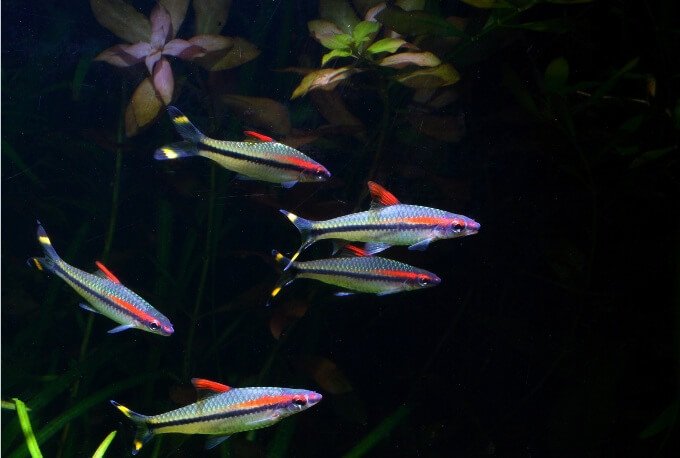 These eye-catching fish are absolutely stunning! The Roseline Shark comes in various bright colors that look great in a natural setting. You will see red, black and gold stripes. Green and yellow spots are also quite common.
Like all freshwater sharks, these fish have a pronounced dorsal fin. At Roseline Sharks, the dorsal fin is accented with a bright and fiery red stripe.
Roseline sharks belong to the beard family and are among the smallest freshwater aquarium sharks you can get. However, this can be a good thing when it comes to temperament.
For the most part, these sharks will not be a problem with aggression. They are quite peaceful and do not pay attention to other fish in the community. In groups of four to six people, the fish fair improves even more and shows a playful behavior.
Conclusion
With their large size and physical characteristics, freshwater sharks are an interesting pet for any aquarium enthusiast who wants to beat them.
Taking care of a freshwater shark isn't particularly difficult, but that doesn't mean it's right for everyone. These fish grow very large, 6 to 50 inches when fully grown.
They need large tanks that will give them the space they need to grow to their fullest potential.
Still, with the right tank and careful planning, you can create a beautiful home for your freshwater shark and a few tank mates that everyone will be talking about