Warning
: Undefined variable $td_img_id in
/home/u299318930/domains/aquariumhunter.com/public_html/wp-content/plugins/amalinkspro/public/class-amalinkspro-public.php
on line
3290
A reverse osmosis water system works to filter the water and remove any contaminants, so you get clean water.
RO / DI systems have an excellent reputation as an efficient way to filter water; New technological advancements have improved filtration capacity to the point of removing up to 99 percent of impurities.
comparison Table
Custom
SiteStripe Image
Title
Review
Buy

Top

Best Pick
AquaFX Barracuda RO/DI Aquarium Filter
4.4/5.0
Check Price
Top Performance
Aquatic Life RO Buddie Three Stage Reverse Osmosis
4.5/5.0
Check Price
cheapest
LiquaGen 5-Stage Reverse Osmosis/Deionization (RO/DI)
4.6/5.0
Check Price
Now you can get Best RO DI systems for reef tanks, sea water aquarium. You just have to make sure it is the best option for your aquarium model before purchasing it.
For those of us committed to reef maintenance, a reverse osmosis deionization (or RODI system) is essential for the successful maintenance of sensitive corals and corals. Many of us start with smaller tanks and buy RODI or fresh salt water from our local fish store. While this will work for a while, once you step into larger tanks, an RODI system is essential to success as it will require more water to replace the evaporated water in your display tank and will perform larger water changes. After a while, buying fresh salt water in an emergency becomes expensive and risky.
Today's post is about raising awareness and providing options that work for a reef keeper. I will discuss what's important to know when purchasing an RODI system and will review several RODI systems that work for aquariums. Let's start :).
What is the best RO / DI system for an aquarium

?
Reverse osmosis systems come in many different sizes, shapes and functions. You shouldn't buy all of them, just the one that works well for you.
It is important that you now learn the  Best RO DI systems for reef tanks.
The filtration process and the stages
Depending on the type of RO / DI water system, it can have 4 to 6 stages of filtration. During these stages, the water is purified to remove any contaminants and ensure it is clean for the fish in your tank.
These systems often have additional filters that remove odor and improve flavor, but one that ensures all debris is removed should be sufficient for use in an aquarium.
Brand and certifications
Choosing the right brand is crucial to ensure that you always get a quality model that will do very well in a variety of aquariums. You can have only one filtration system for freshwater and saltwater aquariums.
The best brands have a reputation they want to keep. This is why you are likely to find one brand with a better reputation than the others, and it is always better to select the best product from the best brands.
In addition to buying the best brand, make sure that the filter also has the correct certifications. The most common certifications are the FDA and NSF certificates. If your filter has both approvals, you can rest assured that you have the right product.
Installation and maintenance
Once you've picked and bought one, you'll need to install your reverse osmosis water system. Depending on the design, different filter systems can be difficult or easy to install. You can view different RO / DI systems to see which ones are easier to install.
Some manufacturers supply all the mounting hardware you need, while others have nothing in the box other than the product and the instructions.
It's not just about installation, but also about system maintenance. Ideally, you want it to be easy to install new parts if something breaks. If a model is designed so that parts can be easily replaced, it will be easier to perform the necessary maintenance on that water filtration system.
Usability
You should consider how easy or difficult it would be to use the reverse osmosis system of your choice. There is no need to buy a model that takes a long time to set up or operate.
The idea is to end with the best reverse osmosis system that comes with easy to use controls. These controls allow you to operate the system and create clean water for your aquarium.
Reviews
Reviews are the best place to learn about the best RO / DI systems for your aquarium, reef tanks. In their reviews, users explain what they liked and didn't like about the system. It is important to take the time to learn more about the RO / DI system based on reliable assessments.
Not all reviews are genuine, as some manufacturers pay reviewers to write positive reviews. Better to look for a reliable review site to read reviews.
The Best RO DI Systems For Saltwater Aquarium, Reef Tanks
RO/DI System for Aquarium Review

s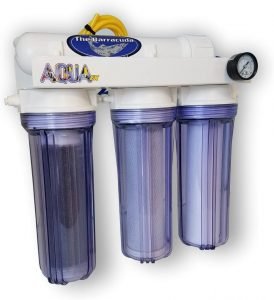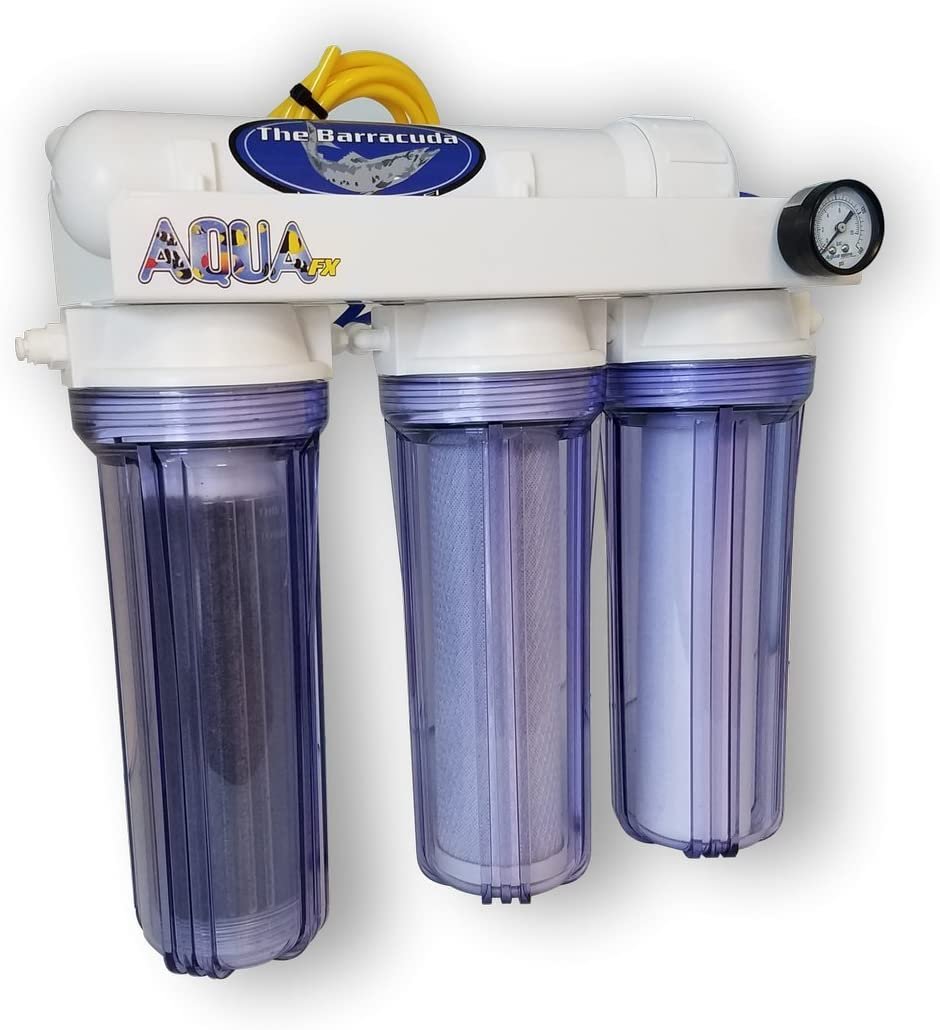 This model is the best you can get for your money. Many people have used it for both fresh and salt water aquariums. You may be thinking that it will cost you a lot, but you would be surprised as it is quite affordable.
It's not just about the attractive price, but also about the strong purification process that makes this model attractive to so many people. With quality filters in place, you can be sure that you will always deliver the best water in the end, with no impurities.
Pros
It has a faster outflow compared to other models.
It has a great debugging process.
Easy to set up
Cons
Appears to have a high water waste rate
Check Price On Amazon
---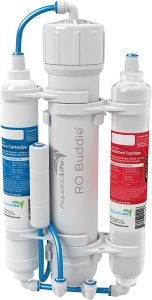 The manufacturer offers this model in two capacities: 50 gallons per day or 100 gallons per day. You just need to choose the one that suits you best.
The three stage filtration process comes with an RO cartridge, carbon and sediment filters. They work together to make sure you don't have to worry about metal ions or other types of contaminants.
The manufacturer is already known for producing the best aquarium products, so it's no surprise that this model is so good. With the addition of new water filtration technology, you should end up with the best reverse osmosis filtration system available.
Benefits
It's easy to install, even for someone new to the process.
Add additional filtration steps
Easy to maintain
It is compact in size for easy installation.
Cons
It is likely to leak if it is not properly adjusted
Check Price On Amazon
---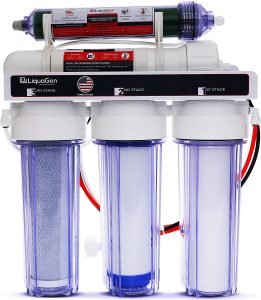 This product is designed to be ideal for multiple applications. The manufacturer claims it can be used in aquariums, labs, or anywhere else you need ultrapure water.
To facilitate installation by the user, it is pre-assembled by the manufacturer. You just need to connect it to your aquarium and turn it on.
The 5-stage filtration process must provide enough space to filter the various contaminants from the aquarium water. The quality of the water you get from this RO / DI system can also be used for cooking or even drinking. The high repellency membrane offers the opportunity to tackle common aquarium contaminants.
Benefits
It has a large capacity
Has multiple uses
The membrane has a high rejection percentage.
Cons
GPD often starts at low rates, but can improve over time.
Check Price On Amazon
---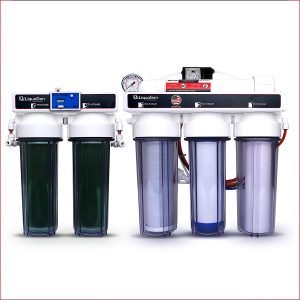 Those who want the best filtration system will appreciate the LiquaGen brand. It is ideal for saltwater, freshwater and reef tanks. You can also use it for other applications.
There is no need to rinse the membrane. Moreover, it is installed in just a few minutes. Hence, you don't need to hire a professional to do it for you.
This patented permeate pump can reduce your wastewater by up to 80 percent. You can also increase the water flow up to twice that. As if that wasn't enough, you don't have to use electricity to make it work.
People with low water pressure can still use this system. It automatically ensures that the current is kept at the correct level.
You will like the pressure gauge. It's easy to read. Immediately indicate when your filters need to be replaced and view the water pressure levels.
This of course means that you get the best performance from your water filter time after time. Those who care will appreciate that this product is made in the USA.
Benefits
BPA free
Long life filters
Leak-free connections
Cons
Difficult to read instructions
Check Price On Amazon
---
The LiquaGen Heavy-Duty Filtration System works well for a variety of things. They include laboratory tests, aquariums and drinking water.
This is a pre-assembled system, so it does not require much installation work. In fact, most people can set it up in just five minutes.
Includes a manual dump valve. Hence, it is a superior system design compared to other RO / DI options in the market. This can extend the life of your device, reduce leaks and save time.
While it is important to clean the system every few months, it is not difficult. The instructions explain everything so you don't get confused.
This product uses a high rejection reverse osmosis membrane. That means it can remove nitrosamines and other precursors. The product is also made in the USA.
You are going to find an application for this filter system. It works well in reef aquariums, as well as in freshwater and saltwater aquariums. With the deionization process you can make sure that there is no PPM in the water.
Benefits
Leak-proof accessories
BPA free
High octane performance
Cons
You should tighten the accessories regularly
Challenging to change filters
Check Price On Amazon
---
For those of you with larger tanks and more demanding tanks, the SpectraPure 5 Stage 180GPD MaxCap line offers the pinnacle of RODI filtration. This unit is equipped with two RO membranes with a failure rate of 99%. Those are two of the best membranes in the business. This 5-stage unit is also equipped with pressure gauges, dual TDS gauges and an improved DI resin.
The resin for this device is two-part. The first part is your Mega MaxCap DI and the last stage is the Enduro DI. Together they get DI resin that is 4 times the capacity of typical competitive mixed bed DI cartridges. This device works so efficiently that you get a 2: 1 waste rate that outperforms almost all RODI devices on this list that only produce a 3: 1 waste rate. This means that you also save quite a bit of water!
You would think a downside would be that this is not a 6 stage unit, but this RODI filter just doesn't need it because it works so well. The only downside to this is that you have to pay for performance as it is priced higher.
Benefits
The membrane!
4 times more effective than most DIs out there
180 GPD
Cons
Check Price On Amazon
---
The APEC Water Systems Ultimate RO-Hi system uses 3/8 â€pipes and fittings to move more water through the system.
RO can produce up to 90 liters of reef safe water per day. The Ultimate RO-Hi system uses five stages of filtration.
The polypropylene sediment filter removes rust particles that can clog the filter and damage the reverse osmosis membrane. Two compressed activated carbon filters with blocks remove chlorine, chloramine and organic chemicals.
The RO membrane made in the USA removes heavy metals, nitrates, phosphates and other contaminants that can damage reef aquariums.
The final filtration phase traps any trace of organic chemicals with a cartridge of coconut shell activated carbon. The kit comes with a water storage tank and a lead-free tap to dispense the purified water.
Benefits
The larger tube allows you to fill a bucket with water faster than with other ROs.
Makes water changes and refills for your reef tank faster.
Dual activated carbon cartridges to remove pesticides, chlorine and chloramine.
The high-quality reverse osmosis membrane removes up to 99% of salts, pollutants, nitrates and phosphates.
Replacement filters are available.
Lifelong product support.
Cons
It does not have a deionization pattern.
No relief valve to purge the system.
No pressure gauge to monitor maintenance requirements.
Check Price On Amazon
---
The manufacturers of the iSpring Reverse Osmosis Filtration System have gone to great lengths to ensure that the installation process is practically a walk in the park.
In addition to the usual manual, they also link you to various online videos that guide you step by step.
I also like that they are on standby with solid and tireless support to respond quickly to your questions while you install.
They will keep in touch as long as I have this product
The components of this RO DI unit are easy to assemble and, for example, the tubes are color-coded so you know where to place them.
With everything in place, you can expect pure, super clean water for your reef tank, although this RO DI system does not include a DI cartridge. The unit does a fantastic job of filtering compounds harmful to marine invertebrates and corals as the media used in the filtration process is of quality and divided into 5 consecutive stages. For this reason, the iSpring RCC7AK, while not a complete RO DI system, is one of the best water filtration units for a reef tank.
I have not used this particular unit but I have a friend who does and manages a very successful SPS reef tank. He is absolutely certain of the effectiveness of the iSpring and recently celebrated 3 years without any aquarium accidents.
As you may know, reef tank accidents are often a result of the build-up of contaminants in aquarium water and generally occur less than a year after the contamination has started to build up.
Regardless, a unique feature of the iSpring RCC7AK is the sixth unit, the Alkaline Remineralization Filter, which allows the water to recover essential minerals lost during filtration due to harmful compounds.
For this reason, filtered water is not only good for your fish and corals, but also for you.
You will enjoy the natural taste, thanks to this sixth phase, without which the water would be quite acidic.
Benefits:
Easy to install, once you understand the instructions or tutorials.
The water is super pure and undergoes 5 stages of reverse osmosis filtration.
Lifelong customer service.
It has a remineralization phase, which only introduces safe minerals (even for reefs).
Includes a nickel tap and a pressurized storage tank.
Durable components.
Cons:
The filtration process can be slow at 75 GPD, although this shouldn't bother you given the high quality of the water you end up getting for your reef tank.
Check Price On Amazon
---
So far, most of the filtration systems we've looked at are multi-functional, meaning they can also be used to produce drinking water, etc.
However, the Koolermax AR-122 is expressly designed as the ultimate water filtration system for refreshing seawater aquariums. It is able to filter water intensively thanks to its efficient 6-stage system, including 2 DI cartridges.
This model has replaced previous models with a lot of wastewater.
This makes the ratio almost in balance.
Judging by the high water production capacity of this 120 GPD RO DI system, it will be very suitable for large reef tanks.
Additional accessories included in the package include hoses, automatic shut-off valve, built-in filters and pressure gauge that allow you to easily check the operating pressure online.
If the pressure drops to 15 PSI, this is a warning that the filters are clogged and should be replaced as soon as possible.
It is important to remember that the inlet pressure must not exceed 80 PSI, in which case you must order a separate pressure regulator.
For greater efficiency, if the inlet pressure is below 40 PSI, manufacturers also recommend providing it with a booster pump.
The components are pre-assembled and this makes the installation process easy.
This RO DI filter system is built to last and also appears to consist of high quality components.
In addition, the company provides after-sales technical support.
With all of this, I think it is again one of the best units worth getting for the pristine water quality in a reef tank.
Be aware that there have been complaints that the instruction manuals are not sufficiently compressible and they could confuse a beginner.
Benefits:
It is durable due to its compact and robust design.
It has a pressure gauge and other extras that you normally don't get with many models of the same price.
There are no leakage problems.
1 year warranty and assembled in the USA.
Especially good for this, use chloramine instead of chlorine to disinfect tap water.
2 DI stages for total water purity and polishing.
Cons:
You can only use filters from the manufacturer (Koolermax), they are different from traditional ones. This limits your options when it comes time for a replacement.
The manual is quite complicated for beginners.
Works best with water sources that contain less than 300 TDS.
Check Price On Amazon
---
This product may be the last on this list, but it's not the least in terms of efficiency.
In fact, on this list, Home Master HydroPerfection is the best water purification system you can get for your reef tank, despite not being a full RO DI unit. It has 9 stages of water disinfection, including ultraviolet filtration, purification, and even sterilization. It is especially effective in removing excess iron from the water, which can be harmful to sensitive coral reef aquariums.
That said, this device is also great if your tap water is high in nitrates.
Wastewater is a problem with traditional RO DI systems anyway, but not when it comes to the Home Master, which reduces wastewater by 90 percent compared to others.
This is partly achieved by the permeate pump that is included in the system.
The good news is that the permeate pump does not require electricity to operate.
In addition, the flow rate is also faster, thanks to the fast flow RO kit and the larger tubes compared to traditional ones.
This means 50 percent more water flows into the tap, so that you get more water at the end of the day.
Basically, the ratio of filtered water to wastewater remains 1: 1, which is rare when it comes to cheaper RO DI filtration units.
If you are a DIY enthusiast, installing this is another fun project for you.
It is designed to be installed by you, the
reef tank
owner, not the plumber. You don't need any special skills, which I really appreciate in this advanced model.
To make the job more comfortable for you, the hose is color-coded, the instructions are clear and you get live support during installation. "Live support" here means that a customer service representative assigned to you will patiently answer your questions while you install.
Home Master not only has a modern design, but is also made of high-quality materials. It is largely BPA-free plastic and the container tank is made of stainless steel.
The filters also last a long time before you eventually replace them.
Replacing them is also made easy for you as you don't need any tools for it.
In terms of efficiency, nothing is left to chance.
The filtration process goes through 9 stages to remove 98% of contaminants including chlorine, sulfur, chloramines and fluoride.
The water is not only purified, it is also treated against pathogens.
If there are harmful microbes or viruses in the water you are about to place in your reef aquarium, Home Master is equipped with ultraviolet light to destroy them.
Unlike chlorine, this sterilization light will not affect the life of your fish and corals, nor will it leave any residue.
Unlike traditional RO DI filter systems, Home Master has replaceable canisters.
All filter cartridges will collect debris over time and if left unchanged, their effectiveness will gradually decrease.
This RO unit is a bit pricey but in my opinion it's worth every penny and I've seen some very serious reef keepers use it for water changes in their aquarium systems.
Benefits:
9 stages of water disinfection, resulting in ultrapure water that can be used safely in a reef aquarium with sensitive corals and invertebrates.
UV sterilizer also included.
It comes with a 5-year warranty, which is a guarantee that everything will be fine now and in the distant future.
Given the warranty, it is a fantastic long-term investment.
It is reliable and made from durable BPA-free plastic.
It comes with a water pressure tank to store the purified water.
Excellent for the removal of iron and high nitrate levels.
Its efficiency is unmatched as it even keeps wastewater 1: 1 purified.
Durability generally trumps warranty.
You can even replace the cans.
Cons:
It can be loud.
Relatively expensive.
Check Price On Amazon
---
conclusion
From the many options you have looked at above, you have probably learned several things about choosing the best reverse osmosis system. These systems can deliver the quality you really need if you make the right choice and buy the right model.
Comparing different models is always the best way to arrive at a system that offers the best performance. With the right RO / DI system you are ready to deal with all impure aquarium water.