Mystery snails (also known as Apple Snails) have become among the most famous pieces of a freshwater tank. Slow-moving peace-loving herbivores snails let you relax while they finish your chores for you. Any community tank of any type is a good home when dealing with this gastropod. In this article, we will talk about how to take care of these fun tiny snails. We'll also review reproduction, appearance, compatibility with other species, and more.
Detailed Mystery Snail care Guide: Care, Diet, and Use of Mystery Snail
Mysterious snails of the genus Pomaceae (commonly called Apple snails) are peaceful, herbivorous, slow-moving freshwater snails. They clean up leftover food and feed on algae from aquarium decorations, gravel, grass, and plants. Unfortunately, most Apple Snail species are pest species that a person should avoid; but as long as they are kept in an aquarium with the correct tank mates, nothing terrible can happen. Now let's talk about Mystery Snail care. Mystery Snails, or Apple Snails, is one of the most popular freshwater snails in the aquarium trade. These snails are unusual in appearance, with their large, colorful shells, large shiny bodies, and swaying tentacles. Snails are often available in many different colors. This makes them highly ornamental, especially for being part of the cleaning crew and eating food residues.
What do Mystery Snails Eat
Apple snails are freshwater aquarium snails generally available at pet shops. The Mystery Snail is usually brownish or olive-hued, but they may have different shell pains. Its head and body are light shades ranging from pink to grey. Orange accents also appear at the tip of the mouth; this color is also visible in its tentacles and siphon. The body color can also come in yellow, gold, brown-green, purple, and white. There may be orange dots appearing around the eyes. A mysterious snail also has an operculum that serves as a trapdoor to close.
Why are mystery snails called mystery snails?
Some people said that some of these snails could destroy the plants well, whereas some could clean the algae making the aquarists confused. Thus it was called just mystery snails. But there's no reason to believe how many snails species they were. It's an unknown fact. Some snails may destroy tanks, while some may clear algae away from the surface.
Size
Generally speaking, Mystery snail (Pomacea) size is about 4 inches in diameter. If the snail is not kept under adequate care, it could stop growing; it signals poor care. Some perfectly healthy snails will grow large, achieving up to 5 inches in diameter.
Handy tips on how to take care of mystery snails
Mystery snails like to eat green vegetables such as spinach or cucumbers. Some species, such as the golden mystery snail, also love consuming fish food like shrimp pellet. As far as the aquarium setting is concerned, it is comfortable in alkaline water.
Overview
Mystery snails are highly popular for their beautiful colors as well as their practical advantages. They help to clean out algae from glass, plants, and decorative items. They eat a few types of algae, and they help to keep your substrate clean. They breathe through their gills and a tube reaching from the front end of their bodies. They extended this tube above water and then moved to take air into there. These are freshwater snails, and their elastic properties make them appropriate for almost any freshwater aquarium. They are prevalent for planted and community tanks, and many people use them in large aquariums for waste management and algae control, where it rarely eats live plants, but love some blanched vegetables as a snack.
Summary of species
Mystery snail is a plant matter eater snail native to South America. The largest concentration is found in Peru, Paraguay, Brazil, and Bolivia. In the wild, mystery snails can be found searching for plant matter in various bodies of water like streams, swamps, or ponds being the most common. This species of snail can often become confused with some other species. Many people don't know about this type of snails, which are considered invasive species in some parts of the world—possibly the result of human-aided distribution and their natural adaptability. In the home aquarium they don't need a large tank size and are very good eater, eating all kinds of feeds and avoiding the live plants in the tank.
Color and appearance
Mysterious snails are available in several colors: golden brown, magenta, black and blue. Newborn snails are as tiny as rice grains. They grow slowly with age. Snails have gills and lungs that allow them to capture and use oxygen when they need it. When the oxygen in the water is low, the snail puts its siphon out of the water and begins to move them rapidly back and forth, sucking in air. Whenever threatened or disturbed, this snail retreats into its shell and closes its operculum. This seal offers ample protection against predators, completely sealing the hard shell.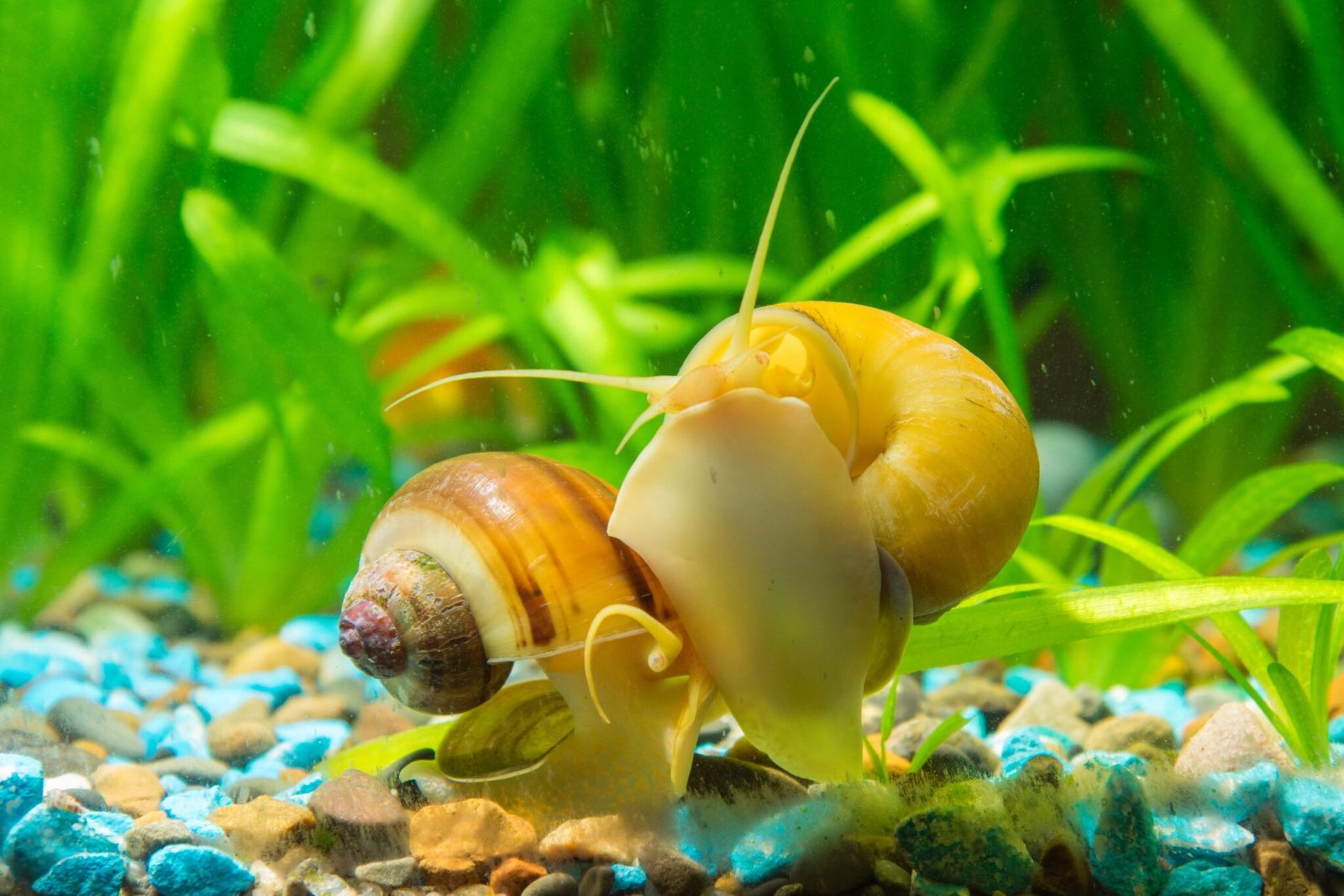 Taxonomy problems of mystery snails
Pomacea bridgesii (Reeve, 1856) and Pomacea diffusa (Blume, 1957) were considered the same species for very long. According to DNA analysis, today, scientists view them as separate species. Pomaceae bridgesii is a scarce species that is known to inhabit small ranges. Pomacea diffusa is much more common in the Amazon River System. The habit nearly every river. Therefore Pomace diffusa is more commonly found in aquarium shops. In terms of appearance, the most significant difference is the size.
Are our Mystery Snails suitable for aquariums?
Mystery snails are easy to keep because it doesn't make it very complicated to stay alive. They have few specific needs and don't require any special feeding, a Mystery Snail tank is very easy to keep. One of their best features is that you can quickly help clean up parts of plants and algae on the glass tank. Automatic cleaning is quicker and less costly. This reason has helped them become popular freshwater snails and is now used in aquariums worldwide today.
Typical freshwater snail appearance and behavior
Snails have a broad but muscular foot that uses their muscles. It can spin and retract back into its shells. These snails are not hermaphrodites, and both males and females are separated. They reproduce quickly in freshwater, laying their eggs on the outside of the pond, near the waterline. Snails are most active after sunset and can stay still during this period. Dead snails are suspended in their shells when moved and give off unpleasant odors. To know if a snail is alive, lightly touch the operculum if it retracts, then that snail is live.
Keeping Mystery Snails
Apple snail, by nature, are non-hostile and calm. They like an active and relaxing environment, good water quality and serene tankmates. A mystery snail can be very busy when the aquarium light is turned on and constantly travels around the aquarium on the hunt for food, exciting places to discover, or a quiet place to take a break from. More giant shells are not necessarily healthier snails. A mystery snail needs an large tank size to sustain its needs. On their own, they thrive in an established aquarium like one of the smaller aquariums and larger tanks.
Respiration of mystery snail
Both juveniles and adults use air and water breathing. Therefore, they can swim in waters that contain low levels of dissolved oxygen and tolerate some pollution. It extends its siphon above the water and inhales air moving back and forth. The siphon is used to capture air, while the gill is used to facilitate water exchanges. Some aquarists confuse the reproductive organs with the siphon. The siphon can be seen on the side of the snail's head, protruding outward. Your sex organs are much more inside that body, and you have to wait for it to move.
Habitat and tank conditions
Some species especially become a problem throughout the world. Natively live on rivers, waters, and ponds, where they feed on dead plants or decomposing vegetation. They often have the opportunity to graze in a bottomless pit on the river bedrock. They will only have to watch out for fish or any creatures that damage this tough shell. This can be anywhere, a big fish or other big bird in a waterhole. They will eat alive plants but only when another food source doesn't exist. The species is native to Paraguay, Brazil, and Bolivia, but their population has since begun spreading primarily as invasive.
Food & Diet
Mystery snails spend their energy slowly looking for sources of algae and vegetation. Algae wafers and sinking pellets or flakes can also aid their nutrition supplementing. It's vital that we have some algae or decaying organic matter on our plants and tank that your snails could feed on. Here are some food choices for your snails: algae chips, pellets, and veggie pellets. You really shouldn't rely on natural algae. Therefore it can affect the quality of your water and life in an aquarium. Feeding them some quality foods is a great choice as well.
Mystery Snail Diet
Mystery snails are naturally optimistic scavengers and not fussy over anything they eat. They will eat almost everything: dead fish, dead shrimp, dead or rotting plant matter, algae, and even more. These snails eat algae on aquarium glass and stones. This gives them the best food additions to algae. Add supplements such as flakes or feeding tablets to the diet, and it helps keep them healthy, enriching the diet. No matter what you feed them, they need enough calcium in the diet and their water.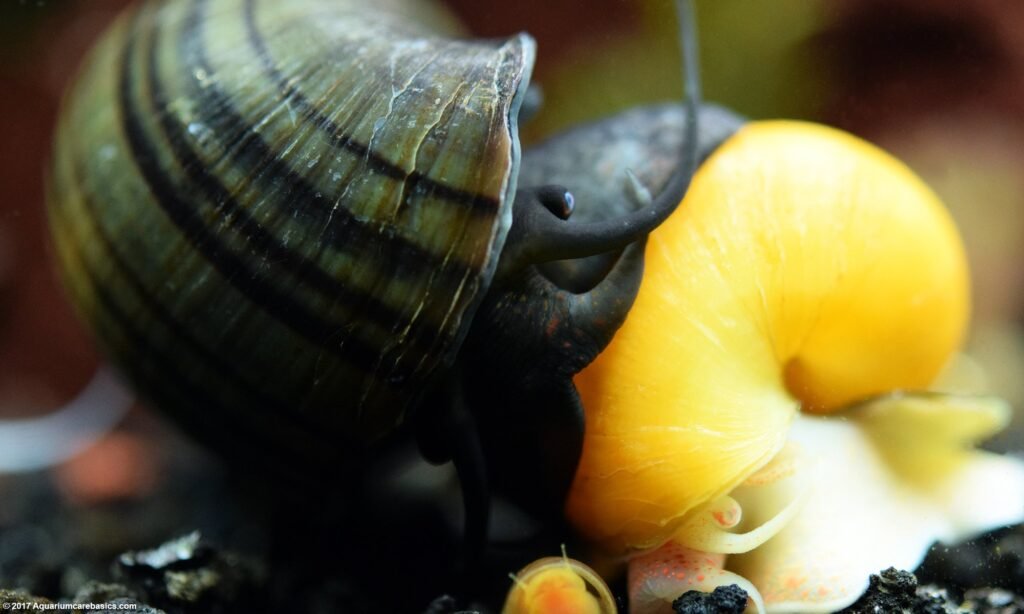 Feeding
Mystery snails are very active eaters in the aquarium, making them perfect for cleaning out aquariums of waste. They're entirely safe to keep with live plants as long as there's enough food for these snails. It makes good sense to give them fish food to deter them from eating live plants. Avoid all foods, pills, or plant fertilizers that contain copper. Copper could have a toxic effect on some invertebrates. Always check out every ingredient listing in the food aquarium to ensure it is copper-free; always check the ingredients list for anything entering your aquarium.
Diet and Plants
They feed on the dead and rotting plant in the aquarium. They can also graze off algae from surfaces like rocks or sand. Therefore, they prefer a medium to high plant cover. Plants will naturally shed with growth giving their snails perfect food on top of naturally growing algae. Supplements can also help maintain good health because they provide all of the nutrients they need. Remember not to overfeed as it could harm water quality and result in health troubles for your inhabitants. It is also known that herbivores love vegetables as long as they are washed and soft-blanched.
Snails and calcium
Some aquarists used cuttlefish bone in their water. Place it into a tank, and you might find it can sink a while later. Cuttlebone released calcium, and snails began to chew. Vegetables offered as feeding (like blanched spinach or cauliflower) must contain enough calcium. Also, you can easily break down some shells; to improve hardness, you can also use crushed coral. It would be best if you offered a diet high in calcium to the snail.
How much should I feed a mystery snail?
Mystery snails are snails that require a large number of nutrients. Feed it a few times daily. If they still have leftovers after 2 hours, you could feed them less food next time. Snails also have an inefficient digestive tract surrounded by tens of thousands of microbes and dozens of bacteria. Microorganisms stick to their feces, which get stuck with their slime, spreading to the water's surface. This partially digested food is highly excellent for shrimp. It is the most prominent reason snails can benefit shrimp tanks.
Reproduction
All the organs of these animals are hidden inside shells, making it difficult to recognize the differences between the sexes. The easiest way to know the exact match, if they are together, is to catch a couple during copulation. If you gently turn the mystery snail upside down, it will eventually emerge from its shell to try to right itself. When the animal stretches its body, look inside the shell opening. Rotating the shell a little, keeping the animal's right side a little higher than the left, usually helps. Pay attention to the upper region of the animal's right side, inside the mantle cavity. In males, the sheath of the penis can be seen, an elongated and clear muscular structure, with one end inserted close to the edge of the shell. In females, this region is empty; you can only see the cavity with the gills.
Mystery Snail Breeding
In the breeding process the female deposits masses of eggs above the water's surface and leaves them in a cocoon; in nature, this strategy ensures that your eggs are protected from attacks by animals or fish. Each clutch of eggs can contain between 50 and 200 eggs, depending on the size of the females. Development is direct, and juveniles hatch at a shell length of 2.4 mm. Newly implanted embryos are similar or smaller copies like adults. Newly hatched baby snails fall to the bottom of the pond, so the new life begins, and they eat the same food as their parents. Incubation can be extended over a week, depending on the temperature.
Mystery Snail Mating
There must be male and female snails available for reproduction to occur. The existence of visible sexual dimorphism was not observed. Copulation usually lasts 1 to 2 hours, and copulation usually continues after brief intervals, where the female crawls to feed while the male retracts into his shell. The pair can even be taken out of the water without interrupting copulation, thus showing that the male remains fully attached to the female throughout the mating period. Females can store sperm for months and lay eggs in the surface of the water, them turning to baby snails.
The behavior of mystery snail
Mysterious snails get stressed when attacked by aggressive fish, so they hide in their shell. During an escape, when one of them escapes out of the aquarium, you will see that they are shriveled in the shell and appear to be dead. Please don't throw it away; put it back in your tanks, and the snail will probably come back.
Behavior and Tankmates
Pomacea sp. is a peaceful species. They work well as tank mates for other fish and invertebrates in community tanks. The tentacles of a mysterious snail are extremely sensitive and look a lot like worms, so they are an ideal target for aggressive and gluttonous fish such as goldfish and cichlids. It would be best to keep all snails in hard water, as they will need them for life. They also spend a lot of time at the bottom of the tank. Betta fish can be a very nice tank mate for Mystery Snail.
Behavior & Temperament
The behavior and temperament of mystery snails are what you'd expect. They want freedom for themselves. They can't imagine what happens outside. Mystery snails do not depart from their primary role of searching for food. They're also relatively fast and can get around the aquarium incredibly quickly. It will be anything that stops them!
Mystery Snail and Tank Mates
Mysterious snails must be the only snail species in the aquarium. These snails do not cause stress to any other inhabitant of the aquarium. These species should not be kept with large, greedy, or aggressive fish. Keep the mysterious snail away from all kinds of crayfish (even the Mexican dwarf crayfish) and even some types of predatory shrimp-like Macrobrachium. It would be best to consider that some fish don't feed on snails and only eat pieces of tissue, such as eyes or tentacles. Be sure to detect this type of damage.
Common health issues
The disease of invertebrates has little significance. As long as habitats are sufficient and the food supply is good, they are tolerant of disorder.
Disease
There have been no commercial medicines for sick mollusks. Everything you can do is clean water without ammonia, nitrates, or chlorides. Try to avoid buying snails with damaged or split shells because it weakens your immune system and causes death. If your snail is still active but doesn't smell foul, then it is alive too. As long as you keep the aquarium clean and the water parameters stable, there will be no problems maintaining the animal. A sick snail might also float up a large tank for extended lengthening than usual when irritated or uneasy mystery snails excrete a mucous-like slime to protect vulnerable bodies from infection.
Tank Setup
A minimum capacity to keep this animal is a 10 gallons tank. A tank of 10 gallons gives your snail a good supply of stable water conditions and adequate water. HOB filters, canister filters, and sponge filters are good choices. PH is crucial for mystery snails. This species' shell can begin to wear down to develop pitting if they're being housed in water at too low a pH. These snails like to hide to some degree, ensuring their security.
Mystery snail and tank conditions
Mystery snails are mostly hardy by nature, but they avoid rapid changes in the aquatic environment. Pomacea bridgesii shows tolerance to salinity levels between 0-6.8 ppt, of which the chances of exposure survival are greater than 80% after three days of exposure. They can live in tanks of almost any size, although they are best kept in tanks starting at 10 gallons. Snails are susceptible to copper.
Wrapping up
We hope the guide has been helpful for those who like to have mysterious snails. From relentless algae eaters to their unusual appearance and mannerisms, there has never been anything boring about putting some of these in your tank. We hope this guide helps demonstrate the many benefits of having this creature in tanks.
Conclusion
Mystery snails (Pomacea bridgesii and Pomacea diffusa) have distinct colors and large sizes and eat dense algae or organic matter. These snails are pretty easy to keep as they don't have to be anything unique to keep them alive. They tend to starve to death if you don't provide the necessary food for them. Avoid purchasing snails with a broken shell; use the following common rule before buying snails to put in your tank. If you keep up with stable water parameters, you should have no problem keeping this snail.