Best Filter for Koi Pond: One of the most important parts of any pond is the filtration system. This is especially true when it comes to koi ponds because, as you may know, koi are notoriously messy fish.
Like fish kept in an indoor aquarium, koi need clean water with the proper chemistry to thrive. Since koi themselves have a huge effect on water quality, it's not always easy to keep things clean.
This is why getting the best filter for your koi pond is so important. Koi fish can be very complicated. This is why having a reliable filter is so important. By working to continuously clean the water in your pond, you help ensure that the chemistry remains balanced and a healthy environment remains.
Choosing the right filter for your koi pond can be a complicated process. To help you, I'll walk you through everything you need to know to find the perfect filter for your pond setup. Also, I'll go over five of the best koi pond filters on the market today to make it quick and painless to get a new filter in your pond.
Does a koi pond need a filter?
In a word, yes.
A koi pond absolutely needs a filter because, as we mentioned, koi are more than a little messy.
The filter works in conjunction with the pump to make sure the fish load and any debris entering the pond is taken care of.
Another thing to consider is that, in the right conditions, your koi will grow quite quickly.
Depending on how many koi you have, the bioburden increases exponentially year after year. Even if you managed without a filter for a short time, it won't be long until you need it.
Top 10 Best Filter System for Koi Pond
The right filter will keep your koi happy and healthy and your pond looking great. If you're looking for the right filter for your koi pond, you're in the right place.
Here are some of the best ones available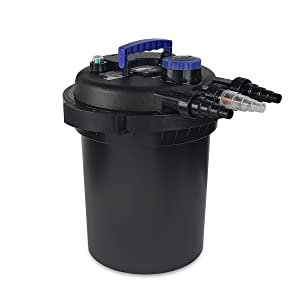 This XtremepowerUS filter is really powerful. At a rate of up to 10,000 liters per hour, it is suitable for koi ponds up to approximately 1,500 gallons. Includes 3 layers of sponges for a perfect environment for the growth of good bacterial colonies.
There are 3 different connections available: ¾ ", 1 ¼" and 1 ½ ". Also includes a 13 watt UV light to break up algae colonies so you don't have to worry about getting extra pieces. The 4.5 long power cord meters also simplifies installation.
This non-pressurized filter offers superior biological filtration for ponds with a large amount of koi.
The filter includes several biological media filters, each with a large amount of surface area. Furthermore, the filters are divided into several zones to facilitate the biological conversion of ammonia into nitrite and therefore into nitrate.
The filtration system is easy to clean thanks to an integrated cleaning indicator and sludge drain. To clean the filter, all you need to do is turn off the pump and pull the sludge drain handles.
The disadvantage of this filter is that, compared to other non-pressurized filtration systems, installation is not that easy due to inadequate instructions. Also, there is no UV filter built into this system to remove harmful bacteria.
The version with the most advanced technology of Oase BioSmart is the new range of BioTec filters from Oase. These sophisticated filtration systems provide some of the best biological and mechanical filtration for koi ponds on the market and their unique "screening" feature greatly reduces clogging and general maintenance.
Water entering the filter inlet goes through an initial screening process before it can enter the main chamber with a biological filter medium. Debris collected during the screening process is automatically deposited in a separate holding tray via a rotating conveyor in a 30 minute process cycle. This high-tech feature may seem like a novelty at first glance, but in reality it provides truly efficient mechanical filtration and prevents debris from entering the bio chamber, which can clog bacteria and reduce oxygen content. The screen system is a good width and would work very well for all pond sizes, depositing debris every 30 minutes and allowing the beneficial bacteria to work without interruption.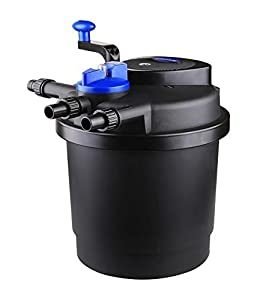 Next is this Grech filter. It is powerful enough for a koi pond up to 900 gallons and has a compact design that is easy to install and can be hidden on the edge of the pond.
It uses mechanical and biological filtration and modern UV technology to keep the water clean.
This filter has a simple cleaning system that does not require constant opening and foam cleaning, making maintenance quick and easy. It comes complete with inlet and outlet tubing adapters to make setup a little easier.
This small pressurized koi pond filter from Goplus offers excellent filtration for a wide variety of pond systems.
The inclusion of a 13-watt UV clarifier in this filter is a big plus, as it takes advantage of the slow flow of water to eliminate harmful bacteria and parasites. Cleaning is easy thanks to the simple design of the container housing, which unscrews and allows access to all internal components.
However, as with many pressurized filters, water oxygenation is an issue to consider. If your pond has a large amount of koi, it may be necessary to add activated carbon to the filter medium that comes standard with this system.
Although this pump is effective and economical, pay attention to the build quality. The filter housing appears to have manufacturing problems and many units are leaking one or more.
GoPlus customer service has been very poor in responding to problems with the filter system and the company makes no guarantees.
The best pressurized bead filter for high density koi fish ponds, providing excellent mechanical and biological filtration. Unlike classic pearl filters, this particular brand is not a true "pearl" filter, as it uses hollow halves of various sizes to avoid clumping, while a normal pearl filter uses a universal medium size type.
We like this unique soil because we believe it is much more effective at colonizing bacteria as it also helps keep them healthy by preventing the accumulation of debris on the soil's surface.
The main problems with pressurized filters in terms of biological filtration are twofold: 1) the oxygen content is lower in slow environments and 2) the beneficial bacteria will be discharged when using a classic "blower" backwash system. Ultima II attempts to solve these problems by modifying the way pressurized filters regulate water and clean themselves.
For example, this range of bead filters does not have a blower function, but instead uses a "blast" system that lifts and rotates the vehicle, effectively separating debris for easier removal through a line of debris. This system should keep most of the bacterial colonies intact, maintaining superior quality biofiltration during and after cleaning.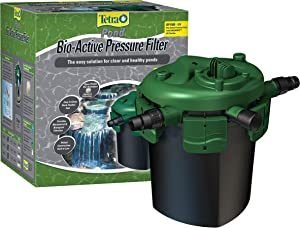 Another great option is this Tetra Pond filter. It comes with a UV clarifier to break up the algae so they can be removed by mechanical and biological filtration. Something different about this filter is that it uses bioactivators instead of foam.
Bioactivators trap debris and provide a large surface area for colonies of beneficial bacteria to grow. When the backwash function is used for cleaning, dirt and debris are quickly removed while the colonies of bacteria remain intact.
This is a great filter for ponds up to 1500 gallons and should be used with pumps running at 2500 gallons to get the right amount of pressure for proper filtering and backwash. Also, avoid pumps that exceed 4500 gallons per hour, as they could damage the filter.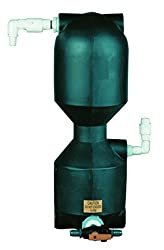 This AST pearl filter offers the easiest cleaning of any filtration system we've ever seen.
To clean it just a quick backwash; This is usually enough to reduce pressure build-up in the system without having to remove or replace any of the internal filters.
Fortunately, this backwash is gentle enough to avoid breaking the biofilm in the biological filter medium.
Like other bead filters, this unit specializes in mechanical filtration. AST claims that the unit can capture 100% of particles larger than 50 microns and half of all particles down to 5 microns, ensuring that the water remains clear.
However, keep in mind that this filter is not equipped with UV light to kill harmful bacteria.
The filter is available in sizes ranging from 300 to 20,000 gallons. While AST doesn't offer a guarantee, you can expect five-star customer service from the company.
The BioSmart OASE setup is really efficient. Use different zones to promote the effective growth of beneficial bacteria.
This would be a great option for a koi pond up to 1250 gallons, and the cleanliness indicator, temperature indicator, and sludge drain make it extremely easy to use.
Another big plus is the integrated cleaning mechanism. There is no need to manually remove or unblock the filter foams, so maintenance is really simple. Simply turn off the pump, lift the cleaning handles and let the dirt drain out.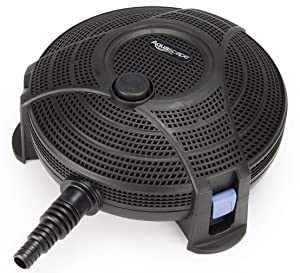 This Aquascape filter is fully submersible. It has a large surface area for maximum filtration, but uses small openings to prevent the filter from becoming clogged with larger pieces of dirt. It is compatible with most submersible pumps and includes a multi-hose fitting.
Another way it helps prevent clogging is with a prefiltration sponge that provides mechanical and biological filtration. This prevents harmful debris from entering the pump, reducing maintenance time.
That's not all, the ceramic rings used in this filter provide a large surface area for beneficial bacteria, helping to provide the levels of filtration needed for a koi pond. The removable cage also makes cleaning easier.
Which Koi Pond filter is better?
Ultimately, the best filter for your koi pond depends on your specific needs. However, the filtration systems we review offer advantages and disadvantages for many different types of ponds.
For example, the Aqua Ultraviolet Pearl filter is a good choice for aquarists who want a pearl filter that doesn't compromise biological filtration, but doesn't have a koi pond that exceeds the limits of a 6,000-gallon filter.
Bubble Bead and Oase BioTec Screenmatic Filters offer options for larger koi ponds and both come with simple cleaning mechanisms. Meanwhile, for aquarists on a tight budget, the Goplus pressurized filter system offers an economical solution for small koi fish ponds.
Overall, my top pick for the best koi pond filter would be the OASE BioSmart 10000.
What is the best Koi pond filter system?
Our pick for the best koi pond filtration system is the CNZ all-in-one pond filter system with UV sterilizer. We love that it's not just a filter with built-in UV light, but also a pump and water feature, all in the same durable package.
Another great thing is that there are 3 different filter baskets where you can easily add the filter media of your choice. This allows for a lot of customization so that you can tailor the filter specifically to the needs of your pond.
How to choose a Koi pond filter?
The first thing to consider when deciding on a koi pond filter is how much money you want to spend. You need to set a budget not only for the pond itself, but also specifically for the filtration system.
Every pond is different and the filtration system is the most important feature. There are ways to save money when setting up a koi pond, but the filter system is one area where you can't afford to cut corners.
If you have a small pond, you can usually get by with a simple all-in-one filter that acts like a fountain or waterfall. It pushes water through the filter quite effectively and is an attractive addition to your pond.
However, for larger ponds, it is a bit more complicated. Here are some things to consider when deciding on the best filtration system for your pond.
Calculate the volume
The first thing to do is find out how much filtration you need. This is based on the volume of your pond. It's easy to see why this is important – the more water you have in your pond, the more filtration it takes to keep it clean.
If you are using a hard plastic pond liner, it should tell you the exact volume. If you're creating your own shape, figuring out the exact volume can be a bit tricky, but getting a close estimate is easy enough. Use this formula: Length x Width x Height.
Check your pond size here
Factor in fish
Filtration is more than volume. Next, you must take into account the fish that you are going to put in your pond. If you are going to have koi, you have to quadruple the volume of the tank.
Why?
Because koi are dirty fish! They produce a lot of debris, so the filtration system needs to work 4 times harder than with an empty pond to keep it clean. On the contrary, if you had goldfish, you would only have to double the volume.
It is also worth noting that the result of this calculation is a minimum amount. You should choose a filter that is as close to this figure as possible. For example, if you have a 400 gallon tank and 200 and 500 gallon filters are available, the 500 gallon option is the best option.
What about UV filters?
In a pond filtration system, UV filters are responsible for making the algae easy to trap on filter sponges.
How they did it? Emitting ultraviolet light that forces the algae to clump together so that they are easier to catch as they flow through the filter.
Some filters have a built-in UV clarifier, others will require a separate piece to be placed in-line. Both are effective, but it is important to know that there is more than one type available.
Choosing a bomb
It is important that the filter and the pump are compatible. For the filtration system to work, the pump must have a flow rate that brings the correct amount of water to the filter.
Most pumps will clearly tell you how many gallons or liters per hour are running. A good rule of thumb is to match this to the volume of your tank. That means the entire pond will cycle every hour.
If you plan to place your pump on the surface of the pond, you will need one that is a little more powerful because it will have to pump the water out of the pond, working against gravity.
Getting the right filter size is important. Too weak and you won't be able to cycle enough water. Too strong and the filter box could overflow.
Think about electrical components
Remember that pumps have many electrical components and that electricity and water can be dangerous together. Make sure to place your pond in an area where cables and cords can be safely placed.
If you want to be more cautious, consider investing in a breaker box to have a dedicated spot to safely run your electronics.
How to set up a Koi pond filter system?
Creating a filter system is pretty straightforward. While you should follow your filer's manufacturer-specific instructions, there are a few basic steps they all have in common.
The first thing to do is to determine the layout of the pond, bearing in mind that you need to integrate the filter, pump and pipes into the layout.
Then, lay the necessary pipes to create a closed loop system, from the pump to the filter and back to the pond. Depending on the design, this can be very broad or very simple.
After you've laid the pipes, it's time to set up the electrical components. Each pump has its own requirements, but most run on standard 100-volt household power. Check pump details for wire size and switches.
Also, remember that any electrical cable used outdoors requires protection from the elements and must be routed through a conduit.
When the power is set, it's time to put the pump and filter in place and make the final connections. Turn on the pump and make sure it is working properly. If not, start troubleshooting by verifying that all connections are secure.
conclusion
Koi ponds are beautiful additions to any backyard, but because koi soil the water quickly, proper filtering is important for keeping the pond clean and the fish healthy. There are many great options available, regardless of the size of the pond.
If you have a small to medium sized pond, our choice is the CNZ all-in-one pond filter system with UV sterilizer because it is more than just a filter. In addition to having a built-in UV light, this product is also a bomb and can also be used to create water features.