Aquarium silicone is a sealant designed to repair small leaks, cracks and fish tank construction. Choosing the Best Aquarium Silicone is vital for your fish health and tank strength.
We've reviewed 11 different silicone sealants below to help you find the safest and most effective option for your aquarium needs. 
Comparison Table
Product prices and availability are accurate as of the date/time indicated and are subject to change. Any price and availability information displayed on [relevant Amazon Site(s), as applicable] at the time of purchase will apply to the purchase of this product.
Prices pulled from the Amazon Product Advertising API on:
The 11 Best Aquarium Silicone Products Reviewed
ASI's clear silicone sealant has been specifically formulated for aquariums, forming an airtight seal unaffected by being submerged in fresh or salt water. 
This sealant creates a bond strong enough that it doesn't need a primer. This material will not break or shrink and provides a long-lasting seal. It can also be used vertically without worrying about flowing or sagging while it cures.
It takes between 7 to 14 days to fully cure, after which it's non-toxic to fish. And heals clear so as not to detract from the appearance of the tank.
Since this product is 100% silicone, it is resistant to chemicals in the air and UV radiation, so it can really provide a long lasting effect. 
4.6/5 STARS
Benefits
Non-toxic
Non-slump
Formulated for fresh or salt water tanks
Value for money
Cons
Not for acrylic tanks
Leaves residue on hands
Takes 7 days to cure (dries in 24 hours)
Check Price On Amazon
---
The Aqueon Silicone Sealant is a 100% non-toxic silicone option. Application is simple and easy, and it creates a high resistance, permanent seal.
This sealant is formulated for both fresh and saltwater tanks, and is durable enough that there's little risk of cracking or shrinking over time.
The product cures clear and is a discreet option for fixing leaks or damages. However, it's also available in the color black for a different aquarium aesthetic. 
It is strong, permanently flexible and will last a long time. It's recommended to wait 24 to 48 hours between application and use.
4.6/5 STARS
Benefits
No cracking or shrinking
Easy to apply
100% non-toxic
Formulated for fresh or salt water tanks
Clear (also available in black)
Cons
Doesn't keep well
Strong smell until dry
Check Price On Amazon
---
The MOMENTIVE RTV Silicone is a high quality adhesive product specifically formulated to combat extreme temperatures. It's also suitable for various portable applications and caulking guns.
The sealant is non-toxic, not involving any poisonous dyes or content, and provides a solid bond with the glass in your tank, along with supporting the use of old silicones left in the aquarium. 
It's a clear sealer that's able to be used on verticals and overhead. Application is easy, quick and can be used anywhere on or in the tank.
This adhesive silicone sealant meets military standards and is USDA certified. 
4.6/5 STARS
Benefits
Good for vertical & overhead
Glues a range of materials
USDA certified
Value for money
Strong adhesion
Cons
Not specific for aquariums
---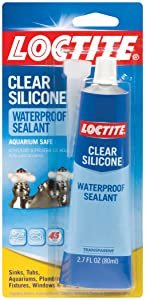 This Loctite Clear Silicone Waterproof Sealant can be applied on various surfaces, such as glass, ceramic, toys, appliances and aquariums. 
This product is made of transparent silicone, creating a waterproof and protective seal. It is safe for use with saltwater or freshwater aquariums and will not crack, peel, or shrink over time.
It's simple to apply and only takes 24 hours for the silicone to cure before your aquarium can be used again. 
4.5/5 STARS
Benefits
Aquarium safe
Glues various materials
No cracking or shrinking
100% silicone
Quick to cure
Cons
Some reviews say bottom of tube splits if squeezed hard
Check Price On Amazon
---
The ASI Aquarium Sealant is a relatively cheap black silicone option to help repair your aquarium. We find black silicone can hide algae much better than clear sealants can, helping maintain a clean and aesthetic tank.
ASI is a durable, fish safe choice for your aquarium. It withstands both saltwater and freshwater and won't slump or split as it cures.
This product only takes 24 hours to dry, however around 7 days to fully cure before you can use your tank again. 
4.6/5 STARS
Benefits
Non-toxic
Non-slump
Formulated for fresh and saltwater tanks
Value for money
Black
Cons
Not for acrylic tanks
Leaves residue on hands
Takes 7 days to cure (24 hours to dry)
Check Price On Amazon
---
This fish safe MarineLanf Silicone Squeeze Tube works exceptionally well compared to other clear silicones on the market. It provides a solid adhesion that dries immediately with an impressive grip, similar to rubber. 
However, it's worth noting that this silicone is not easy to apply and requires a bit of patience and practice to make it work the way you want it too. But with the right application, this product can provide one of the most effective seals.
We believe it's good value for the price. This silicone can be be used outside of aquarium repairs, on various materials. It's free of toxic substances and is safe for your fish and plant life. 
4.5/5 STARS
Benefits
100% clear silicone
Non-toxic to fish
Strong seal
Cons
Doesn't seal plastics
Strong smell until cured
Application takes practice
Check Price On Amazon
---
The Gorilla Clear 100 Percent Silicone Sealant Caulk is another of the best options on the market due to its ensured long-lasting performance. It's mold and mildew resistant and is also available in a large 10oz size, for various and multiple applications. 
This sealant is versatile enough to be used for applications such as bathrooms, kitchens, doors, and windows. It dries translucent clear to prevent discoloration or distracting repairs. 
It's 100% silicone and 100% waterproof. There's also no risk of seals breaking, shrinking or turning yellow, regardless of whether it's applied inside or outside. 
This product is not aquarium specific.
4.5/6 STARS
Benefits
100% silicone
Clear or white options
30 minutes water ready
Won't yellow, shrink or crack
Cons
Not aquarium specific
Poor packaging of product (parts damaged)
Check Price On Amazon
---
This 3M Marine Adhesive 5200 Sealant is a high strength formula versatile for a wide range of applications, including boats, kitchens and many surfaces. 
It's recommended as the best option for permanent sealing of gel coat, fiberglass or wood. Once hardened and cured, it provides a waterproof and elastic bond in and out of the water. 
It is a strong and flexible polyurethane polymer that can form a robust unit. One that is capable of retaining joints and seals during swelling, vibration, shock or contraction.
This product is not aquarium specific.
4.6/5 STARS
Benefits
Won't crack or peel
Flexible
Easy application
Black
Value for money
Cons
Takes 5-7 days to cure
Not aquarium specific
Poor packaging (damaged parts)
Some reviews say it doesn't cure properly
Check Price On Amazon
---
This Dap 00688 All-Purpose Adhesive Sealant is 100% clear silicone and is used for both building and repairing aquariums. Once applied, it takes 24 hours to completely cure.
Because it's aquarium specific, it contains toxic-free materials and is safe for your fresh and saltwater fish and plants once cured. It is completely waterproof, remains flexible and does not break or peel.
Like a lot of silicone products, the Dap sealant has strong fumes during application that should dissipate once it's dried and cured. 
4.6/5 STARS
Benefits
100% clear silicone
Stays flexible
Won't crack or shrink
Non-toxic to fish when cured
Good adhesion
Cons
Only one nozzel with product
Strong fumes during application
Not able to reseal glue after use
Check Price On Amazon
---
This aquarium grade GE 1200 Series Construction Silicone Sealant suits all types of tanks, including larger style aquariums of a hundred liters or more. 
The adhesive product is an affordable option, and cures quite quickly compared to other silicone sealants. The seal it provides is extra strong and efficient, and is specific to various aquatic environments. 
Similar to other sealants available today, this product has an unpleasant odor during application and comes with a sticky paste that could hold your hands together tightly, so wearing gloves when working is recommended to prevent this from happening. Once cured however, all fumes and stickiness are no longer an issue. 
4.6/5 STARS
Benefits
Quick curing
Aquarium grade
Very strong adhesion
Cons
Strong fumes during application
Check Price On Amazon
---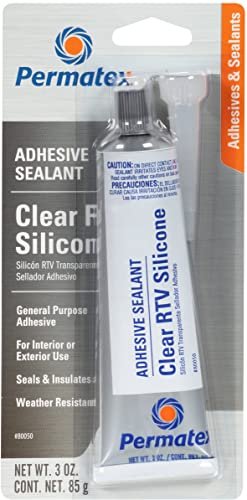 Permatex 80050 Clear RTV Silicone Adhesive Sealant is well-known for being flexible, durable and lending a long lasting seal. It's weather resistant and able to be used indoors and outdoors.
The silicone adhesive sealant is one of the most versatile choices in circulation because it can be used to repair and seal metal, plastic, vinyl and glass fabrics. It can also be used for vinyl tops and paint stripping. So whilst it can be used on aquariums, it's a worthwhile investment for door frames, roofs and trimmings as well.
4.6/5 STARS
Benefits
General purpose sealant
Bonds many materials
Flexible
Cons
Check Price On Amazon
---
How to Use Aquarium Silicone Sealant?
It's always a good idea to refer to each silicone aquarium sealant's specific instructions before attempting to apply it. Although it's true that they're all used in basically the same way, it's important to understand how long each sealant will take to fully cure. 
Don't use the aquarium before it is ready and cured otherwise the water may be adversely affected. These products are non-toxic and safe for your fish, but only after they have dried and had the right amount of setting time.
Silicone adhesive should be applied as soon as you recognise leaks or damages in your aquariums, to prevent any danger to your aquatic life. It can also be used to glue various decorations for tanks, plants and stones on the aquarium glass. 
A General Step-By-Step Method on How to Seal a Corner Leak with Silicone.
1. Completely empty the aquarium.
2. Use a razor blade to remove as much old silicone as you can. When applying the new silicone, you want it to come into contact with only the glass, so the bond can be stronger and more effective.
3. Clean the surface and brush with fine-grit sandpaper. This slightly stiffens the surface and forms a stronger grip.
4. Make sure everything is completely dry before continuing.
5. Use a silicone gun to apply a new layer of silicone inside the edges. Use duct tape or clamps to hold everything in place while it heals.
6. Smooth the silicone along the seams with your finger to remove any excess.
7. Allow the silicone to harden for the period of time recommended by the manufacturer.
This general method can be adapted for some different situations.
For example, if you notice that there is a chip causing a leak, it is not necessary to replace the entire seam. Drain the aquarium a few inches below the chip. Clean broken glass with gloved fingers, then use fine sandpaper. Insert the silicone into the chip with a small piece of glass of similar size. Cover with wax paper and use masking tape to hold it in place until the silicone hardens. Fill the tank back up and it's ready to go again.
Regardless of how you're using the silicone sealant however, remember to let it harden completely before putting it in the water.
How to Remove Aquarium Silicone from Glass?
The first and easiest method to remove silicone from the glass is to use a razor blade and simply scrape it. 
If you need to remove silicone from a larger area or if you are trying to remove it from the corner seam, we recommend using a heat gun or hairdryer to blow hot air along the seam. Hairdryers will work but might take slightly longer. 
Once the silicone is heated and more flexible, use a razor blade to scrape it. It is important not to heat it to the point it starts to melt. You just want it to be a little more flexible, so it's easier to remove. You can use a utility knife to split the corner if you're taking everything apart. After removing as much as you can, use a rough sponge to get rid of any excess silicone.
Frequently Asked Question About Best

Aquarium Silicone
What is the use of silicone sealant?
Silicones are an excellent sealant that can be used to repair cracks or leaks in your aquarium glass. They are waterproof, non-toxic, flexible and durable. You can also use them to repair other household items.
What kind of silicone is safe for aquariums?
100% silicone is completely safe for aquariums as long as there are no sneaky additives; if it's marked as pure silicone, it is safe. 
How to use silicone sealant on your aquarium?
Make sure you've read the instructional guidelines on the tube. It will help you know how long it will take for the silicone to set. Empty your aquarium completely. If you apply silicone sealant to broken glass, make sure it is clean. It should only come into contact with the crystal and nothing else. Don't rush it and give it plenty of time to dry and cure.
Video Guide About How to Choose Best Aquarium Silicone
Final Comments
Silicone is arguably the most effective and safest adhesive to use in an aquarium, due to its durability and lack of toxic substances that could harm your fish and plant life. We've reviewed the Best Aquarium Silicone options that'll create long-lasting seals to offset any damages and leakages in your tanks.
.