Warning
: Undefined variable $td_img_id in
/home/u299318930/domains/aquariumhunter.com/public_html/wp-content/plugins/amalinkspro/public/class-amalinkspro-public.php
on line
3290
Reef tanks and marine aquariums are some of the most fascinating microsections on Earth where we can observe these tiny fish and corals and other creatures at any time of the day or night.
Dirty your aquarium is nothing new, but you must take measures to ensure that the aquarium water is cleaned perfectly.
Comparison Table
Custom
SiteStripe Image
Title
Review
Buy

Top

Best Pick
AquaMaxx HOB-1.5 Hang On Back Protein Skimmer
4.4/5.0
Check Price
Top Performance
Reef Octopus Classic 100 HOB Protein Skimmer
4.5/5.0
Check Price
cheapest
Coralife Super Skimmer With Pump
3.9/5.0
Check Price
Anyone who owns a reef aquarium knows that a protein skimmer is important for maintaining good water quality. No serious reef keeper would be without a protein skimmer.
But what if you don't have a container or space under your tank for a protein skimmer? The good news is that there are Hang On Back (HOB) protein skimmers that are easy to install and don't require a collection tray or can be placed underneath the aquarium.
Due to the dissolving of organic compounds in the water, it is difficult to clean the aquarium water. If it stays dirty for too long, it will be more of a problem for the inhabitants of your aquarium.
It is the reason why you should now buy the best HOB protein skimmer to remove organic matter. These machines use air bubbles to ensure that you get cleaner aquarium water every time.
The bright colors, fascinating shapes and unique creatures that make up our saltwater fish tanks are unlike any other type of aquarium.
And in order for our seawater aquariums to thrive, we need special equipment.
Familiar things like filters and water pumps are needed, but some lesser known things like protein skimmers are also necessary for a truly healthy and happy marine aquarium.
Top 7 Best Hang On Back Protein Skimmers For Aquariums
Today there are many hanging protein skimmers, but not all of them will help you get rid of dissolved organic compounds. It's the reason why you need to find the best HOB protein skimmer for your aquarium.
Think about things like the type of aquarium you own, the capacity of the skimmer, the settings, the brand and the maintenance process. Consider choosing a model that will keep you having fun by keeping the aquarium water clean. There is no need to have a model that offers long-term performance.
Best HOB Protein Skimmer Reviews
This model is often considered a superior model due to its powerful submersible pump and sensitive collection cup. These are two important features that you may always want to consider when you want to have the best protein skimmer.
For this model, it comes with a 90 gallon capacity, making it ideal for a variety of aquariums that humans may have. It is also designed to be thin and light so you can easily fit it into a small aquarium without worrying about it being too heavy.
The model is precisely designed by the computer so that it can deliver the performance in terms of performance. You will always enjoy the kind of performance you get from such a model. It ensures that the quality of the water always remains at its best.
There is also the maintenance problem for most people who own protein skimmers. That shouldn't be a problem if you have this model as it is made to be easy to clean.
The compact design is another great feature you will love. The manufacturer designed this model from the beginning for aquarium enthusiasts. They are always looking for a model that works really well to their advantage and that's it. Even if it can take up less space, it is also designed to reduce noise and make the model run as efficiently as possible.
The ease of use would make you want to use it even more. The installation process is simple for your protein skimmer. In a few minutes you should be easily done with the model and it will run successfully.
Benefits
It's easy to use
Has a compact design
Has great performance
It is easy to manipulate
Cons
Check Price On Amazon
---
This is another popular type of rear-end protein skimmer you can get in the market today. If you go through multiple reviews of the same model, you will easily realize that the model has received positive reviews all over. This is because the model is efficient when it comes to a protein skimmer.
Starting with the design, the manufacturer has saved it space. This is due to the cylindrical shape that comes with the model. Keeping the design to a minimum should make it easier to use in many cases.
It only takes a few minutes to assemble this model. You shouldn't have a problem with the installation process as it is very simple. The model is designed to filter many aquariums up to a capacity of 105 liters. You should find a model ideal for various home aquariums that most people own today.
The Aquatrance 1000 pump is impressive when it comes to performance. It will continue to work very well so that you can enjoy the model for longer.
Benefits
High filter capacity
Unique design
Save space
Excellent work for the pump
Cons
Check Price On Amazon
---
Walk into a house with a reef or saltwater aquarium and you will likely find a skimmer in the house. Most people like that they have the best performance when it comes to removing organic compounds in aquarium water. It is the same that you will enjoy using this model.
The model comes with a high-quality foam fractionator. This is important to ensure that you don't have to worry about the production of bubbles that are important to the operation of the filtration process. The pump is also designed to conserve energy so you don't have to worry about increasing your energy bill.
The best part should be the filter capacity. It is designed to be available for different aquariums, in terms of capacity ranging from 65 liters to 220 liters. The model allows you to mount it on the crankcase or hang it on the mounting bracket.
Benefits
Strong needle wheel drive
Great bubble production
Simple installation
Impressive capacity
Cons
Check Price On Amazon
---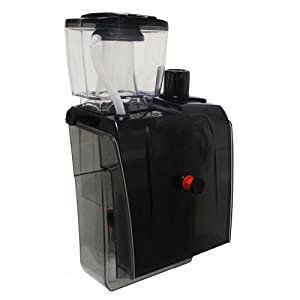 The model may be small, but it will always deliver the right amount of power you need to meet the filtering needs of your aquarium. The small size is great when it comes to hanging it on your nano tank easily and conveniently. Many people would feel comfortable having this model in their home to aid in the filtration process.
The model can skim tanks up to a capacity of 25 gallons. Since it is made for nano tanks, it should be enough to handle such work.
The pump is ideal for providing the correct amount of water filtration you need for your aquarium. In addition, it is a quiet model that you can get today.
You should be aware that the model will be easy in terms of the installation part as you simply hang it on the back of the aquarium.
Benefits
It is easy to install
Powerful for its size
It is an affordable model
Faster operation
Cons
Low capacity when it comes to filtration.
Check Price On Amazon
---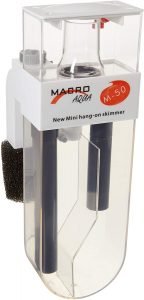 For the smallest protein skimmer worth investing in, look for the Macro Aqua M-50 plate.
This tiny suction cup is designed for use in aquariums up to 60 gallons in size, with a water flow of 238 GPH, making it a pretty powerful option for your small saltwater tank.
Here's the breakdown:
Dimensions: 12.6 x 5.5 x 5 inches
Tank size: up to 60 liters
Additional Features: Works as a COOKING PLATE or a protein skimmer for added versatility
If you're ready to use your protein skimmer right away, this no-prep protein skimmer is a great Macro Aqua option. You will find it effectively removes unsightly organic waste from fish and overfeeding, with an easy-to-remove catch pan for easy cleaning and maintenance.
This HOB protein skimmer is super small and fairly quiet so non-intrusive and ideal for use in smaller, tight spaces where big, noisy things can be a big hassle. It uses a needle-to-wheel impeller to drive the air-water contact and is made of very high quality material so it won't break easily.
It's actually quite small and incredibly easy to set up and use. Just snap it in and plug it in and let it do all the work.
Check Price On Amazon
---
For the quietest and smallest HOB protein skimmer, look no further than the Coral Vue Technology BH-1000 Octopus.
It has excellent performance ratings from professionals and hobbyists alike, and it comes in a fairly small size that won't affect your aquarium's internal aesthetics.
Here's the breakdown:
Dimensions: 19.3 x 10.6 x 9.4 inches
Tank size: up to 100 liters
Additional features: comes with external pump for filtration system
The Coral Vue Octopus is very easy to install, clean and generally maintain, making it ideal for long-time professionals and beginners alike. It doesn't add heat to the aquarium, unlike many other models, and it just works well at a steady pace over the long run.
It is easily adjustable to meet your power needs and runs quietly in the background while providing excellent cleaning performance. It really is an obvious choice for anyone looking for a high quality two-in-one skimmer and filter pump system.
Check Price On Amazon
---
Instant Ocean SeaClone Protein Skimmer is our top recommendation for an inexpensive model that anyone can use in their aquariums up to 150 liters.
It is simple to install, easy to use and clean, and powerful enough to keep your medium sized aquarium clean and healthy.
Here's the breakdown:
Dimensions: 18.5 x 6.2 x 4.5 inches (smallest model)
Tank size: 100 or 150 liters
Additional features: works in crankcase or COOKING PLATE skimmer
Instant Ocean SeaClone is an efficient machine that removes organic compounds from the aquarium quickly and efficiently. It uses a Turbo-Venturi injector system designed exclusively for the company.
The system mixes filtered water and air in the pump impeller chamber to create a swirling micro-bubble foam in the vortex reaction chamber.
The tornado effect provides the powerful skimming action that cleans and keeps your aquarium that way. This effect also provides increased gas exchange for the health of your aquarium life.
It works as a HOB protein skimmer or in the sump, which is great for versatility and is small enough not to alter the aesthetics of your aquarium.
Check Price On Amazon
---
What is the Best HOB Protein Skimmer?
The CaralVue Technology BH-1000 Octopus appears to be a superior model from the above list. The model is impressive in so many features that would please anyone with a tank.
The top pump is important to ensure that the model continues to deliver the best performance time after time. Moreover, it is made of the important high quality acrylic material to keep your model looking strong and working longer.
How to Set Up a HOB Protein Skimmer?
The first thing to always do is familiarize yourself with the components of the included HOB protein skimmer. Usually, the manufacturer will send you all the accessories you need for the installation of the protein skimmer.
You will also receive a manual with the instructions and sometimes the schematics for assembling and installing that particular model of skimmer.
When assembly is complete, you can proceed to hang the model from the back of the tank using the mounting bracket. Make sure gaskets are tight so there is no water leakage.
How to Tune a HOB Protein Skimmer?
Most skimmers would be different in operation and would require different types of settings to work effectively. It's about adjusting the protein skimmer.
You can also try modifying your model according to the manufacturer's instructions. You usually have to wait up to 3 weeks before you can adjust the dials to find the optimal setting for your skimmer.
Conclusion
There are multiple models when it comes to the best HOB protein skimmers. This is common in every product category, but not all of them would be great. That's why we've highlighted some of the best models available on the market right now.
Choosing between these models gives you the assurance that you are getting the best models of all time. You need to get the right model that always performs and keeps the aquarium water clean at all times.