[Quick Signs] How to Tell if a Molly Fish is Pregnant?: A pregnant molly fish develops swollen stomach and black spots near the center of her abdomen. In some circumstances, it may begin to get aggressive and eat more. Near the laboring stage, Mollies tend to hide away and stop eating. Before your fish get pregnant, there are several essential things to consider, like know what you can do to protect her fry. Here we provide a detailed guide about the How to Tell if a Molly Fish is Pregnant?
Should I separate pregnant Molly?
It is best to take the pregnant molly fish from the main tank and isolate it in another well-maintained, mature aquarium during birth. Some people have used the fish breeding box to separate the fry from other animals, but they remain in the same aquarium. You don't have to purchase a separate tank filter and heater by this method, but it may be very stressful for mom. After some time, it's possible to place your baby molly fish in the main aquarium.
How does Molly fish breed?
Molly fish are livebearers, and instead of laying eggs, they produce live fish. A female molly retains fertilized eggs to hatch within her body and only releases them into the tank after it hatches. Incubation time differs for molly species but is around 40 to 60 days on average. This difference also occurs in the production of chicks, where Sailfin Molly can give birth to up to 50 baby molly fish, while Giant Sailfin up to 200 and Black around 120 fry. Adult Mollies will eat the fry. Male Mollies stress the females by their ongoing efforts at pursuit.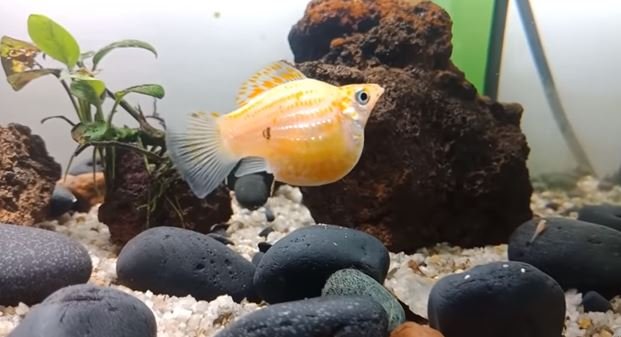 How do I identify a pregnant molly fish?
A few days before birth, she develops a swelling underneath the genital pore, making her shape relatively square and the surface of the gravid spot enlarged.
How do I tell if my Molly Fish is pregnant?
Mollies are livebearers. You will notice behavioral changes as the Molly keeps clear of other fish in water and moves slowly. Those changes are a vital sign if you see a dark triangular spot near the anal vent or a protruding belly.
Spotting the condition and the "Gravid Spot."
The 'gravid spot' is a dark spot near the base of the anal fin caused by the stretching of the peritoneal walls. It is also identical to a womb, but the egg is not attached to the mother's body, unlike mammals. Each egg is fully equipped to produce nutrients provided by the mother on which the embryos can thrive. The relationship between mother and fry it's been a study topic for a long time.
How long are Molly fish pregnant?
Mollies are livebearers like guppies as they are the same genus but different species. They can keep their babies for about 6-10 weeks. Sometimes, it is better to leave the new mother alone in a separate tank for exceptional care and safety. During pregnancy, you can check the proper development of the fry through the female gravid spot.
Is Molly Fish about to become pregnant?
You may initially find it intimidating to breed these animals but don't worry; it's effortless and rewarding. This article can provide a quick and easy guide on looking at the signs of molly pregnancy.
How long does it take for a girl to give birth?
Molly fish will likely have a gestation period of between 6 and 10 weeks. Female mollies usually mature at 3 to 4 months. They get the first pregnancy and continue the cycle repeated; they can give birth to hundreds of fry throughout their entire life. In some cases, a gestation period has lasted more than ten weeks.
Molly Fish and the fry
After several weeks of pregnancy, a female molly can give birth to something between 20 to 60 fry. Unfortunately, like nature's rules, Molly fries are prey to other fish or even their parents, and not all molly fry will grow into adults. Mollies are also easy to raise, keep in their tanks, and easy to care for. Here is all the information you need to know from Mollie on its previous posts. Read more about keeping pet fish on this site.
How do mollies fish act before giving birth?
Your molly fish will give you indications it is trying to give birth. You'll know about this attitude as they try to be comfortably on the tank. They will try to be isolated and settle down in a peaceful and cooler water area. You'll notice she doesn't care about swimming. Female Molly can display aggressiveness right before birth. Your mollies should continue to show some signs even until the last minute.
The eyes of the fry and signs of imminent birth
As eggs are incubated, their eyes are sometimes visible at the thin walls of the gravid spot. To support the development of the egg, the maternal body enlarges, growing deeper and broader. The following day after birth, the female Molly develops a slight bulge in the underside of the gills, which has become square for him in this area.
The birth process of new fry
At birth, the fry sinks a few inches under the water but quickly straightens out and hides to a cover, like the vegetation. If they don't appear right away, they sink beneath rocks, driftwood, ornaments, or even the substrate; and take refuge on it. They sit motionlessly and slowly start the life out of the mother.
Molly Fish Babies
Since Mollies carry live eggs, they do not lay eggs but rather release the live baby into the water. Unfortunately, the babies aren't given parental care and are as likely to be eaten by the parents as the other fish in the aquarium. A breeding box will assist you with keeping your molly fry fish once the mother gives birth to them. Once the fry is released, they automatically fall into a different compartment away from the mother, where you can hold them until you catch and bring the adult fish into the main tank. Make sure to offer small pieces of food that fry may eat. Once they've grown enough and can cope with themselves, you can move them to the mains display.
Do Mollies eat their babies?
As with all of the fishes, cannibal behavior is standard. Mollies who give birth don't take care of their babies and can even eat them. Small fry fish are usually fragile, making them vulnerable to the attacks of any predator. You may need to remove fries and keep them at another tank for safety reasons; you must take care of them separately for their wellness. Because the fries are weaker and smaller than other fish, they are suitable as fish meals. It may be necessary to protect your small fish from predation.
How do I save Molly Fry?
If you want to keep the fry in the same aquarium as the parents, increase the number of hiding places, and leave an area (if possible the entire tank) densely planted, a few babies molly will be leftover. In the case of putting them in a separate aquarium, set up a tank with everything the fry needs; anticipate the birth and get the aquarium already cycling to receive the offspring is a great idea; to do this, you must install some equipment and follow some basic steps known to any aquarists.
Feeding the fry
After the fry is born, most will feed on commercial fish flakes, just like their mother. You can also make some preparations to feed your molly fry as soon as they birth; homemade rations generally degrade the water a lot; when offering this type of food, perform a partial water change soon after feeding.
How do I feed molly baby fish?
Once the female has given birth, remove the fry and bring them to a new aquarium. You should feed the fry quality food such as baby brine shrimp, baby fish meal, quality flake, or pellet ground into a fine powder—feeding in small quantity and high frequency.
Molly fish eat anything.
The young born babies are tiny about the size of pellet food, and molly female can eat their babies after they've given birth; that's why we keep them in a separate tank. Mollies fish are greedy, eating almost anything that fits inside their mouths. Breeding a fish provide an immersion in aquarium keeping hobby and provides a fantastic learning experience for young and older persons.
Tell me the best way to feed a baby Molly fish?
Your baby molly needs an abundance of good quality food to grow to adulthood. Crushed fish flakes will give your baby a healthy source of nutrition. You can also feed it baby brine shrimp. Crush some fish flakes until a perfect texture so the fry can swallow them. If you properly feed your baby fry, they shall be mature in some months. You'll be capable of adding them to the larger tank. They can also be free and protected from attacks by other fish.
How long do I need to separate my baby mollies?
You have to remove baby Mollies from the main aquarium before they sink into the jaws of other fish. You can keep fish in different tanks anywhere from four to six weeks. After eight weeks of age, a fish will fit in an adult tank. The keeper must make sure that your fish are appropriately sized before releasing them in the main aquarium.
Conclusion
The easiest way to see if Molly is pregnant is by paying attention to the gravid spot. The fish will also display other signs of pregnancy. If you want to breed Mollies fish, then there are things that you should keep in mind. It was all easy to accomplish, and the best results were obtained, separating the mother and the fry in another tank later. You get all you want to know reading this guide How to Tell if a Molly Fish is Pregnant?. It would be best if you did some research before begin to breed fish.