Warning
: Undefined variable $td_img_id in
/home/u299318930/domains/aquariumhunter.com/public_html/wp-content/plugins/amalinkspro/public/class-amalinkspro-public.php
on line
3290
If your aquarium filter cannot keep up with your aquarium, you have probably tried several solutions. But believe it or not, flushing or replacing the filter media can hurt more than it can help. It can be difficult to recover from disrupted colonies of beneficial bacteria.
A media reactor (also called a phosphate reactor) is an advanced type of chemical filtration method, which you can use for both freshwater and saltwater tanks. They are generally cylindrical in design and you can fit any filter media you like before submerging it in the water. Your pump then allows the water in the tank to flow through the pipe so that the water is properly filtered.
Comparison Table
Custom
SiteStripe Image
Title
Review
Buy

Top

Best Pick
Two Little Fishies Phosban Filter Media Reactor
4.7/5.0
Check Price
Top Performance
AquaMaxx Fr-Se GFO Carbon And Biopellet Hang-On Filter Media Reactor
4.5/5.0
Check Price
cheapest
Innovative Marine Minimax Pro Series Media Reactor
4.4/5.0
Check Price
One way to combat this is to use the best aquarium medium reactor, a tubular configuration that uses upflow for effective and efficient filtration. A media reactor may be just the boost your aquarium needs to get back on track.
They can remove valuable bacterial deposits and you will not be able to restart after such an error. Therefore, one way to deal with this is to use the best aquarium media reactors, a tube-like structure known to perform efficient filtration.
Top 8Â  Best Media Reactors for Your Aquarium
Best Aquarium Media Reactor Reviews
This reactor from Two Little Fishies is an efficient way to use PhosBan or any other chemical filtration media.
Water gets pushed up from the bottom and through the dispersion plate and evenly forces the water through the filtration media for more effective treatment.
There are connections for ½-inch hoses and the inlet out outlet have flexible fittings that can rotate 90-degrees to fit any installation. The recommended flow rate is 20 to 30 GPH which is ideal for a tank up to 150 gallons.
The reactor itself is constructed entirely of plastic and acrylic materials and can be used in either freshwater or saltwater. It's well made and a good bargain for the price.
Check Price On Amazon
---
This AquaMaxx reactor is a great multi-purpose filter made for smaller tanks. How much you filter depends on the media.
You can use it with 150 gallons when using GFO, 75 gallons when using activated charcoal and up to 50 gallons when using BioPellets. Simply adjust the flow rate for the medium of your choice.
Upflow design keeps media suspended for maximum contact time and more effective filtration. It comes with a bracket that helps hold the intake and exhaust pipes securely in place for easy positioning and placement.
It is made of high quality acrylic that holds up well and can be used with fresh or salt water. Although it is specially designed to be hung on the tank, you can also easily install it indoors.
Check Price On Amazon
---
This reactor fits all Innovative Marine Fusion all-in-one aquariums. It also has an all-in-one design. You can use it with biofilters, GFOs and carbon filter media and its unique design is user friendly and easy to customize.
An innovative dual chamber design gives you fast and responsive flow control at the turn of a knob without the need for ball valves, inlet or outlet lines. An internal chamber acts as a removable cartridge that simply slides out and quickly drains water without tools or screws.
Although it is designed for all-in-one aquariums, you can also use it directly in wells. It is one of the smallest products out there, but it is combined with sensitive power control, low power consumption and easy maintenance; is something important.
Check Price On Amazon
---
A reactor specially designed for use in reef and marine tanks is the one from AquaMaxx. It's versatile enough to be used with any medium you choose to clean your tank of contaminants, odors and discoloration.
Upflow design keeps filter media floating and evenly distributed to ensure long contact time for best results. That's not all, this reactor can be placed directly on the tank or hung outside with a separate adapter so that you have the configuration that best suits your tank.
These reactors are thoroughly tested in saltwater environments for quality and reliability. The Grade A polished acrylic material is strong and durable, and the precision-cut, computer-engineered construction is built to last.
Check Price On Amazon
---
AQUATOP MR-2O is the best aquarium reactor on the market. The brand is known for producing reliable and efficient reactors with multiple functions. They also have different types of media filters to use with the reactors.
This device is all in one reactor because it includes a sediment release filter, a submersible pump and all the other components you need for plumbing so you don't have to buy things separately.
The reactor is acrylic and measures up to 15 inches in length and 2.5 inches in diameter. It is suitable for fifty to seventy-five gallon reef tanks. The kit is also quite easy to set up as it works with tank or sump fittings.
With this reactor you get two pieces of connector. It also includes a suction cup mount on the bottom and a hook on the top to hold the device securely. Despite all these features and components, the product is still quite cheap.
This reactor uses the upflow mechanism, which is good because the filtration process will be efficient. In addition, the device has an easy-to-remove cap.
This is made possible by a recessed O-ring. Another item that makes this product worthwhile is the SWP-230 flexible water flow pump, which maintains a quiet filtration process. It is known to work with different filter media.
Check Price On Amazon
---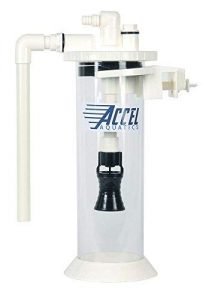 If you are looking for a reactor designed explicitly for biopellets, the Accel Aquatics FR-30 Filter Media Reactor is for you. Although you can use this device to fluidize GFO and remove phosphate from your tank.
The reactor is designed to be able to fluidize the bipellet media even without using a high flow rate. This is done by a unique flow stimulator known as an eductor which is placed in the reactor and which increases the turbulence.
The robust movement of the water continuously drives the biopellets. It also has an inverted cone-shaped bottom, which prevents media from sinking or clumping to the bottom.
In addition, the equipment is quite easy to install and manage. You can adapt the flexible inlet to your preferred tank setup. It is also easy to add the media.
All you need to do is open a small screw cap at the top, unlike other reactors it is not necessary to remove the cap completely. As mentioned above, you can use other filter media in this reactor.
This includes carbon and granular ferrous oxide (GFO). You can use the water pump which can manage the flow specifications of your chosen filter media.
Check Price On Amazon
---
You must purchase the pump separately. But it does have dual media capabilities, which should go without saying, as it has two 10-inch cameras side by side.
You also get a stainless aluminum bracket, a 10-inch filter wrench for changing media, and several lengths of hose, including a half-inch coupling for pumps like the MJ1200.
You can also get carbon filters and GFOs from AquaFX.
Check Price On Amazon
---
This is another complete media reactor kit. Including feeding pump, various hoses and all necessary accessories.
It is suitable for GFO and carbon media and can be used externally or internally. This can be used for tanks up to 180 gallons.
Check Price On Amazon
---
What is a Media Reactor?
Everyone knows that filtration is one of the most important parts of aquarium maintenance. Poor water quality can have a profound effect on your fish and plants, but maintenance can be difficult.
Filters need to be rinsed every few weeks and the filter itself needs to be replaced every month. The problem with this is that it disrupts a significant portion of the beneficial bacteria colonies that are needed to maintain the nitrogen cycle in the tank.
Most beneficial bacteria live in the substrate in your tank, but filter media is your next favorite place to grow. Rinsing and replacing removes these colonies and takes time to reestablish.
A simple way to avoid this problem is to use a media reactor. A media reactor is an advanced filter with a tube-shaped design. The water moves through an inlet to the bottom of the reactor and then rises through the filter media before returning to the tank.
This upward filtration is much more effective than a typical filter mainly because there is more surface area, which means more contact between the water and the filter itself.
Are Media Reactors Necessary or Not?
Depends.
If your regular filter seems to work fine, you may not need a media reactor. It all depends on the size of the tank and what it contains.
Sometimes it's helpful to start with a regular filter and add a media reactor if you feel you need one. You can always start with a standard filter, see how it works, and make the necessary changes in the future with a media reactor.
That said, if you have a large reef tank, media reactors are often worth the investment. Any tank with many needs and a variety of plants, corals and fish can benefit from the increased filtration media reactors provide.
How to Install Media Reactor?
Installation varies slightly from model to model, but there are a few basic things they all have in common.
1. Find a suitable location for the reactor. Some can be placed inside and others can be hung on the back of the tank, but you should place it in an easily accessible place.
2. Make sure the hose is properly connected and the cable is secured in place. Some of these reactors come with tubes, some don't, but it's a good idea to have extra tubes on hand regardless of the different installation scenarios.
3. In particular, connect the inlet hose to the pump and place the pump in the tank.
4. Then connect the outlet hose to the reactor. If using a sediment filter, place it at the end of the exhaust tube.
5. Remove the cap and fill it with your preferred filter media. It is very important to follow the manufacturer's instructions for aquarium size, flow rates and other precautions for each type of medium.
6. Place sponges and strainers on and under other media.
7. Replace the cap and turn the pump on.
Once your reactor is up and running, regular maintenance is important to keep it running efficiently.
Some maintenance services are:
Disconnect the power supply and then remove the pump from the tank for cleaning.
Rinse the sponges and strain.
Only clean the impeller with water. Never use soap or detergent.
Use a small brush to clean the inside of the motor housing.
Clean the pump, impeller and inlet every three to four weeks.
Factors to consider before choosing the Best Aquarium Media Reactor
Size / Capacity
There are many sizes to choose from, so you should choose the one that is compatible with your tank size. Since most manufacturers design different sizes for different types of tanks, it is easier for you to select.
Bomb
This is one of the essential parts of an aquarium reactor. Therefore, you should choose a brand that produces a reliable and stable pump. You can also buy a reactor that does not contain a pump, and you can buy the pump separately.
The pump is like a vital organ because it does all the work to bring the water directly into the reaction chamber. So before you buy the pump separately or together with the reactor, you should read the reviews carefully.
In this way you also know the meaning of the pump and you get an idea of ​​which brand you should choose for a stable pump.
Design and quality
As we mentioned before, reactors are a chamber, a pump and some valves that will help you catch the water flow in the chamber or enter the chamber to charge or change the medium.
Therefore, one of the most important features when choosing a suitable aquarium reactor is to see if it is made of quality materials and built with a solid finish.
Budget
When it comes to choosing the best aquarium reactor, in addition to its features, you should also consider its cost. However, an essential factor to verify is to see if the desired model includes a pump.
This is because buying an expensive aquarium reactor that does not have a pump will cost you more in the future because you have to buy it separately. But this also does not mean that you should select an overpriced model with a pump.
Conclusion
Sometimes a normal aquarium filter is just not enough to meet the requirements of your aquarium. If so, a media reactor is a quick and easy way to make sure your water is clean and balanced.
There are plenty of great options out there whether you are looking for the best nano medium reactor for a nano tank or something that will fit in your 150 gallon saltwater tank. We hope the information in this guide helps you choose the best option for you.