Warning
: Undefined variable $td_img_id in
/home/u299318930/domains/aquariumhunter.com/public_html/wp-content/plugins/amalinkspro/public/class-amalinkspro-public.php
on line
3290
Cichlids are impressive fish that come in many different species. With their vibrant colors and amazing personalities, it's no wonder that cichlids are so popular with aquarists. To encourage that great attitude, cichlids need a balanced and healthy diet. Not only is food key to cichlid health, but it also helps improve and lighten their coloring.
Finding a quality food for your cichlids is important to keep them performing at their best, which is why I've covered a variety of foods to help you find the best option for your fish. When looking for the best cichlid food for color and growth, it helps to know a little about how these beautiful fish live in the wild.
Comparison Table
Custom
SiteStripe Image
Title
Review
Buy

Top

Best Pick
Tetra TetraCichlid Balanced Diet Flakes Food For Cichlids
4.8/5.0
Check Price
Top Performance
Hikari Cichlid Gold Floating Pellets
4.7/5.0
Check Price
cheapest
Aqueon Cichlid Food Pellets
4.4/5.0
Check Price
Diet is important for all fish, but it is extremely important for cichlids for a number of reasons. First, because cichlids should always look and feel their best. Second, because the groups of cichlids that we collect in aquariums do not always occur in nature.
That means you have to be very careful to make sure each group gets the food they need. As kids, we saw fish as easy pets that we don't have to clean up afterwards. They are the easy, fun and flashy little critters that eat flakes and balls that happily sink and swim.
But what we didn't realize as children is that fish, like humans and other animals, have specific nutritional needs. In fact, cichlids have a unique array of species-based nutritional needs that require a variety of different foods.
And honestly, most of the ones I find for sale are below average at best. The reason being, most are made from ingredients that cichlids would never come close to natural food in the wild or otherwise.
So let's take a look at what really is the best cichlid food.
The 10 Best Cichlid Food for Color & Growth Healthy
When it comes to cichlid food, there are a few recipes that really stand out above the rest. All of these foods are formulated to provide your cichlids with the nutritional ingredients they need to stay healthy, grow strong, and maintain their vibrant colors.
Cichlid Food Reviews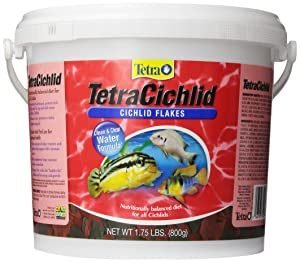 This cichlid food from Tetra is made from a perfectly balanced blend of vitamins, biotin, omega-3 fatty acids and immune system boosters to help your fish grow strong and fight disease and weather conditions. It also enhances color so that your fish look as good as they feel.
These flakes are for cichlids that feed above and in the center of the water, and the protein-rich, easy-to-digest formula helps to satisfy the fish while keeping the water cleaner and clearer. They stick together and do not fall apart when eaten by fish in the water.
Check Price On Amazon
---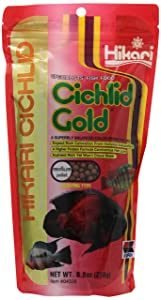 With these floating pellets from Hikari you can keep track of exactly how much your cichlids have eaten. The best diet for them is to eat smaller amounts more often.
By being able to see if there is anything left, you can better judge whether they are eating the right amount. If there is anything left, don't worry, the water will not be atomized.
One of the best things about this food is the unique combination of nutrients. It is rich in beta-carotene and NS Germ to bring out the natural bright colors of your fish.
In addition, high protein levels improve growth rate and stabilized vitamin C boosts the immune system and health. That's not all, there is also Vitamin E to boost amino acid levels. Your fish will get a higher feeding efficiency from this food than other comparable mixes.
Check Price On Amazon
---
Aqueon granules sink slowly providing balanced nutrition for the health of your cichlids and keeping them looking beautiful. Contains all-natural ingredients that even the pickiest of cichlids such as krill and squid will love.
In fact, it is 42% protein that gives fish the fuel they need to grow strong and healthy.
Another advantage of these granules is that they do not contain artificial colors. While your fish will look radiant and beautiful, all of the enhancement comes from natural ingredients, meaning it is completely safe for the fish.
Check Price On Amazon
---
If your cichlids are at least two inches long, check out this API granulate food. These floating pellets contain the nutrition that large cichlids need and use a wide variety of natural ingredients that your fish will love.
These high protein pellets are formulated for superior feeders. They float to the surface and are made with palatability in mind. With garlic for flavor, squid and menhaden for protein, and banana and peas for better digestion, this food has everything you need.
Why is it important that you feed your cichlids tasty food? Simple: less food is eaten when you eat more. In addition, it is easier to digest and produces less waste. API Granules make it easy to maintain proper ammonia content and clean water.
Check Price On Amazon
---
This Fluval formula is for highly active cichlids. The main ingredient is nutrient-rich black soldier fly larvae, plus it contains all salmon rich in Omega 3 and 6. This formula is great for conditioning and healing, which is something you may need if you have aggressive fish.
Another great advantage of these grains is that they are easy to digest thanks to ingredients such as peas, potatoes. They contain no fillers, artificial colors or preservatives and are made in small batches to ensure quality and freshness.
These pellets are available in small pellets for small to medium sized fish and large pellets for medium to large sized fish. In addition, they sink slowly so that fish can eat them at any water level that feels comfortable.
Check Price On Amazon
---
These floating pellets are a good food for carnivores and omnivores, but they contain a bit of fiber (maximum 2%). They contain things like salmon skin, astaxanthin, and calendula extract that are great for enhancing color.
Salmon, Whole Herring, Wheat Flour, Wheat Germ, Whole Shrimp, Pea Protein, Wheat Gluten, Seaweed, Calendula Extract, Astaxanthin, Canthaxanthin, Potassium Sorbate, Ethoxyquin (Preservative), BHT (Preservative), BHA (Preservative), Natural and Artificial Dyes, Ascorbyl Monophosphate source of vitamin C), niacin, inositol, folic acid, biotin, riboflavin, pantothenic acid.
Check Price On Amazon
---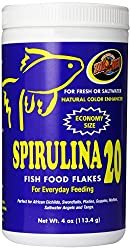 This is a great food for carnivores and omnivores. The flakes are 20% spirulina which is a great color enhancer naturally rich in proteins and vitamins.
The only real drawback is that it is low in fiber (only 3% max).
See ingredients Zoo Med Spirulina 20:
Salmon Fish Meal, Spirulina Algae Meal, Soy Meal, Wheat Flour, Dry Brewer's Yeast, Cornstarch, Dry Krill Meal, Shrimp Meal, Plankton Meal, Lecithin, Vegetable Oil, Vitamin A Supplement, Vitamin B12 Supplement, Vitamin D3 Supplement, Vitamin E Supplement, L-Ascorbyl -2-polyphosphate (stabilized vitamin C)
Check Price On Amazon
---
Repashy comes in the form of a powder that you mix with boiling water. It sets up into a gel that's the consistency of jello. It might sound weird, but believe me, this is high quality food. And fish really love Repashy.
Super Green is made 100% from plant sources so it's perfect for herbivores. And ingredients like spirulina, hibiscus, marigold and paprika are great for enhancing colors.
See Ingredients for Repashy Super Green:
Spirulina Algae, Algae Meal (Chlorella), Pea Protein Isolate, Rice Protein Concentrate, Alfalfa Leaf Powder, Stabilized Rice Bran, Dandelion Powder, Dried Brewer's Yeast, Ground Flaxseed, Schizochytrium Algae (Source of DHA), Dried Seaweed Meal, Dried Kelp, Locust Bean Gum, Guar Gum, Lecithin, Potassium Citrate, Taurine, RoseHips, Hibiscus Flower, Calendula Flower, Marigold Flower, Paprika, Turmeric, Calcium Propionate and Potassium Sorbate (as preservatives), Magnesium Amino Acid Chelate.
Check Price On Amazon
---
This food is intended for herbivorous fish, but with the high concentrations of animal protein, it may be more suitable for omnivorous fish than herbivores.
Check out the Northfin Food Vegetarian Formula ingredients:
Kelp, whole Antarctic krill flour, high omega-3 (DHA) herring flour, whole sardine flour, wheat flour, spirulina, garlic, astaxanthin (Haematococcus seaweed), calcium montmorillonite clay, vitamin A acetate, L-ascorbyl-2 polyphosphate (Source or vitamin C), D-activated animal sterol (D3), DL alpha tocopherol (E).
Check Price On Amazon
---
You really can't ask for better ingredients than what the new life has to offer. All major resources are aquatic and all meals are prepared with whole ingredients.
Spirulina, seaweed flour and all fruit and vegetable extracts make this a balanced food that could be a good choice as a staple food for carnivores and omnivores. All plant sources make this a great choice for color enhancement.
The only real downside is that sinking granules can fall too quickly and get over the swimming fish.
See ingredients for New Life Spectrum Cichlid Formula:
Whole Antarctic krill meal, whole herring meal, wheat flour, whole squid meal, seaweed meal, soy isolate, beta-carotene, spirulina, garlic,
Vegetable and fruit extract (spinach, broccoli, red pepper, zucchini, tomato, pea, red and green cabbage, apple, apricot, mango, kiwi, papaya, peach, pear), vitamin A acetate, D-activated animal sterol (D3 ), Vitamin B12 supplement.
Check Price On Amazon
---
What is the best food for cichlids?
Tetra Tetra Cichlid Balanced Diet Flakes Food is the best food for cichlids. This scientifically formulated blend is rich in protein and packed with vitamins and nutrients for a long, healthy life.
Plus, it contains omega-3 fatty acids for energy and growth and biotin to support healthy metabolism. It also enhances the natural colors of your fish.
These flakes are for cichlids that feed above or in the center of the water and stick together even if the fish devour them. That means cleaner, clearer water so your fish can continue to thrive.
Frequently asked questions about feeding cichlids
1. How often to feed cichlids?
It is recommended to feed your cichlids 2 to 3 times a day. The rule of thumb is to feed them as much as possible in about 2 minutes without leaving anything behind. It is still very important not to overfeed them.
Your cichlids should always seem hungry when it comes time to eat. In other words, if they aren't enthusiastic about food and try to eat as much as possible, something could be wrong. Either you overeat them or they may not feel well.
In addition to nutrition, another important reason to make sure you are on the right feeding schedule is to control aggression. In the wild, cichlids are competitive on food because they live in relatively dense areas where it is not always abundant.
Giving them a good supply of food in your tank will help release any tension between your fish.
2. How much food should the cichlids be given?
As we have said, cichlids should be fed in small amounts, 2 to 3 times a day. This is the best way to adjust your natural diet. There really is no set amount, just give them enough food so they can eat consistently for 1 to 2 minutes. The way you can judge if they are overeating is if they leave too much food after this period.
Cichlids come in many different types. Some are mainly herbivores, but eat small invertebrates. Others eat organic matter and some are predators and don't eat many plants at all.
That's why the recipes for these foods are so varied and include a little bit of everything. Most are made from protein, but fruits, vegetables, and marine plants are also included in the mix.
If you have a mix in your tank, make sure you give everyone what they want. Most of these foods will work as the recipes are very inclusive. That said, you should treat your cichlids from time to time depending on the diet they eat in the wild.
Brine shrimp and mosquito worms, for example, are good treats for carnivores, while herbivores love spinach or lettuce from time to time.
3. How do you feed the cichlids during the holidays?
Healthy cichlids can go without food for 7-10 days. So if you are away for a long weekend or a long week, don't worry about that. Some people occasionally fast their cichlids, usually on days when it is time to change the water and clean the tank.
Make sure they have eaten in the days leading up to your trip and are fine for a short while.
For longer holidays, things get a bit more complicated. One option is to have someone take care of you. Ask a trusted friend or family member to come to your home and feed your cichlid for you.
Make sure to write clear instructions, especially if you plan on adding special treats to your diet while you're away. It may also be a good idea to have the sitter watch you eat one or two to show you how to judge when the fish have had enough.
You can extend the time between feedings by lowering the tank temperature by a few degrees. This slows down the cichlids' metabolism a bit so that they don't need as much energy. Another thing you can do to manipulate the environment is to set your aquarium lighting to a scheduled time so that the daylight period is slightly shorter. They don't usually eat at night so it will be easier for them to adjust.
Automatic feeders are another option. You need to make sure you can cover all the time you are away. Some higher quality feeders can be programmed to dispense up to 2 weeks of feed.
Holiday feeders are sometimes used with other fish. These are essentially large blocks of food that slowly decompose over time, releasing the food slowly. This is not a good choice for cichlids. First of all, what is available may not be what your fish are used to eating.
If they don't like it, it will pollute the water while you're gone. Second, cichlids are a bit greedy. If they like it, they will likely eat as much and as soon as possible, which can make them sick and not sustain them during a long absence.
4. What food can be given to cichlids?
We've already mentioned this a bit, but there are a few things you can feed your cichlids straight from your own kitchen or garden. This is the perfect way to give your cichlid an extra treat for a special occasion.
Green vegetables are great for some types. Broccoli, spinach, peas, and cucumbers are good choices because they somewhat replace the natural green algae they would get from nature. Chop or blend them.
You can even freeze them in ice cubes to treat your cichlids quickly and easily. The cucumber should be weighed so that it sits at the bottom of the tank. You can even chop the garlic and add it with the other vegetable mixes.
Be careful with meats and only feed them to your fish once or twice a week to avoid digestive problems. Shrimp and pickled shrimp are great options for some breeds. Before introducing meat, make sure you know what kind of cichlid you have and whether it is a carnivore or not.
Such foods should only be used in addition to the cichlid food you are consuming. The recipes developed to make the best cichlid food are carefully curated and provide all the supplies they need. Extra food should only be used as an occasional treat.
Conclusion
When choosing the Best Cichlid Food growth, it is very important that you know well the variety of cichlids you have. Do your research to find out exactly what your fish need. What's good for a carnivore isn't always Best Cichlid Food. This is most important when adding additional vegetables and meat.
All of these food options are extensive, providing fish with the specific nutrients they need to thrive. The natural ingredients also contain exactly what cichlids need for the most vibrant colors possible. Remember, do your research on the cichlid you need to make sure you know its specific nutritional needs before choosing a diet. That really is the best way to keep your tank happy and healthy.