Having a koi pond is a must for fish lovers and gardening enthusiasts. In general, these ponds can be quite large and contain several fish. However, you can also have multiple plants if you wish.
The only problem is that your pond can turn green from algae if you don't do anything about it. Consider ultraviolet light to avoid that. We've focused on eight products to help you find the Best UV Light for Koi Pond.
When the water in your koi pond turns green, you know it's time to buy a new UV sterilizer. Excess food causes the growth of algae, bacteria, parasites, viruses and other microorganisms, making the water less clear and full of bad smells. Ultraviolet light can clean the water and maintain a healthy environment for your koi fish.
Pond clarifiers are designed to remove green pond water and destroy the algae that cause it with strong ultraviolet light. Here you will find useful information to help you choose the right clarifier, as well as our recommendations for UV clarifier equipment currently offered in the US and UK.
Is UV light needed for koi ponds?
Are you concerned about the clarity of your pond water? Then you are not alone. Creating a healthy and positive environment for your koi fish is essential.
You need the right tools for this and it probably won't be easy. It takes time, but your goal is to create a healthy pond. The first step is to remove the dead algae.
Usually you use a biological or mechanical filter. These machines remove all debris from the pond. After you have cleaned the water, you may want to use a UV pond filter.
These are also referred to as UV clarifiers or sterilizers. They are designed to remove algae and bacteria from the water using electromagnetic radiation. However, these machines are designed to kill everything, even the beneficial bacteria.
Clarifiers and sterilizers work in a similar way. Each is equipped with a high-quality UV lamp, which is protected and contained by a quartz glass sleeve. The difference between the two is the intensity of the light from the lamp.
Ultraviolet light presents electromagnetic radiation and has a wavelength from 10 nm to 380 nm. Organisms in water can be damaged by ultraviolet radiation. These include diatoms, bacteria, parasitic protozoa and floating algae.
Such things will die once exposed to the UV pond filter. Dead cells will clump together and get stuck on the screen. This works to improve water clarity and reduce cloudiness.
A UV clarifier generally has a more intense light than the sterilizer. The water should flow through the sterilizer more slowly, which increases UV exposure. This works to remove ich and costs.
The thing to remember is that a UV sterilizer or clarifier is not a pond filter. Sometimes it is called that, but it doesn't filter the water. They are designed to kill bacteria and algae, but this is important for a clear pond.
Top top 10 UV lamps for koi ponds
Sometimes it can be difficult to read a full review or you want the key points to be easy to find. This handy table contains the most important points to consider.
Best UV Light for Koi Pond Reviews
If you have a pond with up to 2000 liters of water, the TotalPond UV Pond Clarifier may be ideal. It works to clean the greenery produced by algae. You will also find that this product can prevent the formation of harmful odors on the site.
Some people prefer to install their clarifier directly in the pond, while others want it out of the water. This product works on both sides for everyone's comfort.
You will receive a 9W UV lamp with your pond clarifier. It can take up to 8,000 hours. The manufacturer recommends replacing the lamp every year for optimal performance.
It is easy to see that the unit is working. There is a UV indicator light that will illuminate when the device is operating. It also has clear adapters so you can see it doing what it's supposed to do.
The water is pumped into the UV chamber just before the filter filters it (sold separately). This means that all bacteria die and are then automatically killed.
Benefits
Works in and out of the water
Easy to remove for cleaning
Avoid cloudy and green water
Cons
It's not a quick fix; take time to work
Possibly not enough pipes
Sometimes it is challenging to realize that your pond needs more help than a few plants. Green algae, in particular, can make your beautiful koi fish impossible to see. The Pondmaster DNR02920 has a 20 watt UV lamp to kill floating algae.
This can eliminate the green water problems you are having. You will find that the product can be used in a 3000 liter pond with a pump up to 1800 GPH. It is also possible to immerse the pre-purification installation directly in the water or to use it in line with your pump.
You will find that the PondMaster water purifier has a vortex-flow design with a slim diameter. This ensures greater efficiency. The product pushes the water through quickly, but still with enough time in the chamber to kill the algae and bacteria.
Although the product is all in one and has everything you need, it helps to know what you are getting. The 20 watt lamp is good for 9,000 hours of continuous use. However, you can set it on a timer so it doesn't run all the time.
Benefits
Vortex flow design
Kills harmful bacteria and algae
Immersed in the pond
Slim design
Cons
Inlet / outlet with 1 inch spikes; ¾ inch manufacturer lists
Requires a pump (sold separately)
If you are looking for something simple and versatile, the Vitronic 18 UV clarifier OASE 706759564557 might be for you. It is designed to work with any filtration system. However, it works best with BioSmart filters (5000 – 1000).
Whether you have a new or existing pond system, this product can be integrated to work with it. You will find that it can cleanse the green color from the water. This happens when there are too many algae and bacteria in your pond.
Although the water makes the water cloudy and you can't see the fish, it can also be harmful. This dirty water attracts insects and other creatures that could try to harm the koi.
The high-quality UVC lamp guarantees a long service life. It also has constant irradiation, which makes it more effective.
Of course it is easy to say that the lamp works because there are clear tube adapters. There is also a visual inspection window at the top. You can easily look at it to determine if it is on.
A quick release function makes it easy to open / close the unit. So you can clean the quartz glass or replace the lamps as needed.
Benefits
No drilling or filing is required
Long lamp life
Visual inspection window, clear tube adapters
Cons
Can trip your circuit breaker
May not be ideal with OASE 10,000 (manufacturer recommended)
Most products are designed to be sterilized or rinsed, but this one is not. The Aqua UV sterilizer does both. It can purify fresh water up to 3,000 liters with a flow rate of 3,200 GPH.
It is also possible to flush up to 6,500 liters. This makes the product ideal for aquatic gardens and koi ponds. In addition, the product can sterilize salt water up to 355 gallons at a flow rate of 1066 GPH.
The robust design makes installation easy and requires little maintenance. You may need to take it apart to regularly clean the inside and replace the lamp.
The manufacturer claims that Aqua Ultraviolet rays can clean water in just five days. Sometimes it is as fast as at night. However, severe algae build-up can take a little longer, so be patient.
You will find this product works well if you have 50 to 75 percent plant coverage in partial shade. This is ideal for many configurations.
Benefits
No other products / chemicals needed
A complete set of couplings for easy installation.
Sterilizer and clarifier in one
Cons
It may take more than five days to notice the difference
Possible leakage problems over time
Jebao 36W is the best UV light sterilizer for medium size ponds. It features a 36W UV lamp to effectively remove algae, bacteria and viruses, keeping the pond clean for healthy koi fish. The suction power is approximately 4400 liters per hour; the sterilizer is recommended for a tank up to 8,000 liters.
Also, Jebao 36W is quite easy to install and use. It is not that big and easy to disassemble, so maintenance is very easy. For best performance, replace the lamp once a year.
Please note that Jebao 36W is for external use only; Please don't put it in the water, but install it in line behind a water filter.
Benefits
Effectively removes algae, bacteria and viruses.
For ponds up to 8000 liters
Easy to install, easy to use
Cons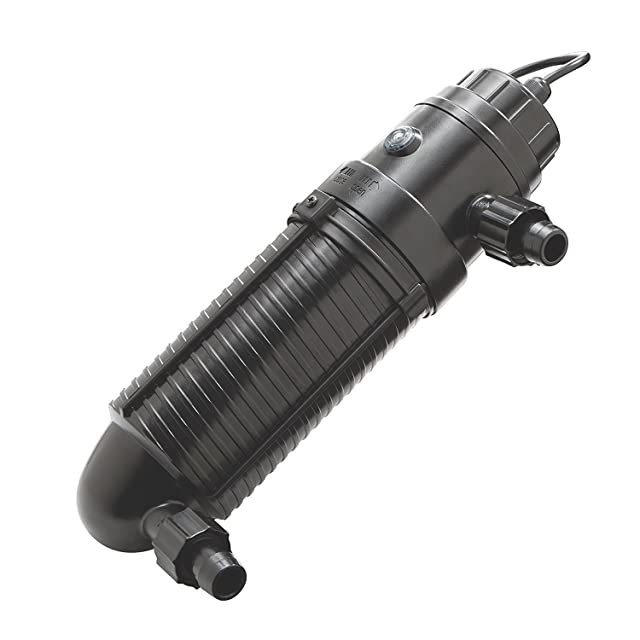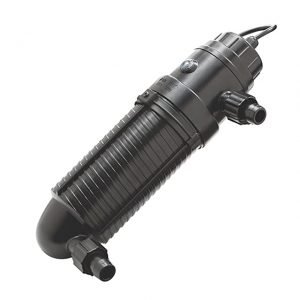 Coralife Turbo-Twist is great for Koi beginners. You don't want an overly complicated UV sterilizer; Instead, you want an easy to install, easy to use, and easy to maintain UV sterilizer that ticks Coralife Turbo-Twist all the time.
Coralife Turbo-Twist has a rotating-flow design that increases water exposure to UV light, maximizing cleaning effectiveness. It has an indicator light that helps you know if the sterilizer is on. You can easily hang Coralife Turbo-Twist or install the sterilizer online. And it works with both fresh and salt water.
The main drawback of Coralife Turbo-Twist is the suction power, which can be considered low. Recommended for up to 250 liters of water.
Benefits
Effectively removes algae, parasites and bacteria.
Rotary flow design and indicator light
Can be hung or installed online
Works with fresh and salt water
Cons
The Sun 13W UV Sterilizer is my choice for smaller koi ponds. It's too low power – 13 W for UV light and 8 W for the water pump, but enough for a 150 gallon tank. However, it is recommended for only 40-75 liters of water. If the tank exceeds this capacity, cleaning the tank may take longer.
Overall, the Sun 13W UV Sterilizer is compact, lightweight and versatile. It is very easy to install and use. Effectively cleans algae and micro-organisms, preventing your pond from getting green water. The Sun 13W UV Sterilizer is also a good choice for beginners.
Benefits
Effectively removes algae and micro-organisms
Compact, lightweight and versatile
Clean the tank to 150 liters
Cons
Recommended for small tanks, 40-75 liters
The TetraPond GreenFree UV Pond Clarifier is a series of heavy duty UV pond lamps that completely remove algae within 5 days of use. This range of clarifiers offers UV resistance for ponds of various sizes, from 660 liters to 8800 liters. Models designed for the smallest ponds work with 5W UV lamps and the larger ones with 36W UV lamps. The UV light lasts continuously for 11 months and it is recommended to replace it at least every 2 seasons for maximum efficiency.
No hose is provided for the inlet / outlet valves, so keep it handy. A 3/4 inch or 1 inch pipe is recommended as well as clamps to secure it in place. Since the inlet / outlet valves are located on either side of this UV clarifier, take this into account when planning your plumbing schedule. The clarifier is also not submersible and must be kept above water, so do not get it wet!
In short, a very robust UV pond lamp that should remove all free swimming pond algae with an excellent 3-year warranty in case of problems. Just be sure to select the correct UV intensity for your pond size for the most effective algae removal.
The Sunsun CUV-118 UV lamp has an 18 watt bulb. This makes it suitable for a pond up to 5280 liters. The size of the pump is of course also important.
You will find it can be used with a pump up to 660 GPH. So you can use it in freshwater and marine applications. This makes it ideal for koi ponds and water gardens.
If you want to avoid green water in your pond, it is ideal to work with a sterilizer and clarifier. That way you can maintain optimal conditions for your water source. Of course, it should not be used alone.
Ponds need filter systems. However, the UV stabilizer can kill algae and other bacteria. Then you push it through the filter, where the dead algae are removed from the water garden.
This product is of great value because it is a large unit. It is built to be sturdy and strong which means it will last. It also works exactly as it says.
Benefits
No chemicals needed
Kill algae to keep the water clean and free from vegetation
Little maintenance required
Cons
It may take a while to see results
The system has a high probability of failure in two years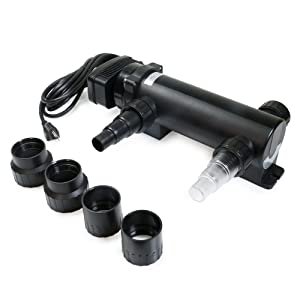 If you're focused on stabilizing your koi ecosystem, you need something that removes stubborn dirt. The Oxyful UV Sterilizer Light works well in saltwater tanks, ponds and freshwater aquariums. You get crystal clear water because this device keeps the nitrate level low.
The UV lamp in the product is of high quality and delivers professional power. This helps prevent harmful bacteria from thriving in the ecosystem without using chemicals.
You will find that this light will kill protozoa, algal blooms, pathogens and cyanobacteria. It can also kill parasites, free-floating microorganisms, insect larvae, and more. This naturally makes it ideal for invertebrates, saltwater corals and koi ponds.
This oxygen sterilizer / clarifier has a maximum flow rate of 792 GPH. It is ideal for a 6604 gallon pond or tank.
You will find that the UV lamp is designed to last up to a year. Although it cannot be submerged, the water can flow in without a problem.
The hard plastic housing ensures that the water is not exposed to the copper. You may not realize it, but copper can be dangerous to koi.
Benefits
Long life UV lamp
Stabilize the ecosystem
Remove all kinds of harmful things from the water.
Cons
May not be suitable for cold environments
Not submersible in water
How do I install UV light in a koi pond?
There are a number of things to consider when installing the UV system. On the one hand, you need to know the flow rate where the light will be installed. It is also important to know how much space there is between the water ports and the lamps.
So you need to know the input / output power. Of course, each manufacturer has a different recommendation based on those parameters. Read the description carefully.
In theory, it is better to buy a model that has more power than you think you need. For example, some brands listed here have multiple sizes. If you have a 3,000 gallon tank, you may want to move to the next size just in case.
The product you choose comes with a manual. Better to read it first and then follow it to the letter. In most cases, you should place the sterilizer / clarifier in front of the filter so that dead algae can be removed from the pond.
How long does it take for ultraviolet light to clean a pond?
When the water is mature, you will notice a change in the water within a week. However, it can take up to two weeks for complete clarity to be achieved. Depending on the severity of the green water, this can take a shorter or longer period.
conclusion
If you have noticed that your koi pond is cloudy or the water is green, it means that there are too many algae. It is quite common, but it also means that you cannot enjoy your koi. Sometimes the algae growth can get so bad that the fish have to surface before you see anything.
It is important to choose the Best UV Light for Koi Pond. We think the Pondmaster DNR02920 UV Light Pond Water Purifier could be ideal for you. You can submerge it in water or use it online so you can customize it.