Warning
: Undefined variable $td_img_id in
/home/u299318930/domains/aquariumhunter.com/public_html/wp-content/plugins/amalinkspro/public/class-amalinkspro-public.php
on line
3290
It is normal to always want to drink clean and safe water. If you were always unsure of where the water came from, you would definitely want to take the time to find a way to filter the water before using it.
There are many types of filters on the market today, but most people choose the best reverse osmosis systems. The technology has been around for a while and always delivers a high quality result for users.
Comparison Table
Click to Edit
Image
Title
Rating
Price

Top

Best Pick
APEC TOP TIER SUPREME CERTIFIED HIGH OUTPUT 90 GPD
4.8/5
Check Price
Top Performance
AQUA TRU COUNTERTOP WATER FILTRATION SYSTEM
4.3/5
Check Price
Cheapest
RKIN ALCAPURE REVERSE OSMOSIS COUNTERTOP WATER FILTER
4.1/5
Check Price
To reduce contaminants in drinking water or improve the taste and smell of tap water, water filters in coolers and jugs can do a good job. But to take water purification to the next level, consider a reverse osmosis water filtration system.
A reverse osmosis (RO) water system integrates with the plumbing under your sink to force water through a semi-permeable membrane and a series of filters, removing sediment and contaminants, leaving your family tens of gallons of purified water every day. This guide takes a look at RO systems, takes a look at the factors to consider when purchasing them, and lists the best RO systems on the market.
If you are looking for a water filtration system, you will quickly find that reverse osmosis systems are a popular choice. Many of these multi-stage water filtration systems remove up to 99 percent of the total dissolved solids (TDS) from your water supply, giving you water that tastes fresh and clean from contaminants.
The heart of these water filtration systems is a reverse osmosis membrane, which is so thin that almost only pure water molecules can pass through. Most reverse osmosis systems generally include 3-6 stages of filtration to remove everything from lead and arsenic to hormones and bacteria. One thing to consider on your reverse osmosis system must-haves list is a remineralization filter, which adds beneficial amounts of calcium and magnesium.
Many reverse osmosis systems are designed to be installed under the sink and include a water dispenser to mount on the sink or countertop. There are also counter-osmosis systems for countertops that are a good option for renters or anyone who is reluctant to pierce cabinets or counters. Powerful systems can meet the needs of a large family thirsty for better water, while tankless systems give you on-demand filtered water that's always fresh.
So which one is right for you? We've researched and found the best options on the market so you can buy the right one for your home needs.
New to reverse osmosis water filters? You have come to the right place. Our comprehensive buying guide and reviews give you all the information you need to make an informed decision about the best reverse osmosis system for your home. We explain how an RO system works and what each specific term stands for so that you understand all the product descriptions you read.
Reverse osmosis filters are easy to install and low maintenance, and shouldn't take you a few minutes more than once every few months to make sure everything is working properly. Read our quick installation guide to find out how to install the unit quickly and without leaks.
Top 10 Best Reverse Osmosis Systems on the Market
Now that you have an idea of where to start, you want to know where to get the best RO system for your money.
When selecting the best model available, consider the features that each has to offer. Not all models are created equal.
You want to find one that comes with superior filtering properties, compact construction, easy installation and maintenance, and affordability.
With this guide, you should be able to easily decide which model of water filtration product to buy for your home.
Best Reverse Osmosis System Reviews
This model comes with something new for anyone looking for a home reverse osmosis system. It is fortified with alkaline, which is important for restoring minerals lost in the reverse osmosis process.
Magnesium and calcium are added back to the water, even after they have been removed. This will help further improve the taste of the water compared to some of the bottled water people buy in stores.
The rejection rate for contaminants is up to 99 percent. This number is important in telling you how many impurities are removed in the reverse osmosis process. Because reverse osmosis is one of the most effective water filtration methods, this product can easily remove common contaminants to the highest degree.
You will also like the design. Even though it ends up under the sink, it still looks great. With its update to improve functionality, you should find that this model always offers the best possible performance.
The fact that this is a six-stage model just goes to show that the performance will always be what you need. It provides about 75 liters of filtered water per day. At this rate, you should never be without clean, fresh water for an hour.
Benefits
Relatively cheap
Affordable filters
Cheap filters
Six-stage filter
Low proportion of wastewater
Cons
Need more skills for installation
Check Price On Amazon
---
This model gives you something different from anything you have used before. It is popular for an innovative design that ensures the system always delivers the best drinking water when you need it.
It's amazing how you can filter water in seven different stages. These stages are designed to maximize water purity and quality at all times.
If you compare it with other models, you will see that this model contains a few more stages in the filtration process. This model uses the important catalytic carbon filtration medium to remove most of the chlorine from the water.
Compared to other models, it comes with a trap that helps to restore the water's pH balance. This is important so that the water you drink has the correct pH level and a better taste.
If you can see other reviews, you will notice that this model gets a lot of positive reviews. This is good proof that this model is one of the best and will always meet your clean water needs.
Benefits
Seven-stage filter system
Eliminates most contaminants
Helps to balance the pH level
Catalytic carbon system
Cons
Processed water does not always have the correct pH balance
Check Price On Amazon
---
This is definitely one of the best and highest rated water filtration systems you will see in the market. The first thing to consider is size – you'll find it perfect for use in kitchen cabinets. The manufacturer has also simplified installation so you can do it at home without necessarily needing a plumber.
Using the 5-stage filter system is common, but with this model you get so much more. The performance will be of the highest level, with higher efficiency of the water filtration process.
The 5 micron filter in the first stage is important for removing large and fine particles from the water. The other stages ensure that the water is safe and clean to drink.
Many people who have used this model agree that it is one of the easiest ways to filter water at home. You can get one today to discover more benefits of owning this excellent model.
Benefits
Impressive water filtration
Removes 99 percent of contaminants
Free filters included
Comes with advanced technology
Cons
Instructions may not be clear to everyone
Check Price On Amazon
---
This model carries the WQA Gold Seal, which is a guarantee that it is a great product. That's just one of the things you'll enjoy. In addition, there are NSF certifications, which further guarantee that this model meets high standards of build quality.
Another important thing to note is that this is a five stage filtration system and how it will provide you with the best possible water quality. There are not many models on the market that use a five-speed system, so you can always know not to worry with this model.
According to some studies, this system removes more than 99 percent of chemicals and pollutants from water. You can be sure to change your drinking water at the end of the process.
The model is designed in such a way that even inexperienced technicians can easily install it in no time. This is partly due to the detailed manual that you receive with the product. You can also watch some DIY videos on YouTube and see how easy the installation is.
The affordable price is another reason you'll love this model. A product so cost effective will save you some money and still have clean water.
Benefits
Easy to install
Impressive water pressure
Can deliver 75 liters per day
Water tastes better
Cons
Tends to leak
Water waste is high
Check Price On Amazon
---
With its tankless design and high performance, Waterdrop is a premium reverse osmosis filtration system. While most reverse osmosis systems are based on a large tank, which takes up most of the counter space and limits output, this system filters water on demand. The Waterdrop ensures an endless supply of treated water, because you don't have to wait for the tank to refill. As a result, it can produce as much as 400 liters per day. This system is efficient, producing only 1 gallon of wastewater for every gallon of purified water.
Waterdrop also includes some great features for monitoring the system. A multi-color LED display shows the status of each of the three filters in their seven stages and the total dissolved solids content of the filtered water in real time. However, keep in mind that this new RO system technology is more expensive, up to double that of standard RO systems.
Check Price On Amazon
---
With easy installation and high capacity filters that last much longer than other systems, the APEC reverse osmosis system is an excellent choice for purifying your home water. While filters in other systems may only last for a few months, filters in this six-stage system will last a full year before needing to be replaced.
The six phases of the system remove contaminants and 99 percent of bacteria while adding essential and healthy minerals and calcium. This system produces up to 75 liters of treated water every day. A flow restrictor and automatic shutoff valve keeps wastewater production at 3 gallons for every 1 gallon of treated water. This system uses an 11-inch by 15-inch 4-gallon tank, so make sure you have plenty of space under the sink.
Check Price On Amazon
---
The AQUA TRU water filter system for countertops allows water to be filtered without taking up space under the cabinet and eliminates the need for installation.
This self-contained system is ready to go out of the box. The four-stage system removes 82 contaminants including lead, chromium, copper, radium and chlorine. The quick-mount, sealed, rotating filters last up to two years. Fill the gallon tank and wait 12-15 minutes for the system to purify the water. And with a width of just 45 cm, this system doesn't take up much space either.
Check Price On Amazon
---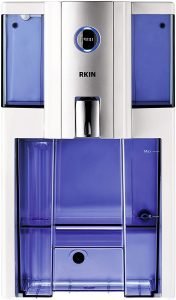 Just because you live in an apartment doesn't mean you can't use reverse osmosis water purification technology. This plug and play countertop water purifier does not need to be installed under the sink, making it a great option for property renters. With its compact design of just 9.5 inches wide, this water purifier is ideal for smaller homes. When it's time to move, pack it up and bring it with you.
It has a four stage filtration system that removes up to 99 percent of contaminants. Additional filters add beneficial minerals such as calcium and magnesium, while a secondary filter removes small traces of impurities. The AlcaPure air purifier produces half a liter of purified water in about 15 minutes.
Check Price On Amazon
---
This is a small RO system to consider. With its small size, it will easily fit in most of your kitchen cabinets.
Since it comes from a leading brand, you can be sure that it will deliver exceptional performance time after time. With the large number of contaminants removed, you can easily have almost perfect clean water.
This model has a 5 stage filtration process. This type of system should always provide the high performance you need. With the addition of extruded double carbon blocks, you can now get rid of all the unpleasant smells, colors and contaminants that can give your water an unpleasant taste.
This model is one of the best in terms of capacity, delivering up to 90 liters of filtered water per day. You will find yourself using it often and you will never be short of clean drinking water.
Benefits
No more leaks
Impressive quality
Large capacity filters
Dual carbon blocks
Cons
Check Price On Amazon
---
The Waterdrop WD-G3-W is a 400 GPD fast flowing tankless filtration system that effectively removes the most common contaminants from drinking water, including fluoride, lime, heavy metals and other totally dissolved solids.
With a 1: 1 ratio of pure water to runoff, this efficient water system runs faster and wastes less water during the RO process than other reverse osmosis filters. The system does not use a storage tank, avoiding secondary water contamination, but directly produces pure filtered water at the touch of a button, ready to drink.
The furniture can easily be placed in a space under the sink, leaving more storage space in the cupboard. The system's internal pump produces purified water at a rate of 400 liters per day, filtering a cup of water in about 12 seconds.
The Waterdrop RO WD-G3-W contains 3 filters that together provide 7 stages of filtration.
Benefits:
Tankless filtration, on request
Space-saving design
Built-in booster pump
Backed by good customer service
Large amount of filtered water per day
Cons:
The remineralization water filter adds small amounts of magnesium and calcium
Filling larger bottles or jugs can take a little longer
Highest price
Check Price On Amazon
---
What is the best reverse osmosis system for drinking water?
To qualify as a top level reverse osmosis system, a water filter must meet some important standards.
Size – Unlike in the past, today's water filters are built on newly developed technology, which allows them to be smaller and more compact in size, while still delivering quality filtration. A good reverse osmosis water filter should not be too thick, so that customers can move and install the system easily.
Efficiency – A reverse osmosis water filter must be able to filter out as many contaminants as possible from the water, up to 99%.
Taste: It is important to be concerned about the taste of the processed water after the filtering process. Clean, pure water is good, but it also has to be tasty. If the last water comes out with a bad taste or a strange smell, the water filter is not good enough.
There are more standards for a good reverse osmosis filter. However, that depends on you and your standards and what you are looking for. Later we will discuss how to determine the best reverse osmosis water filtration system for you.
Best brand for reverse osmosis systems
More and more people are realizing the benefits and necessity of clean and pure drinking water. This ensures that the water filter market is growing by the day.
In particular, the reverse osmosis water filter market, which has proven to be one of the best water filtration methods, is expanding rapidly.
Of all the brands on the market, there are some that have built up an excellent reputation. These brands are constantly producing good quality filter models.
These are the top brands in the reverse osmosis market today.
ISpring
Home teacher
APEC
Water Express
The benefits of owning the best reverse osmosis system
Reverse osmosis water treatment systems offer a number of health benefits that make them a worthwhile investment for your home. The filtration process removes bacteria, microorganisms and impurities such as arsenic, chromium and other chemical contaminants.
They improve the taste of drinking water. Contaminants in water can cause bitter tastes and odors. When reverse osmosis systems remove these contaminants, the water smells and tastes cleaner.
They eliminate the need to buy bottled water. While it may not seem like it when you make the first investment in an RO system, it can save you money. Buying bottled water from a supermarket is considerably more expensive than filtering your own water.
They help the environment by reducing the waste from plastic bottles. And while there is some debate about the impact of reverse osmosis systems on the environment due to the amount of wastewater produced, they are doing the environment a favor by reducing the production of plastic waste that comes from bottled water.
How to install a reverse osmosis system yourself
Save yourself a plumbing bill and read on to learn how to install a reverse osmosis water filtration system yourself.
Close the cold water shut-off valve. Turn the valve clockwise to shut off the water.
Open the water tap. This will flush out any remaining water in the pipes, minimizing leaks when you disconnect the supply valve from the sink.
Disconnect the water line from the shut-off valve. Use pliers to unscrew and disconnect the supply line. Have a towel or cup handy to catch any residual water in the pipes.
Connect the cold water pipe to the RO system. Connect the cold water supply line to your system using the adapter provided by the RO system.
Open the cold water supply valve.
Install the filter and tank. Place the filter and tank under the sink.
Install the drain line. Locate the system drain line. Drill a hole in the existing sink drain line and install the drain line so that your system can drain your wastewater here.
Install the new faucet. If your sink has a pre-drilled hole, use this to install the new faucet. If not, you will need to drill a new hole in the sink or countertop to mount the new faucet.
Install the new faucet. Once the tap is installed, the supply line is connected to the outlet of the RO system.
Connect the reserve tank to the filter system. Follow the manufacturer's instructions for proper connection.
Frequently asked questions about your new reverse osmosis installation
If you still have questions about your new RO system, you will find the answers to the most frequently asked questions below.
Q. How does a reverse osmosis system work?
Osmosis is the process of passing water molecules through a semi-permeable membrane from a less concentrated solution to a more concentrated solution. Reverse osmosis water filtration systems work by passing water under pressure through a semi-permeable membrane. The membrane allows the passage of water molecules, but does not allow the passage of larger molecules such as bacteria, viruses, sodium urea and chlorine.
Q. What do reverse osmosis systems remove?
Reverse osmosis systems remove harmful bacteria, viruses, sediment, dirt and a long list of toxic chemicals and compounds, including arsenic, copper, radium, cadmium and lead.
Q. Which is better for you, distilled water or reverse osmosis?
Because the distillation system cannot completely remove all traces of chlorine and some pesticides and herbicides from the water, RO filtration systems are more effective at purifying water.
Q. What is the difference between a single pass RO system and a double pass RO system?
The difference between a single pass and a double pass reverse osmosis installation is that the water produced in the first pass is recycled back through the system as feed water for the second pass. This means that the water passes through the system twice, creating a higher quality of purified water.
Q. Does the RO system have an impact on the environment?
Because reverse osmosis systems waste a significant amount of water, they are harmful to the environment. The average RO filtration system produces approximately 4 gallons of wastewater per gallon of purified water. That said, reverse osmosis systems reduce the consumption of bottled water, which is significantly more harmful to the environment due to the use of non-biodegradable plastic bottles.
conclusion
Nothing is perfect. So reverse osmosis is water. However, the benefits of reverse osmosis water outweigh the drawbacks. Having clean and healthy water is very important. And if today it's easy to shop for yourself and set up a reverse osmosis plant in your home, nothing should stop you from drinking healthy reverse osmosis water. What are you waiting for? If you care about tap water at home, buy the best reverse osmosis system.