Bamboo shrimp are a type of freshwater crustacean. They can be found living in the wild, but they're more commonly kept as pets in aquariums. If you want to keep them in your home or office, there are certain things you should know about their care requirements and lifespan. In this article, we'll talk about size, diet, lifespan, and other details that will help make sure your new pet is happy and healthy!
In contrast to other species, Bamboo shrimp, also known as wood shrimp, Singapore flower shrimp, or flower shrimp, Atyopsis moluccensis tend to have a different way of capturing food. A fan-like appendage filters out sediment particles from water. This shrimp requires another feed-in method to be employed. Care for Bamboo shrimp varies widely. Keep reading to learn everything you need about Bamboo shrimp care and keeping in an aquarium. You can purchase this shrimp online.
Bamboo Shrimp Care Guide
These freshwater shrimps live for about 2-years though unfortunately have a tough time adapting to new tanks. The common cause for death is the wrong way to acclimatize the new Atyopsis moluccensis. They are susceptible to sudden changes in temperature and water quality. Do not place heavy and toxic chemicals in your water column. Never introduce or add shrimp in your tank without proper acclimatization. Use the drip method to drain water from the tank to the container where the shrimp is, thus equalizing the parameters.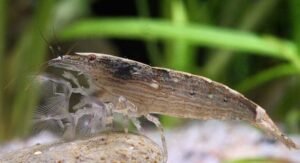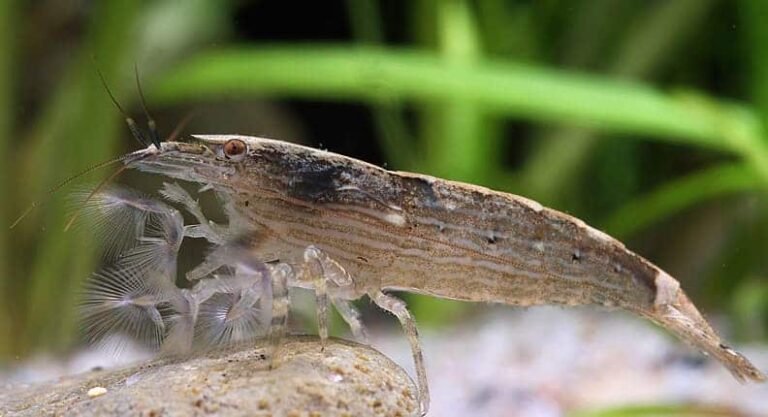 Description of bamboo shrimp
A Bamboo shrimp has four fans instead of a claw to capture small food particles in the water column and take them to the mouth. They exhibit various colors, including a combination of brown, red, green, creamy whites, and blue with a mixture of creamy yellow-brown down their back. The patterns are effective camouflage to the human eye, which is why so many shrimp keepers lose these giant shrimps in their tanks. Only recently did there exist the precise classification within the species. Bamboo shrimps can grow up to 8-10cm (3-4 inches).
Species History
The most accurate mention of this animal occurs by De Haan in 1849. Over time, it went through various classifications and was found in several open water streams from India to Indonesia, increasing its original geographic distribution. They were raised in the early 1980 and throughout the 1990s as feeds to farming fish. In the late 2000s, it was first introduced as ornamental to the aquarium. Their practical quality and attractive appearance enabled that they rapidly become popular. Because they get along very well with other shrimp, they're common in freshwater invertebrate tanks. Collecting these shrimp from quickly moving open water can be extremely dangerous, so many are bred in captive conditions.
Bamboo Shrimp Appearance
Bamboo shrimp can grow as long as 4 inches and are among the world's more giant freshwater aquarium shrimp. They are decapods, and they have five pairs of legs and ten legs total. On three lateral portions, they are known as chelipeds or chelsidas. Its use is also used to gather food. The ten periopods ( or walking legs) are supported by a set of swimming legs (pleopods) that allow the shrimp to swim forward. It is reinforced and can swim on urophodes when trying to escape from bad situations. This shrimp has two beady dark eyes centered on two small stalks surrounded by a large antenna.
Bamboo shrimp requirements
The minimum tank size needs to be at least twenty-seven gallons (102 liters) the larger, the better. A water filter with a high flow should be used to mimic their natural habitat. Atyopsis moluccensis regularly molts so they can grow. The exoskeleton they had hidden was revealed beneath its new structure. The vulnerable shrimp will stay hidden for some days until it hardens its carapace. It is common for aquarium owners also to fill their Bamboo shrimp tanks with tons of plants. Plant fertilizer pellets tend to sink to the bottom, where they dissolve slowly into the water. When applying plant fertilizers, ensure that they are safe for shrimps.
Bamboo Shrimp Care
Singapore flower shrimp care is relatively low maintenance and easily accessible to pretty much anyone. It takes time for people to be used to how to feed them. Although shrimp are surprisingly hardy and easily recognizable, these critters may suffer serious health complications when they experience significant changes in the water parameters. We will discuss this later, but this invertebrate can be adapted in an aqua tank. The main thing is focusing on being constant but also giving the best. The best aquarium for this shrimp species should have stable water parameters.
Bamboo Shrimp Size & Lifespan
When fully mature, a healthy Bamboo shrimp is about three to four inches long. Their life expectancy can range anywhere from 1 – 2 years if in the right conditions. However, it's not uncommon for the Bamboo shrimp to die soon after introducing it to the tank. Perhaps it's a change in water parameters or the stress from being transported.
Housing
Bamboo shrimp are excellent for community tanks and are known for their peaceful nature. However, the aquarist should maintain one shrimp per tank unless kept in a high-end (75 gallons or more significant) aquarium. Hidden spots can also be crucial as shrimp molt approximately every two months. During the selection of the filter, a hang-on is the best choice for a Bamboo shrimp tank. The tank should be heavily placed with great hiding locations. Driftwoods and smooth river stones help create their natural environment where they live among rocks or roots. Shrimp usually hides until hardening their shells.
Bamboo Shrimp Care: Water & Habitat
They do not like a new tank; Bamboo shrimp seem to do good in established aquariums with parameters in the tropical freshwater community tanks range. As for any aquatic invertebrate, it is vital to avoid copper as it's fatal for them. Be careful with plant fertilizer as it dissolves slowly. One important Bamboo shrimp care issue involves copper, which filter-feeding shrimp can consume in significant concentrations and could be fatal or harmful. Make sure all fertilizers are plant safe.
Habitat and tank conditions
The species is native to Southeast Asia: Sri Lanka, the Samoan Islands, Japan, India, and the Malay Peninsula. They inhabit the fast-moving inland rivers and streams. Warm waters were usually somewhat alkaline, and a lot of light was given out. The habitat consists of abundant plants and rocks at the tributaries where they spend most of their time. These places offer shelter as well as perching points for filters of incoming food. Next, we will talk about the specific steps to assemble your tank.
Water parameters
Understanding the optimal water parameters for Bamboo shrimp is extremely important. Rapid change or suboptimal conditions can cause serious issues, leading to the death of the animals. To keep this consistency, you are expected to check these parameters. The consistency of parameters is essential early when they might still adjust to the new tank conditions.
Setting up their Habitat
The essential item in the water tank includes plants. Include plant species into their tank to facilitate the natural way for them to find food. Tiny pieces of plant waste can enter the water for your shrimp to catch by their own hands! The species also is seen climbing on plants regularly. They have an uncomfortable use to conceal away in the wild and are likely to appreciate interactions they form with them. Any popular aquarium plant can fit. As for the rest of the decoration, you can be much more flexible.
Bamboo Shrimp Habitat: Lots of live plants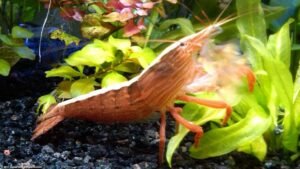 Keep them with a wide variety of aquarium plants, like their natural habitat. Aquariums with living plants are not always too clean, meaning many small edible items are floating in the water. They love to climb around plants as they position themselves to face the movement of the water. They often place themselves on the sponge filter to intercept any unwanted food particles which would otherwise be taken up the filtering tube. They also like rocks like lava rocks. Like other filter feeders, they seem to like tanks with sponge filters on powerful hob exhausts. This is because microcrustaceans and other plankton are housed in the sponge, which will serve as food for the fan shrimp.
Bamboo Shrimp Molting Process
The wood shrimp give some signs before molting. The shrimp should keep hiding behind plants, rocks, a heater, or the filter about a day or two before shedding. When the molting cycle is accomplished, it leaves its old empty shell in the waters. Some hobbyists leave molted shells in the water and watch and see what happens. The remaining unaffected shell disintegrated. Let's hope this indicates that those sea minerals will be dissolved as we get to the water at some stage. Amano shrimp, ghost shrimp, and red cherry shrimp came looking for them.
Take care
If you find that rotting shells are still present in the ground, you can leave them for a couple of days. Sometimes shrimp come back because their diet is incredibly nutritious. Sometimes the remaining shrimp will eat the dead tank mate for nutrition. If a shrimp appears motionless for long periods, the situation could be wrong. If you detect sick shrimp, isolate them immediately. Numerous treatment ways can restore them to health. Before applying chemicals to an aquarium, make sure they never contain copper. It is toxic for bamboo and many other invertebrates.
Bamboo Shrimp Feeding in Nature
Bamboo shrimp are omnivorous creatures and rarely consume food. They feed predominantly, filtering the drifting detrital particles in the water column by the cheliped setae. They capture microscopic animals, organic detritus, and algae inside a large fan and transfer them to their mouths. They also prefer rapid water displacement. They are the result of increased food intake proportionate to the actual water velocity of the source water. They can be more active at night.
Feeding
High-quality food must be an offer to Bamboo shrimp with quality food. Food gravitated toward the bottom of the tanks should quickly be swept off with it. They can be active even if they clean out the filter of your tank and tiny bits of dirty food fall from the filter, and the water is carried along with it. Sometimes there may be no leftovers in the tank because the shrimp refuses to leave. They sit right near our pump, filtering the water supply for food. If they were still missing this meal, they could even die of it.
The feeding of bamboo shrimp is fun to watch
Bamboo shrimp are fed as the food is filtered from the current by what seems like four delicate ball mitts held in front of their faces. The shrimp takes a handful from the mitts every few seconds and releases the pieces to its mouth. You need to have your tank adequately covered if they are climbing the hose at night looking for food, and they can fall from the surface of the water. If shrimp fall out, it won't last too much out of the freshwater, so always check regularly to assure your safety.
Bamboo shrimp tankmates
Because Bamboo shrimp are very fragile, the keeper should take great care to identify the best tankmates that wouldn't harm. This means no small predatory species such as cyprinids or bettas view these fish as simple prey. Peaceful species on this list (small tetra, catfish, and hatchet fish) and other harmless invertebrates such as dwarf shrimp and snails would make a good choice. Also, always keep your Bamboo shrimp in groups, as they appreciate safety in number; always remember what their tank size and filter can handle.
Is bamboo shrimp suitable for an aquarium?
Bamboo shrimp makes a lovely tankmate species and are a great choice if you have sufficient space. It will be necessary to consider whether tank conditions and tank mates would be adequate.
Tankmates
You should prevent any bigger aggressive tank mates with wood shrimp. Most large cichlids and any predators should be avoided. Crayfish may also not share a tank with Bamboo shrimp as they inevitably hunt and are killing them. Arowanas and peacock bass should also avoid
Bamboo Shrimp Breeding
Bamboo shrimp larvae need saltwater to thrive. In nature, they breed in brackish water. Adults cannot survive in saltwater. Having a separate brackish water tank could appear an obvious solution, but aquarists tried this many times. We have not encountered any successful solutions. We suggest not trying to breed Bamboo shrimp. If you want to reproduce it in captivity, you must seek help from a knowledgeable animal expert.
Breeding
Bamboo shrimp is not the type to chose for breeding purposes. Adult adults cannot survive in shallow brackish water. Typically male to female will be 1:1. Fortunately, there's something for which you can have an excellent sexual experience earlier. One female bears 2000 egg cells on its abdomen for 30-40 days. They turn brown as they grow and eventually develop into floating larvae. After 90 days, larvae metamorphosed, at which point they continued to swim forward. You could reintroduce these into your main aquarium.
The behavior of bamboo shrimp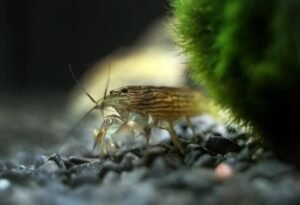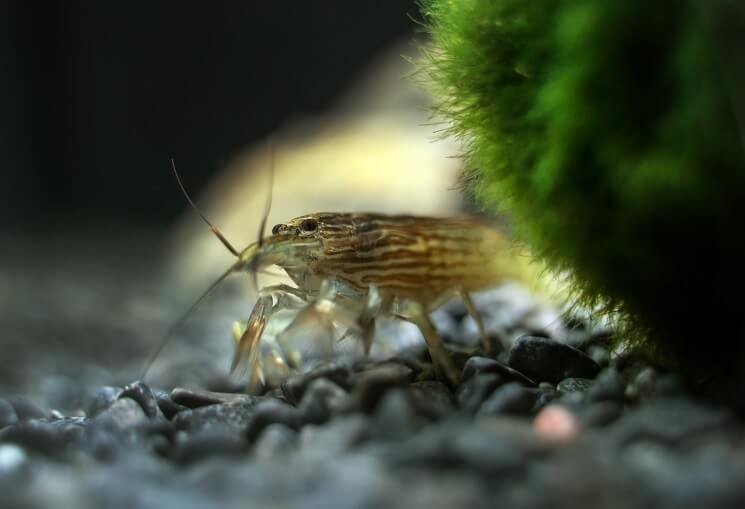 Across the tank, Bamboo shrimp spread their chelae in a filter-feeding posture. They unfold like an umbrella keeping it in place until enough suspended matter is lodged in the circulating fan's surface. In still water, these are motionless to most extent, and most frequently, the substrate does not have any food sources at any time. They have never been observed to make burrows in the substrate. The tall giant shrimp have squat bodies, a short rostrum, and strong legs than the graceful dwarf shrimp.
Potential health complications
It is sensitive to water changes. Even small amounts of copper can kill them. Because a significant part of tank medications contain copper, remove shrimp if there is any medicine added to your tank that contains copper. When performing water changes, make sure the parameters are equal.
Watch for motionlessness
The shrimp can be under one of the plant's leaves, under a rock, behind the decorations, or in the back of a power filter system. Interestingly, the same follicle acrobats acoustically may be expected when pre-molting, especially if the shrimps don't molt and don't feed after a few days. If the shrimp remains listless, you should check water parameters to know water levels inside the proper range. It's essential to look for signs of trouble while fishing for shrimp if the shrimp does not feed adequately and the current status of water is in the normal range.
Hunger signs: Bamboo Shrimp Pick For Food
Bamboo shrimp are often unsatisfied with their diet and can become picky at times. Prepare to give them meals so that they can fill quickly. Bamboo shrimp are often spotted strolling down the bottom of their tank to pick at the material for the edible matter in their new home. Pick food from the substrate is a usual behavior when they're starving, so get some of them a treat. After a few days, they will be out again and eating normally.
Keep bamboo shrimp together
Bamboo Shrimp can interact perfectly with each other. You can also keep it in the group as you have plenty of room on a tank. It's not just a social behavior because everyone has identified it as suitable for filters or other filtration processes. Even if they're each fighting in the same position, they'll never behave aggressively. They are very plentiful in the wild. You can also hold lots of shrimp inside your tank.
Fertilizer and bamboo shrimp
I don't know when a high amount of copper in an aquarium becomes harmful to Bamboo shrimp. About 98% of all aqua fertilizers have copper. It looks prudent to limit it as much as possible to avoid fertilizers that contain copper. For bamboo shrimp, it is better to prevent fertilizers with copper in your aquarium.
Trackbacks
If you have an aquarium of 75 to 100 gallons, you will keep an exotic and delicate shrimp on top of your golden fish. They are alien species of shrimp and can grow in a tank capacity of 75 liters. These shrimp species can be grown in small tanks of at least 100 gallons.