In this article we  review the best aquarium backgrounds available on Amazon. A background in your aquarium can make a big difference in how your aquarium looks and how it appears in a room. It also creates a theme for your tank, which makes decorating easier and helps some fish that can get very excited and anxious when they see their own reflection in the glass.
Aquarium backgrounds are an interesting and unique way to create some depth, add color, and bring some intrigue to your aquarium.
Comparison Table – Best Aquarium Backgrounds
Image
Title
Price
Prime
Buy
Mangrove with Sunlight/Aquarium Background Fish Tank Background (Various Sizes) (18" H x 48" W)

Prime

View On AMAZON
AWERT Undersea Theme Aquarium Background Colorful Coral Tropical Fish Sunshine Underwater World Fish Tank Background 24x12 inches Vinyl

Prime

Eligible

View On AMAZON
LENDAWAY New Undersea Coral, Seaweed Background Aquarium Background Decoration 25 x 15(inch)

Prime

Eligible

View On AMAZON
AWERT 24x12 inches Stone Aquarium Background Black Rock Fish Tank Background Rocky Terrarium Background Vinyl

Prime

Eligible

View On AMAZON
Aquarium Fish Tank Poster Underwater Marine Coral Background Poster Thicken PVC Adhesive Fish Tank Backdrop Static Cling(6130cm)

Prime

Eligible

View On AMAZON
ELEBOX New 20" x 48" Fish Tank Background Paper Wallpaper 2 Sided Colorful Seaweed Water Plants Aquarium Poster Decorations

Prime

Eligible

View On AMAZON
Product prices and availability are accurate as of the date/time indicated and are subject to change. Any price and availability information displayed on [relevant Amazon Site(s), as applicable] at the time of purchase will apply to the purchase of this product.
Prices pulled from the Amazon Product Advertising API on:
They come in a wide variety of options, from 3D rock formations to adhesive vinyl ocean floor patterns and sizes, and can be just what you need to add an extra dimension to your aquatic hobby.
One of the easiest ways to add detail and depth to an aquarium is to use an aquarium background.
Many different options are available: coral reefs, ocean floors, rocky surfaces, and even mangroves. Installation is simple and the impact is significant.
By using the best aquarium background out there, you can create a long-lasting look that you and your fish will love.
Choosing an aquarium background comes down to a combination of what is the right size and what appeals to your personal taste.
In this guide, I'll teach you how to choose the right size, understand your tastes, and share what I consider to be the best aquarium backgrounds for different styles.
But like anything else you use in your tank, you need to know if they help fish, harm fish, or are neutral. You also need to know the pros, cons, and everything else that can help you choose the right soil for your tank.
Aquarists, let's get into these questions before looking at some of the best aquarium backgrounds available to buy.
What to Look For in an Aquarium Background
Sizing
Size is probably the most important factor to consider when purchasing an aquarium Backgrounds .
It makes sense that a fund intended for 10 gallons (38 liters) just won't work for 75 gallons (208 liters).
Measure your tank to find out what size range you need to cover the back of your tank.
Installation
It is important to consider how to install a wallpaper.
Some wallpapers are made from laminated photos to be pasted on the back of the aquarium.
Others are "static cleats" that act like a flat suction cup.
And some of them are self-adhesive, in fact they are huge stickers that you put on the glass.
Laminate Backgrounds
The laminated bottoms are either glued to the back of the aquarium with clear plastic tape (masking tape) or glued to the back with removable glue.
The good thing about this is that it is very easy to do. Even if you are having trouble with DIY, it only takes a few minutes to install one of these.
While the tape is convenient, the adhesive makes the image more visible because it is right next to the glass. Using glue to glue the bottom to the tank will help prevent glare and is really worth it.
Static
Despite the name, static adhesions actually don't use static electricity at all. Static Cling Wallpapers are a thin sheet of vinyl so soft it acts like a huge flat suction cup.
You can easily remove the glue from the tank, but beware! Static adhesions can be very delicate.
When trying to smooth out the air bubbles, apply light pressure so you don't tear the vinyl.
Self-adhesive
Adhesive wallpapers are basically huge stickers. They have a paper backing that is peeled off and then the sticky side of the bottom is placed against the back of the aquarium.
It is best to spray the back of the tank and the sticky side of the bottom with water. This allows you to move the sticker for a short time so that you can apply it correctly.
If you just try to put it dry, it will stick right away and you won't be able to slide it off.
Benefits of Having a Fish Tank Background
Using an aquarium background has some advantages.
The most obvious is that they are visually interesting for your aquarium and provide a nice Backgrounds for your pets, plants and decorations.
Another great reason to use an aquarium floor is that it covers any unsightly wires or filters behind your tank.
Top 10 Best Aquarium Backgrounds for All Types of Tanks, Plants & Colors
Best Aquarium Backgrounds Reviews
This two-sided bottom has a river bed on one side and a lake bottom on the other. Both have bright, vibrant colors and will make your fish and other aquarium inhabitants feel right at home.
If you're looking for something that adds a lot of detail and works well in an aquarium with minimal plants and decor, this is a great option.
It is compact and takes a lot of interest in adding the illusion of depth to your tank.
Check Price On Amazon
---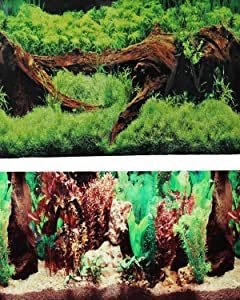 This 2-sided driftwood and flower Background  is a great choice if you want something bright and beautiful that uses mostly deep greens and browns for a truly natural look. It looks great without overshadowing the plants you have in your tank.
The bright green image and driftwood is a bit more subtle and would look great behind real aquarium plants. On the other hand, the image stays with the same green and brown tones, but adds a lot of texture for depth and visual interest.
The material itself is extremely durable and easy to install. All you have to do is cut it to size and stick it with clear adhesive tape. If you want to turn it over, just peel it off, flip it over and stick it back on.
Check Price On Amazon
---
This background from SPORN has a clear and bold view of water and tropical plants, adding color to any aquarium setting. Fits most aquariums and can be quickly cut to size.
One of the great things about this Background  is that it's colorful enough to take center stage as the main decor piece, but it's also quiet enough that it won't overshadow any plants or decorations in your tank. It's the best of both worlds.
All you need to do to apply this background is cut it to size, spray some water on the glass, remove the back and smooth it out. It uses static adhesion to stick and needs to be smoothed out with a squeegee or credit card to get all the bubbles out. Removal is also easy and no mess is left behind.
Check Price On Amazon
---
Next up is this beautiful Backgrounds with large silver rocks that look great in an aquarium full of fish and a perfect addition to a lizard or turtle tank. The HD picture looks great and will fit most 55 gallon aquariums.
The image is scratch and tear resistant and is more durable than comparable items you can buy at a pet store. All you have to do is cut it out, position it and then tape it.
Check Price On Amazon
---
One of the best things about this 2-sided design is that each side is very different. One has bright, colorful corals, while the other has lush green jungle plants.
They are both beautiful and each add something completely different to the look of your aquarium.
Designed for 24 " tall aquariums, this Backgrounds is made from durable plastic. All you need to do is roll it out, choose the size you want and tape it down.
Check Price On Amazon
---
Not great for growing live plants, but love the way they look? This background gives the look of an instant garden.
This is a double sided laminated bottom, big enough for a standard 208 gallon tank (fits 55 gallons too!).
I like the vibrant colors and contrast of this background.
Check Price On Amazon
---
One side of this bottom can help create the illusion of depth as it shows open water with a bright sun streaming through it. Or you can use the side that shows a layer of coral rock.
This is a laminated background that is available in different sizes.
Check Price On Amazon
---
I like the image of this background. It shows an underwater forest and really gives the illusion of depth. This is a self-adhesive background that follows like a sticker.
This would fit in a 20 gallon cup or could be lowered for smaller tanks.
Check Price On Amazon
---
This self-adhesive backing is large enough for a 100 gallon (378 liter) tank, but due to the type of image it uses, it could easily be cut out for a smaller tank.
It shows a slate gray rock wall that creates an interesting but mostly neutral background.
Check Price On Amazon
---
I really like this because it's not just a background, but a set that gives you six different options for images on three sheets. A great added value if you have more than one tank that needs a bottom.
Take your photo of crystal blue waves, a lushly planted scene, a beach with shells, mossy driftwood or two different types of tree roots.
These bottoms fit 20 gallon or smaller tanks. You could buy the set and change your wallpaper every few months.
Check Price On Amazon
---
Methods for Choose an best Aquarium Background?
There are a few things to consider when choosing an aquarium Backgrounds . As we said, the most important thing is to choose something you like. Ultimately, as long as it looks good, that's all that matters.
With that said, there are a few different things to consider when deciding which wallpaper is right for you.
How realistic do you want to be?
Of course you want the background image to look as realistic as possible, but there is something else to keep in mind. Are you trying to keep your tank looking good? Or are you trying to mimic the natural habitat of your fish?
To be as realistic as possible, you need to consider your fish. For example, if you have a freshwater tank, you should not choose a bottom with an oceanic coral reef. Or, if you have a fish that lives in a rocky environment, a photo of the open ocean floor does not reflect its natural habitat.
How much does a realistic environment matter?
Frankly, it depends on who you ask. Many people will say that you should always use a bottom that suits the natural environment of your fish. That is the most realistic option and if you want to create an accurate environment you have to use the right background.
That said, at the end of the day, all that matters is whether you're happy with the look of the tank. Let's face it, your fish won't notice the difference. So if you want your freshwater fish to swim in front of a coral reef, that's totally your decision.
Aesthetic
Another thing to consider is the aesthetics of your tank design and how they will play out in context. If you have an aquarium that is reasonably planted, it would look very different on a gray background than on an aquarium with many colors.
If you have a lot of open space in your tank and mainly rely on the background to add interest, large-scale designs generally look pretty good. Large-scale rock backgrounds or even texture options work well here.
If you have a lot of plants and decorations in your tank, it will look more polished with a slightly toned down background. Rock walls, lush greenery or sandy sea beds are good options here.
Again, the bottom line is that you like the way your tank looks. Ultimately, the most important thing is how much you love looking at the background you choose.
Best
Aquarium Backgrounds, how to decide?
Whichever background is best boils down to a combination that is the right size and appeals to your personal taste.
For smaller tanks, I really like the Underwater Forest and Hitop variety pack. I think these can really add some interest to your tank.
For a larger tank, I think I would go with the Driftwood and Floral bottom. That big piece of driftwood surrounded by all those plants is just beautiful.
I think it would really add a layer of depth to a planted tank that would really help it burst.
Final Thoughts – best aquarium backgrounds
Choosing the best aquarium Background for your tank is a great way to add the design detail you missed. They are easy to install, require little to no maintenance and are extremely powerful.