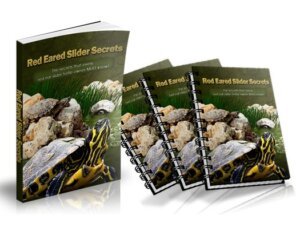 The Red Eared Slider (also know as Red Eared Turtle and Red Eared Terrapin) is a medium to large-sized freshwater turtle; females are generally larger than male red eared sliders, reaching around 12 inches in length. The Red Eared Slider turtle will have several different characteristics, including size, in terms of age and size. The Red Eared Sliders growth rate is correlated to these factors and environmental factors.
Summary
Red Eared Sliders are often found in pet trade and are inexpensive animals to obtain. If given proper attention, a turtle can survive in captivity for over 30+ years. These turtles also provide a beautiful yellow, dark green, and red combination. The growing popularity of these animals as pets puts pressure on the ecosystem around the world. Before purchase, make sure the animal comes from reliable farms. After purchasing them from reputable sources, check all local regulations to ensure you follow them so that this turtle is not released without your knowledge for your safety.
Some notes
This Red-Eared Slider is a native species, a hardy turtle and a famous turtle for beginners as it is adorable and easy to keep. Some new keepers may have difficulty feeding their pets properly. The Red Eared Sliders has been described as a friendlier and cheaper animal that will give your family lasting bonds.
Red-eared slider
The Red-Eared sliders turtles (Trachemys scripta elegans) are subspecies that are similar to pond sliders. Red-eared Sliders are the turtles most often kept by humans and are found in other countries and are internationally popular as pets. These are native turtles to the United States and Mexico. It is known that there is a common habit of releasing this animal from its domestic environment to nature; because of this, it has become highly invasive in different parts of the world. The animal was included among the species listed on the Global Invasive Species Database most destructive list.
Red-Eared Slider: Care, Diet, Habitat, Tank, & Facts
When provided with everything the animal needs, Red Eared Slider is considered an excellent pet. Their medium size with unique colors and beautiful lines make them an easy and attractive option. However, anyone thinking about keeping Red Eared Sliders should learn that it requires attention and is highly recommended for beginners. The animal should last for generations and grow in size quickly.
How fast do Red Eared Sliders grow?
The Red Eared Slider grows to about twelve inches. It can take about eight years for red-eared sliders to reach their entire length. After their juvenile stage, they grow approximately one inch annually. Males are generally smaller than females. Your turtle's estimated growth rate depends on many factors, such as population, age, and gender factors, that affect your turtle.
How big are Red-Eared Sliders in Captivity?
This Red Eared Slider turtle is an aquatic animal with a good average size to be kept in captivity. Explore your development and health through this guide and the helpful tips listed below.
About Red-Eared Sliders
Red Eared Slider (Trachemys scripta elegans) are subspecies of the common – Pond Slider (Trachemys scripta), usually pale green. Red Eared Sliders feature a beautiful yellow coloration over their green shells and throughout their dark olive head with two red markings resembling yellowish ears and bands. It is a good turtle for beginners as it grows quickly and easily compared to other turtle species. The pet industry has long marketed these turtles.
A Red-Eared Slider turtles are not just a Christmas gift
Red-Eared Sliders are available in stores and an invader in most countries but not Antarctica. Breeding populations have been identified in more than one hundred countries outside North America, Europe, Asia, Australia, the Middle East, and Central and South America. Their existence elsewhere causes severe problems in wildlife habitats because they can often outperform and compete with native turtle species in search of resources. The importance of proper care must remain constant when you are working to obtain optimum maintenance quality for the Red-Eared Slider.
Are Red-Eared Sliders Turtles good pets?
Red-Eared Sliders make great pets if you provide everything they need to live correctly. They require more space than other aquatic animals; just another turtle or alligator would make a turtle's excellent companion. However, when you are still keeping these animals, even with enough space and time, it is good to start with a few animals.
How the Age Influences the Growth Rate of a Red Eared Slider
Generally, most Red Eared Sliders got a growth rate of 1 to 2 inches within the first months of life. Most adults can range in size from 7 to 12 inches. The wild Red Eared sliders can achieve a smaller size when reach sexual maturity compared to the captive Red Eared Slider turtles.
How do I take care of Red-Eared Slider Turtles?
Red Eared Slider turtles require a lot of space to live longer in their lives. For an owner who is new to turtles, you should obtain a complete analysis of the water available in your tap through your aquarium tests and adjust the parameters if necessary. This turtle is suitable for both novices and individuals with more experience in handling and rearing. Your environment must be equipped with heat lamps, lighting, correct filtration, clean water, and ideal food to ensure Red Eared Slider turtles proper care.
How long does Red-Eared Sliders live?
Red Eared Slider can live for decades. The lifespan of the red slider in nature can last about 20 years. Pet turtles generally have a longer lifespan compared to wild turtle populations. Peel diseases and skin bruises commonly occur due to the lack of heat in their surroundings. Without regular treatment and illumination, these turtles are prone to stinking, greasy sores that develop on their flesh. As a result, the skin becomes defective without adequate lighting, elasticity can be compromised, and soft tissue can become damaged or stiff.
Semi-Aquatic or Aquatic Turtles
Slider is a semi-aquatic turtle that lives in freshwater aquatic ecosystems and can also occur in brackish environments. They spend most of the day hunting for food in lakes or relaxing on rocks and logs. These species roam in still water environments, where water is held back and flows slowly. Most live in ponds, rivers, reservoirs, or swamps.
Tank size, heating, lighting and setup
During dry periods, in the natural habitat, a turtle can walk several kilometers to access a large amount of water. Most adults are kept in tanks over 55 gallons. Each slider may require up to 20 additional gallons. When the turtle tanks needs cleaning in its environment, check if the UVB light needs to be changed. Substrates are unnecessary, but you can still use them and make aquariums look prettier. If you want substrates, pebble is an easy choice. Aquatic vegetation has become famous for this type of aquarium, even though the turtle can eat them.
Tell me the best way to feed a Red-Eared Slider?
Red-Eared are omnivores hardy turtles that can suit many eating styles/diet options in particular. These small turtles usually consume fish, invertebrates, aquatic plants, and tadpoles. Sliders often have bony nozzles that help them turn over tree roots for food. Try to feed the turtles the same amount of food each day. Offer green vegetables to keep them healthy. Your pets may need supplements like calcium for a healthy diet.
How big do Red Eared Sliders get in Captivity?
In captivity, the red-eared sliders often grow larger than a wild animal. A pet turtle will have everything needed and can live a longer life while wild turtle species remain in danger. Pet turtles live in controlled environments that regulate and stabilize water temperatures. Wild turtles hibernate on their own and lose vitality, energy and essential nutrients during hibernation. Instead, wild turtles face winter conditions in a temperature-controlled environment.
The Growth Rate of Wild Red Eared Sliders
This species is similar to other pet turtles. Other factors significantly affect growth, especially food and temperature. Wild turtles eat less compared to pet turtles. Also, wild turtles should hunt whenever they need to eat. Young turtles should be given as good a daily diet as their parents. Otherwise, this can cause growth problems. They can always warm up in their basking place because the sun can provide better UV-B radiation than most ultraviolet lamp lenses. Turtles in winter are usually inactive for between three and five months.
How Basking Influences the Growth Rate of a Red Eared Slider
Ultraviolet light works in a surprising way to increase your ability to produce nutrient-rich vitamin D 3 to produce calcium and provide for proper health. They often cannot get adequate calcium from their food; this causes poor bone formation, metabolic problems and carapace rot. Provide the necessary lighting for your turtle to be always active and healthy.
Appearance
Red sliders feature yellow, leafy green, and red stripes behind the ear. Its paws and tail are light green, and tufts of yellow lines encircle its body. Some turtles are pastel shades, although people rarely see this coloring outdoors when observed. The sliders have a beautiful and showy dome-shaped shell with a slightly flat bottom that is light when juvenile and eventually darker. Baby Red Eared Sliders are yellowish and have only another dark-banded black spot on their belly.
Size
Once born, baby Red Eared Sliders are around 23 to 35 mm in size. A female's sexual maturity comes when they reach approximately six inches. Males have shorter tails and longer nails. Adult turtles differ in size depending on age. Males and females appear to be very different in terms of body size.
Questions
The useful life of the Red-Eared Slider can range between 15 and 30 years. They are usually found in nature for a shorter time. This massive differentiation occurs because, in nature, several predators can cause serious illnesses or destruction to the turtle, leading to a reduction in its lifespan. Besides taking care of your turtle's health, you have no other option; wait until your turtle grows up.
Red Eared Slider Diet
The Red-Eared Slider is omnivorous and feeds on vegetables, fruits and meat. Animal protein-based food has the potential to increase turtle growth. Give them a wide variety of products and nutrients so you can provide a long shelf life to other animals. A young turtle can feed on many vegetables, but this food preference may not always exist in its growth. Turtles are omnivorous animals, and healthy baby turtles typically tolerate virtually any type of food.
How big are adult red-eared sliders?
Red Eared Sliders can be classified as adults aged 2-5 years. An animal can grow up to almost six years before reaching maturity, typical of an adult tortoise. To reach maturity is generally shorter in females, reaching the reproducible age around two years.
Conclusion
The Red-Eared Slider is a cute pet that can grow up to 12 inches (30 cm). The average growth rate is expected to be 1 inch per year. In captivity, these animals are highly dependent on the quality of the environment and food provided by the turtle owner. It must have the correct filter set, ideal UV lighting system, and power supply. This helps ensure your slider receives maximum growth in terms of health with optimal maintenance.