Warning
: Undefined variable $td_img_id in
/home/u299318930/domains/aquariumhunter.com/public_html/wp-content/plugins/amalinkspro/public/class-amalinkspro-public.php
on line
3290
Keeping an aquarium is a great hobby, but when you're just starting out, it can be a bit overwhelming. There are some essentials you need to get your tank up and running, but how do you know what works best together?
One of the best places to start is with an aquarium kit. This is generally the most cost-effective way to get all or most of the products you need to get started without having to go to the pet store ten times. But not all aquarium kits are created equal! We've put together reviews of our favorite aquarium kits, including our best overall pick, best pick, and best premium kit.
Comparison Table
Custom
SiteStripe Image
Title
Review
Buy

Top

Best Pick
MarineLand Portrait Glass LED Aquarium Kit
4.5/5.0
Check Price
Top Performance
Aqueon Fish Aquarium Starter Kits LED NeoGlow
4.5/5.0
Check Price
cheapest
Marina LED Aquarium Kit
4.4/5.0
Check Price
Fortunately, there are many great starter kits to get you started. The best aquarium starter kits include the tank itself, as well as a suitable filter, multi-stage filter cartridges, water conditioners, and more. You get everything you need to set up your aquarium and get it ready for fishing.
In this guide, you can learn what makes the starter aquarium best for a freshwater community. Find out how to choose the perfect fish to suit your new aquarium and check out our reviews and recommendations for the best beginner tanks on the market today.
The 10 Best Aquarium Starter Kits For Beginners
Best Aquarium Starter Kit Reviews
It is a standing glass tank from MarineLand that comes with everything you need to set up your first aquarium. Plus, it's a beautiful tank that won't take up too much space on your table or counter. The shape of the portrait is unique and the curved edges give it a sleek and modern look.
A five gallon tank is a great size for beginners and everything you need is included. A three-stage filter with adjustable water flow is hidden in the rear panel. All cables are also concealed and the filter works quietly. Filter cartridges are also included.
This kit includes a hinged light above the tank that uses white and blue LEDs. You can create a suitable day and night cycle: white for bright daylight and blue for soft moonlight. A sliding glass canopy keeps debris out of the water and fish jumping without distracting the style.
Check Price On Amazon
---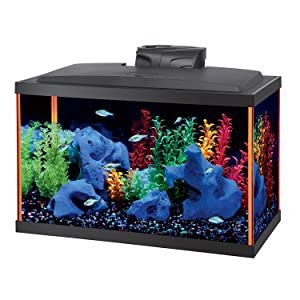 This Aqueon starter kit is a great way to get started. It's 10 gallons, so it gives you a little more choice in terms of how many fish you can keep. In addition, the neon silicone edges create a really modern look. Choose from orange, pink and green.
It includes a black background, bright multicolored gravel and three plants so you can settle in right away. The unobtrusive hood keeps the tank from looking too bulky and the integrated blue light makes the neon colors shine.
This kit also includes a silent flow filter, a medium filter cartridge and a water conditioner to start cycling right through the tank. It comes with fish food and a preset warmer, so it's all set for when you add your fish.
The black gravel, bright colors and blue light create a truly unique look that adds something extra that you don't get in most aquariums. It will really become an eye-catcher in your home.
Check Price On Amazon
---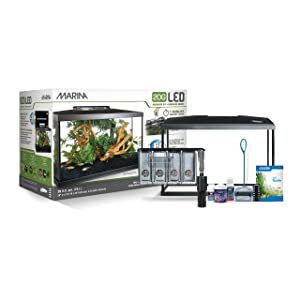 If you want a larger aquarium, this marine kit comes with a 20 gallon tank and includes everything you need to get started. With the clip-on filter and the quick-change filter cartridges you can immediately start circulating your water. It even contains conditioned water to make tap water safe for your fish.
An LED lamp is built into the canopy that provides a natural light effect and a simple on/off switch so that you can switch off the light in the evening. You'll also get a soft mesh net, a biological supplement to encourage the growth of beneficial bacteria, and an aquarium guide to get you started.
This is a simple design with a black cap that helps maintain water temperature and prevents fish from jumping. Since it's a bigger tank, you also have a lot more options when it comes to what kind of fish you can have in it.
Check Price On Amazon
---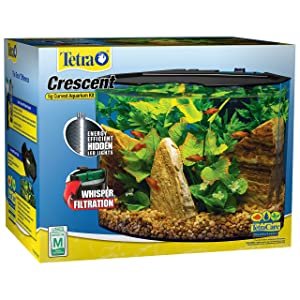 This five gallon acrylic tank is a great option for small spaces. Keep it in your office, bedroom or directly on your counter. The seamlessly curved front looks sleek and modern and the black frame and upholstery blend in with any interior.
The included filter uses a double-sided dense mesh cartridge for mechanical filtration and activates charcoal to remove odors and any contaminants to keep the water clear and clean. Also included is a biobag for beneficial bacteria needed to balance water chemistry.
This is a perfect size aquarium for up to three community tropical fish or a single goldfish. Hidden LED lights illuminate the tank without being too obtrusive and the lid is designed for easy cleaning and water maintenance.
Check Price On Amazon
---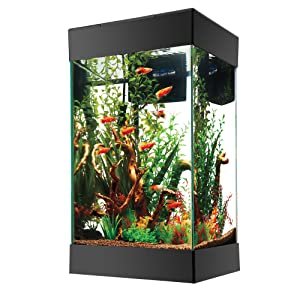 Another great starter kit is this 15 gallon tank from Aqueon. It comes with all the essentials: a preset heater, thermometer, bell with LED light, a Pro Power filter and a filter cartridge, as well as fish food, a soft mesh net and water conditioner.
The great thing about the filter included in this kit is that it has an LED indicator that lets you know when it's time to buy a new cartridge. If the light flashes, it's time for a new one. This helps to maintain a healthy environment for your aquarium by ensuring that the water is as clean as possible.
This tank has a slim design that gives your fish plenty of vertical space to explore. It is an attractive and modern design that will become the center of attention in any room. It doesn't take up too much space either, so it won't be difficult to find the perfect spot for it.
Check Price On Amazon
---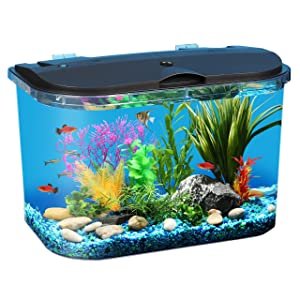 This 5 Gallon Aquarium Kit from Koller Products is a great option if you're looking for a small, simple tank for your desk or counter. It is made from a single piece of clear plastic and because it has fewer seams than a glass tank, there is less chance of leakage.
LED lighting comes in seven different colors to choose from: white, blue, amber, green, red, purple and aqua. There are also four different lighting patterns to choose from for that transition from one color to another.
This kit includes a powerful internal filter with a flow rate of 45 gallons per hour, keeping the water as clear and clean as possible. The hood is designed to tilt up to allow moisture to drip back into the tank, keeping your table or countertop drip-free while cleaning or feeding.
Check Price On Amazon
---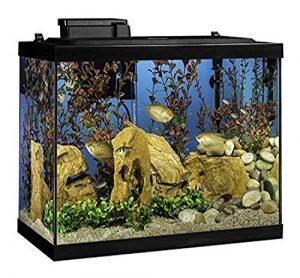 This all-in-one aquarium kit from Tetra comes with a 20 gallon glass aquarium, LED bell, Whisper 20 filter, Tetra HT 20 heater and several artificial aquarium plants.
Available in four different sizes ranging from 10 gallons to 55 gallons and comes with additional accessories such as a digital thermometer, fishing net, water conditioner, filter media and more.
Check Price On Amazon
---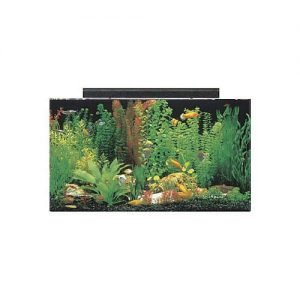 This aquarium kit may not be as complete as some others on the market, it has an acrylic aquarium that is much stronger and more impact resistant than a glass tank.
Available in sizes ranging from 20 gallons to 50 gallons, this kit comes with a 24-inch bulb and reflector, as well as a colored background.
Check Price On Amazon
---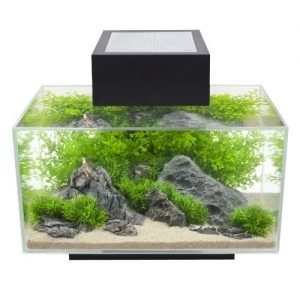 Uniquely designed to hide tank wiring and equipment, the Fluval Edge Aquarium Kit is a very attractive option.
This kit includes a six-sided glass aquarium for 360-degree viewing, as well as an LED light, a Fluval flow filter, and all the necessary filter media. The tank looks great, runs quietly and is very easy to install and maintain.
Check Price On Amazon
---
The GloFish Aquarium Kit is a good, inexpensive option for smaller fish and invertebrates. The kit comes in 1.5 and 3 gallon options and is made of plastic with a clear plastic fuel cap. The 1.5 gallon tank measures 7.25″ x 8.5″ x 11.5″ and sits on a black pedestal base. The tank is made of seamless plastic and has a solid black bottom.
This kit includes a 2-stage filtration system and an easily accessible hood that opens with a hinge and has built-in LED lighting. Like most GloFish tanks, it features blue LED lighting to bring out the bright colors of GloFish, but will create the same effect with goldfish, guppies, tetras, bettas and other types of colored fish and invertebrates. This lighting effect gives this tank a special interest and makes the tank small enough to sit on a desk, in a hallway or even in a bathroom.
Check Price On Amazon
---
What is the Best Aquarium Starter Kit?
All these kits are great and they are so different that it is really hard to pick just one, but we really love the Aqueon LED Aquarium Kit.
It comes with a large number of accessories, including a filter cartridge, heater, net, water conditioner and fish food.
The filter has an LED indicator light that lets you know when it's time for a new filter cartridge, which is a great feature that can have a big effect on your water quality if you don't always remember when it's time to change the filter. filter.
Conclusion
There is a lot to consider when choosing a Best aquarium starter kit. Remember that the bigger the tank, the more fish you can have. First, figure out what type of fish you want and which tank size best suits your space and budget.
These kits have everything you need to get your tank up and running and some even come with water conditioners, fish food and other things you need to maintain your tank and keep your fish happy and healthy.