Warning
: Undefined variable $td_img_id in
/home/u299318930/domains/aquariumhunter.com/public_html/wp-content/plugins/amalinkspro/public/class-amalinkspro-public.php
on line
3290
Finding the perfect return pump for your reef tank or saltwater aquarium can be difficult. There are many different things to consider before choosing the Best Aquarium Return Pumps.
The amount of water you need to pump, the type of fish you have, and your budget all play a part in choosing the best aquarium return pump. If this sounds a little overwhelming, don't worry!
Comparison Table
Custom
SiteStripe Image
Title
Review
Buy

Top

Best Pick
Jebao DCP Sine Wave Water Return Pump
4.5/5.0
Check Price
Top Performance
Current USA EFlux DC Flow Pump
4.5/5.0
Check Price
cheapest
Uniclife DEP-4000 Controllable DC Water Pump
4.2/5.0
Check Price
The purpose of this post is not to point out the cheapest or the most expensive aquarium return pumps. I am going to point you to the highest quality and reliable pumps available on the market today. This is a part of your system that you should not overlook. You want an aquarium return pump to last forever, to be quiet and to require no maintenance.
Here are some great options to consider for your return pump.
What Is An Aquarium Return Pump?
The first question to ask yourself is why should I use a return pump instead of say a wave generator or motorized head. The main difference here is that the return
pumps are designed to pump water
uphill and are made to handle the main pressure. Wavemakers are designed to pump water into the aquarium and a power head is not enough to handle the head pressure that a return pump must take.
AC vs. DC Return Pumps
Return pump manufacturers have been putting a lot of pressure on DC return pumps lately. It makes perfect sense given the control characteristics that DC pumps provide. Almost all DC return pumps can be precisely controlled and have power modes to turn off the water pump immediately when you feed your fish, plants or corals. Some return pumps come with smartphone apps that make monitoring and setup easy. They are also much more energy efficient.
Internal Versus External Return Pumps
An external return pump is designed to operate only outside the water. Their design makes them resistant to pushing water over long distances. Almost any return intended to work only externally will be extremely reliable. Not having the pump in the water, especially in salt water, greatly increases the reliability of a return pump. Many of these pumps will last for years without maintenance. They also offer the highest flow rate. They are commercial size external water pumps that can handle flow rates for large exhibitions, ponds and fishmongers.
Top 10 Best Aquarium Return Pumps
Best Aquarium Return Pumps Reviews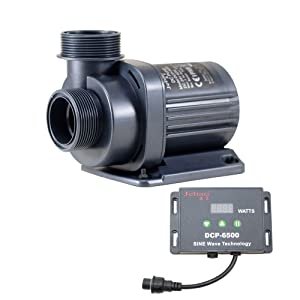 For the first aquarium pump we have the Jebao DCP Sinus return pump. This pump is a great option for those who value a quiet machine. It's small design and very quiet features make it a perfect addition to any tank.
With the Jebao DCP Sinus Pump you get a powerful pump in a small package. This pump has a flow rate of 1710 GPH and is therefore a very strong competitor compared to other pumps for a comparable price.
In addition, being the latest model from this brand, its powerful motor and energy-saving design make it almost 50% more effective than previous models.
The only negative you get when buying the Jebao DCP Sine water pump is the price. There are many good pumps available for less than this.
It's not extremely expensive, but it's definitely close to expensive. If you are looking for very cheap pumps, this may not be for you.
Check Price On Amazon
---
While traditional water pumps are AC, Current USA's eFlux runs on DC power and is more controllable. Just turn the knob and adjust the flow until you get the right speed. You can use this pump both in and out of the water.
It is also safe to use in fresh and salt water systems. Quick connect hose couplings are included. This simplifies maintenance and installation.
These pumps are quite small so they can fit in tight spaces and small wells. Still you get high pressure and high flow. This makes them the best choice for your return pump application needs.
Since you get stronger flow and high pressure, you may worry about the energy efficiency. This product comes with a magnetic drive design and a sealed DC motor. As a result, it consumes up to 65 percent less energy than traditional pumps.
Fitted with 1900 GPH and rubber pump mounts. You also get a MicroUSB cable and an input screen.
Check Price On Amazon
---
If you're looking for a reliable water pump, Uniclife has what you need. There is no PCB in this product. So it is more stable and can last longer than DCT series.
The high performance you get is based on the six-pole and three-phase motor. In addition, the ceramic shaft is wear-resistant. Therefore, it will last a long time and will not fail.
You also get a smart controller with it. There are 99 different speeds and a 10-minute pause mode for feeding.
You also get a memory function. This will help you to keep the same settings after reboot. Restarting may be necessary for many reasons such as getting an error code or shutting down for a particular need.
Multiple security mechanisms are also included. It will turn off if there is no water or if it feels like something is stuck. You also get the real soft start, so it's always very quiet.
Check Price On Amazon
---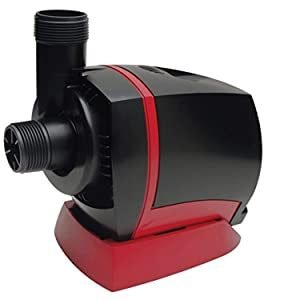 Fluval marine sump pumps are precision designed and manufactured. That's why you get the most powerful flow rates. However, this depends on the height of your tank head and pump. If you have a marine system with a sump, you can be sure of excellent water flow.
The product is of high quality and energy efficient. Magnetic drive units can also be external or submersible so you can choose the best option. It is certified for marine use and is quite resistant.
Therefore, it will withstand time and last a while. With the robust pump you will see great energy efficiency here.
In addition, the pump is designed to operate at low temperatures. As a result, the temperature of the tank water does not change even when it is placed in the tank. Of course, there is low heat transfer here, which also means lower energy consumption, making it ideal for many aquariums.
Check Price On Amazon
---
The Aquastation aquarium return pump is another great water return pump you can try. Boasting an impressive peak flow of 3100 GPH (DC12000), this water pump has more to offer in terms of customization for your tank and fishing needs.
There are 20 different water flow levels to choose from with the smart controller. There is also a wave mode where you can determine the intensity of the waves in your tank. In addition, there is a feeding mode that turns off the pump for 10 minutes when you feed your fish.
The only thing that goes against this water pump is the fact that no adapters are included to adjust the size. While this pump will likely fit in any tank, if you have a particularly large or small tank, you may need to purchase a separate adapter to connect it.
This pump is available at an affordable price, but the extra cost of the adapters may not be worth it.
Check Price On Amazon
---
Last but not least is the Jebao New DC return pump. This pump has a great maximum speed of 528 GPH. It is a powerful pump suitable for all types of tanks as it has copper free components making it perfect for use around sensitive fish.
It also has 10 different water flow rates that you can choose from based on your fish's preferences. Other great features include that it runs on low voltage and has the feature to automatically shut off if there isn't enough water to avoid overtime. Finally, there is also a wear-resistant ceramic shaft that ensures longer life and more efficient power.
The downside of Jebao's new DC return pump is that it is slightly larger than the other pumps mentioned. It will still fit most tanks, but it probably won't be easily visible or hidden. Fish owners who have smaller aquariums or tanks should consider looking at several options first due to their larger size.
Check Price On Amazon
---
The Sicce Syndra Aquarium Return Pump is the first pump I recommend to customers when building an aquarium. Your final choice will depend on your budget and your desire to operate your return pump, but the Sicce is also the yardstick I start with. I always start with a Sicce pump because they have the best engineering, the best reliability and the best warranties in the industry.
I didn't even mention how quiet they are. They are incredibly quiet. Many DC pumps are louder than this one by comparison. It's all thanks to over 35 years of Italian engineering and care in manufacturing. The pump is equipped with a synchronous motor and an advanced rotor that significantly reduces noise.
Sicce completes all of these features with a gold standard, the industry's best 5-year warranty. No manufacturer unless you spend a lot more in the DC category (looking at Abyzz) offers such a guarantee. Sicce is absolutely convinced that this pump will serve him for a lifetime. I've seen many of these fuel pumps run smoothly for years.
Sicce's engineer and trust are well deserved and these pumps are expensive as a result. However, knowing that the return pump is the heart of an aquarium system, I see no problem in spending a little more on a pump that will give me a lifetime of worry-free use.
Check Price On Amazon
---
The Fluval Sea SP Series return pumps are a return to the reliable Askoll engine design. Developed in Italy, the Fluval Sea is backed by a 3-year benchmark warranty and offers reliable, powerful and quiet operation. Yes, it's true, this Fluval Sea is said to be quieter than the previous generation Jabeo DC pumps. They can also be performed internally or externally. It's a great all round bomb.
My main problem with this water pump is that there is no flow regulator out of the box. To shut off this pump, you must use a gate valve in your plumbing. While a gate valve is recommended in any sump design, it can be an additional expense and time investment for those looking to save on design costs. All these pumps are energy-intensive and large, so don't expect energy savings from them.
Check Price On Amazon
---
The EcoTech Vectra is packed with smart features such as automatic calibration that automatically adjusts to your tank's overflow drain. It is compatible with the EcoTech battery backup system, which can power the water pump for a few days. It can work with the ReefLink app, giving you full access to your activities on your computer.
My favorite offering is closed mode. I'm a big fan of using closed loop systems, especially for smaller tanks where you can eliminate a wave generator and have more room for your corals and fish. The closed loop options offer wave shaping features like random spin and reef comb modes, giving you the random flow rate you need for a reef tank.
As with all EcoTech products, this is an expensive DC return pump. I'm not that crazy about the price though. It's the warranty that really bothers me. EcoTech only backs this up with a 1 year warranty, which is a huge shame for a return pump that should be the heart of the aquarium.
Check Price On Amazon
---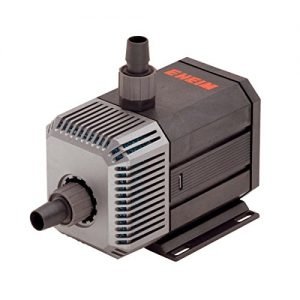 The Eheim Hobby Pump is an extremely reliable aquarium return pump that has been used in the hobby for many years. I know several hobbyists who use this water pump and many are still working after over 15 years of use. The reliability of these pumps is virtually unparalleled. They only come in smaller gallon per hour outputs, but for what they can do they are great additions to a system.
Unfortunately, as of this post, they are getting harder and harder to find as the manufacturer is phasing them out for a cheaper, more conventional pump. If you can find these pumps for sale, they are worth every penny for their reliability.
Check Price On Amazon
---
How to Choose the Right Return Pump for Your Reef Tank
Choosing a pump for your reef tank requires careful planning and understanding of your fish's needs. Some fish need stronger waves in the water they live in, while others are more sensitive to movement.
One important thing to consider when buying a pump is the amount of water in your aquarium. You want to use a pump that can very easily filter all the water in your tank several times an hour. So a good rule of thumb is that if you have a 10-gallon aquarium, your pump should be rated at 50 GPH or gallons per hour.
You should also consider whether you want to use a pump that goes in or out of the water. Pumps made to run in water tend to be quieter and easier to install, as you generally only need to connect them to a part of the tank in the water via suction cups.
However, submersible pumps tend to work too hard if you don't have enough water to cover them. This can lead to overheating of the device and the water and can be harmful to fish.
On the other hand, in-line or external pumps take a little longer to install and set up than submersible pumps, but they have no problems with overheating while pumping. These types of pumps are also slightly more expensive than submersible pumps.
Before you can choose a return pump, you must fully research and understand the environment in which your fish thrive in order to best mimic that environment. This can help you decide which pump to buy.
Conclusion
While it may seem overwhelming to choose between all the different Best Aquarium Return Pumps, the good news is that there are many different experts out there who can help you make that decision. Knowing what kind of needs your fish have and setting a budget is a good start.
You can find specific pumps that will work best for your situation by talking to an aquarium expert or doing research online. A little effort on your part is very important to keep your tank and your fish looking and feeling their best.