Warning
: Undefined variable $td_img_id in
/home/u299318930/domains/aquariumhunter.com/public_html/wp-content/plugins/amalinkspro/public/class-amalinkspro-public.php
on line
3290
When it comes to owning an aquarium, you need the right tools. There are, of course, many things to consider, including the aquarium itself. Once you have it in place you will need an air pump.
Today we are going to talk about the best air pumps for aquariums. This will help you choose the right one for your tank and your needs.
Comparison Table
Custom
SiteStripe Image
Title
Review
Buy

Top

Best Pick
Tetra Whisper Easy To Use Air Pump For Aquariums
4.6/5.0
Check Price
Top Performance
Hygger Quiet High Output Aquarium Air Pump
4.1/5.0
Check Price
cheapest
Tetra Whisper Air Pump For Deep Water Applications
4.6/5.0
Check Price
With so many products on the market, it can be helpful to know about a handful of air pumps. That way, you can make an informed purchasing decision.
The best air pumps for aquariums are seen and not heard. There is nothing worse than trying to enjoy your tank, and all you can hear is EERRRRRRRRR …
If you've ever had a poor quality air pump, you know what I mean.
Now air pumps are not 100% necessary for a successful aquarium, but they can provide some nice benefits for you, your fish and your plant life.
We've done quite a bit of research looking at the benefits that an air pump can bring. At the end, we'll share with you some of the Best Quiet Aquarium Air Pumps currently available.
If you're a novice hobbyist, you probably start to feel overwhelmed by all the equipment you need to buy. The good news is that on this website we give you all the information you need so you can get the best equipment for your budget.
Advantages of using the best air pumps
We know that air pumps are not 100% necessary. There are many aquarists who never use them and are very successful.
But there are still some benefits your tank will receive from using a high-quality air pump. Let's take a look at them …
Increased oxygen levels
The main purpose of an air pump is to supply the water in your aquarium with oxygen. Some people think this is because of the bubbles passing through the water, but this has little effect.
It's actually due to the extra surface movement the bubbles create.
The more movement on the surface, the more contact the water will have with the air. This results in more oxygen entering your tank.
Having elevated oxygen levels will benefit all aspects of your aquarium. Live plants, fish, and beneficial bacteria thrive with higher oxygen levels.
This can be especially beneficial in the hot summer months.
Just like when water is heated, its ability to retain oxygen decreases. Air pumps are good for adding that extra something.
Improved water circulation
The movement of water is essential for maintaining a healthy aquarium. There are many invisible processes that take place while the water is circulating in your tank.
We know that more exercise will help oxygenate the water, but it also helps:
Ensure an even temperature
Promote gas exchange
Filtration supplement
Help create currents for your fish.
Decoration and games
You may just want to have bubbles in your tank, they can add extra aesthetic qualities. And they can be great to watch! It's best to remember that they are harmless and fish tend to enjoy bubbles.
They love to play with them: raise the bubbles and then come back down and do it again; it's almost like a rollercoaster for them. Some even use them to massage themselves.
Having an air pump can only benefit your fish and aquarium.
Top 10 Best Air Pumps for Aquariums
There are many types of Best Quiet Aquarium Air Pumps on the market with many different features. It is not difficult to find one, but it may be difficult to find the best one.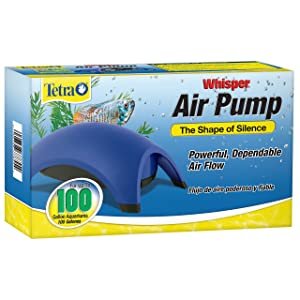 The air pumps produced by Tetra are probably the most powerful pumps available on the market today. They are one of the best pumps to use in deep tanks and tanks with a lot of air stones in them.
Oxygen and water movement are added to your tank which helps keep the water clean and also improves the well-being of the fish in your tank.
Tetra air pumps produce some bubbles that enhance the look of your aquarium, which looks great when paired with decorations, beautiful fish and lights. The interesting arc shape of the air pump is pleasing to the eye and the elastic feet at the base prevent it from slipping.
In addition, the arc shape flattens the wave frequencies, so that the air pump does not create any reflection on the existing furniture, such as shelves and tables. This also means less noise from the air pump, so that no one in the room in which the aquarium is placed is disturbed.
This Tetra Aquarium Air Pump is backed by a Limited Lifetime Warranty to assure the customer that this organization stands behind the quality of its air pumps. You will have serious problems finding another pump with the performance and power of Tetra air pumps.
Benefits
Is very cheap
It comes with an air valve.
It is very quiet
Backed by a limited lifetime warranty
Cons
Hoses are not included so you will need one to run the air pump
Check Price On Amazon
---
This Hygger air pump is specially designed for small to medium sized aquariums, regardless of the type of residents your aquarium has, salt water and fresh water. The sound is extremely low, but there is a vibration that can still be felt.
A buzz can be heard five feet away, but the bells are considerably louder. This is one of the air pumps with the largest volume. Also, most importantly, one of the quietest.
The dark outer jacket encloses another container inside that houses the 12V air conditioning motor, making it a container in a box, which probably adds a lot to how quiet it is.
You hear some noise from these air pumps; it's just a matter of what level of buzz is acceptable to you. If you are looking for an air pump device that can reduce the volume to an extremely low noise level, give this model a try.
The Hygger air pump comes with two air vents that simultaneously supply oxygen to two or more aquariums. You can also mount them in an aquarium to produce more bubbles based on your requirements. This air pump is built for ultra-quiet operation and reliability for years of use.
Benefits
Quiet compared to other large and small air pump models
Quiet with regard to air volume
Pumps a large amount of air
Cons
Check Price On Amazon
---
Whisper air pumps are the most powerful and most popular air pumps from the Tetra company. Air pumps come in seven different sizes, so you can choose the one that best fits your tank size.
The Tetra Whisper Air Pump keeps your aquarium's oxygen levels high and also helps keep your fish happy and healthy by producing water circulation and vibration. This will help improve the condition of the water in the tank in general. The underwater bubbles produced by the air pump also add a nice touch to enhance the look of your aquarium.
This air pump has a unique dome design and rubber feet to stick on your tank glass. Thanks to this special design, the sound wave frequencies created by the air pump are flattened.
This prevents them from bouncing off other surfaces such as tables and shelves, etc. This feature helps the pump to produce a minimum noise level, making it very quiet during operation.
This air pump is powerful enough for use in deep tanks (up to 2.4 meters deep), drives long decorative air stones or even several air stones at the same time and activates protein skimmers for seawater aquariums.
While it is generally a very good air pump, there is a problem with it. This product is designed to be quiet, but there is an expiration date for everything. After long use, even if the pump is still working properly, it may get a little louder.
So if you don't mind the noise, don't worry about the life of this product.
Benefits
Limited Lifetime Warranty
Unique domed design
Powerful vibration
Produces fascinating bubbles underwater
It comes in different sizes
Cons
Check Price On Amazon
---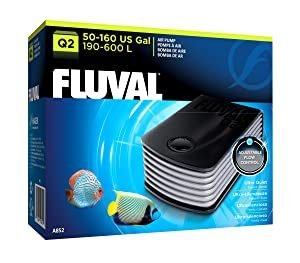 This product is a small and compact air pump. It has a simple rectangular box-shaped design. It measures just 3.2 x 7.8 x 6.4 inches and weighs just 2.1 pounds. The Fluval air pump is a powerful series and the Q2 is the second in this series.
Despite its size, this air pump is surprisingly powerful and strong. It is efficient enough for any 50 to 160 gallon tank.
This air pump has a smart and efficient design. With the advanced diaphragm and swing arm design, the air pump can produce a constant flow of air which is not only strong but also stable.
Thanks to this air flow, the water in the tank gets more air, circulates and aerates. This helps improve the oxygen levels of your fish and aquatic plants.
The air pump is also built with a double wall construction design. In addition, the product is integrated with an excellent pump and designed with a sound-absorbing baffle. Thanks to all these features, the Q2 is quieter.
Overall, this air pump is built with quality and can provide long lasting and reliable performance for your aquarium, especially considering its small size. However, the measure can be a double edged sword. This product is not available in different sizes, so as a customer you only have one size to choose from.
While effective in 50 to 160 gallon tanks, a pump will not suffice if you have a larger aquarium. In that case you need several pumps at the same time.
Benefits
Small and compact design
Efficient and powerful
Designed with special technology for quieter performance
Cheaper price than many others in the market.
Cons
No variation in size
May be too small for a larger tank
Check Price On Amazon
---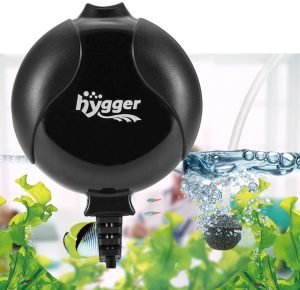 The Hygger brand offers a variety of aquarium products, and the mini air pump is a great option. It is very quiet and can improve the wellbeing and health of your fish by providing more oxygen.
It is not a traditional size air pump. The mini pump works thanks to the thin piezoelectric ceramic plate. This means there is no motor or mechanism to reduce noise.
This product has a compact design and is only 2.4 inches in diameter. Therefore it is lightweight and can be easily "hidden" in the back of the tank.
Its smallness of course ensures that it does not consume much energy. With only 1.5 watts, you get something that saves energy while still producing a flow rate of 420 ml / min. So it is an excellent mini air pump for 1-15 gallon tanks and hydroponic systems.
You will like that it comes with the necessary air pump accessories you need. Of course you get the air pump and the power adapter. Plus, you get a 0.9-inch air stone, 3.6-foot air hose, and a double-sided suction cup.
Benefits
Can be attached to the tank
too quiet
Provide constant air pressure
It comes with the correct accessories.
Cons
Does not take in much air
There is no way to organize the airlines
Very short cord
Check Price On Amazon
---
If you are looking for something that can run multiple aquariums or ponds, Pawfly's commercial air pump is the right choice for you. Provides 16 l / min of air for fish and plants to receive sufficient oxygen. In addition, it consumes only 7 watts, so there is low power consumption.
Although some brands offer "silent" models, it is almost silent. You don't hear anything because of the internal muffler, which has several levels. There are also rubber pads to keep it from vibrating on the table or glass.
It is designed to run all the time, but you can choose between high and low flow. Set it on low when it's time to sleep, or you're in the room with the aquarium that way, you won't hear it at all.
This product is of course designed to last. It has an artificial rubber membrane to prevent vibration. This ensures a longer shelf life.
Benefits
High and low output
Three sound level settings
Output distributor allows four outputs
Cons
Not as powerful as described
Bulky design
It can be challenging to set up
Check Price On Amazon
---
With the Upettools brand you get a product that is designed to add more oxygen to the water. It works at around 2.5 l / min and delivers more gas volume than other brands. You will find that it is compatible with 10 cm air stones with a depth of 1 meter.
It requires a bit more power to run at 10 watts, but it's still quite low. So it doesn't consume much power when it works. It is of course designed to be quiet, although you can hear it a bit.
You will also find that you can adjust the output of the air pump. This is ideal so you can use it with almost any size tank. It is also easy to adjust by turning the volume knob.
The holes in the suction filter are quite small. This is essential so that your fish are not absorbed by it. It also produces smaller, smoother bubbles due to the small holes in the filter.
Benefits
Easy to set up
You can adjust the amount of bubbles
Powerful yet quiet design
Cons
Various settings but no pressure changes
No supply caps on air outlet
Check Price On Amazon
---
This type is the most common aquarium air pump. Just plug it into your power strip, turn it on and it will continuously pump air into your tank.
Plug-in air pumps do not have an on / off button. Once plugged into your outlet, they work until unplugged.
Check Price On Amazon
---
EcoPlus offers a well-made product line that is quite durable. Made with quality materials, the cost of production is reflected in a higher selling price. All models have an adjustable flow rate. They also offer a heavier duty line designed for hydroponic rigs and commercial aquariums. This line is also suitable for pond applications. The complete line of EcoPlus products is as follows:
EcoPlus AIR-1 Plus air pump with single outlet
EcoPlus AIR-2 air pump with double outlet
EcoPlus AIR-4 four exhaust air pump
EcoPlus AIR-8 Eight exhaust air pump
EcoPlus Commercial 1 Hydroponic / Aquarium air pump
EcoPlus Commercial 3 Aquarium / Hydroponic Air Pump
EcoPlus Commercial Air Single Output 5 to 80 Watt
EcoPlus Commercial 7 Hydroponic / Aquarium air pump
Check Price On Amazon
---
The Active Aqua air pump features a multi-level silencer and keeps noise disturbances to a minimum.
The synthetic rubber construction makes it ideal for constant air flow and pressure.
The energy efficient pump is powerful and certainly strong enough to circulate enough water in your tank.
On the top is a pressure control knob so you can adjust the airflow and make sure it is suitable for the size of your tank.
You can choose from four different sizes:
1 output: 2 watts: 3.2 liters per minute: 50 GPH: maximum decibels is 40
2 outputs: 3 watts: 7.8 liters per minute: 125 GPH: maximum decibels is 40
4 outputs: 6 watts: 15 liters per minute: 240 GPH: maximum decibels is 45
8 outputs: 12 watts: 25 liters per minute: 400 GPH: maximum decibels is 45
Benefits
Multi-level silencer makes it very quiet (max. Decibel is 45)
Options for 1-8 outputs
Adjustable air flow
Low energy consumption
Cons
Wide housing takes up a lot of space
Check Price On Amazon
---
Advantages of using the aquarium air pump
As mentioned above, an air pump is not absolutely necessary for your fish tank or fish tank. Without an air pump, your fish and aquatic plants can naturally still have enough oxygen. However, an air pump helps a lot with the circulation of the water.
Hence, it also aids in the release of carbon dioxide from the water and the absorption of oxygen from the air for the fish. If you have an air filter installed, the filter should be able to do this on its own, but for larger tanks, an air pump will help a lot in the process.
In addition to water circulation, an aquarium air pump is sometimes required for more specific purposes. If you have accessories that can only work with an air pump, then of course you should have an air pump.
For example, every aquarium setup should have filters and some filters need an air pump to work. Since the filter is essential, if you need an air pump to run the filter, you will need to purchase an air pump.
Other types of accessories may not need air pumps to operate, but they work more efficiently with them. Those accessories include the protein skimmers in salt water tanks, the casters for decoration or any decoration that has to lift objects or turn valves.
Air pumps work especially well with air stones, a type of decoration used to create tiny bubbles underwater.
Types of air pumps for aquariums
There are a few ways to classify Best Quiet Aquarium Air Pumps. One of those ways is based on the functionality and features depending on what you are looking for. Here are some types of aquarium air pumps available.
Turning on the Gravel Filter: If you need an aquarium air pump to power the filter from underneath the gravel in your aquarium, then depending on the size of your aquarium, you can choose the type of air pump that is suitable for that size of the aquarium.
Driven by size: Sometimes air pumps can be sized not by the tank, but by the pump itself. The size of the tank is a factor, but you also need to consider the accessories and objects in the tank. If an air pump is needed to run many accessories, you need a larger pump than if you don't need it to power so many objects.
Deep Water Application – Most air pumps are designed for standard purposes unless otherwise stated. If you have a large/deep tank that is at least 18 to 20 inches long, you will need a special deep water air pump. Air pumps of this type will be advertised with the correct functions and features to pump air much further below the surface of the water.  Having a regular air pump for a deep aquarium is likely to cause uneven oxygen distribution in the tank, including a lack of oxygen at the bottom of the tank.
Power Source: You can also choose an air pump according to your power source. Most standard air pumps are plug-in type, meaning they must be plugged into an outlet for power at all times. However, there is also a battery-operated air pump that is more portable but requires external battery packs.
In many cases, air pumps offer dual options: both plug-in and battery-powered. This dual power option is very useful. In some cases, you can plug them in, but there is still a battery backup option in case there is a power outage.
What Is The Best Air Pump For Aquariums?
This is a difficult question to answer. Since there are many factors that come into play when evaluating an air pump, it is unfair to compare air pumps when their outlets are different. Therefore, the question should be read as "What is the best aquarium air pump for you?"
The above list contains the seven best aquarium air pumps and we stand behind their quality. However, the choice that is best for you is more of a personal choice. In the next section, we'll show you some tips to help you choose the right air pump for you.
How do you choose an air pump for your aquarium?
There are some factors that are important and very relevant in finding the right aquarium air pump. Please consider these factors carefully before choosing knowing that you are getting a perfect fit for your aquarium, your fish and your aquatic environment.
1. Tank Dimensions: The rule for this step is clear and simple. If you have larger tanks, you will need stronger air pumps or you will have more than one pump at a time to supply enough air to the tank. Check the tank dimensions of your air pump to find one that will fit.
If you are using an air pump to only run a filter under gravel, then the tank dimensions on your air pump are also very relevant. If you buy an air pump that is too strong, it can blow the gravel out of the floor.
If you have a tank that is not a standard size (too big or too high compared to standard sizes), the tank dimensions on the pump don't mean much anymore. You will have to test and see how efficient a pump is for your entire tank and adjust if necessary.
2. Objects and Decorations: The more things your air pump uses, the bigger and stronger an air pump needs. The less you run your air pump, the less capacity an air pump needs.
Before deciding what level of resistance the air pump needs, remember to consider everything that needs to be driven or pushed by an air pump.
3. Resistance of objects: In addition to the amount of objects and decorations that require the support of an air pump in your tank, you must also consider the "quality" of the objects. That means the more resistance there is in the objects and decorations that the air pushes through, the bigger an air pump will be.
For example, a large air stone provides more resistance than a smaller air stone, which is why you need a stronger air pump for larger stones. Each air stone also provides more resistance than any air stone.
In some cases, the different materials that make up the stones, and their shapes, can provide different levels of resistance, even if they are the same size.
4. Special Need: As mentioned above, a deep tank often requires a more special type of air pump. If your tank is over 18 to 18 inches long, you will need a special deep water air pump that can pump air much further below the surface of the water. Otherwise, your tank may not have a sufficient and uniform amount of oxygen.
How to configure an aquarium air pump?
There are several ways to configure your air pump, depending on the air pump you have. One of the best ways to configure your air pump is to follow the manual carefully. Do not take the manual lightly, as fish are at stake if you do not properly install an electronic device in the tank.
In addition to the manual, here are some tips to help you better configure your aquarium air pump.
Think about where you will place the air pump. It must be a solid surface. Do not place the air pump in a hollow container as it resonates with the pump and amplifies the pump noise.
Place this in the middle. Regardless of the surface on which you place the air pump, place it in the center of the surface. This is so that when the pump is rotating and vibrating, it will not fall off the edge of the surface.
Do not place it on top of the aquarium or on a shelf hanging from the aquarium. Even if you attach the air pump firmly to the shelf or tank lid so that it doesn't vibrate and fall into the water, the vibrations from the air pump will pass through the shelf and tank and into the water with the fish. The water will vibrate, causing stress to your fish.
conclusion
While an aquarium air pump is not absolutely necessary, it is beneficial. Many users can rely on the additional positive effects Best Quiet Aquarium Air Pumps can have on their tank. So what are you waiting for to give your fish and aquatic plants a more comfortable and happier life? Do your research and buy a good aquarium air pump now!