Warning
: Undefined variable $td_img_id in
/home/u299318930/domains/aquariumhunter.com/public_html/wp-content/plugins/amalinkspro/public/class-amalinkspro-public.php
on line
3290
Whether you are new to goldfish, you are probably wondering what is the best goldfish food for growth and color.
Owning a goldfish is not as easy as people want you to believe. We know you have questions. We're here to help.
Comparison Table
Custom
SiteStripe Image
Title
Review
Buy

Top

Best Pick
TetraFin Balanced Diet Goldfish Flake Food For Optimal Health
4.8/5.0
Check Price
Top Performance
Fluval Bug Bites Goldfish Formula For Fish
4.6/5.0
Check Price
cheapest
Omega One Goldfish Small Pellets
4.7/5.0
Check Price
Here's everything you need to know about what goldfish eat, how to feed them, and how to find the best food for goldfish growth and color.
First, let's take a look at what foods goldfish eat in the wild and in captivity.
If you want your goldfish to thrive, you need to feed it the right foods that will help it build a strong immune system, healthy bone structure, and good color.
There are many brands on the market, but what's the healthy option for your fish?
We've looked at virtually every option available, and we hope you enjoy the results of our research.
And you know what, once you know how, what and why, it is not difficult to give your goldfish a diet that will allow them to live a long and healthy life.
Goldfish need proper care to thrive and stay healthy. Diet is especially important in developing and maintaining bright color and well-formed fins. A well-cared-for goldfish can live for ten years or more!
The quality of the food you feed your goldfish plays a critical role in keeping it active and healthy. Before we talk about nutrition and food, let's take a step back in time to find out where goldfish come from. It's a fascinating story!
What Kind of Food Does Goldfish Eat?
In the wild, goldfish eat crustaceans, plants, insects, and smaller fish. Since they eat plants and animals, you should consider their natural diet when deciding how to feed them in captivity.
How do you start looking for the Best Goldfish Food?
First, you need to understand all the ways that commercial goldfish are offered.
Captive goldfish food is typically offered in flakes, floating pellets, sinking pellets, or gel, along with greens. Other foods goldfish can eat include skinless peas, bloodworms, and brine shrimp (live, frozen, or freeze-dried).
Flakes are the most popular option, although they begin to lose their nutrients as soon as they hit the water.
Floating pellets are the easiest food to retrieve once your goldfish has had enough time to eat, although eating pellets from the surface of the water can cause your goldfish to ingest a large amount of air when eating, which can cause digestive discomfort and problems with your swim bladder.
Sinking pellets offer the most natural way for your goldfish to feed, although it is more difficult to retrieve sinking pellets without consuming, which means they are more likely to break down inside the tank, causing cloudy and dirty water. .
Gel food is the easiest for your goldfish to digest and contains a more optimal ratio of nutrients than flakes or granules.
Top [2022] 10 Best Goldfish Food For Growth and Color
Best Goldfish Food Reviews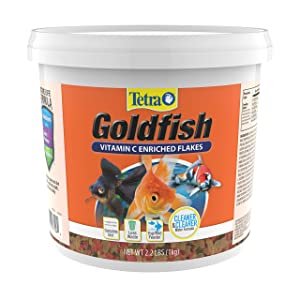 TetraFin "Clean and Clear Water Formula" in the TetraFin Goldfish Flake Food Balanced Diet contains flakes that are easier to digest and do not leach the colors into your aquarium water, keeping the aquarium water clean.
TetraFin products also contain ProCare, a blend of immunostimulants, vitamins, biotin and omega-3 fatty acids to boost your goldfish's resistance to stress and disease.
This scientifically developed formula is designed to provide your goldfish with all the nutrients it needs in its diet, along with vitamins, minerals and trace elements in a highly digestible formula that aims to boost your fish's immune system.
The ingredients are a bit questionable when you think about it: fish meal, ground brown rice, dry torula yeast, oatmeal, shrimp meal, wheat gluten, soybean oil, fish oil, seaweed meal, sorbitol, lecithin, l-ascorbyl-2-polyphosphate (vitamin C), artificial colors including yellow 5, red 3 and blue 2, and ethoxyquin as a preservative.
Fishmeal, the first ingredient, is what is left of the fish after the edible parts have been removed, so you get the least nutritious part of the fish, such as bones, fins, and organs.
The second ingredient is brown rice, the fourth ingredient is oats, and the sixth ingredient is wheat gluten; fish don't eat grains like these in the wild. These fillers probably taste great, but they're not nutritious for a strain not made to digest grains. It also contains artificial colors.
Based on reviews, your fish will likely love this food, but it may not be the healthiest option for the long-term health and well-being of your goldfish.
Check Price On Amazon
---
Fluval Bug Bites Goldfish Formula is made from up to 40% nutrient-rich black soldier fly larvae. It is the main ingredient and it is something that goldfish would eat in the wild, making it an excellent choice for your goldfish.
This product is sustainably processed in small batches for quality control and maximum freshness without fillers, artificial colors or preservatives. It is made in Canada and enriched with vitamins, amino acids and essential minerals for a balanced daily diet.
The main ingredients are: dried black soldier fly larvae, salmon, wheat, pea protein concentrate, calcium carbonate. Wheat can be a filler, but everything else looks like something goldfish eat in the wild, making this a much more natural option than TetraFin products.
People rave about this product. The only complaints seem to be how small the small grains are. For something other than the smallest fish, go for the big pellets.
Check Price On Amazon
---
Omega One Goldfish Small Granules contain real fish and shrimp as the first three ingredients (whole salmon, whole herring and whole shrimp), making the product contain healthier omega-3 and omega-6 essential oils than other products.
This should result in healthier fish with a longer lifespan. This product also specifically mentions the high levels of natural beta-carotene found in salmon skins to help improve the color of your goldfish.
There are many reports that this product makes the water in aquariums quite cloudy, and small granules are EXTREMELY small (one reviewer compared them to the size of a flea), so medium or large granules may be a better buy for everyone. but the smallest fish.
Most people get excited about how much their fish love this product.
Check Price On Amazon
---
These API Sinking Granules are formulated to promote the health of your goldfish and keep the water clean and clear. Ingredients include protein, vitamins C and E, garlic and yeast, as well as fiber that aids in digestion.
The recipe is carefully balanced in nutrition and taste. Because the nutrients are easily digested, your goldfish will use up more of each pellet, creating less waste and up to 30% less ammonia. Spirulina and carotenoids have also been added to enhance the color.
This formula comes in approximately 2mm granules and sinks to the bottom of the tank where other fish can enjoy it in their tank. It shouldn't cause any issues with the cloudiness of the water either.
Check Price On Amazon
---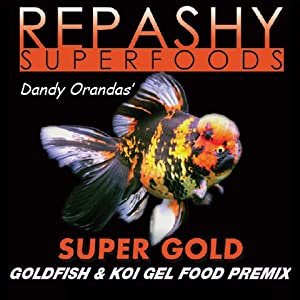 Are you looking for something different, take a look at this gel food from Repashy. It is specially formulated for easy digestion and is particularly suitable for elegant goldfish, although any species will devour it.
It is important to note that this is not normal fish food. Rather than taking a few pinches and dropping it in your tank, Repashy needs a little bit of prep. Full preparation instructions are included with the product.
This is a powder that is mixed with water, heated and then cooled to form a gel. One of the best things about it is that once prepared, you can shred, diced, or keep it. It can be refrigerated for up to two weeks or frozen for six months.
Check Price On Amazon
---
When it comes to goldfish and koi floating food, this Blue Ridge Fish Hatchery formula is one of the best. These all-season floating pellets are ideal for a pond that has a mix of koi and goldfish of various sizes that are less than five inches long.
This recipe contains a blend of vitamins and minerals to strengthen the immune system and make fish more resistant to stress. They are easily softened to aid digestion and provide complete nutrition.
One of the best things about this food is that it is backed by a 100% satisfaction guarantee. The company really stands out for the quality of this product. It is made in the USA and follows strict quality guidelines. If you don't like the results, contact them and they will refund your money.
Check Price On Amazon
---
Northfin goldfish pellets are used by goldfish farmers and contain a base of organic algae, whole arctic krill and omega 3 rich herring meal. All-natural formula with beneficial supplements: spirulina, garlic and even gold clay. Calcium montmorillonite.
Why we love it:
Formula without fillers, based on marine proteins
Contains spirulina for 100% natural color-enhancing properties.
Completely natural, easily digestible ingredient profile
Check Price On Amazon
---
Omega One Goldfish Flakes contain a high amount of marine-based protein (the best kind for goldfish) to promote good color and optimal digestibility. The ingredient profile isn't quite as good as the above foods (wheat is in the top ingredients!), But of all the flakes available we know of, this is clearly the winner.
Why we love it:
Whole fish proteins are the first ingredients
The low-starch formula ensures better digestibility.
The best quality flakes for an affordable price
Check Price On Amazon
---
Give your fish a break from the everyday diet with this tasty treat! Perfect for a fortnightly indulgence, this naturally color-enhancing krill is packed with protein, which plays an important role in muscle and female development, as well as growth rate.
Why we love it:
One ingredient, sun-dried whole krill, not freeze-dried (depleting nutrients)
Provides natural carotenes that enhance color.
A protein-rich treat that also provides fiber for optimal digestion.
Check Price On Amazon
---
New Life Spectrum is known for formulating high quality fish food for a variety of aquarium fish.
The Small Goldfish Formula contains krill, whole fish meal, seaweed, chlorella seaweed, scallops and a balanced blend of vitamins and minerals. The beta carotene will enhance the color of your goldfish. The 1mm sinking pellet is ideal for goldfish of any size.
While pond keepers lean towards a floating pellet, New Life Spectrum Small Goldfish Formula Pellets can be fed in ponds and aquariums. Food contains no preservatives and should be kept closed and dry to maintain freshness.
Check Price On Amazon
---
Best Goldfish Feeding Tips
How Often to Feed Goldfish?
Goldfish require a lot less food than you might expect. The biggest problem most people have with their goldfish is the health issues associated with overfeeding.
You can even go on vacation for up to two weeks without feeding your goldfish, and you'll be fine (although an automatic fish feeder can help you feel better).
Goldfish don't have a stomach, so feeding them too much at one time can cause a lot of digestive problems. Typically, you'll only want to feed your goldfish for 30 to 60 seconds at a time, two to three times a day. That is it.
Since they don't have a stomach, goldfish never feel full. They are scavengers, so their instinct is to hunt for food all day long. They may act like they are starving, but since goldfish are cold blooded, they don't need to consume extra calories to burn and keep their bodies warm.
Keeping live plants or leafy greens in a crunch of greens can provide your goldfish with something healthy to chew throughout the day, making your fish healthier, happier and less bored.
How Many Pellets to Feed Goldfish?
Unfortunately, there is no easy answer to this question. How many pellets you need will depend on things like how often you feed your fish, whether they are fully grown or growing, and the temperature of your tank.
With the granules, you will want to soak them in a cup of aquarium water before feeding them to your fish, as the dried granules can interfere with your fish's digestive system.
The first time you have to guess how many granules you need. Add them to the tank for the recommended 30-60 seconds per feed and see how many pellets they are eating at that time. When all pellets have been eaten in less than 60 seconds, you will know to add more pellets to the next feed. If granulate remains after 60 seconds, you will know how to feed less with the next feed.
It may take a while to determine the optimal number of pellets to feed your goldfish during each feeding, but carefully keeping track of how many pellets you feed at each meal and how quickly your goldfish takes in the pellets can give you a good idea. of the exact amount of granules you need for each shot.
How Many Flakes to Feed Goldfish?
Each goldfish will require a different number of flakes based on things like whether or not they are still growing, the temperature of the tank, and how often you feed them. You will need to carefully keep track of the number of flakes you feed until you have an idea of how many flakes you need per meal.
You should only feed your goldfish as much as they can eat in 60 seconds or less and only two to three times a day. If your goldfish eats all of the flakes within 60 seconds the first time you feed them, then you know you need to add more flakes on the next feeding.
If you find yourself removing a lot of flakes from the tank after 60 seconds, then you know you need to feed fewer flakes next time.
What is the Best Time to Feed Goldfish?
Since goldfish don't have a stomach, you'll want to feed them fairly consistently, 2-3 times a day, at a time when you remember to feed them at the same time every day. You may be feeding them late at night, early in the morning, and at noon.
Whatever time you choose, make sure to stick to it so your goldfish knows when to expect its next meal. Since they don't have a stomach and are used to sniffing through garbage all the time, they are constantly hungry.
What to Feed a Goldfish When Out of Fish Food?
Goldfish can eat peas without the shells or skins, cooked vegetables, leafy green vegetables, mosquito larvae and brine shrimp.
If you put leafy greens in a vegetable clamp in the aquarium, you will get your goldfish something to chew if they think they are starving between meals.
Why is My Goldfish Not Eating?
The first thing to observe is your goldfish's environment. Has it been a while since you cleaned the tank? Is there spoiled food in the tank? Have you filled the tank with untreated tap water? Maybe the water filter is dirty or there is a dead fish floating in the aquarium.
Any change in your goldfish's environment can cause it to stop eating, so the first thing to do is to check your tank from top to bottom, if not clean, including the filter. It's also worth buying some pH strips to check the water's acidity.
If your goldfish's environment appears to be in good condition, check the expiration date and storage information on your Best Goldfish Food. Goldish food, of course, can spoil after its expiration date, but it can spoil before that if not properly stored. For example, if it is to be stored in a cool, dry place, it can spoil food with an open window in a humid environment before its expiration date.
So your tank is clean and the Best Goldfish Food is acceptable. What now?
Fish get sick. If your goldfish has not eaten in a while and is also showing other signs of illness such as unnatural growths, white patches, raised scales, or swelling, contact your local vet for advice. Many vets may not be familiar with goldfish, so you may need to call several places for the right advice.
Goldfish are very sensitive to the transition from one environment to another. If you have recently moved your goldfish to or from a temporary container, perhaps to clean the tank, it is normal for your goldfish to respond to stress by not eating. Wait a day or two to get used to the new environment before worrying too much.
Conclusion
While goldfish are often depicted as children's pet, their dietary needs are more complicated than you might expect. Reading the ingredients of any fish food you plan to buy and deciding if you want to supplement your goldfish's diet or how you do it can be a lot of work, but goldfish can be a wonderful pet when you put in a little effort to find the best one. . food for them.