Warning
: Undefined variable $td_img_id in
/home/u299318930/domains/aquariumhunter.com/public_html/wp-content/plugins/amalinkspro/public/class-amalinkspro-public.php
on line
3290
Warning
: Undefined variable $aff_url in
/home/u299318930/domains/aquariumhunter.com/public_html/wp-content/plugins/amalinkspro/public/class-amalinkspro-public.php
on line
301
Warning
: Undefined variable $aff_url in
/home/u299318930/domains/aquariumhunter.com/public_html/wp-content/plugins/amalinkspro/public/class-amalinkspro-public.php
on line
301
Warning
: Undefined variable $aff_url in
/home/u299318930/domains/aquariumhunter.com/public_html/wp-content/plugins/amalinkspro/public/class-amalinkspro-public.php
on line
301
Finding the best automatic fish feeder for your aquarium can be game-changer if you love the idea of keeping fish, but not the daily supervision and care that is required. We've put together a list of our favourites for stress-free, scheduled feeding.
Comparison Table
Top

Best Pick
Zacro Automatic Fish Feeder - Rechargeable Timer Fish Feeder with USB Charger Cable, Fish Food Dispenser for Aquarium or Fish Tank
4.5/5
Check Price
Top Performer
Hydor Digital Automatic Aquarium Feeder
3.8/5
Check Price
Cheapest
Lychee Aquarium Fish Feeder Vacation Aquarium Automatic Fish Food Dispenser Tank Feeder Timer Auto Feeders for Holiday Vacation Fish Dispenser (AF-2003)
3.8/5
Check Price
Some people prefer fish as a quieter, simpler pet than cats or dogs for the ease and aesthetic. The only problem with keeping fish is they aren't exactly determined to get your attention when they're hungry.
It's really easy to forget to feed them, especially if it's a few times a day and you have all kinds of random errands and jobs to run.
That's why an automatic fish feeder can be a worthwhile investment, particularly if you love to travel or work longer hours.
Here's everything you should know about fish feeders before you invest in one yourself.
5 Advantages of Feeding Fish with the Automatic Fish Feeder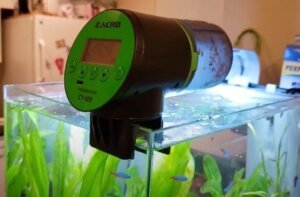 Investing in an automatic feeder has many notable benefits. Here are a few.
1. These dispensers are flexible and reliable. You can control food portions, the amount of times they're fed and meet the specific needs of your ecosystem. In addition, most of them have timers so you can set and forget them.
2. Everything is preset, so it's predictable and reliable. The fish can eat according to your set schedule, and what's right thing for them. And you know the specific time will be released if you're curious to watch yourself.
3. Saving time and money is a benefit in the purchase and installation of an automatic fish feeder. Now you don't have to worry about running home to feed your pets and the feeder reduces food waste, saving money.
4. Feeders are configured to produce food from a container, giving the freedom to leave your tank if you wanted to go on vacation for more than a few days without stress.
5. When too much food is left in the tank without being eaten and is left to rot, it can lead to cloudy water and impact its ecosystem. Automatic feeders control food portions and in turn, help you keep track of your tanks ecosystem and overall health.
The 10 Best Automatic Fish Feeders for Your Aquariums
We have selected our top picks for automatic fish feeders that we will review below in detail so you know everything you need before taking the step to buy one.
Automatic Fish Feeder Reviews
---
The Zacro Automatic Fish Feeder is ideal for all those times you can't be home for a few or more days.
It's quiet and not distracting, and has an aesthetic appeal with it's design.
The device is quite large (200ml food capacity), which is useful for storing a lot of food, and perfect for leaving your fish for longer periods of time.
The product features a rechargeable timer with USB charger cable, allowing you to set specific feeding times. It also comes with batteries as an alternative/backup power source. The large lithium batteries allows for 3-6 months use.
Primarily 100 percent reliable, this automatic feeding tool is designed to provide your fish with exactly the amount of feed they need.
It is also designed to be configured for up to three feedings per day at different times. However, you can choose to feed the fish less than 4 times, depending on your specific needs.
Suitable for a 158 gallon (600L) tank
4.4/5 STARS
Benefits
Quiet and elegant
Large container for storage
Adapts to a variety of food
Dual power source with long battery life
Cons
Needs careful adjustments to ensure correct food is dispensed
Check Price On Amazon
---
The Torlam Moisture-Proof Electric Feeder is one of our top picks because of it's set-and-forget design of this product. It has an AquaBlue timer that can be automatically set to four feeds daily. It can be programmed to any time of the day and can also be used manually if required.
There are also two installation methods. You can attach the feeder to the tank wall with the bracket. However, you can also use double-sided tape and attach the feeder to the aquarium in this way.
This feeder has a moisture-resistant funnel, meaning most foods can be used through this filter like strips, flakes, pellets and chips. You don't have to switch fish foods.
3.9/5 STARS
Benefits
Programmable for four feeds daily
Two fixed methods
Moisture proof funnel
Large capacity for food
Cons
The amount of food dispensed can vary
Confusing instructions
Check Price On Amazon
---
The Eheim Automatic Feeding Unit is quite easy to set up and you can get the desired amount of food from the container to avoid overfeeding or underfeeding your fish. This product is reliable and focuses on precise servings.
Depending on how full you fill the feeder and how often you need to feed your fish, a fill can take up to six weeks. The drum volume is 3.3 fluid ounces or 100 ml, although you should only use dry food.
The drum is transparent and the level of food left is visible. It can be quickly checked from time to time to determine if the food container needs to be refilled.
This product is designed for various aquariums and the universal clamp also makes installation easy.
4.5/5 STARS
Benefits
Simple design / installation
Consistent feedings
Reliable
Easy to program
Cons
Multiple foods cannot be provided
Not resistant to moisture
Check Price On Amazon
---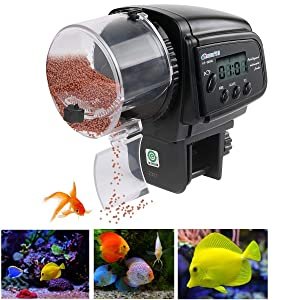 The UStyle Automatic Fish Feeder is suitable for many type of fish, such as tropical fish and betta. It can also be used to feed crickets, frogs, turtles and salamanders. Plus, it contains a variety of food options, such as flakes, powders, bars, and granules.
This feeder can be programmed to distribute the correct amount of food each feed, improving water quality by reducing waste build-up.
You will love the LCD display feature, allowing you to program the automatic feeder to feed at specific times or at the right time of the day. The food container is transparent, so you can see how much is left or when it's time to refill it.
3.6/5 STARS
Benefits
Suitable for a variety of aquarium animals
Suitable for many types of food
Resistant to moisture
Cons
Difficult to understand digital setup
Amounts of food are not always accurate
Check Price On Amazon
---
The YCOZY Digital Automatic Fish Feeder works with the two AAA batteries supplied, lasting up to three months, depending on how often the fish are fed. You can use any type of fish food, such as powders, granules and strips.
Most fish require multiple feedings per day. The LCD display makes it easy to program it to feed four times a day with up to two rotations at a time.
This feeder can also be programmed to feed them manually if you wanted to watch your fish eat. Just adjust the slider under the bowl to control the amount of food.
The two installation methods allow you to use this product regardless of your aquarium or tank. Stick it aside using the bracket or use double sided tape to adhere it to the cover. It is important to note that the food bowl must be above the water to ensure that the food stays dry.
3.7/5 STARS
Benefits
Two installation methods
Easy to control portions
Includes batteries
Ideal for all types of food
Cons
The battery compartment can open and cause the device to stop working
Check Price On Amazon
---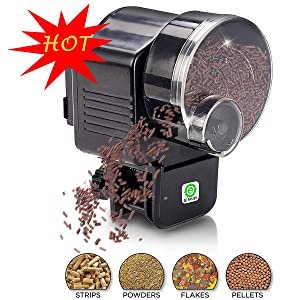 Lychee Aquarium Fish Feeder Vacation is a great timed feeder to provide your pet with the food it needs. It can be set based on feeding times, quantity, and more.
The slider can be adjusted to determine the amount of food produced. Give up to two servings per day with only one rotation at a time. You can also use the manual mode if you want to feed the fish yourself.
This product is designed for use with dry food. However, can be used with a variety of foods, including flakes, strips, granules and pellets. The ideal location is to place the food container much higher than the tank so that the food doesn't get wet or soggy.
There are two ways to install the device in your tank. Use the double-sided tape that's supplied or attach it to the wall with the screw on the base.
It is essential for this model that you clean the feeder regularly. You can easily remove the food dispenser from the tank. Then all you have to do is rinse the drum with warm water and dry it well.
3.8/5 STARS
Benefits
It works with different foods.
Easy installation
Battery-powered
Cons
Only gives two servings a day
Incomplete and confusing installation instructions
---
If you have to feed a lot of fish, the IntelliFeed Fish Feeder is a great option. It is pre-programmed to feed the fish twice a day and can provide up to 12 meals. It works great to keep out moisture so foods stay dry and easy to dose. It's also a simple model to install.
This model and power is quite reliable as many customers have approved of the ability to keep fish alive even after being on vacation for 3 weeks or more.
The batteries are fairly reliable and as an extra the IntelliFeed contains a power adapter so that you don't have to be  completely dependent on batteries. Once you set it up, it's pretty easy to use.
It has many moving parts, which makes it more likely that a part will break. But some have reported that it has worked for them for over a year without any problems. And it's not very easy to get to the batteries if you already have them installed. However, these are all minor complaints.
The only other problem is that all these great features don't come cheap.
3.9/5 STARS
Benefits
Reliable
Can be used for longer periods of time
Can feed many fish
Effective against moisture
Cons
More expensive
Batteries are not easily accessible
---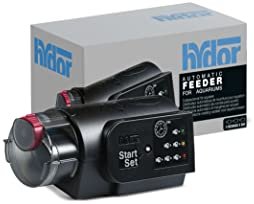 The Hydor Automatic Fish Feeder is one of the most reliable units you can find for feeding your fish. The construction is exceptional, so there's no worries about downtime. Humidity is not a problem and the food stays dry.
Depending on the option you are using, you can feed 1 to 3 times a day and the amount of food it dispenses is also adjustable.
This model also uses energy efficiently, so even with 3 doses per day, you won't have to replace the batteries for 9 to 10 months. And there is a low battery indicator so you know when to replace them in advance.
The build however, is not so simple to configure because of the limited options to mount it. And the food container is smaller, meaning your fish can't be left alone for too long.
The programming is also inflexible. It's a slightly complicated process, and only specified feeding times can be chosen, such as twice a day every 12 hours or 3 times a day every 8 hours.
And there is no way to schedule the meal for later. If you want to set the power to 8 in the morning, you have to wait until then to set it.
3.8/5 STARS
Benefits
Very reliable
It can run on batteries for a long time
Food stays dry
Cons
Not easy to configure
Scheduling options limited
Check Price On Amazon
---
The Meco Aquarium Automatic Fish Food Tank Feeder has created a bit of scepticism, but we found it works beautiful so long as you read the manual properly. This feeder delivers what it promises and feeds your fish up to 4 times a day, with adjustable feed amounts.
The device is a bit clumsy, but the installation is no problem. It uses 2 AA batteries, however we don't recommend using rechargeable batteries with this model.
The size of the feeding compartment is smaller, and only good for about 2-3 weeks of feeding. But the Meco model is the cheapest we could find and is quite good quality for its price.
3.4/5 STARS
Benefits
Very affordable
Up to four feeds a day
Cons
Confusing operation
Small food container
Check Price On Amazon
---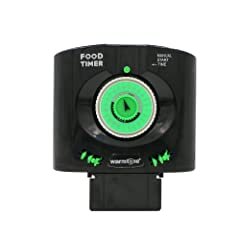 The Rusee Daily Automatic Fish Feeder is a battery operated feeder that mounts on the edge of the aquarium. The battery motor is controlled by the timer function.
The fish food is in a revolving plastic container, where a sliding window controls the amount of food that falls from the container when the timer tells the motor to run.
The timer can be programmed to feed the fish up to six times over a 24 hour period. Setup is simple, like putting on a watch and the timer can be omitted for manual entries.
Rusee's automatic feeder can dispense a variety of foods including flakes, granules, crumbs and pellets.
Being battery operated, the this feeder can be used outdoors for your tank or pond fish to be fed without fear of electric shock.
3.6/5 STARS
Benefits
Cheap
It works with batteries
Used with different foods
Simple installation and programming
Cons
Exact dosage of feed can't be programmed
The timer slows down as the battery runs out
---
How Does the Automatic Fish Feeder Work?
An automatic fish feeder provides the correct amount of food in your aquarium at the specified time(s) every day, ensuring your fish are well-feed if ever you forget or want to go on a trip without stressing.
They run on batteries or are electrically powered via a power cord. The advantage of battery chargers is that you don't have to worry about power outages or electric shock, meaning they may be more ideal for outdoor aquariums or ponds. The advantage of electric feeders is that you don't have to worry about the battery draining or dying.
Each feeder comes with containers to pre-fill with fish food. The feeder will turn the containers on a timing mechanism so food falls into the tank at your specified time. This takes out the stress of over or underfeeding your fish.
How to Set Up an Automatic Fish Feeder?
Automatic Feeder Configuration
Before proceeding with the preparation and configuration of the device for installation and use, you should inspect the device for damaged or loose parts. Low-cost automatic feeders often come with broken cells that store food. You have to examine the cells thoroughly.
The list of automatic fish feeders in this article provide the best product to choose from. Plus, as they are guaranteed by Amazon, you won't have to worry about any damage.
Once you have unpacked the automatic fish feeder, you must connect the device to a power source if it is electric. For battery operated fish feeders you need to insert two AA batteries which will start the display LED.
The Best Automatic Fish Feeders come with a dispensing inlet that opens when the feeder discharges the food from the cells and you can customize the settings for the download input. Most manufacturers recommend using the inputs at the highest setting.
Do not use the container to fill the fish food into the cells before cleaning the hopper. This procedure must be done with care. If the container or chamber is not clean, it can contaminate the food and cause it to spoil and possibly kill your aquatic pets.
Adjusting the Amount of Feed
Many of automatic feeders have a customizable dispensing inlet that regulates the amount of food that is released in each feeding cycle. However, there are some automatic fish feeders for the aquarium that expect you to fill the cells with the estimated amount of food.
Generally, most fish and other aquatic pets require only 1-3 meals per day. Generally speaking, it is strongly recommended to set the amount of food to the limit that aquatic pets can devour in 5-10 seconds. This will definitely avoid any ammonia or cloudiness issues that can cause great harm to aquatic life.
Final Comments
Keeping your fish healthy and safe can be so simple and carefree when you own one of these reviewed products. Regardless of where you are, away from home or at home, you can be free from the task of feeding your fish, knowing that these Best Automatic Fish Feeders will get the job done.
.