Discover the vibrant world of cold water aquarium plants and learn how to create a thriving aquatic ecosystem in lower-temperature tanks.
Some species of fish love to live in cold water, such as kingfish and carp. Plants, in general, prefer mild temperatures, but some species love to live in the cold water aquarium. In this article, we'll list some beautiful plant species for you to put in a cold water aquarium. Before you start venturing into the characteristics of each of these species, it is essential to emphasize that many of them need liquid fertilizers to stay healthy.
Which are the best cold water aquarium plants?
The planted aquarium is the perfect method to invite nature into your home or business. Plants create positive energy and provide a serene environment for your fish.
They are easy to care for. Plants will reduce the stress of fish in the aquarium because they can hide in its branches and leaves. With proper planning and periodic maintenance, the benefit can be innumerable. Let's talk about the cold water aquarium first.
Comparison Table – Best Cold Water Aquarium Plants
| Image | Title | Price | Buy |
| --- | --- | --- | --- |
| | 3 Hornwort Bunch Plants for Ponds or Aquariums | | View On AMAZON |
| | Java Fern Bare Root | Microsorum Pteropus - Low Light Freshwater Aquarium Plant | | View On AMAZON |
| | Universal Specialties Live Anacharis Plant Elodea Densa 12 Stems Freshwater Aquatic Tropical Decor Aquarium or Pond | | View On AMAZON |
| | Pond Oxygenating Elodea Anacharis Bunch Plants - Imported and USDA Approved | | View On AMAZON |
| | Marcus Fish Tanks - Marimo Decorative Moss Balls Live Aquarium Plants 1-2 inch Buy 2 GET 1 | | View On AMAZON |
| | CANTON AQUATICS Live Aquarium Ludwigia Repens Plants - Great Background for Fish - Long Lasting & Easy to Maintain - Suitable for Summer & Winter - Natural Oxygenator - Bunch - Dark Red | | View On AMAZON |
| | Red Cabomba - Cabomba furcata, Cabomba piauhyensis - 1 Bunch - Live Aquarium Plant | | View On AMAZON |
| | Mainam - Brazilian Pennywort Bundle Live Aquarium Plants 3 Days Live Guaranteed for Freshwater Pond Fish Tank | | View On AMAZON |
Product prices and availability are accurate as of the date/time indicated and are subject to change. Any price and availability information displayed on [relevant Amazon Site(s), as applicable] at the time of purchase will apply to the purchase of this product.
Prices pulled from the Amazon Product Advertising API on:
The cold water aquarium
The term "cold-water fish and plant" in aquarists indicates species of fish and plants that prefer cooler water. Temperatures close to or below 20º C are typically tolerated by these species, something practically unfeasible among most tropical fish.
The term attributed by aquarists is somehow wrong since the species considered cold water are called that because they tolerate a vast temperature range, and not just because they prefer more frigid waters, as they emphasize, as we will see throughout the article. Because they tolerate an extensive temperature range and are resistant, they are highly appreciated by beginner aquarists.
A big highlight in creating these plants and fish in cold aquariums is resistance to low temperatures, allowing the aquarist to save electricity by discarding heaters, especially in colder times.
Coldwater Temperature: Wide range of water for plants and fish
The temperature directly influences the variety and quantity of fish, plants, and mosses that you can keep in the aquarium and is a decisive factor in the physiology of the aquarium's general.
Aquarium with water does not require heating devices, but it may be necessary to use water coolers (chiller) during the hottest months or in regions of extreme temperatures.
This factor can limit us in the choice of species to keep in an aquarium when living in areas with very high temperatures.
Physiological reactions, metabolic processes, growth rate, food consumption, respiration, and homeostatic capacity, every biochemical reaction is directly influenced by temperature, and any thermal change will have immediate effects.
The closer to the ideal temperature values in the tank's water, the greater the efficiency and speed of the organism, and its subsistence procedures will enjoy better living conditions.
Awesome Cold Water Aquarium Plants
Several cold water aquarium plants do best at room temperature or in cooler tanks. You might think aquariums are useless without a heater. In reality, cold water stations can live without a heater.
The cold water aquarium plants described in this article are incredibly undemanding, so if you're a novice, you can easily keep them in your aquarium.
The ideal temperature for a cold water aquarium is between 70-80 degrees Fahrenheit. I have on this list the plants that can tolerate freezing temperatures and the types that are generally good for cold water aquarium plants.
The plants on this list can be kept at the same temperature as the ideal temperature of the water in your aquarium or the perfect temperature of the fish in your fish (different species of fish need a specific temperature to thrive).
Java Moss in cold water aquarium plants
Initially found in Southeast Asia, Taxiphyllum barbieri, also known as "Java Moss," is an aquarium plant that can be found growing on fallen tree trunks and rocks in wet areas.
This species is also often located on the banks of seasonally flooded rivers. Although amateurs have long named it Vesicularia, "Java Moss" or "Java fern" is of the genus Taxiphyllum.
The species is relatively easy to grow, tolerating and growing in a wide range of water conditions after a period of acclimatization.
This plant is undemanding as far as the lighting is needed. However, at high light levels, the plant will grow dense and lush.
In low light, the plant will be darker and slimmer. While CO2 and fertilization will increase growth rates, this moss will thrive without them too.
To promote a healthy, deep green color, iron fertilization is recommended. To attach it to logs, spread it over the desired location and wind it with a fishing line or cotton thread until the moss is well protected.
Then it will grow and adhere to the object, forming a dark green cushion. Its branch is irregular, with approximately 2mm long leaves along the stems.
If not pruned regularly, it will quickly develop a soft tangle. It is easily pruned and propagated simply by cutting off excess growth with a suitable pair of scissors. This extra growth can then be reattached to a new surface.
Brazilian Pennywort – Hydrocotyle leucocephala
It is usually one of those plants whose growing temperature is significantly influenced when they receive light. This is a perfect plant that doesn't get the attention it deserves.
It is a common feature in tanks with small or timid fish, as it provides a great safety blanket and reduces the stress of all the fish involved. This plant species is elementary to care for.
No matter how good you are, it should be easy to support this species. The bottom of these leaves is a pinkish-red color that offers a great contrast to the rest of a typical aquarium.
Duckweed – Lemnaceae Plants
Duckweed is a floating underwater plant that thrives in virtually all environments. It looks fantastic from above, but more excellent from below.
Their growth rate and strength must be checked before placing them in an aquarium, as they spread in abundance and can cause damage to filters or other plants in the aquarium due to the shade they form.
If you want fish that require ample access to light or that can penetrate the surface of the water, duckweed may not be the solution.
Once placed in the aquarium, it is difficult to eradicate it. You will constantly adjust it to make it habitable. If that doesn't pose any problem for you, we recommend this plant.
Amazon Frogbit
Amazon frogbit is one of the plants we recommend to hobbyists and hobbyists who don't want much work. The plant has very long roots that provide a mesmerizing effect inside a pond.
This is another floating plant for your tank that won't require a lot of effort. It's essential to ensure your aquarium fish don't need too much light before getting this plant. If this isn't working with your fish's needs, switch to a different floating plant on our list. It keeps water clean if handled well.
Cabomba
Cabomba produces a unique look that other varieties cannot duplicate. This is a beautiful plant that offers a refined look and a smooth appearance to your water.
They are a good plant for ponds with small fish that need hiding. It has a high growth rate—a sign of interest to the hobbyist. In a tank of fewer than 30 gallons, there may not be enough space to allow it to grow naturally.
Anacharis
Anacharis is a common plant that can oxygenate the water. If you allow them to grow, make sure you keep your pruning up to date.
Certain fish like to nibble on this plant, so study the fish you will add to this tank carefully. It's also a suitable addition to any fish you have in your aquarium, as well as a range of water temperatures that it can withstand – take this into account when deciding how much water you want. It doesn't need a lot of light, which can be a helpful quality in an aquarium.
Elodea
Elodea is another beautiful plant that can be grown in cold water aquariums. They grow very fast and can fit into any environment. However, Elodea has fine roots and can sometimes be challenging to keep in gravel.
Therefore, they do much better on sandy or even loose substrates, as they thrive similarly. To give you an idea, even if this plant is floating on the surface, it will succeed if the aquarium has adequate lighting.
The only problem, in this case, is that it can end up shadowing the other plants at the bottom of the aquarium.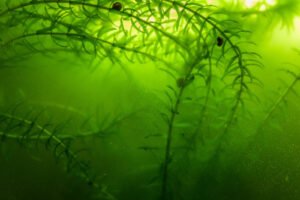 Marimo Moss Ball
In nature, the Marimo Moss Ball forms on the bottom of icy water and is poor in nutrients. Therefore, they don't require much to thrive, as excess nutrients can cause fading and even plant death.
However, if you have an aquarium with no substrate, the Marimo moss ball is an excellent choice for creating a natural and beautiful environment for your fish.
Ludwigia repens
Ludwigia repens is a plant found in the tropical waters of North America and is very popular in cold water aquariums.
At first, as it is a fast-growing plant, this species should be used to compose the middle or bottom region of the aquarium.
Like most stem plants, they prefer moderate light so they can grow. Furthermore, an excellent fertile substrate, together with CO2 injection and liquid fertilizers, will give this plant its characteristic reddish color. However, aquariums that have low lighting tend to have a greenish tint.
Advantages & Benefits of Cold Water Aquarium Plants 
The benefits of introducing floating plants into aquariums, of course, are oxygenation and water quality. It might be worth adding this family of plants to your aquarium—these plants like high lighting.
Low maintenance in aquatic plant
Coldwater aquarium plants tend to have a less intense need for care. Lighting and fertilization are done at a lower intensity and generate excellent results for the plants. They are plants that are very resistant to temperature fluctuations.
They end up being used in both aquariums and paludariums. There is no strong need for co2 in this type of tank, as plants manage to pull out the amount needed to thrive more efficiently than plants from larger installations. And these plants, fast-growing in good water conditions.
Water filtration: The magic of freshwater plants
Floating aquarium plants are beneficial in water and provide several benefits to water. Plants act as living filters. You shouldn't rely solely on aquatic plants to filter and clean your water. Treat them like a supplement that makes them efficient. This filters your information. You will need to use a filter to ensure the water is adequately filtered.
Shade in a cold water aquarium
The floating plant influences the amount of light that enters the water. Some species prefer dark waters; others prefer clear shady waters. This is important for you to decide how much surface the floating plant will occupy. It pays to be aware of how much light an algae tank needs to develop. Some prefer to see the shade, while others like well-lit waters.
A tasty fish snack
Most omnivorous fish get a certain amount of nutrients from the vegetation they use in their typical habitat. While fish can eat all the vegetable fiber you've just grown, some of these snacks are very good for their food. The right fish is the key ingredient to selecting and having a beautiful, healthy aquarium.
Below are some species tolerant to a wide temperature range, although several species are considered tropical and are regularly kept at low temperatures.
I won't go into too much detail about their biology and ecology to not overextend the article. Many of the indicated species are regularly kept in the hobby, and it is possible to obtain information quickly on the internet or with other aquarists.
Goldfish (Carassius auratus):
One of the most popular ornamental fish, having numerous artificial varieties. Elongated body variants tend to exceed 15 in size, while ovoid body variants rarely exceed 7.8. Temperature: 50 – 77 F
Golden / Green Barb (Puntius semifasciolatus):
One of the most popular barbs, reaching 2 in. Temperature: 64 – 79º F
Common carp (Cyprinus carpio):
A prevalent species among fish pond keepers. It is one of the most tolerant species to low temperatures and can easily exceed 19 in. Temperature: 50 – 77º F
Danio Zebra (Danio rerio):
Along with the Goldfish and Carps, it is the most sought-after fish by beginners in the aquarium. There are a few varieties available, and they are quite easy to maintain. They rarely exceed2 in. Temperature: 60 – 77 F
Final Thoughts – Cold Water Aquarium Plants  
Cold water aquarium plants are the best of the best. We highly recommend it due to its natural plant and beauty appeal. Before long, your tank will be so clean you won't regret it.
So with this article, we were able to conclude that it is possible to create plants in a wide range of water. You are having together an ecosystem formed with fish, mosses, substrates, and so on.
Always keep in mind the minimum needs of each living organism that you will add to the aquarium, and always try to maintain the ideal water conditions.