Looking for exotic cool freshwater aquarium fish? We have selected and summarized the most interesting fish kept by hobbyists in their aquariums.
When considering the rivers of Africa, South America, and Asia, the term "exotic" may not immediately come to mind. Typically, exotic fish are associated with deep-sea creatures boasting unique patterns and adaptations.
However, it might surprise you to discover that the slow-moving waters of the Amazon and other shallow tributaries harbor some of the most extraordinary freshwater fish. These captivating species can be showcased in your very own aquarium, such as Freshwater Aquarium Shrimp, Eels, Sharks, Crabs.
One common misconception about aquariums is that vibrant and beautiful fish can only be found in saltwater tanks. This couldn't be further from the truth! There is a wide array of fresh and exotic freshwater aquarium fish that can elevate your tank to new heights.
Furthermore, maintaining freshwater tanks is generally easier and more cost-effective compared to saltwater tanks. Additionally, freshwater fish offer a balance between being challenging and easy to care for.
If you're seeking vibrant fish to enhance your freshwater aquarium, consider the following tips.
The 15 Best Exotic Cool Freshwater Aquarium Fish
1. Bettas
Bettas are a pretty popular fish primarily because they're so exotic looking. There are at least 14 different varieties of bettas, each with a different tail shape.
They are all available in a range of bright, beautiful colors and patterns and are a lot of fun to watch.
One important thing to note about bettas is they don't really get along with other fish.
You should never keep more than one male betta in a tank and be very careful about choosing other tankmates. Bettas are generally pretty easy to care for and are a pretty hardy fish.
2. Arowana
Arowanas are powerful, semi-aggressive fish native to the Amazon river in South America.
These silver predators can reach lengths of up to 4 feet and have unique "drawbridge" mouths and small rear flippers. They are known for their jumping behavior and hunting in low tree branches.
Arowanas require experienced hobbyists due to their size and behavior. They prefer low-light environments resembling the Amazon River and need ample space. Arowanas are not suitable for beginners as they may jump and panic in changing conditions.
They are predatory and may not coexist well with smaller fish. Tankmates like angelfish, catfish, Plecostomus, Oscar, and cichlids could be considered, but compatibility is not guaranteed.
Despite the challenges, arowanas are highly rewarding and sought-after additions to exotic freshwater collections.
3. Neon Tetra
Neon tetras may be small, but they make up for bright, eye-catching splashes of color.
They have a light blue stripe that runs across the sides from tip to tail. Under the stripe is a white, silvery belly and a red stripe on the tail.
These fish are a great addition to any community tank. They are generally robust and tolerate water changes fairly well.
If you decide to add something to your tank, keep in mind that this is a school fish that prefers to live in groups of five or more people.
4. Discus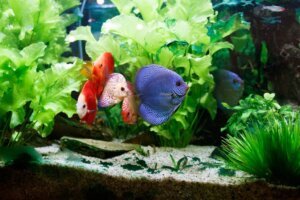 The Discus fish, native to the Amazon Delta, prefers calmer waters near the riverbank, often among fallen branches and trees.
Through captive breeding, they now come in various colors and patterns. With a flattened disc-shaped body, large dorsal fins, and red or yellow eyes, they are truly beautiful. However, their care requires more attention compared to hardier fish, making them suitable for experienced enthusiasts.
While Discus fish can coexist with other species, it is best to keep them in a tank with their own kind. Challenges arise if they cannot feed from the tank bottom due to bottom-dwelling inhabitants or if they are intimidated by aggressive or fin-nipping fish.
Advanced hobbyists may choose to house Discus in a community tank, but beginners should only keep Discus with other Discus in a tank larger than 75 gallons.
5. Killifish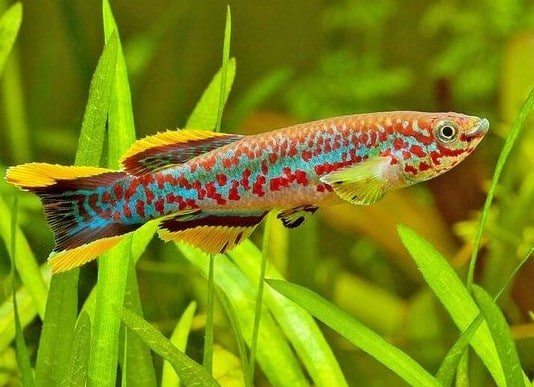 Killifish are some of the prettiest freshwater fish out there but are a little hard to keep.
They're recommended for people with a little bit of experience with aquariums because they're quite sensitive to water quality.
Male killifish can be aggressive with one another so limiting the number of males you have is a good idea.
You should also provide plenty of hiding spaces in a tank with killifish. These fish are amazing jumpers so keep a lid on your tank at all times.
6. Zebra Plecostomus (Zebra pleco)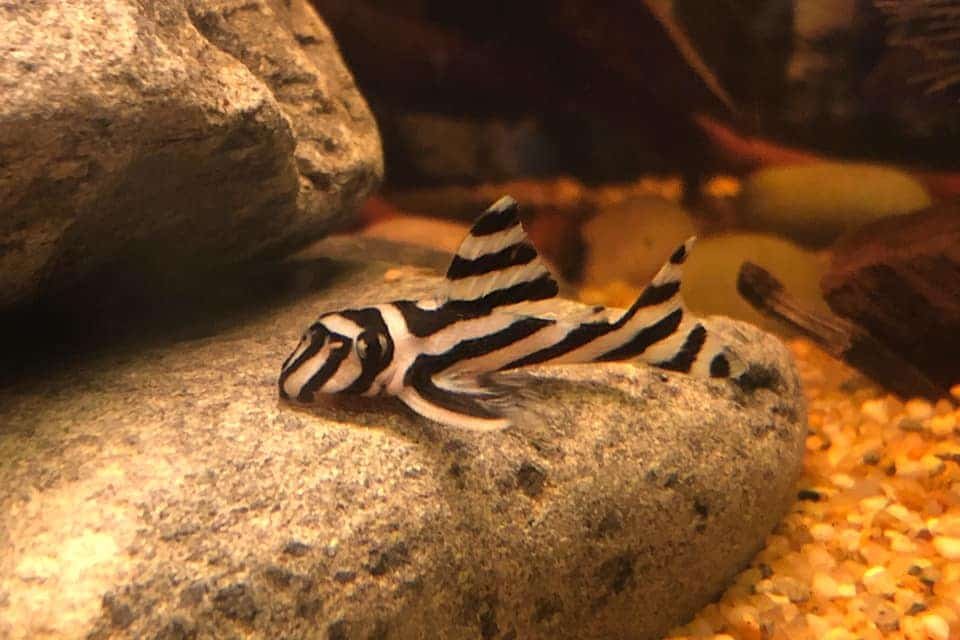 The zebra plecostomus, like other exotic freshwater fish, originates from Amazon tributaries. This catfish variety features striking black and white zebra-like stripes.
Due to its specific requirements for tank temperature and pH, the zebra pleco is recommended for experienced hobbyists.
Zebra plecostomus are bottom-dwelling inhabitants, naturally seeking shelter in small caves and among rocks in riverbeds. To ensure their comfort and well-being, the tank should be equipped with hiding spots and structures.
These fish are more active during the night and are best kept with other zebra plecos in the same tank. While they are peaceful, they may not be ideal companions for other fish species in the aquarium.
7. Dwarf Gourami
Dwarf gouramis live up to their name, reaching a maximum length of just two inches. Males typically display a vibrant orange-red body with light blue fins, while their colors vary among individuals.
These fish are known for their calm and peaceful nature, making them highly suitable for community tanks.
One advantage of dwarf gouramis is that they can thrive in smaller tanks. A 5-gallon tank can accommodate one or two of them comfortably, especially when equipped with ample live plants, including floating vegetation. They prefer a serene environment without aggressive tankmates.
8. Elephant Nose Fish
Elephant nose fish are highly unique and prized as one of the most exotic freshwater species for collectors. They derive their name from their elongated, trunk-like mouth extensions, which they use for feeding, communication, and defence.
Native to Niger in Africa, these fish possess an extraordinary ability to sense and communicate through an electric field in the murky waters they inhabit. They thrive in muddy, stagnant water with dense foliage and are primarily active at night.
Due to their specific water requirements and sensitivity to water substances, elephant nose fish are rare even in hobbyist collections and not recommended for beginners.
Their nocturnal feeding schedule may not align with all enthusiasts. However, if you can provide for their needs, these fish will undoubtedly be the most exclusive addition to your collection!
9. Red Tail Shark
Red-tailed sharks boast a striking jet black body complemented by vibrant red tail fins, adding to their exotic appearance.
These fish are highly active and can exhibit aggression, primarily in their hunting behavior towards other fish. Providing sufficient hiding places in the tank is essential.
A minimum tank size of 55 gallons is required for these fish, as they can grow to around six inches in length. They thrive in an environment with noticeable water flow and are known to be skilled jumpers, necessitating a weighted tank top for their safety.
10. African Cichlids
Cichlids are renowned for their incredible diversity, making them one of the most varied fish groups worldwide. With an estimated 2,000 or more types of cichlids, African cichlids stand out as particularly exotic cool freshwater aquarium fish.
These fish exhibit a wide range of colors, although they often appear lighter during mating or when displaying aggression.
African cichlids thrive in habitats with flowing water and ample rocks and caves to explore. Their natural digging behavior makes a soft substrate ideal for their tank setup.
11. Blue Gourami
The Blue Gourami is a sturdy fish displaying a beautiful whitish-blue coloration. Growing up to five inches in length, they possess a flattened body and prominent, round fins.
Caring for them is relatively straightforward as they are versatile eaters and tolerate water changes well.
A tank as small as 20 gallons can accommodate these fish, but it is crucial to consider their aggressive and territorial nature when selecting tank mates.
Avoid housing them with other aggressive fish such as dwarf gouramis, angelfish, and bettas. Instead, opt for peaceful companions like tetras, loaches, or guppies.
12. Jewel Cichlid
The Jewel Cichlid is another remarkable cichlid species, displaying a range of colors from red to dark purple and featuring a distinctive black spot on its body.
These fish have a natural inclination to dig and seek hiding spots, so providing a sandy substrate with plenty of nooks and crannies is essential for their tank setup.
Due to their aggressive and territorial nature, caution must be exercised when introducing them to a community tank.
Jewel cichlids are not particularly fond of planted tanks and have a tendency to uproot roots. Opting for plants with stiff foliage or small potted plants is a better choice to prevent disruption.
13. Glassfish
Unlike the other fish on our list chosen for their vibrant colors or unique patterns, the glass fish stands out for its complete transparency.
Glassfish exhibit a calm and peaceful demeanor, making them excellent companions for medium-sized, non-aggressive fish.
These fish prefer to be kept in schools of at least five individuals. Keeping them in small groups can cause stress and shyness. A tank size of about 10-20 gallons is sufficient for a small school of glass fish.
14. Rainbow Fish
Rainbow fish are renowned for their vibrant colors, and their scales exhibit a mesmerizing color-changing effect when reflecting light, providing an enjoyable visual experience.
These fish prefer a well-planted aquarium environment that offers ample space for them to swim freely.
As schooling fish, rainbow fish should be kept in groups of at least six individuals. They thrive when in larger schools of 10 or more.
When kept in small groups, rainbow fish may become shy and may even lose their vibrant colors. They have an extremely calm temperament, making them an excellent choice for a community tank.
15. Pearl Gourami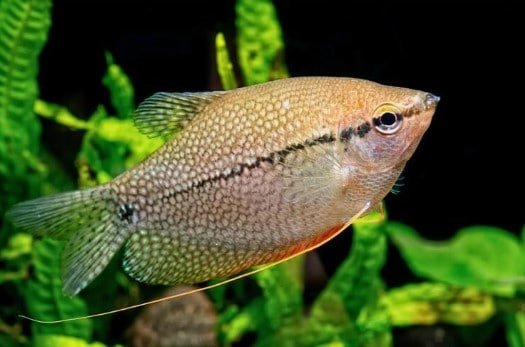 The Pearl Gourami is renowned for its stunning beauty and its ease of care. It possesses a slender body adorned with long, delicate fins.
This gourami species derives its name from its creamy orange coloration, accompanied by pearl-like spots and a distinct black stripe running from the mouth to the tail.
Pearl Gouramis thrive in heavily planted aquariums with low lighting conditions. They are peaceful fish, making them suitable for community tanks, as long as aggressive tankmates are avoided.
It's worth noting that male Pearl Gouramis can exhibit aggression towards each other. To promote harmony, it is recommended to keep a single male with multiple females as a suitable group arrangement.
How to Take Care of Exotic Cool Freshwater Aquarium Fish?
Tank cycle
A clean and balanced ecosystem is crucial for the well-being of freshwater aquarium fish, making the tank cycling process essential.
Good bacteria colonies play a vital role in breaking down waste and eliminating toxins like ammonia and nitrite, which accumulate from fish waste and uneaten food. These colonies reside in the substrate and filter.
To establish a healthy tank cycle, it's important to promote the growth of beneficial bacteria before adding fish. This typically takes around 4 to 6 weeks.
Begin by setting up your aquarium and allowing the filter to run for approximately 24 hours. Then introduce hardy fish that are not overly sensitive to ammonia and nitrites.
Feed the fish as usual and after a few days, use a testing kit to monitor levels of ammonia, nitrite, and pH. If any levels are excessively high, perform partial water changes.
Continue testing the levels every few days. Over time, the bacteria colonies will develop and stabilize the tank, reducing the need for frequent water changes. Once this occurs, you can gradually introduce more fish to your tank.
How to Safely Add Fish to an Aquarium?
Properly acclimating new fish to your aquarium is crucial for their well-being. Follow these steps to ensure a safe transition:
Isolate the new fish: Ideally, quarantine the new fish in a separate tank for a week or two to ensure they are healthy and free from diseases that could be transmitted to the community aquarium.
Dim the lights: Before introducing the new fish, turn off the tank lights to minimize stress.
Float the bag: Allow the sealed bag containing the fish to float on the water surface of the aquarium for 10-15 minutes. This helps the temperature inside the bag adjust gradually to match the tank water.
Open the bag: Carefully open the top of the bag, ensuring that the opening remains above the water level.
Test the water: Use a pH meter to check the pH levels of the water inside the bag and the aquarium. If the difference is less than 0.3, proceed to the next step. If the difference is 0.4-0.8, follow the next step for up to two hours.
Drip acclimation: Add approximately 1/2 cup of aquarium water to the bag every 15 minutes. This slow process helps the fish adjust to the differences in water parameters gradually.
Transfer the fish: Carefully remove the fish from the bag using a net and gently place it into the aquarium. Discard the water from the bag, as it may contain traces of ammonia or other harmful substances.
By following these steps, you can safely introduce new fish to your aquarium, minimizing stress and maximizing their chances of thriving in their new environment.
General Tank Maintenance
To ensure a healthy and thriving aquarium for  your exotic cool freshwater aquarium fish, follow these regular maintenance tasks:
Daily:
Monitor the water temperature to ensure it remains within the appropriate range for your fish.
Visually inspect the tank for any signs of issues, such as abnormal behavior or visible problems with fish or equipment.
Weekly:
Perform a partial water change of around 10% by replacing it with clean, conditioned water. This helps maintain water quality.
Use a test kit to check the water chemistry parameters, including pH, ammonia, nitrite, and nitrate levels.
Remove any algae or floating debris, such as plant leaves, from the tank to maintain cleanliness.
Monthly:
Conduct a thorough tank cleaning. This involves:
Removing and cleaning decorations to prevent build-up and maintain their appearance.
Replace the air stone if needed to ensure proper aeration.
Use a gravel vacuum to remove debris and waste from the substrate.
Prune any overgrown plants and remove excess algae.
Inspect the filter and clean or replace cartridges or media as necessary to maintain its efficiency.
By following these routine maintenance tasks, you can create a clean and healthy environment for your aquarium inhabitants, promoting their well-being and enhancing the overall aesthetic of the tank.
Appropriate Feeding
Proper feeding is essential for the health of your fish. Follow these guidelines to ensure they receive the right amount of food:
Feed your fish a quantity they can consume within two to three minutes. This prevents overfeeding and helps maintain water quality.
It's recommended to feed them once or twice a day, adjusting the frequency based on the specific needs of your fish species.
Each fish has different nutritional requirements, so choose a suitable diet and portion size for their specific needs.
Avoid overfeeding as it can lead to water pollution, digestive issues, and other health problems. Remember, it's better to slightly underfeed than to overfeed.
By adhering to these feeding practices, you'll provide your fish with a balanced diet and contribute to their overall well-being and longevity. Regularly monitor their behavior and adjust feeding amounts accordingly to ensure they remain healthy and active.
Final Thoughts – exotic cool freshwater aquarium fish
Contrary to popular belief, you don't need a saltwater aquarium to enjoy a vibrant display of colorful and exotic fish. In fact, the world of exotic cool freshwater aquarium fish offers a diverse selection of fish in various shapes, sizes, and captivating colors.
.