Warning
: Undefined variable $td_img_id in
/home/u299318930/domains/aquariumhunter.com/public_html/wp-content/plugins/amalinkspro/public/class-amalinkspro-public.php
on line
3290
Warning
: Undefined variable $aff_url in
/home/u299318930/domains/aquariumhunter.com/public_html/wp-content/plugins/amalinkspro/public/class-amalinkspro-public.php
on line
301
Warning
: Undefined variable $aff_url in
/home/u299318930/domains/aquariumhunter.com/public_html/wp-content/plugins/amalinkspro/public/class-amalinkspro-public.php
on line
301
Warning
: Undefined variable $aff_url in
/home/u299318930/domains/aquariumhunter.com/public_html/wp-content/plugins/amalinkspro/public/class-amalinkspro-public.php
on line
301
Warning
: Undefined variable $aff_url in
/home/u299318930/domains/aquariumhunter.com/public_html/wp-content/plugins/amalinkspro/public/class-amalinkspro-public.php
on line
301
Warning
: Undefined variable $aff_url in
/home/u299318930/domains/aquariumhunter.com/public_html/wp-content/plugins/amalinkspro/public/class-amalinkspro-public.php
on line
301
Warning
: Undefined variable $aff_url in
/home/u299318930/domains/aquariumhunter.com/public_html/wp-content/plugins/amalinkspro/public/class-amalinkspro-public.php
on line
301
Warning
: Undefined variable $aff_url in
/home/u299318930/domains/aquariumhunter.com/public_html/wp-content/plugins/amalinkspro/public/class-amalinkspro-public.php
on line
301
Warning
: Undefined variable $aff_url in
/home/u299318930/domains/aquariumhunter.com/public_html/wp-content/plugins/amalinkspro/public/class-amalinkspro-public.php
on line
301
Warning
: Undefined variable $aff_url in
/home/u299318930/domains/aquariumhunter.com/public_html/wp-content/plugins/amalinkspro/public/class-amalinkspro-public.php
on line
301
Warning
: Undefined variable $aff_url in
/home/u299318930/domains/aquariumhunter.com/public_html/wp-content/plugins/amalinkspro/public/class-amalinkspro-public.php
on line
301
All pet owners know that there are many things to taking care of their pets.
You have to buy them the right food, not to mention a good source of clean water. They also need a good environment to live in.
Comparison Table
Custom
SiteStripe Image
Title
Review
Buy

Top

Best Pick
OASE BIOSMART POND FILTER By OASE
4.6/5.0
Check Price
Top Performance
TETRAPOND BIO-ACTIVE TANK FILTER By TETRAPOND
4.55/5.0
Check Price
cheapest
TETRA POND – SUBMERSIBLE FLAT BOX FILTER By TETRA POND
4.4/5.0
Check Price
When it comes to keeping a pet fish, the environment is particularly important. Your fish live in tank or pond water for their entire lives, so keeping them clean is a must.
This is why it is important to find the best pond filters system for your pond and koi carp.
For those planning to start a fish pond business, owning a reliable pond strainer, or what most people would call a fish tank strainer, is a must. This is because tank sieves help not only to keep the water in your tank clean, but also to protect the fish and other organisms within the water from any harmful substances.
And that's why today, we're going to share with you a guide to our top picks for tank sieves, how you can know which one to choose, etc.
In this article, we will discuss which are the 10 Best Pond Filters, which exist on the market in 2022.
However, to make sure everyone is on the same page (so to speak), we'll briefly discuss the function of a pond filter, how it works, when it should be used, and other key question points.
What is a pond filter?
A pond is like an aquarium, but bigger. Like aquariums, to maintain your health and beauty, you need your own filter system.
Pond filter pumps provide the oxygen needed in the water to keep it clean, clear and free of algae. If you don't have a filtration system in your pond, it is likely to stagnate and draw dirt into the water.
A pond filter consists of a round container. This container has filter materials such as the lid on the top with pipe fittings. There are several types of pond filters which will be discussed later.
Filtration is an essential factor in maintaining a healthy pond. A pond filter is equipped with a filtration system, biological or mechanical, which we will discuss shortly after.
For a pond filter to work, there must be a pump that pushes water through it. The water that passes through the pond filter will be cleaned of any debris, bacteria, fungi or viruses that can damage the health levels of your water and any species or fish that live in it.
Does a pond need a filter?
A natural process in all ponds is the nitrogen cycle. This begins when debris and food scraps sink to the bottom of the pond. Then it becomes ammonia and finally nitrates.
These nitrates are then absorbed by the algae in the water or converted into nitrogen by special bacteria. The nitrogen cycle is essential for the healthy growth of plants and bacteria in water. However, too much ammonia and nitrate are bad for fish.
This is where a good filter comes in. Your filter uses biological filtration, removing these harmful toxins from the water. Therefore, your pond needs a filter to keep the water clean and healthy.
The 10 Best Pond Filters on the Market
Best Pond Filter Reviews
First there is the OASE BioSmart pond filter. This filter is a great starter filter because it is very easy to use and has many advantageous features.
Users can expect a simple installation process and minimal amounts of maintenance when using this product. The filter's built-in cleaning mechanism allows you to use it for long periods of time without manual cleaning. You can follow the cleaning indicator lights to know when it's time to clean it up a little.
This pond filter can handle medium to large ponds and is capable of filtering up to 5,000 liters of water. It's definitely a well-equipped filter for the price.
A negative point about the BioSmart OASE Pond Filter is that it is currently only shipped to the United States. If you live outside the US, you are out of luck trying this filter for your pond. There are still plenty of other filter options, but this one probably won't come to you.
---
This filter is pre-engineered with a UV purifier, which can help you screen a 1,500-gallon aquarium. In addition, it offers a form of technical and organic purification.
Mechanical and biological filtration to help keep your pond water clean and healthy

Backwash valve for quick cleaning

Bioactivators provide a large surface area and unlimited water flow for better cleaning

For ponds up to 1500 gallons

Shipped in certified packages that are easy to unpack
---
Tetra Pond is a leading pond maintenance company and their products have a fantastic reputation.
The flat box submersible filter offered by Tetra Pond is one of the most affordable pond filter systems you can get.
Despite its low cost, the filter can hold a large amount of water ranging from 300 to 500 gallons and can pump 200-2000 gph.
Since the pond filter is submersible, it is also ideal for use in outdoor ponds. The filter box can be equipped with different types of pumps. Included in the box is a flat filter box with a filter-to-hose fitting, thick foam pads, a hose and three different fittings to connect the hose to a variety of pump inlets.
---
The Pond Boss Internal Pond Filter is an easy-to-use filter for smaller ponds up to 500 gallons.
The water pump is located inside the filter box.
The water is sucked into the filter by suction from the submersible pump.
The water is filtered through two layers of foam pads.
Pond Boss FM002P filter kit with pump
More on Amazon
The first layer is thick open-cell foam that traps large debris such as leaves, plant stems, and threads of algae. This protects the foam pad of smaller pores so that it doesn't clog too quickly.
The thin foam pad collects dead algae and the smallest particles that cloud the water. The foam pads also protect the pump from clogging.
Plastic "bioballs" are included to provide a surface that aids in the growth of beneficial bacteria.
Kit includes an ETL listed and energy efficient 320 GPH fountain pump. The fountain head creates a spray on the pond that is attractive and aerates the pond water.
The diverter valve is used to reduce the flow through the fountain head if needed. The filter measures 12.25 x 6.25 x 7.
---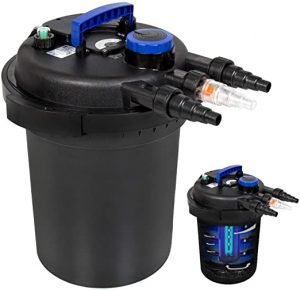 This tank filter is pre-engineered with a UV purifier, which can work flawlessly in a 2,500 gallon or 12,000 gallon tank filled with an adequate amount of fish.
In addition, it has a navigation valve, which allows you to rotate the recoil in any direction, when cleaning the sieve.
STRONG FILTER: Powerful enough to filter up to 2500 gallons with a normal fish load, or 1500 gallons with a heavy fish load

UV CLARIFIER: Reduces the presence of unicellular algae by impeding their ability to reproduce, creating a healthy pond for your fish. The life of the UV lamp is 8,000 hours.

EASY TO CLEAN – Backwash function cleans contaminants in the filter and a flow indicator lets you know when to clean

TRANSPARENT CRYSTALLINE WATER: Turn dirty green fish or koi ponds into a cool, crystal clear home for your fish.

ADAPTERS AND VALVES: Includes adapters for inlet and outlet tubing, bioballs and a multidirectional valve for cleaning; OVERALL DIMENSIONS: 14 "(Dia) x 20" (H)
---
The Pond Master PMK190 is a submersible filter capable of cleaning small ponds and container gardens up to 300-400 gallons.
It is convenient because the pumping speed is 190 gallons per hour, which consumes only 15 watts of electricity.
The pond filter has the biological and mechanical filtration system.
The size of your pond is always taken into consideration when determining which type of pond filter is best to use. So if you have a smaller pond, this may be the pond filter you are looking for.
You don't really need to buy large and expensive, they not only overwhelm the aesthetics of your pond, but they can also be very expensive.
This Pond Master pond filter is really enough for small pond owners and is so affordable that it makes it even better.
---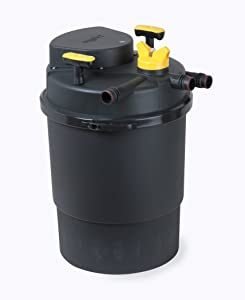 The Laguna Pressure Flo series provides mechanical, biological and ultraviolet treatment of pond water.
The filter has a sealed container design, which means it can be placed near a pond or partially buried near a waterfall.
Your submersible water pump pumps water into the filter. The debris is captured inside the filter.
Flo pressure lagoon filter
More on Amazon
More on Swell UK
An indicator shows when the filter needs to be cleaned. The cleaning process involves lifting and lowering the cleaning handles while opening a diverter valve. The dirty water comes out of the filter and can be used as an organic fertilizer in your garden.
The filter has a built-in UV bulb that kills algae as they pass through the cup. Green water is removed, keeping the pond water crystal clear.
Laguna Pressure Flo filters are equipped with foam or volcanic rock pads.
---
If you already have a pump and are looking for a great waterfall filter, check out this one from Tetra. It is easy to assemble and provides biological and mechanical filtration to keep your pond water fresh and clean.
What's great about this design is that you can easily hide it among the rocks and other decorations in your pond and create a beautiful waterfall that provides aeration and gives your pond a very natural look.
The mesh bag allows you to add any biological filter media you prefer and has a capacity of six to eight liters. It is effective for ponds up to 1,000 gallons and can be used with pumps that move between 500 and 4500 gallons per hour.
---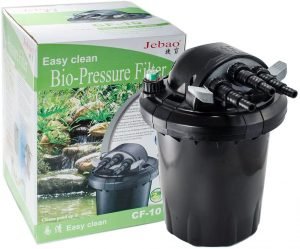 This tank filter can work perfectly in a plant tank up to 1,500 gallons, a plant and goldfish tank up to 1,000 gallons and a tank up to 500 gallons, filled with large fish.
Comes with a UV purifier and an organic / technical sieve type. In addition, its UV lamp is protected by a quartz glass, which helps to increase the penetration of light rays. It also has an indicator that alerts the user when the sieve needs cleaning.
Double filtration system to provide a cleaner and healthier pond or water garden

Cleans ponds up to 1000 gallons

Recommended for use with pond pumps capable of pumping 850-1250 liters of water per hour

Inlet / Outlet Size: 1/2 ", 3/4", 1 "(1" hose recommended)

Backwash function
---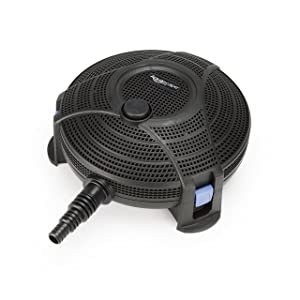 This submersible pond filter is a good choice if you already have a pump and are looking for something easy to install and effective to keep your pond water clean and clear. It is also a prefilter which means it prevents dirt from accumulating inside the pump to reduce maintenance.
Something we like about this is that it comes with ceramic filter rings that provide some mechanical filtration, as well as provide a large surface area for beneficial bacteria to grow.
This pump comes with a threaded inlet and a multi-tube adapter compatible with most pumps. All you need is a small piece of pipe or a one-inch fitting. The cage is easy to remove for cleaning and is backed by a three-year limited warranty.
---
How to choose the right pond filter?
Now that you understand a little better about pond filters, it's time to make an informed decision. There are a few things to consider carefully before deciding on a pond filter.
Dimensions of the pond
The most important thing to know before choosing a pond filter is the size of your pond. Small ponds are generally 1,000 gallons, medium ponds are 2,000 to 5,000 gallons, and large ponds are larger than that. To find the right volume for your pond, you can use this formula:
Length x Width x Depth = Volume
Take the length of your pond, multiply it by the width and then again by the depth, and you have your volume.
-Former. 4 m. x 5 m. x 2 m. = 40 m. (Cubed)
So you want a filter that can handle 40,000 liters of water.
It is important to note that the result you get is what your filter can handle without fish. When you add fish, you need to double that number and quadruple it when you add koi.
Since koi fish produce more waste and have weaker immune systems than other fish, they need a stronger filter to clean the water extremely well.
Pond Size Calculator: Here
Types of filters
You can choose between different filters depending on your style and electrical situation. If you want your filter to stay underwater and hidden, you can choose a submersible filter. These filters stay underwater and are generally quieter.
If you prefer to have your own filter on the ground, you can choose an online filter. For both options, you need a nearby electricity source to connect to. In some cases, how close or far from your electricity source the strength and size of your filter is changing.
Quantity of fish
As this is a pond filter, you need to know how many fish you are expected to have. The density of your pond and the fish in it can affect how the filter works. If you have a lot of fish, even with a small pond, you will need a strong filter.
Some filters come with an estimate of the number of fish the product can filter at one time. For example, some say they can catch up to 30 fish between five and six feet in length.
This is where it is important to get the math right. You want to correctly calculate the number and size of your fish, so that you can purchase the right filter for the job.
UV filter option
You can also search through different features to see which ones you are interested in having. An important feature is the ultraviolet illumination of the filter.
The UV filter is a fluorescent tube that illuminates the pond with UV light. This helps the algae in the water to clump, making it easier for the filter to trap them in the cartridges. You can choose a filter that comes with this lighting attached or one with a separate light for the main filter box.
What is the best pond filter system?
Of all the fantastic pond filter options on this list, the best is hands down the POND BOSS filter kit. This system offers so many great features at a great price too.
The installation and cleaning process is simple and there are full cleaning cartridges. It even comes with innovative fountain heads for when you want to add that extra elegance to your pond.
All in all, this is a great system for fish owners. Whether you're new to the pet fish scene or a veteran of the sea, this is definitely a pond filter you need to try.
How to install a pond filter and pump?
Installing a pond filter is a very simple and easy process. Some filters may have their own instructions on how to get started, so it's a good idea to look into them.
Generally, the pond filter is placed on the shore near the pond or submerged. Most people choose to buy submersible filters because they are easy to hide.
Start by adding enough water to your pond so that it completely covers the bottom. Place the filter on the bottom of the pond or on the side depending on what type you have.
Continue filling the pond until it is full. Then connect the pipes to the pump and start running them through them. If you installed it correctly, the water should move freely through the filter.
If you hear sucking or clogging sounds, remove the hoses and reinstall them. Let the filter run all day and night before adding fish or plants. This allows the filter to achieve optimum speed and power so that it works perfectly before adding the fish.
How often should I clean the pond filter?
The pond filter only works well if it is cleaned. If your filter is dirty, it won't do a good job of keeping your pond clean. There are different types of filters, so even for them there are different cleaning speeds.
Some filters require little or no manual cleaning due to their design. Others need to remove the cartridges from time to time and clean them thoroughly.
Depending on how big and powerful your filter is, you can extend its cleaning to once a year. It all depends on the amount of energy used by the filter and the type of fish and plants in the pond.
If your pond has a significant amount of fish, you will need to clean it more often than in a smaller pond. A wide variety of plants, fish and other animals in and around your pond means cleaning frequently.
A good rule of thumb when thinking about a pond filter cleaning schedule is to make a routine. If you have a lot of fish in your pond, you should clean it once every three to five months. If you don't have many fish, you can attack them once every six months to make sure the filter is clean.
conclusion
Finding the Best pond filters from even the top rated pond filters can be difficult due to the large selection. It takes longer to search for the filters you are interested in, but it's definitely worth it. You can find one that fits your budget and is more suitable for you and your fish.
More importantly, a little extra effort to find a good filter is what it takes to give your fish a happy home. Both you and your fish can enjoy a high quality filter. Your fish can enjoy living in a clean environment and you can enjoy having your fish friend for many years.