Red Tail Shark (Epalzeorhynchos bicolor) is a tropical freshwater fish native to Thailand. It has been detected in the clear waters and floodplains in the basin of Chaos Playa; nowadays, it is classified as extinct. It is famous for its striking appearance with a completely black body with vibrant forked red tails. In captivity, you should expect your fish to grow to 6 inches, with the majority staying around 5 inches. It should probably live to about six years old. It' is an omnivore; it will eat anything you put into the tank and should not be confused with the rainbow shark.
Summary of species
The Red Tail Sharks (Epalzeorhynchos bicolor) is a freshwater fish from Thailand. The species has been declared critically endangered. The majority of their body is black except their red caudal fin. The Red Tail Shark population was highly condensed in Bueng Boraphet, Thailand. It has been verified that this fish is still in the wild; their numbers are only a fraction of what they once were. There are things about keeping it in the aquarium that people don't know about. We only recommend getting one if you are fully convinced of the commitment and responsibility for its maintenance.
Red Tail Shark Appearance
Redtail shark has a deep blackhead offset with a red forked tail. Red Tail Shark are often confused with Rainbow Shark. Both belong to the Cyprinidae family, but they are, in fact, separated species. They should be expected to grow to about 6″ with most going to 5″. At your age, there's no discernible difference between females and males. Don't keep Rainbow Shark together, as they'll fight; more on compatibility and their tankmate section.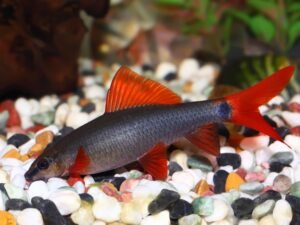 Red Tail Shark: Tankmates, Care Guide and More…
The Redtail shark is incredibly active, which will bring plenty of entertainment to everyone who watches it. Due to their non-fussy nature, they are straightforward to feed, and once in their aquarium, they should not offer too many difficulties to remain happy. Read our free guides to learn more about fish diet and habitat.
Is the Red Tail Shark Right for your aquarium?
The Red Tail Shark is an exciting and beautiful fish. They present several challenges for beginner fish keepers, mainly because of their territorial nature; they need large aquariums. If you have space in a sizeable suitable tank, many territorial characteristics may be avoided with plenty of hiding places. We hope the guide has helped you decide if they are the right fish for your aquarium.
Description
The Red Tail Shark is predominantly dark black with a brightly contrasted red tail and white point on the dorsal fin. These hardy and curious fish add personality to an aquarium.
Red Tail Shark 2.5 inch plus
Red Tail Shark has a black body with a red tail that almost looks like a black shark. There should only be one Redtail shark in your tank because as long as you keep them in multiples, their aggressive and territorial behavior will get worse. Avoid the temptation to keep them with Rainbow Shark or other Black Sharks. White Tails sharks can be highly active but territorial when in multiple pairs. Those red-tailed black sharks have an aggressive and very territorial nature.
Red Tail Shark Size
Red Tail Sharks usually grow up to 8 inches when fully grown. It is dependent on an environmental and genetic conditions. We don't know anyone who has a Red Tail less than 3 inches. The average size tends to be at the higher end of its range as long as you give them proper care.
Behavior & Temperament
Redtail sharks are incredibly active fish and have fun to watch. You will often watch these sharks swim near the bottom of the tank. This species has a very territorial nature that needs to be considered when choosing to put those sharks in a community tank to feel comfortable. All other offensive tendencies displayed will be exaggerated because of lack of space or by the wrong tankmates. They need to find space and need to own space at camp. The easiest way to keep active fish well in an aquarium is by giving them space and the right conditions to reduce stress.
Typical behavior
These kinds of sharks are aggressive with fish that bother them. As he matures as an adult, they become territorial and pursue other fishes until they reach exhaustion. In a vast tank with a wide number of hideouts, you can keep a group of sharks. Each fish need at least 10 gallons of the tank to use as a hideout. Red Tails are aggressive with fish when straying from their territory. They will aggressively attack other fish while you are feeding them. All tank mates should have more space within a larger tank.
How do I keep a black shark happy in my tank?
The Red Tail Black Shark is a fish that belongs to the Cyprinidae family. This family is native to Thailand but is considered extinct in the wild. Famous for its large dark body and a vivid red tail, the fish can grow to about 6-inch in length. A lifespan of six to 10 years is expected, but rare reports report that some people live as much as 15 years. If you plan to keep this fish at your aquarium, be sure the tankmates you chose could stand up to that type of aggressive behavior.
Water parameters
Water parameters are one part of the Red Tail Sharkcare we shouldn't get crazy about. Even though this isn't the most sensitive species globally, you should constantly check the water parameters. Checking the water prevents anything from pollutants in the water to pH drops. Get an aquarium kit test and inspect your tank and tap water.
Tank conditions
It would be best to guarantee juveniles have a tank of at least 29 gallons, and adults have 55+ gallons. You may also try to ornament the tank to reduce territorial behavior and help protect more timid tank mates. For the water flow, you should try to ensure water is slow-flowing to match the natural environment. The substrate must include gravel and pebbles, or fine sand. Remember that they can be jumpers, and therefore you should use a heavier lid.
Habitat and tank requirements
During the rainy season in the natural habitat, these black sharks live in the flooded streams and forests. Over the recent decades, the wild population of Red Tails has been virtually gone because of excessive poaching and changes in landscapes caused by population growth. But booming aquaculture business means that this species is still alive. It is now listed as critically endangered.
Take care
The Red Tail Sharks are pretty simple and easy to care about since you know how basic they are. They're pretty sturdy and withstand a decent number of water parameters. But if you have one in an adequate tank, you will experience a problem. Learn all of your basics to get started on the right path. Red Tail Sharks are pretty simple to keep as well as can be held under normal water circumstances. They are easier to maintain in massive systems.
Tank Size
The recommended tank is 75 gallons. Even though they are not monsters, the fish are very active and require a lot of space for their swim. As semi-aggressive species, the area helps reduce the possibility of aggressiveness toward others community freshwater fish. It is highly recommended to increase the size of your tank significantly if you want to try to keep two of them in the same tank. To get more information, follow this article.
Tank requirements
Moderate water flow is needed to recreate the natural habitat for the red tail black shark. For the substrate, use gravel, fine sand, or big rocks. Live plants add value to aquariums. They might eat algae in stones and glass, but they leave plants unharmed. Putting a thick layer of gravel as a substrate can be helpful.
Life span
The Average Red Tail Species life span is five to eight years. There might be ways you can help them live happily for the rest of their lives. Buy fish from a reputable seller and breeder. Keep these in an excellent habitat at all times. Keep the fish in an environment suitable for it, provide good quality water and the perfect parameters for the species, and an optimal diet, so your fish will live to the full, always in its splendor. Reduce stress by keeping them with suitable tankmates. We also will cover other issues to keep them healthy in a safe environment and a happy place.
What to put in their tank
The ideal substrate for the red-tailed shark is moderate-sized gravel or pebbles. Many owners say they found their Red tail Shark hiding at plants instead of caves. Some driftwood is a good inclusion that gives variety and places where the fish can hide. Make some open space to swimming in the tank. It can be easy to go overboard as you decorate the tank. This species prefers to inhabit the bottom of the aquarium, which is why choosing the correct substrate is so essential. The fish comes from a large basin in central Thailand whose surface is filled with vegetation, driftwood, and stones. Knowing their natural habitat means you'll use these items for your fish to get more comfortable at home.
Red Tail Shark Diet and Feeding
Red Tail Sharks are omnivorous, prone to herbivory, and in the wild, the food it consumes will consist of insects, larvae, crustaceans, algae, and small insects. They are also scavengers and will eat much of anything put in their aquarium, including fish pellets, fish flakes, and live and frozen vegetables. The core of their diet should consist of an excellent value pellet or flake. It would be possible to add variety to it by using it with animal and plant origin ingredients. If you feed, them vegetables wash them first. Usually, there's a considerable number of vegetables they accept well, like broccoli, zucchini, and carrots.
Food and Diet Recommendations
The Red Tail Shark are omnivores who are not picky about things they eat. It eats plants, insects including crustaceans, in its natural habitat. Brine shrimp, bloodworms, or tubifex can be a few of their favorite foods. Some aquarists also suggest including vegetables such as zucchini or cucumber in their diet. After feeding, remove any leftover food from the tank; leftover foods are likely to reduce water quality and rapidly increase the potential for illness.
Compatibility and Tankmates
RedTail has a reputation for sometimes dangerous and aggressive fish. The shark is a territorial fish that will get hostile to other fish if it invades its territory or during feeding activities. Although Red Tail isn't exactly a suitable candidate for a community tank, you can still have it with other fish. Ideal tankmates must also be solid and fast and spend much of their time in water's middle and upper levels. Other sharks such as rainbow or blue-tailed are to be avoided. In addition, it is advised not to go for other bottom dwellers like some Cichlids and Plecos.
Red Tail Shark Tank Mates
Since they often get aggressive, you must find the right tankmate for it. Fish who are curious and bold are unfit for them. The possibility of keeping more than one Red Tail Shrimp in one aquarium comes at a cost; Due to their territorial nature, there is a very high probability that these fish will fight if they don't have a substantial area to explore and hide. For this reason, it is good to have a few hideouts.
Keep Red Tail Sharks with other Red Tail Sharks
For each Red Tail, you add one meter or 20 gallons into the tank is required. You must also keep at least five sharks at the same time. Keeping it in a group prevents the "alpha" from brutally killing each fish. For the most avid fish fan, a huge tank is utopic, hence why we recommend keeping only one individual. This does not mean that we need to keep it in tiny spaces. If you insist on house more than one shark in your aquarium, then do it with caution. Make sure the aquarium is large; Redtail Sharks are exceptionally territorial.
Breeding
There are few reports of successfully breeding Red Tail Sharks in-home aquariums. Artificial breeding techniques are harmful to your fish and can be detrimental. It is best not to try breeding them. We never encourage aquarists to try unless there is a clear path to success, so there'll be no space-occupying this section. In contrast, the entire world population is obtained from farms. Aquaculture uses manuals and techniques for inducing reproduction, and it also does so naturally, ensuring the species' prosperity, even if it is practically extinct.
Red Tail Shark Breeding
It's hardly an example of someone who has produced Red Taileds in an aquarium. It can most likely be a result of luck. They're extinct in the wild, and the commercial breeding system is left to keep them out of extinction. In many commercial environments, hormones are used to induce mating. As fry develop, they can switch color from silver to brown before dark. At about ten weeks old, their red tail begins to grow. After a male fertilizes the egg, it takes 40-60 hours to hatch the fry. It usually spawns in rock caves.
Disease Potential
Red Tail Black Sharks don't have a species-specific disease, but they can develop other common freshwater diseases. The likelihood of such an event goes down significantly if you provide them with great care and perfect water conditions. We recommend that you focus your efforts on avoiding problems keeping a maintenance schedule instead of treating it. If your fish is unlucky enough to get sick, you need to find out what disease is affecting them and quickly come up with a solution. Till then, feed your Red Tail Shark a good source of quality food and provide your fish with suitable habitat and water conditions. You also could spend minutes inspecting the water and the fish behavior every day.
Where can I find a Red Tail Black Shark?
Your local fish store may have enough of these fish to supply for everyone. Take your time to choose the right fish from the tank store. Bright eyes and colors, correct and constant movements, and no visible parasites are signs to look for. If the fish is feeling stressed, strange, or looking, you must give up the purchase and go to other stores; all of the tanks should be visibly clean, and the fishes healthy, look for fallen or lying fish, as well as dead fish in hard-to-reach places. A tiny alga on the walls doesn't mean anything, but dirt on the substrate is a red light. If you come across this type of treatment or carelessness in a fish shop, talk to the responsible and file your complaint. They will be happy to hear candid feedback from their customers and turn the situation around. You should inspect all tanks to ensure cleanliness and safety to purchase. You can also order it on the internet, on specialized online shops.
Conclusion
Red Tail Sharks are beautiful freshwater fish and will continue to be popular in the aquarium for quite some time. Their simple design and attractive appeal make them a good choice for broad-ranging experience levels. The only semi-tricky part of owning one is dealing with their aggressiveness (and this should be only important if you plan on keeping them in a community tank). We hope this guide helps you to understand the care of Redtail Shark.