The way neon tetra fish reproduce is unique and requires proper steps for successful fertilization. This entire process is unique and needs specific measures to ensure its success. Because these fish are so adorable, many fish keepers are happy to find that their Tetra neon is carrying babies. How to reproduce this Tetra to have a family of these beauties in a tropical freshwater aquarium will also be discussed.
How do I tell if a Neon Tetra is going to lay eggs?
Many novice aquarists love Neon tetras because of their glowing presence in the aquarium. Generally, a pregnant female with a neon tetra has a swollen belly, so she must lay eggs very soon. The mating and egg-release processes of these small species can be somewhat complicated. Learn about Neon Tetra and its spawn – and discover hidden facts and tips. Keep learning more!
Pregnant Neon Tetra
Neon Tetra is a brightly colored species that enjoy the company of other fish of their species. They have a socially relaxed and happy attitude. But most are very fussy about their waiting for a suitable arrangement.
Is Neon Tetra mating?
Even the smallest Tetra can produce more than a dozen eggs in the exact spawn. If you see male swimming alongside a female, he is almost certainly in the mating process. Tetras are egg dispersers. Females release their eggs floating in the water column, so the eggs sink to the bottom of the tank. The eggs should hatch in approximately 24 hours and produce a small fry that will feed on your egg pouch the next day. Removing the breeding pair after the eggs have been laid is necessary as the parents devour their offspring.
How do I tell if a neon tetra is going to spawn
If your Neon Tetra starts to show signs of swelling in its tummy, it will likely lay some eggs. This article will help you know what to do when your Neon Tetra lays eggs. And how exactly to make them reproduce. In this article, I will also cover the complex mating of these simple freshwater species. It also helps people find out when the eggs in their aquarium are about to hatch. Let's get into our knowledge of neon tetras.
How do you know if a Neon Tetra is pregnant?
A tetra may lay a total of 60 up to 130 eggs, which will take 24 hours to hatch. Once the eggs are loose in the water column, you must remove the breeding pair from the aquarium; otherwise, they may eat the eggs and fry.
Do Neon Tetras eat their babies?
Baby tetras are prone to get sick and are sensitive to injury. They may not survive unless you give them proper care and remove the adults from the fry tank. It is possible to put baby tetras in the same aquarium as the adults after three to four months. They will soon develop the survival skills necessary to live harmoniously with adults.
Neon tetras and breeding requirements
The most likely way to ensure positive breeding of neon tetras is to separate the breeding matrices in proper breeding aquariums. For best results, place a few smaller stones at the bottom of the tank in the egg landing areas. Small fish can be highly demanding if they need favorable breeding conditions. This requires frequent water change during spawning. Immediately after mating, neons lay some eggs, usually at dawn. As the species does not have parental care, they may eat the fry.
Readjusting the water conditions
If the neon tetra is not reproducing, you should check the water conditions and readjust as needed. Adjusting water hardness can trigger spawning by simulating rain. Don't forget to dim the lighting. Maintaining proper tank conditions on your first attempt can be a challenge. Do not hesitate to experiment and take your time to adjust everything according to the needs of your fish. Some neon tetras prefer harder waters, and some prefer softer waters. Add a large volume of soft water to the pond and see if it makes a difference after a few days.
Removing the fish
Tetra adults typically eat their eggs, and they also consume young ones. It is again recommended to breed one pair at a time in a separate tank. Having an additional adult tetra in a tank means that the other fish end up eating the egg. You don't want an experience like this because you cannot leave eggs in the tank in multiple pairs within a single tank. The rocks or gravel on the bottom of the tank will make it easier to spot the eggs in the fish tank by simply moving them back to their previous tank to protect the eggs. The eggs are transparent, smaller, and challenging to view.
Prep the water
Neon tetra appreciates soft water with 1-3 dH indicator. The water level should not drop below 80 degrees F. Ph levels from 5 to 7 should be adjusted to provide the ideal climate for neon tetras to breed. The breeding technique must replicate the Neon Tetra's environment.
Setting up the breeding tank
If you don't have a tank, buy one that'll measure at least 12x8x8-inches. The storage tanks will exclusively accommodate the male and female breeding tetras and incubate the newborns. Set up this tank like a standard tank. Avoid plants, and don't forget to place a few rocks on the bottom of the tank. Make the water very soft and the temperature warm enough for the breeding to happen.
Placement of the tank
These tanks usually will have low light. However, low light does not mean a dark environment. They must be placed in a location and get indirect light to provide them night and day cycle.
Identifying the male and female
It's not necessary to sex neon tetras for breeding because you can put a few in the tanks, and they will reproduce. To increase the success, chances start with a pair by transferring them into a separate tank.
Breeding Neon Tetras
It's not impossible to breed neon tetras and reproduce their ideal conditions. The creation of separate hatcheries is advisable. In this section, you learn what actions they must have adopted when developing a neon tetra.
Breeding requirements for Neon Tetras
For best results, you must make a large tank with a couple of inches of rocks to make a proper landing place for eggs or babies. A lid on the device may also help protect the parents from jumping during your moment of euphoria. You should only add tetras into the tank that is fully mature with stable water chemistry. To stop eggs get stuck in leaves, remove plants from tanks.
How long does it take for a neon tetra to lay eggs?
The female neon tetra will scatter a bunch of eggs when ready to reproduce. After spawning, the male neon tetra will assist in fertilizing the eggs. The tiny fry comes from the eggs and feeds entirely from the eggs sacks in the initial few days. In four to five days, we can see fry swimming in the same aquarium. Give fry food, infusory foods, and rotifers. They can be challenging to find because they are transparent.
Why aren't eggs of my tetra hatching?
You can separate the adults as soon as the eggs are fertilized. You can also take out the eggs from the tank instead! In addition, you must wait until 24 hours before the embryo hatches.
Tell me the time it takes for neon tetras to lay eggs?
When female neon tetra is bred, she will scatter several eggs for males to fertilize. The eggs are tiny, transparent, and quite sticky. These eggs will glide and stick to the soil. After fertilizing, the eggs can take 24 hours to hatch.
Difference between male and female Neon Tetra
Males are generally thinner with a straight blue border. A female neon is also rounder and has an angled blue line. Females are usually more prominent than males. When a female is full of eggs, their belly becomes more significant and more rounded.
Pay Attention To The Male Neon Tetra Fish Behavior
When males begin to demonstrate courting behaviors, it's likely because the female is ready to reproduce. There are also actions that the males may be observed, which are specific dances they do when attracting the females. When they do these mating dances, the male fish sometimes swims around in square patterns while rotating in a circle. Occasionally you can notice him stop and stay still for a moment before regaining the dance rhythm. The behavior of males will, too, be a clear indication that the females are ready to lay eggs according to the behavior of a female fish.
Check their belly
The female neon tetras flange looks more rounder than usual when she lays eggs. It's the most considerable confirmation that she will lay eggs. You can see on their abdomen if they are female.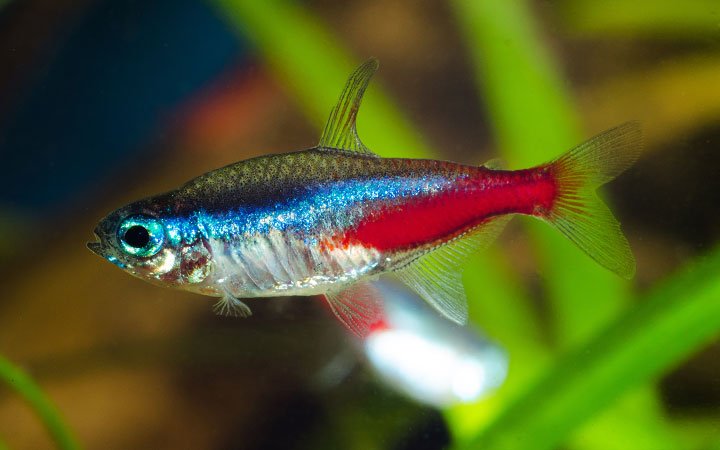 Is my Tetra going to lay eggs?
Neon Tetra is not laying eggs but has swollen in the belly for a long time. Let me show you what should happen if you have a sore abdomen for too long.
Is the Neon Tetra fat or going to lay eggs?
Neon tetras are increasing body mass, but they show no symptoms of sickness or pregnantness. If your neon tetras get fat without reason, then maybe it's sick in water in your tank or something wrong. It can often be caused when high nitrate levels occur.
Is the Neon Tetra pregnant?
When the male becomes more rounded in size, he becomes very sick. To be sure if your female fish is ill or not, you must examine their females compared to the males during mating. If the neon tetra isn't getting better from the swollen belly, it'll be in trouble, maybe with some disease or condition.
What should I do if my Neon Tetra is pregnant?
If your neon tetra shows signs of pregnancy, you probably have to prepare yourself to receive the fry. It's a good idea to research a little more about this fish.
Ideal water conditions
Neon Tetra fish flourish when they live in water at 77 Fahrenheit. Soft water should be slightly acidic but have a pH of 5.5. The majority of pet shops and online pharmacies offer pH testing strips. When changing water is critical to change at least half of the water in the tank every week. It is recommended to change tank water less frequently to encourage neon tetra to breed. If they're given this, they might decide to quit breeding when they're not allowed to do so.
Separate tanks
The eggs are adhesives, so they should have no plants and weeds on them for egg sticking. The breeding tank should consist of at least 10 gallons of water to establish the proper environmental conditions for successful breeding. Make sure the breeding tanks have a lid to avoid your fish from jumping out of the tank. The fish can be placed in the tank during the evening since breeding can take place.
What do neon tetra eggs look like?
Neon Tetra eggs are small and round – similar in length and size to tapioca. They're clear but usually have White or Yellow tints to them. These eggs have a similar consistency to jelly, and they can stick to plants and leaves in an aquarium. Because the eggs are tiny, they could be quite hard to see.
Adequate lighting
Neon tetra fish always do better in dark environments. Bring the aquarium to an area that would have been protected by natural light during the day. The aquarium shouldn't need to be fully darkened but will receive only very minimal light per day. Move it to a dark place to be as close as possible to the fish and their habitat.
FAQ
When you put two female fish neon tetra in the same room, they might scatter eggs for themselves. While you never see pregnant Tetra fish in your aquarium, you can be lucky enough to see a female fish ready to lay eggs.
Signs that Neon Tetras are mating or about to
The more you examine the neon tetras, the more differences you get. If you noticed your neon tetra doing a dancing movement in a square or circular movement and turning your head, you would undeniably be watching and listening to it. Fun fact this dancing aimed to attract tetras that are females! When you see the male Neon Tetras perform this exceptional dancing for the female mates and sometimes stop for some of your moments to stop them. Make sure they meet up.
Male Vs. Female Neon Tetra
Female Neon Tetra is a lot bigger than males. If you take a closer look, you will discover a horizontal blue line between male and female tetras. By contrast, you will notice a blue line curving the body of the two female tetra's. To put things another way: slimmer neon tetra usually is male.
Specific Belly Form Before Laying Eggs
The females in neon tetra are rounded bellies due to the eggs they carry. She will spawn eggs when conditions come to perfect for it. Eggs can spawn in warmer conditions when illumination is proper.
How do I save and care for neon tetra eggs?
To keep neon tetra puppies healthy, first hold the aquarium parameters stable and optimal, without parameter fluctuations.
Managing water parameters
Neon tetras prefer soft water. The water should be a 0-2 dH indicator. For the pH level, you should go for about 5-6. Additionally, the water temperatures are about 74 degrees Fahrenheit. To maintain the parameters stable, you can look for a test kit to gauge DH water concentrations in your pet store. You can reach 70 and 75 degrees but no more or less.
Avoid newly set tanks.
Fingerlings are sensitive to water quality; therefore, avoid using unmatured aquariums. Changing the fry to another tank should only take place when the fingerlings are around 3 to 4 months old, and the water composition of both tanks must be stable and equal. You must also ensure that temperatures in the tank are maintained properly.
Changes in the water of the aquarium
You can also switch water more often to mature Neon Tetras to encourage spawning. Changing water works wonders when almost none of the factors motivate your fish to spawn.
Final thoughts
Aquarium enthusiasts and lovers love to see Tetra Neon fish; these colorful beauties are appreciated in aquariums worldwide. One point to keep in mind is that females do not get pregnant. Instead, she will lay many eggs to allow male fish to fertilize their eggs. When your female is ready to lay eggs, it is essential to place her breeders in a separate tank with an appropriate environment. Check that the eggs are fertilized and correctly applied. You would like to remove the adults in their tanks before consuming the fertilized eggs.