This article aims to provide comprehensive guidance on effectively caring for your own Black Moor Goldfish, equipping you with valuable tips for maintaining these magnificent creatures in your home aquarium.
The Ultimate Guide to Black Moor Goldfish Care (2023 Update)
The Black Moor Goldfish is known for its striking all-black body, including the eyes and fins. This comprehensive guide provides valuable care information to ensure their well-being in your aquarium.
Black Moor Goldfish (Carassius auratus) Care Sheet:
Black Moor Goldfish are visually stunning and require special care compared to other goldfish species. Read on to learn important tips for maintaining their health and happiness.
Goldfish are known for their vibrant colors and captivating appearance, making them popular choices for home aquariums. They are peaceful and can coexist with other fish species. With proper tank maintenance and a balanced diet, they are easy to care for, making them suitable for beginners.
Black Moor Goldfish, with their beautiful black coloration and unique "dragon" eyes, are relatively low-maintenance and highly adaptable. They have excellent feeding habits and are peaceful in nature.
Other common names for the Black Moor goldfish include Black Peony goldfish and Dragon Eye goldfish.
Prices pulled from the Amazon Product Advertising API on:
Product prices and availability are accurate as of the date/time indicated and are subject to change. Any price and availability information displayed on [relevant Amazon Site(s), as applicable] at the time of purchase will apply to the purchase of this product.
Stunning Dragon Eyes of the Black Moor Goldfish
Black Moors exhibit a rounded body and elegant, flowing fins, captivating aquarists with their unique eyes.
Known as "dragon eyes," these bulging eyes result from increased intraocular pressure.
Like all telescope Goldfish, their eyes grow in diameter, allowing for a wider field of vision.
Black Moors thrive in well-maintained aquariums and are suitable for both experienced and novice aquarists. With no specific requirements, they make an ideal addition to any home aquarium.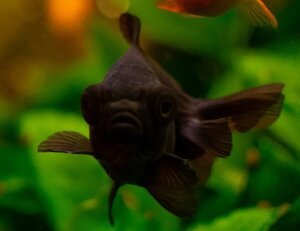 Caring for Black Moors in an Aquarium
The Black Moor is a distinct variety of Goldfish, reaching a length of 6-8″ when fully grown and boasting an impressive lifespan of up to 20 years.
Appearance
Their endearing appearance includes round, stubby bodies, contrasting with the sleek, streamlined shape of standard Goldfish.
With fancy, flowing fins and a predominantly black coloration, they make for an intriguing and visually appealing addition to any aquarium. Notably, their prominent eyes have earned them the nickname "telescopes".
Black Moor Goldfish (Carassius auratus) are characterized by their curved body shape, which contributes to their slow swimming speed.
Younger individuals display fewer dark colors, which gradually deepen with age.
The Black Moor Goldfish features dark metallic black scales and distinctive telescope eyes.
Like other Goldfish, it has a potential for significant growth and requires a spacious aquarium or pond when fully matured.
Prices pulled from the Amazon Product Advertising API on:
Product prices and availability are accurate as of the date/time indicated and are subject to change. Any price and availability information displayed on [relevant Amazon Site(s), as applicable] at the time of purchase will apply to the purchase of this product.
Origins of the Black Moor Goldfish
Black Moor goldfish have been selectively bred for their distinct characteristics. These early forms of Goldfish were introduced to Japan in the 1500s, where their long tail fins and vibrant color patterns were further enhanced.
Today, these famous goldfish can be found worldwide, captivating fish enthusiasts.
In the early days, these fascinating creatures were isolated in pools by fish keepers, who regarded them as intriguing oddities.
Types of Black Moor Goldfish
The Black Moor Goldfish shares the classic short, egg-shaped body characteristic as do some other goldfish types. Like other telescope varieties, its eyes protrude from the sides of the head.
While the original Black Moor had a fantail, modern types often feature shorter, flowing fins. The eyes of these fish can vary, with some appearing as smooth cones and others having creases or a balloon-like shape.
Other black Goldfish varieties, such as Black Oranda, Black Lionhead, and Black Ranchu, have normal eyes.
Breeding projects have resulted in a range of fancy black Goldfish, including the Black Ryukin. Additionally, the Black Comet Goldfish is sometimes referred to as the Black Bubble Eye Goldfish.
Prices pulled from the Amazon Product Advertising API on:
Product prices and availability are accurate as of the date/time indicated and are subject to change. Any price and availability information displayed on [relevant Amazon Site(s), as applicable] at the time of purchase will apply to the purchase of this product.
Origins and Habitat
The Black Moor Goldfish was developed through selective breeding in China and Japan, focusing on its distinctive genetic trait of telescope eyes. By isolating fish with these eyes in a specific pond, multiple smaller spawns were obtained.
The breeders then worked to establish the desired permanent traits, including the unique black coloration and long body fins.
Identification:
The Black Moor Goldfish stands out easily among other species. It grows to 6-8 inches (15-20 cm) and has a round, egg-like shape that slows its movement in water.
With big bulging eyes, their eyesight is limited, but eye infections are rare.
They are predominantly black, although some may have orange or gold on their bellies.
Color development in Black Moor goldfish:
Young Black Moor fish may have a brownish bronze appearance, but as they mature, their coloration becomes vibrant, and their eyes become more prominent.
Some breeders suggest that hot water can reduce black pigment fixation, resulting in a bronze appearance instead.
Genetic factors and age may also contribute to a reduction in black coloration as fish grow older. Even mature fish can lose black coloration if kept in warm aquarium water.
We will discuss water quality later.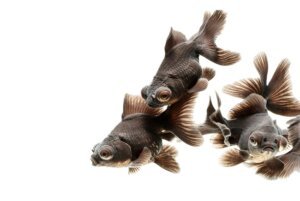 Look & Varieties:
Male Black Moor goldfish have a slimmer body compared to the shorter and stockier females.
Some individuals exhibit an elegant flowing black tripod tail, which is usually more prominent in females.
It's important to note that black coloration in Goldfish can be unstable. There is no guarantee that the black color of a Black Moor will remain consistent over time.
As the fish mature, their black pigmentation develops, but factors such as old age and water temperature can cause the black pigmentation to fade. In some cases, fish develop a white belly.
Black Moor Goldfish Habitat and Tank Conditions:
Goldfish, including Black Moors, are selectively bred and not found in natural habitats. Their ancestors, Asiatic carps, reside in murky freshwater bodies like lakes and rivers.
To ensure their well-being, create an optimal tank environment.
Maintain a pH of 6.8-8.0, ammonia and nitrite levels at 0.0, GH/KH of 6-10 degrees, and a water temperature of 65-75°F.
Additionally, provide slow-moving water and use sand as the substrate in the tank.
Feeding your Black Moor Goldfish:
To maintain the health of your Black Moor Goldfish, provide a balanced diet consisting of high-quality fish flakes or pellets.
Supplement their meals with meaty protein sources like frozen brine shrimp, bloodworms, and krill. Include healthy vegetable treats such as lettuce, spinach, and broccoli occasionally.
Avoid relying solely on store-bought products for nutrition and ensure a varied diet with both plant and animal-based foods.
Offer small amounts of food that can be consumed quickly to prevent overfeeding and water pollution.
Soak frozen and dry foods in tank water before feeding to aid digestion and prevent constipation. Remember to rinse vegetables thoroughly before offering them as food.
Round-bodied goldfish are highly susceptible to swimming bladder issues, and good nutrition can help prevent digestive problems.
Black Moor Goldfish Tank and Compatibility:
When housed in a community aquarium, Black Moors require peaceful tank mates. Their graceful swimming adds enjoyment to the tank's ambiance.
Due to potential poor eyesight, these fish have a slower swimming pace compared to other species. They are not well-suited for ponds where competition for resources can be challenging. Their slow movements also make them vulnerable to predators such as cats.
It is recommended to provide a spacious tank with a volume capacity of at least 100 gallons.
Black Moors can also thrive in tropical tanks with water temperatures up to 25°C.
Avoid placing the aquarium in direct sunlight to prevent sudden temperature fluctuations, as they can cause health issues for the fish.
Aquascaping a Black Moor Goldfish Aquarium:
Goldfish, including Black Moors, have a tendency to dig, so it's important to avoid having food in the gravel bed. This can lead to water quality issues like cloudy water, algae growth, and spikes in nitrite levels.
Use larger smooth stones to protect plant bases from digging. Goldfish will uproot and damage aquarium plants.
The fish may also explore caves and other ornaments in the tank as they are curious creatures. However, avoid using sharp and pointy decorations to prevent any harm to telescopes and bubble eye goldfish.
Black Moor Tank Considerations:
Black Moor goldfish produce a significant amount of waste, which can quickly lead to water pollution.
To accommodate their needs, it is recommended to have a minimum tank size of 100 gallons (380L).
Due to their less agile swimming ability, it is advisable to provide a spacious tank rather than filling it with small schooling fish, ornaments and plants.
If you choose to include plants, real or artificial, position them at the back of the tank and regularly trim them to ensure there is ample open swimming space for your fish.
To provide them with an ideal tank environment, opt for a longer tank shape rather than a tall one. This design allows for more horizontal swimming space, which better accommodates their swimming style.
Aquarium Filters for Blackmoors:
Properly size the biological filtration based on the aquarium's inhabitants and size.
Keep maintenance organized and ensure the water flow is low.
There are various types and models of filters available, so seek assistance from the seller to determine the best fit for your system. Internal canister filters are often recommended as they are simple and cost-effective for Goldfish.
Regularly clean the filters and substrate, and perform weekly water changes, even with filtration in place.
Maintenance and Care:
Regularly clean the tank and remove any leftover food to maintain cleaner conditions. Perform water changes on a weekly basis.
Be mindful of the tank design to avoid placing anything that could harm the fish.
Goldfish care is relatively straightforward, making them suitable for beginners and capable of providing companionship for many years.
Care Level:
The Black Moor Goldfish is low-maintenance and easy to care for. They have no specific requirements for survival and can live for a long time with proper care.
Providing ample space is essential for their well-being.
It's important to be vigilant for common Goldfish ailments like dermatitis and swimming bladder disorder and address them promptly.
Pay attention to any unusual behaviors exhibited by your fish, as they may indicate illness.
Maintaining a clean environment is crucial for their health, and isolating any sick fish in a separate tank is recommended. This will help reduce stress on your fish and appropriate treatment can be given.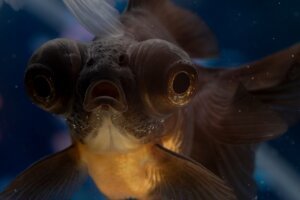 Temperament and Behavior:
Black Moors are calm and slow swimmers that can easily entertain their keepers. They prefer the company of fish with similar temperaments, often staying close to their own species.
They typically occupy the middle part of the water column but seek hiding spots among plants, near the substrate, or within tank decorations.
Black Moors tend to be solitary. They may hide in the tank if they feel threatened or overwhelmed by other fish.
Tankmates for Black Moor Goldfish:
When choosing tankmates for Black Moor Goldfish, it's important to consider their slow-moving nature and delicate fins. Avoid aggressive and fast-swimming fish that may outcompete them for food.
Ideal companions include other fancy Goldfish varieties like telescope or bubble-eye goldfish.
Keeping at least two Black Moors together in a suitable tank is preferred.
Avoid aggressive predator fish like Oscars, and opt for peaceful invertebrates such as shrimp and snails. Fish like Bristlenose plecos and Kuhli loaches can also be compatible.
Ensure each fish has enough swimming space and maintain a well-decorated tank to prevent any bullying or stress.
Sexing Black Moor Goldfish:
Males of this species tend to be larger than females, although sexing them can be challenging due to subtle differences. However, distinguishing between the sexes becomes easier during the breeding period when males develop visible white bumps called breeding tubercles on their fins.
Females will grow plumper as they become heavy with eggs.
Breeding Black Moor Goldfish:
To breed Black Moor Goldfish, mimic the spawning conditions of spring in the wild. Provide plenty of spawn substrate like roots and mops for the females to lay their eggs.
To stimulate breeding, feed the adult fish with a quality diet then raise the tank temperature slightly (simulates the warmer weather of spring in the wild).
The males develop small white bumps that appear on their gill covers, these are called breeding tubercles. The females will swell as their eggs develop. She will often show a bulge to one side of her abdomen.
The males will begin to chase the females around the tank. She will release eggs in the spawning substrate and the males will fertilize the eggs.
Each pair can hatch around 10,000 eggs within two days. The adults will eat the eggs if left in the tank, so they should be removed once spawning is complete.
It is crucial to monitor water quality as the eggs develop and then begin to hatch. Infertile eggs will pollute the water. Give daily water changes and add Methylene Blue to stop bacteria.
Feed the larvae a nutritious diet for the first two months and gradually transition them to similar food as their parents. Allow the egg sack to be absorbed, then feed them very small commercial fry food, or newly hatched brine shrimp.
Black Moor Goldfish Lifespan:
With proper care and suitable tank conditions and size, Black Moor Goldfish can live up to 20 years.
They have a typical lifespan of around 18 years, but with excellent water quality and meticulous care, they can exceed 20 years of age.
Hardiness and Diseases in Black Moor Goldfish:
Black Moor Goldfish are generally hardy and resilient if water parameters and quality are well-maintained. However, they can be prone to certain health issues.
Care should be taken to prevent physical injuries from objects or entanglement in nets.
Common diseases that may affect them include urinary system infections, fungal infections, hole in the head, ich (white spot), popeye, slime disease, swim bladder disorder, ulcers, and velvet.
Changes in coloration should be monitored closely, as they can be a natural part of growth or indicate an underlying disease.
Final Thoughts
Black Moors are known for their calm nature and are compatible with slow-moving or fancy goldfish. They have difficulty swimming in fast-moving waters and are not suitable for shallow ponds. They prefer safe and smooth tank decorations and vegetation.
Black Moor Goldfish require proper care and should not be kept with incompatible tankmates. They produce more waste compared to other goldfish varieties.
Overall, they are relatively easy to care for, but proper research and consultation are recommended.
.