Warning
: Undefined variable $td_img_id in
/home/u299318930/domains/aquariumhunter.com/public_html/wp-content/plugins/amalinkspro/public/class-amalinkspro-public.php
on line
3290
The best UV pond clarifiers removes algae and remove other harmful elements from your pond water quickly and naturally.
Outdoor ponds are a beautiful addition to any garden, but they can be difficult to maintain. A common problem are these algal blooms, some of which are so severe that you may not even be able to see the fish in your pond.
If you're trying to get rid of algae blooms or prevent them in the future and don't want to use harsh chemicals, you're in luck as UV clarifiers are designed specifically for this problem.
Comparison Table – Best UV Pond Clarifiers
Custom
SiteStripe Image
Title
Review
Buy

Top

Best Pick
TotalPond Complete Pond Filter with UV Clarifier
4.3/5.0
Check Price
Top Performance
OASE 706759564557 Vitronic UV Clarifier For Pond
4..4/5.0
Check Price
cheapest
TetraPond GreenFree UV Clarifier For Ponds
4.5/5.0
Check Price
If you are optimistic you will think that regular filtering methods should suffice. After all, you can use biological and mechanical filtration systems and even add chemical systems.
But an aquatic UV sterilizer can be your ultimate guarantee when it comes to the proper care of your pond and marine aquarium.
The most common complaint of algae ponds is aesthetics. When your pond has too much algae or when the algae starts to bloom, it causes turbidity and discoloration of your water. As a result, it turns from a visual appeal to an eyesore.
Fortunately for you, there is one device that can protect your pond from algae invasion: a UV pond filter. In this article, we'll share with you all the things and reviews you need to find the right pump UV pond filter for your needs.
How does a UV pond clarifier work?
In simple terms, a UV clarifier uses ultraviolet light to kill the single-celled algae that turn your pond water green.
UV clarifiers are made of a chamber that contains the UV lamp. A pump pushes water into the room where it is exposed to UV light before it reaches the outlet and returns to the pond.
These units are usually built into the filter system, sometimes before and sometimes after the water has passed through the filter. It usually doesn't matter where the clarifier is placed, but some manufacturers recommend one or the other.
That's the simple explanation. Now here's the science behind it.
Algae are single-celled organisms that are too small to be confined by a traditional filter system. When exposed to ultraviolet light in the clarification chamber, their ability to multiply is impaired. It also keeps them together.
When algae form in clumps, it is too big to sneak through the filter. This process ultimately results in all free floating algae being removed and your pond water becoming clear again.
Top 10 Best UV Clarifiers for Your Ponds
If you're looking for the best UV pond clarifiers for your pond, you're in luck. We've put together this guide of the top eight products available to help you find the one that works best for you.
Best UV Pond Clarifiers Reviews
This Total Pond UV pond clarifier is designed to remove algae and odors from ponds up to 2000 liters. It includes a 9W UV bulb with a lifespan of up to 8,000, although the company recommends replacing the bulb every year for best results.
Installation is simple and you can place it inside or outside your pond, whichever suits your setup best. There is also a handy indicator light to let you know when the unit is working.
This product is compatible with ½ inch, ¾ inch or 1 inch pump outlets and works best with Total Pond pumps on the water cycle at speeds between 210 and 560 GPH. The pond water is pumped into the chamber where the light sterilizes it before circulating back to the pond.
Benefits
This pump works in ponds up to 2000 liters.
The included 9Q UV lamp has a long lifespan of 8,000 hours.
Installation is easy as it is compatible with different pumps and outlets.
Cons
It may take one to two weeks for you to see results.
For optimum performance, the lamp should be replaced every year.
Check Price On Amazon
---
Another great option for large ponds up to 12,000 liters is this product from Jebao. It is backed by a one-year limited warranty and is effective in cleaning existing ponds or preventing problems in new ponds.
There are some guidelines to follow for installation. It can be in front of or behind the filter and must be secured horizontally with the supplied mounting plate. It has fittings for ¾ inch, 1 inch, 2 inch, or 5 ½ inch hoses and must be used with a pump.
For optimal effects, the manufacturer recommends running the clarifier first 24 hours a day. When used with a normal pond filter and pump, the water should be clear within two weeks. The lamp has a lifespan of 8,000 hours and should be replaced approximately every year.
Benefits
This product can be used in new or existing configurations up to 4400 gallons.
It is compatible with a variety of pipe sizes and can be used with a wide variety of pumps.
It is backed by a one-year limited warranty.
Cons
This Jebao purification installation must be mounted horizontally and secured with the supplied mounting plate.
Fittings may not be the correct size and it may be difficult to keep hoses in place.
Check Price On Amazon
---
Next up is this UV clarifier from OASE. This is a versatile, easy to use product that works great with new setups and established ponds. It works with different filter systems and has a window on the top so you can easily see if it is working.
A nice thing about this product is the quick-lock ballast head. Provides easy access to the inside of the device so you can clean the glass and quickly replace the lamp when needed.
This UV clarifier is for ponds up to 5,000 liters and, as we said, it works with a variety of filter systems. However, it is most effective when used with a BioSmart filter setting. It is compatible with its modular system and can be installed quickly and easily without the need for additional piping.
Benefits
This product is effective in both established ponds and new plants up to 5,000 gallons.
A viewing window on the top of the filter makes it easy to check if the light is working.
The quick-lock ballast head opens and closes easily, making it easy to clean and replace the lamp if necessary.
Cons
This UV clarifier is not submersible and should be installed near water.
Check Price On Amazon
---
Tetra is a well-known brand when it comes to aquarium and fish farming, and their UV pond clarifier is worth checking out. This product is designed for ponds up to 1800 liters and is effective, it can handle algae blooms in just five days.
Setup is simple. It comes with a ¾, 1 and 1 ¼ inch adapter, as well as a 4.5 meter power cord for easy installation. This pump is not submersible and should be placed above water, but the green color is easy to hide in the surrounding landscape of your pond. Mounting brackets are included.
Included is a UV lamp that provides up to 11 months of continuous use, as well as a stainless steel insert that prevents UV lamps from corroding the plastic housing. This product is also backed by a 3-year limited warranty.
Benefits
Made for ponds up to 1800 gallons, this Tetra product can eliminate algae blooms in just five days.
The installation is simple. Multi-tube mounting brackets and adapters are included.
The included UV lamp lasts continuously for up to 11 months.
Cons
This product is not submersible.
It doesn't always work as fast as it claims.
Check Price On Amazon
---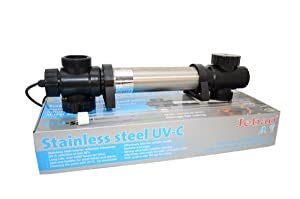 Another great option for medium to large ponds up to 6000 liters is this UV clarifier from Jebao. This is a well made product and it gives you a lot of bang for your buck. It is made of stainless steel and is extremely durable, and it works very quickly too.
This versatile product is easy to install and comes with adapters for ¾, 1, 1 ¼, 1 ½ inch pipe, as well as a 2 inch PVC adapter. Please note that this UV clarifier is not submersible and cannot be installed in the pond.
An advantage of this design is that the screw comes off easily, making regular cleaning and maintenance easy. It's also easy to replace the bulb when the time comes.
Benefits
This product is made of durable stainless steel and designed for ponds up to 6000 liters.
Several pipe adapters are included as well as a 2-inch PVC adapter for easy installation.
Simple screw release provides access for easy cleaning, maintenance and lamp replacement.
Cons
This product is not submersible and must be installed above water.
Installation can be difficult as some people have received adapters that are not the exact size.
Check Price On Amazon
---
This is the QL series, with lamps from 10 to 240 watts.
It has a cover that keeps water away from the bulb, and the bulbs last for a year before being replaced.
The design allows you to replace the lamp without turning off the filtration system or pump.
Benefits
This can be very effective as you can get powerful UV lamps. With the QL-25 you can clean a pond of 1300 liters in 4 days.
Its effectiveness also increases with the use of pure hard quartz material instead of glass.
Cons
Many people have reported quality control issues.
Check Price On Amazon
---
If you have a pond on your property, you know how serious an algae problem can be.
They are ugly for sure and can really suck on the joint. If that's your problem then this could be a viable solution.
UV light is powerful with 40 watts and is even submersible. You can use it for pumps with a flow rate of 3000 gph and can be used for po.
This should be placed in your biological filter so that the algae it kills can snag before they reach the water. It comes with an 18-foot power cord.
Benefits
When it works, it is extremely effective with algae problems. It only takes care of the free algae and not the ones that cling to the sides.
Customer support can be of great help if the product is within the warranty period.
Setup is pretty easy, at least for most people. And it can even be submerged, which is a rarity with UV sterilizers.
Cons
The UV light they use can burn out too quickly. At this wattage, these lamps can be expensive.
Ballasts also often have problems, and they are also expensive to replace after the warranty period has expired.
Check Price On Amazon
---
A range of UV clarifiers with a wide range of different models for both small and large ponds. AllPondSolutions UV clarifiers are easy to install, flexible and very fast to remove algae. The units come with various adapter options, as well as wall mounting clips and screws if you want to hide the clarifier from view. Each model comes with a different intensity of UV light, but they are all guaranteed to work for a minimum of 11 months of constant use.
We really like the flexibility these UV clarifiers offer as they offer 3 different inlet / outlet options so you can direct the outlet to a water source or filter if needed. The see-through ponytail on the smaller units is a nice addition too, so you can see the water flow while you run.
Please note that this clarifier slows the water flow significantly due to the design of the rotating propeller, which gives the water a longer exposure time in the device. You should check the strength of your pond pump at maximum flow to make sure it can get the water flowing effectively.
In terms of cleaning, the clarifier must be cleaned regularly so that it does not clog and the lamp must be replaced every 2 seasons. The lamp is fairly easy to replace, but it can be quite tricky.
All in all, a Best UV Pond Clarifier with a fair number of options and flexibility. Make sure your pond pump is up to its task!
Pond dimensions: 4000, 7000, 20000, 35000, 45000 liters
UV resistance: 9W, 11W, 18W 36W
Use UV lamp: 11 months of constant use
Submersible: No.
Adapters: 13, 20, 25, 32 and 40 mm tubes
Warranty: 1 year limited
Replacement lamp: AllPondSoltions UV purification lamp
Check Price On Amazon
---
The Blagdon Mini Pond Clarifier is an extremely compact and easy to install UV solution for smaller ponds up to 4500 liters. The unit comes with a standard 9w UV pond light that is easy to replace and clean when needed. The lamp will be able to work continuously for 11 months a year and it is recommended to replace it every 2 seasons.
Although this UV clarifier is designed for smaller ponds, you can connect more than one unit via optional wide diameter couplings if you need more UV resistance. This means that if you have bought the clarifier and want to speed up the removal of algae, it is quite easy to attach another unit to double the power.
Blagdon also offers a 3-year warranty on this clarifier and replacement bulbs are quite cheap if needed. A great little UV clarifier for small ponds or preformed ponds with algae problems!
Pond dimensions: up to 4500 liters
UV strength: 9W
Use UV lamp: 11 months of constant use
Submersible: No.
Adapters: 3/4, 1, 1 1/4 in
Warranty: 3 years limited
Replacement Bulb: Blagdon Mini Pond Clarifying Bulb
Check Price On Amazon
---
If you have a large pond you may want to check out all the benefits the TetraPond GreenFree 8800 Gallon UV Purifier has to offer. The features of this clarifier are almost the same as the previous product we reviewed, but it's a step up as it is designed to fit a larger pond.
It uses a more powerful UV lamp (36 watts) to purify and purify your pond. This lamp is packaged in a stainless steel insert and housed in a weather resistant plastic housing. With the design of the product's housing, you can rest assured that it will withstand rain and high winds.
Plus, this product is easy to install as it comes with all the fittings, pipes and accessories you need to get it up and running in no time.
Benefits
Works within five days
Durable and durable (both the lamp and the housing)
Prolonged exposure of water to ultraviolet light.
Ideal for large ponds
Lightweight and easy to install
Cons
Incorrectly fitting pipes and connectors
It can only be used out of the water.
Check Price On Amazon
---
How to choose a UV pond clarifier?
There are a few things to consider when choosing the best UV pond clarifiers for your pond. One of the most important is to make sure you choose one that is the right size for your pond.
The products we include in our list are intended for ponds between 1,000 and 6,000 liters, depending on which one you choose. If you choose one that is too small for your pond, you will never get the desired result. You just can't keep up with the amount of water.
Another thing to consider is where you want to install your UV clarifier. Some of these products can be installed underwater, some cannot. It is important to choose a layout that suits your setup and the landscape around your pond.
How do I install the best UV pond clarifiers?
Each model comes with its own specific installation instructions and you should always follow the manufacturer's recommendations. With that said, here's a general guide to best UV pond clarifiers, and how to install them.
1. Assemble the device, being careful with the lamp and the glass sleeves are fragile. Switch off the pump and filter.
2. Place the clarifier. Some models can be submerged in water, some cannot, so make sure you know the specifications of the product you choose. If you choose to mount your clarify, a flat, dry surface is best.
3. Connect the UV clarifier to the filter system using the correct pipe size. Some models recommend installing the purifier before the filter, while others suggest installing it afterwards. Follow the recommendations in the instructions that came with your device.
4. Once everything is connected, turn on the pump, filter, and purifier. If there is a viewing window on your device, you should be able to look in and determine if the light is on.
For best results, the filter outlet should be as far away from the inlet as possible. That way you know that the same water is not circulating back to the filter and treating the entire volume of the pond.
After installation, it is important to properly maintain your UV clarifier. The bulbs should be replaced about once a year and the unit should be cleaned regularly. If you live in a climate where the temperature dips below freezing, it is best to store the unit indoors until the weather warms up.
Conclusion – Best UV Pond Clarifiers
There is no easier and more natural way to eliminate algal blooms than by using one of the Best UV Pond Clarifiers outlined above. Not only are they extremely effective, but you can also get the results you are looking for without using harsh chemicals.
Remember, choose a unit that can handle the volume of your pond and install well in your setup. You should notice a noticeable improvement in a few weeks.