Cherry Shrimps can be stored in small volumes of water. Some species live very well inside nano tanks of even 1 gallon. The Cherry Shrimp is an excellent aquarium companion, especially in small tanks. These shrimp mainly eat algae, but they should also follow a diet with aquarium shrimp feed that will sustain them regularly. They should be fed high-quality food based on their regular consumption.
Cherry Shrimp Facts & Overview
Red Cherry Shrimp is a freshwater dwarf shrimp originating in the Taiwan region. These freshwater shrimp are peaceful and recognized for their ability to eat algae. Suitable for beginners or skilled aquarists, these shrimp are a great addition to any aquarium. The shrimp can be kept in tanks that need little maintenance and are small in size. In nature, they occur in a few colors, but they usually come in red in the aquarium trade. Its red colored bark has been improved through generations of selective breeding and is sorted by hue and color.
Can cherry shrimp be used in aquariums?
This definitive source guide for Cherry Shrimp should give helpful information. It is a fantastic shrimp that makes a beautiful addition to freshwater aquariums. These soft creatures make it suitable for beginners who prefer to plunge into fishkeeping.
Behavior
They are animals known for their peaceful and passive acts in tropical tanks. They graze all over the aquarium, plants, moss, substrates, and stuff. They can be highly active during the day and remain busy at night.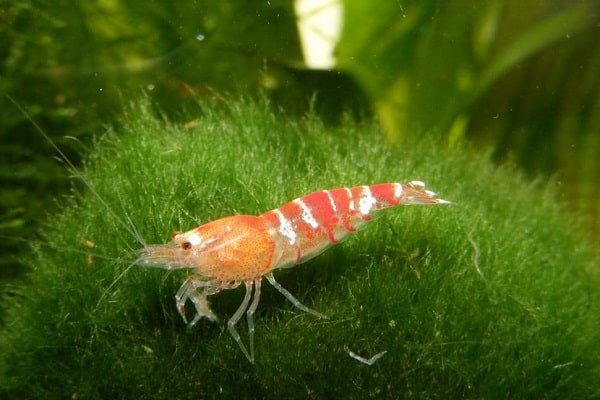 How many cherry shrimp per gallon?
Red Cherry Shrimps are fascinating, colorful, and robust. The length of the adult female is approximately one inch, slightly longer than the size of males. Even inexperienced aquarists are very good at rearing and breeding shrimp because these invertebrates are not very demanding maintenance.
How many shrimp can you put in a 10-gallon tank and why?
For a shrimp tank, you can house around 50 shrimp in a 10-gallon tank. However, the fewer animals they have, the better the quality of the environment and the availability of food. Let's look at the possible options for your aquarium situation.
Planted vs. non-planted shrimp tanks
Whenever I mention a planted tank, I think of a beautiful aquatic world with fallen plants, where shrimp and fish play only a minor role in the underwater pool. Shrimp are great to be kept in planted aquariums; the plants provide shelter and food for the shrimp, which benefit greatly. In professionally planted aquariums, the number of shrimp individuals must be under control to not overpopulate the display; in this case, try to maintain an average of 8 animals per gallon.
A breeding tank
Depending on whether shrimp are to be collected in the aquarium, the number of shrimp can exceed 200 per year. The first average size for your shrimp colony is 10-15 specimens per gallon tank. Make sure there is at least one female and not too many males. Make sure they have enough biofilm to graze on them.
Appearance
Females are typically 1.5 inches long, but males are less than 1.5 inches in height. They need to retain color in the body. Cherry Shrimps are valued for their color and hue. The degree of quality ranges from more delicate red tones to redder tones, including brown dots. The male remains the same all his life, but when the female matures, she will develop a saddle near the stomach that will stay visible on the animal's back.
Cherry Shrimp (Neocaridina davidi)
The most common beginner aquarium shrimp, cherry shrimp, is red and can handle virtually any water condition. The Cherry Shrimp represents the mutation or variation in the wild dwarf shrimp species of Neocaridina denticulata sinensis. The deep red and green colors of cherry shrimp are unattainable, and, like most fish, their color has evolved and improved during selective breeding.
How many shrimp can you put in your aquarium?
Freshwater shrimp are essentially some of the cutest animals used as a centerpiece in an aquarium. In addition, shrimp are colorful algae predators that can eat biofilms and other visually unwanted stuff.
About Cherry Shrimp
The females of these shrimp are darker than the males. There are numerous qualities in cherry shrimp. You will never notice the differences between the two types of growing shrimp. The lower part of the older female has a darker stripe.
Habitat and tank conditions
These shrimp originate from Taiwan and are present in streams and lakes in dense vegetation and flat substrates. When your shrimp feels safe and comfortable, you can see bright colors. They are animals that generally do not require heating. If you want water temperature stability, you should use a heating appliance; this will not make it necessary unless a heated room is needed to store the tanks.
What size tank do cherry shrimp need?
It pays to have a little extra volume in a tank that will be specialized in keeping a lot of shrimp. In any 1 gallon pot, you will keep eight shrimp. Note – Cherry Shrimps grow very fast. You can improve your tanks as they grow and multiply, or start with more giant tanks and continue to feed the young shrimp.
Cherry Shrimp Tank Mates
Many aquarium fish can quickly eat this small shrimp. Betta fish is one of the perfect companions for shrimp. A large planted pond can also help your baby shrimp establish a healthy nest to thrive on. A tank has to be ideally designed for the maintenance of shrimp. Java moss does excellently when maintained with these invertebrates. Provide a good range of hiding places for the shrimp, such as caves and holes made with plants, driftwood, and rocks.
Tank Mates
Cherry shrimp has no tools to protect itself other than hiding. With a relatively low defense, the shrimp will multiply and become food for other aquarium inhabitants. Ensure you have several areas to hide in, such as caves and plants. Do not keep large, predatory fish with shrimp.
Keep Cherry Shrimp Together
The only safe method to keep cherry shrimp in aquariums is with many species. To form a fantastic group, you need to maintain about 20 individuals. With a more significant number of shrimp and a natural and well-maintained aquarium, the shrimp will be beautiful and reproduce healthily. For a good gender ratio, they're excellent. In addition to shrimp, snails are also welcome.
Tank conditions
Keep the shrimp tank water parameters within ideal. Typically, low-quality shrimp can handle lower water quality. The pH should remain between 6.5 and 7.5 with an ambient temperature of about 72 degrees F. To be honest; you shouldn't put them in uncycled tanks as these animals are sensitive to nitrite.
Tell me the size of the aquarium?
Cherry shrimp fits in the smallest aquarium under five gallons. In most cases, the sizes chosen for the shrimp tank are subject to space availability. In general, the ratio is about eight prawns per gallon. Do not build colonies without having a tank of at least 10 gallons.
Which Substrate to Use for Red Cherry Shrimp?
Shrimp naturally want to blend in and contrast with the environment and prevent predators from seeing them in their vicinity. You can also use a darker substrate to bring out the colors of the shrimp, accentuating the deeper color when hiding. Shrimps can be opaque, trying to hide from the sunlight. Choose a substrate that contains small pebbles as they are found in nature.
Properly cycling an aquarium shrimp tank
Before using Cherry Shrimps in aquariums, ensure that the tanks are properly cycled. I recommend using natural methods for cycling as they are highly effective. The best way to create an effective breeding site is to keep shrimp in well-maintained tanks. You need some water test kits. You also don't want to add ammonia to the tanks before adding the shrimp. A weekly water change can also help keep the shrimp properly.
Cycling Your Shrimp Tank
Shrimp Cherry does not tolerate nitrate, be aware of the concentration of this pollutant. When nitrite concentrations rise in your tank, it is often the result of faulty equipment sizing and erratic maintenance. You can use a nitrate test kit and a complete freshwater test kit. A high concentration of toxic ammonia in the water quickly causes the death of all animals in the system. If you have a lot of plants in the pond, this helps to keep nitrate and nitrate toxicity levels low. Use your test kit to monitor the ammonia content and test your shrimp water. Bring enough fresh plants to the pond and do periodic water changes and maintenance.
How often to change the water?
A part of the water in the shrimp aquarium can be renewed weekly to enjoy healthier environments. I suggest that you use water conditioners to remove chlorine and heavy metals from the water supply network when making the water change.
Plants and hiding spots for your shrimp tank
Your aquarium should be identical to the cherry shrimp environment in this scenario. They originally arrived from Taiwan, living among water bodies. Cherry Shrimp prefers a densely planted, sandy substrate environment. You can start by installing them in tanks using driftwood and natural rock. You can also use mosses and an artificial cave. In addition to being able and efficient in eating plant material, they hardly attack plants when well fed. The moss serves two purposes; in addition to supplementing food, you will find shrimp inside this moss, using it as an escape zone. If the shrimp does not feel danger, its color will increase.
Tell me the optimal water condition?
Despite being robust, the cherry shrimp prefers to live in excellent quality water. You also don't have to worry about the tanks filling with lesser quality shrimp. These animals have great adaptability in harmful conditions.
Cherry shrimp water conditions
Cherry shrimp will survive from 57 to 86 F, although low and high levels can negatively impact growth or reproduction rates. Cherry shrimp prefers slightly acidic water. Whenever ammonia in wastewater is tested, it must be at zero. Typically, less than 20 parts of nitrite per million pose no danger to shrimp in mature, well-maintained aquariums. In peak pollutants, the water must be changed every two days. Planting your aquarium with lots of vegetation and moss is a great way to reduce nitrogen and nutrient levels.
Temperature requirements
Store in water temperatures as low as 57 and as high as 86 degrees F. When the temperature increases, it makes the shrimp grow faster. The colony may reproduce quickly, and its tanks end up overcrowded. In any case, you may need a giant aquarium. Shrimps sit still if conditions are much below 60 degrees F. When the temperature drops below 57 F, it will not affect larvae development, but your shrimp can be exposed to fungus and disease.
Optimal pH levels
Cherry shrimp grow in water with a pH between 6.5 and 8. Once adequately balanced and adjusted to your system, the shrimp will have healthier and more vibrant eggs when they hatch. When the quality of tap water exceeds the recommended pH, it can bring out the color of the shrimp.
Is it possible to have too many shrimp?
If you look at your aquarium and only see shrimp of different sizes everywhere, you have more shrimp than you should. Use common sense to develop this perception about overpopulation. Many individuals produce many bioloads; overcrowded aquariums must be watched closely and have a strict maintenance schedule.
Feeding Cherry Shrimp
Cherry Shrimps repeatedly eat as part of the aquarium's forage, consuming the algae and biofilms found inside the aquarium and scouring for food waste. Cherry Shrimps are omnivorous and eat different types of foods and vegetables. Vegetables like bleached zucchini are an excellent snack for shrimp and valuable nutrients. Shrimp feed easily on commercial feeds such as pellets and pellets, which must be used, to provide beneficial nutrients to keep it in optimum quality. Shrimp will eat everything they find in nature. As an omnivore, they consume foods and common plants such as algae or plankton. As always in the hobby, ensuring that your foods contain quality granules is advisable. You will need to whiten the vegetables before offering them for dinner.
Breeding
Cherry shrimp are one of the most prolific species and are likely to cross quickly between ornamental dwarf shrimp. Under good management, this species can become a great breeder based on the care provided by its guardian. Cherry shrimp reach sexual maturity from 2 to 6 months and can reproduce. Once these shrimp mate, this becomes obvious because looking at their heads, it's clear that you'll see a lot of eggs under their tail—the female who carries the eggs. You can also see that she holds her tail in an aggressive shake to keep the egg circling, allowing oxygen to pass through. The new egg should hatch in 2-3 weeks.
Breeding Cherry Shrimp
Heavy covers of vegetation, logs, or rock cracks will ensure the safe and effective breeding of the shrimp. Please make sure the aquarium water is in perfect condition to keep the animals well; this will help keep them healthy for a long time. By adding lime flakes to filters or other calcium-rich materials to the surface, you can help to harden the water even further. Baby Cherry Shrimp is a miniature version of the adult Cherry Shrimp.
Carefully
This freshwater shrimp care demands are highly undemanding to this animal; however, they have a significant intolerance to copper, where contact can be fatal. The more significant an aquarium, the more efficient its stability. You mustn't neglect them when they have high levels of ammonia. If water changes and periodic maintenance occur, tank conditions will remain stable, and water parameters will be long-lasting: larger tanks are easier to maintain.
Releasing pets in the wild
We all know you have to keep these animals in our homes forever! You might think the shrimp aren't happy in your aquarium somehow, and consider releasing them in some river or lake. Still, any foreign species that enter a particular ecosystem alters its balance and harms native wildlife. Invasive species sometimes carry unknown diseases, which can cause catastrophic effects.
A community aquarium
The community shrimp aquarium should be designed primarily to protect freshwater shrimp. Small fish such as Neon Tetras and Harlequin Rasbora will complement and enhance any shrimp tank. The shrimp need to have a well-lit aquarium filled with vegetation with small spaces to protect the shrimp colony. The recommended amount of shrimp to put in an aquarium will vary depending on the type or percentage of shrimp and fish species you want to put in the aquarium. Pour a good selection of beautiful shrimp.
A breeding aquarium
If you get a shrimp tank that has a sufficient volume of at least 18 gallons, you can store about 100 shrimp inside that tank. Aquariums made entirely for shrimp will also be ideal shrimp breeding sites. The best starting number in this shrimp colony is 10 to 30 shrimp. There should be a few females per tank in a breeding aquarium plus a small group of males. When the aquarium is so giant, the number is minimal, and the shrimp won't just see themselves during the breeding season. Keep your aquarium with your favorite shrimp.
Overly Planted vs. Scarcely Planted Shrimp Aquarium
Keeping these freshwater shrimp in an aquarium is more accessible when the aquarium contains dozens of beautiful plants and dozens of ornaments such as rocks and wood to form hiding places. How many shrimp per gallon is relative to the type of setup and what you are looking for with your shrimp colony. Nano tanks should have a little less variety of individuals. In tanks smaller than 2 gallons, if there are more than 20 individuals, you will ruin the beauty of the aquarium by making it look overcrowded. When the aquarium is relatively less crowded with shrimp, it allows a lot of free space to move, and they can reproduce quickly.