Warning
: Undefined variable $td_img_id in
/home/u299318930/domains/aquariumhunter.com/public_html/wp-content/plugins/amalinkspro/public/class-amalinkspro-public.php
on line
3290
Not many people understand the importance of a good quality best aquarium power filter and in most cases, a filter is essential for fish to live a happy and healthy life.
Fish are best for people of all ages. Not only do they require exceptionally low maintenance, but they also come in a wide variety of shapes, colors, and sizes.
Comparison Table – Best Aquarium Power Filter
Custom
SiteStripe Image
Title
Review
Buy

Top

Best Pick
AquaClear Power Filter €" 110 V
4.5/5.0
Check Price
Top Performance
MarineLand Emperor Filter Systems
4..5/5.0
Check Price
cheapest
Tetra Whisper Power Filter
4.4/5.0
Check Price
Having an aquarium with a variety of fish is akin to owning a beautiful living piece of art.
Keeping fish can be an amazing experience and they all start with a simple tank and power filter. The best aquarium power filter will adequately cover the most important stages of the nitrogen cycle and keep your fish and other inhabitants healthy.
Since they are the heart of your system in a basic aquarium setup, it is very important to choose one that is reliable and within your budget.
To keep your aquarium looking beautiful and, most importantly, keep your fish healthy and prosperous, it is important to use the right aquarium filter. For these reasons, it is essential to choose the best aquarium power filter.
The 10 Aquarium Power Filters Best Suited for Your Aquarium
The AquaClear power filter is one of the most versatile on the market. It comes in five different models and is compatible with the most popular aquarium sizes.
You can control the flow rate of the filter without changing its efficiency. This is a great feature because different aquarium fish and plants need a smoother flow. When you set the speed low, the water in the filter system is processed several times. This patented refiltration system ensures optimal results.
Some filtration systems remove beneficial bacteria through cartridge changes. This can strain the aquarium environment until bacteria have a chance to recolonize and get back to work. The AquaClear Energy Filter was designed with that in mind.
Actually, this filter uses three different media for filtration. At the bottom of the bowl is a foam insert, which removes debris and provides an ideal surface for beneficial bacteria to thrive and keep the water colonized. The middle layer is activated carbon which absorbs the impurities in the water.
The top layer consists of BioMax, designed with a pore system that provides a perfect home for beneficial bacteria. These layers together provide six times as much media as other filters.
Check Price On Amazon
---
MarineLand Emperor filter systems hang from the back of your aquarium. It has 2 separate water pumps for exceptional flow and filtration. It comes in one size and is suitable for aquariums up to 80 gallons.
The filters are placed side by side and are designed in the same way. They work together to combine 400 gallons per hour.
The water is pressurized by the Bio-Pump and filtered by fast-acting Black Diamond Carbon which has 45% more mechanical filter surface. Each side filter has two slots where you can place a filter.
After being filtered, the water passes through five different holes that rotate and supply water to the Bio-Wheel. The Bio-Wheel is specially designed to provide a perfect environment for good bacteria to thrive.
While this filter is extremely effective, one drawback is that it is quite large and requires 9.5 inches of clearance along the back of your aquarium. This isn't a big deal if you have a large tank, but it can be a bit unsightly if your tank is smaller.
Check Price On Amazon
---
Tetra is a well-known and respected brand in the industry and has been around for over 50 years. The Whisper Power filter is a great option if you don't have a lot of money to spend.
While this is an inexpensive filter, it is still a great option. It has a simple design that hangs from the back, an easily adjustable flow rate and is minimal maintenance. This is a perfect choice for someone who has just bought their first aquarium. They are not overly fancy, but they have been around for years and have proven to be reliable.
There are 5 different models for aquariums from 10 to 60 liters. The filter comes with everything you need to get started right away, but the included filter media leaves a lot to be desired.
Your best bet is to invest in something of a higher quality. This is a bit negative, but it gives you the opportunity to try different things and decide which medium works best for your aquarium environment.
Check Price On Amazon
---
Marineland's Penguin Power Filter is perfect for a beginner or someone who has had an aquarium for a while. It is available in 4 different sizes for aquariums from 20 to 70 gallons.
The filtration system consists of 3 phases and provides biological, chemical and biological filtration. The Bio-Wheel is designed to help good bacteria thrive and is effective at removing ammonia and nitrates.
The Rite-Size cartridge provides mechanical and chemical filtration, removing dirt, debris, impurities and discoloration with a floss and activated carbon strainer. It has an extraordinary contact between the water and the medium, which contributes to a clean and transparent tank.
One of the reasons this is a good option for a beginner is because it is so easy to set up. Just plug in a few pieces and hang it in your aquarium, make sure to fill the tube with aquarium water first.
The flow can be easily adjusted. Maintenance is as simple as changing the filter cartridge once a month and cleaning it if necessary.
Check Price On Amazon
---
This powerful option from Penn Plax is a hanging aquarium filter with poly-fiber floss cartridge media to remove debris and a carbon cartridge to eliminate chemicals and odors from the water.
It also utilizes an internal sponge to help colonize the helpful bacteria that the aquarium needs to clear ammonia and nitrates. Maintenance is generally light and the filters are easy to change.
Another feature of this filter is the external Bio-Falls which helps the bacteria clear impurities from the water. The water output can be adjusted from high to low so you won't have to worry about disturbing your fish with the cascade.
Penn Plax is a family-owned business that's been around since 1959 and specializes in making quality, reliable pet products for an affordable price. This filter is available in different sizes to fit a range of different aquariums and filters 175 gallons per hour. It's a good choice for tanks up to 50 gallons.
It's made of high-quality plastic and gives you the option of placing it on your tank vertically or horizontally. This is a great design feature because it lets you work around any ornamental items you have in your tank.
Check Price On Amazon
---
Aqueon is a pet supplies manufacturer that cares about fish health and safety. This Power Internal Power Filter is also designed with the same goal – to keep your fish safe and happy.
You can use this Aqueon Quiet Flow Internal product with absolute ease in framed and frameless aquariums as it comes with suction cups and hanging clips for careful positioning. While the 10-gallon unit provides detailed chemical filtration, the 20 and 40-gallon units also provide the other two filtration modes (biological and mechanical).
You will love the fact that this product comes with a self-priming feature that significantly eliminates manual effort.
Check Price On Amazon
---
The UV lamps are placed in chambers designed with patented technology, to give you maximum comfort and eliminate any type of contact with the lamps during installation. The LEDs on the control box serve as a warning to warn you when it is time to replace the bulbs.
If you are looking for a small tank cleaning system that can hold up to 50 gallons, then this is the one for you as the operating flow is reasonable at 220L per hour.
Check Price On Amazon
---
If you are looking for a powerful filter to maintain the overall health of your wall aquarium, you can rely on a product from the stables of one of the most reputable companies in the pet supplies market, Fluval.
This filter is ideal for you if you have an eye for detail as it offers a detailed 5 stage filtration process including mechanical foam and Polyfoam (stage 1 and 2), chemical activated carbon filtration (stage 3), biological filter biological screen. (Phase 4) and biological Node Cs (Phase 5).
This filtration kit comes with different types of filter media such as foam, carbon inserts, screens, O-rings and the like. If they do get damaged, don't worry, replacement parts for these media are readily available. This filter provides enough bubbles in the water to clean the water of all impurities as it has an operating flow of 264GPH.
Check Price On Amazon
---
This power filter, sourced from the Aqueon stables, is very easy to use and gives excellent purity to your tank water. For small tanks that can hold up to 20 gallons, this is considered one of the most effective and easy to use filters on the market today.
The LED indicators on this filter flash to alert you when it is time to replace the cartridges. You can be sure to have crystal clear water in your aquarium when you install this unit as it comes with special media such as activated carbon cartridges and ammonia filter pads. Thanks to this function, you can also easily use this device in freshwater and saltwater aquariums.
The self-priming feature and excellent 100GPH operating current make this a very affordable yet effective filter for your aquarium.
Check Price On Amazon
---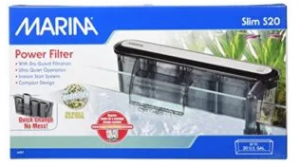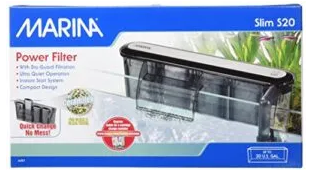 Looking for a sleek and stylish power filter to purify your water and enhance the visual appeal of your tank? Then the Marina Power Filter is a good option for you.
Due to the sophisticated design, it does not take up too much space in your house or backyard. You can adjust the water flow according to the capacity of the tank when you buy this filter. You are assured of excellent biological filtration of your tank water because this device comes with 2 Bio Carb and 1 Bio Clear filter cartridges. These contain Ceramitek, a porous medium that improves the tank's ability to remove biological waste.
Check Price On Amazon
---
What is a Power Filter?
A power filter is a hanging model that uses a pump to circulate the aquarium water through the system and then return it to the tank.
It uses a riser to pull the water out of the tank and into a filter chamber where it is pushed through various filter media. Filtration stages vary by model.
However, there are usually mechanical, chemical and biological filters that remove toxins and debris from your aquarium.
What is the Best Aquarium Power Filter?
The AquaClear Power Filter is the best aquarium power filter we've tested. It is very versatile and comes in 5 different sizes, so it will fit in almost any tank. This allows you to adjust the flow in case you have plants or fish that require a lower flow.
The three different filter media used in this filter are really effective. The foam insert removes large debris, the carbon middle layer absorbs invisible impurities and the BioMax filter provides the perfect home for all the good bacteria you need to keep your tank nitrate and ammonia free.
What makes this the best potency filter is the way it is designed to maintain natural bacterial colonies. With most filter systems, replacing the cartridges or cleaning the filters removes good bacteria and can take a while to grow back. During this time, the environment in the aquarium will be stressed, which will affect your fish.
Because it maintains these colonies, the AquaClear Energy Filter is a bit ahead of the pack.
How Does a Power Filter Work?
A power filter hangs on the back or side of your aquarium. While each model looks a little different, they all basically work the same way.
A riser sits in the water that the pump uses to draw the water out of the tank. The water then enters a filter chamber where it is pushed through different types of filter media. Filtration stages vary by model. Some offer up to 5 different stages. In general, however, mechanical, chemical and biological filters will always be present.
Mechanical filters remove larger particles and dirt particles. Chemical filters remove impurities, odors or cloudiness from the water. Biological filters allow good bacteria to thrive so they can remove nitrates and ammonia from the water.
These good bacteria are essential for the health of the aquarium. It is beneficial for water, plants and fish and does not change the appearance of the aquarium. The water will remain clear and the plants and animals that live in it will thrive.
How to install an aquarium power filter?
Once you've got a power filter for your aquarium, the next step is to install the device: FYI, the power filter is usually placed on the back or side of the aquarium. But before sharing the steps with you, it is important to indicate which (items) you need to consider in the package. Items must contain:
A filter chamber in which biological, chemical and mechanical means must be incorporated.
Lift tube extension
Filter pump and cord
Cartridge and its holder
power wire
Now to the installation itself:
Connect the pump to the filter chamber and make sure it is firmly in place.
Attach the lift tube to the pump.
Now take out the cartridge and rinse with water to remove dust. The cartridge must then be placed in the cartridge holder and placed in the chamber.
Now you can place the assembled power filter in your aquarium using the suction cup or other fasteners from the manufacturer.
After that, you need to fill the aquarium with water, making sure that the [water] level is close enough for the filter to absorb the water easily.
After completing the above steps, you can plug in the power cord to turn on the aquarium power filter.
How to Clean Aquarium Power Filter?
The specific way of cleaning and maintenance depends on the model and brand. You should be able to find detailed instructions in the manual that came with your filter.
Regardless of the type of filter media you use, you must clean it by rinsing it to remove any accumulated residue. Ultimately, you will need to replace any filter media.
If your filter contains a sponge, you should be able to rinse it in the aquarium water if necessary. Only when they start to show signs of defect or wear should they be replaced.
Charcoal media should be changed regularly to keep the water toxin free. If you need to add medication to the water to treat your fish, remember to remove the carbon filter first.
Leaving it will filter all the medication, meaning the tank will not be treated and the filter will need to be replaced much sooner.
You should also clean the hoses and pump from time to time, as they cannot function properly if too much dirt builds up.
Final Thoughts 
Finding the best aquarium power filter will keep your aquarium water healthy and clear. They provide the essential mechanical, chemical and biological filtration your plants and fish need to thrive.