Warning
: Undefined variable $td_img_id in
/home/u299318930/domains/aquariumhunter.com/public_html/wp-content/plugins/amalinkspro/public/class-amalinkspro-public.php
on line
3290
Most people who own bettas keep them in unfiltered containers.
One of the reasons they are so popular is that they can survive in such conditions. They can live in stagnant water and apparently need little care.
Comparison Table
Custom
SiteStripe Image
Title
Review
Buy

Top

Best Pick
Whisper In-Tank Filter With BioScrubber For Aquariums
4.4/5.0
Check Price
Top Performance
AquaClear Power Filter €" 110V
4.5/5.0
Check Price
cheapest
Penn Plax Cascade Hang-On Aquarium Filter With Quad Filtration System
4.1/5.0
Check Price
The truth is, it can be difficult to keep your Betta fish in an aquarium without a filter. You need to make sure to keep the water clean by changing it weekly.
You also need to be very careful not to overfeed as food scraps can lead to many water quality issues. When something goes wrong in a bowl, it goes very quickly. Dirty water can lead to infections, fin damage and even premature death.
Just because they can live in a bowl doesn't mean they should. The best place to keep a betta is in a container of warm, clean water where it will be happy and healthy. Using the best betta filter will ensure that your fish have an ideal environment in which to thrive.
Looking for the best filter for your betta aquarium? This guide explains how to select the filter that best suits your setup.
You will learn to choose one, the different options available and my favorite products for each category.
Ultimately, you know exactly what you need.
We hope this page tells you everything you need to know to find the right filter for your betta tank. If you already have a filter, we'd love to hear about the filter settings you made, so let us know in the comments.
This article is mainly about choosing a filter for a single betta tank. For larger setups, you may need to look for a slightly different filtration system, although most of the logic still applies.
If you want a little more information on how a filter works, check out our article on betta filtration, which contains diagrams, defines the terminology we use, and answers some frequently asked questions.
Does a Betta Fish Need a Filter?
Using a filter for Betta is the easiest way to give them a happy and healthy life.
A filter facilitates the growth of small ecosystems of various microorganisms that help break down waste in the water. While you should change the water in an aquarium every week, you shouldn't really change the water in a filtered tank as this will interfere with beneficial microorganisms.
It is recommended to change about 1/3 of the water every week. This is far less work than a bowl requires.
When it comes to choosing a filter, Bettas do best with a filter that underperforms. It aids in oxygenation and cleaning, and the low pressure won't put too much pressure on your betta.
The 10 Best Filters for Your Betta Fish Tank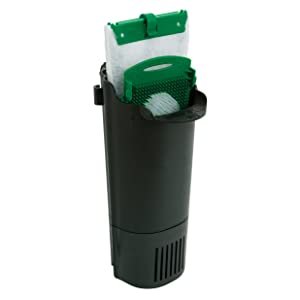 This is a great filter made by Tetra that is great for a small aquarium up to 3, 4, 10 gallons, the perfect size for a Betta. Installation is easy as it is mounted in the tank using a hanger or two suction cups.
The filter in the tank has 2 advantages. The first is that you can push the tank against the wall because nothing is in the way. The second is that it is exceptionally quiet because the tank is submerged.
To keep the water as clean as possible, this filter uses 3-stage filtration.
First, a dense mesh traps large pieces of debris and debris. Next is the activated carbon filter that absorbs impurities, discoloration and odors.
The final stage is biofoam, where colonies of aerobic bacteria remove ammonia and nitrates before the water returns to the aquarium.
Check Price On Amazon
---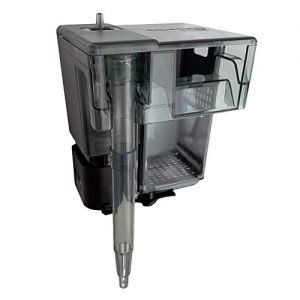 This filter provides a large amount of oxygen in the water column, so that your Betta does not have to extract oxygen from the water surface. Your water should stay very clear due to the amount of water it will clean every hour.
You will find this product to be cost effective as it provides the longest contact time between the water and the filter media.
A two-year warranty gives you the confidence to rely on the filtration capabilities. You should also come to appreciate the space in the media room that allows you to mix and match the media you can use.
Benefits
This product provides more aeration in the water column.
It is able to clean a large amount of water for the size of the system.
Cons
More water will evaporate as this design will expose the water outside your tank top
Check Price On Amazon
---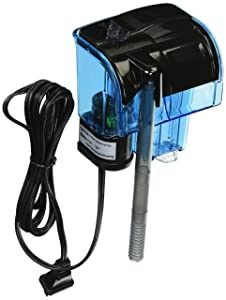 This Penn Plax filter circulates 20 liters of water every hour and is perfect for a small tank up to 7 liters. It has a hanging design that simply slides over the edge of the glass in the tank.
There is a built-in leveling device to hold the filter in place and the inlet tube is extendable so you can place it close to the bottom of the tank if desired. Your Betta will love the adjustable flow rate that allows you to slow the filter down a bit during the meal.
In terms of filtration, this system uses replaceable filters that need to be replaced every 6 to 12 weeks. The first stage of filtration is the poly fiber yarn barrier to trap large pieces of dirt and debris.
The water then flows through the activated carbon to absorb any impurities that could discolor the water or cause a bad odor. There is also a home for the major microorganisms to colonize on this filter to provide the biological filtration you need to remove ammonia and nitrates.
These filters are made exactly for this machine. Replacing them is very easy and some filters are even included. Setup is simple and ready to go out of the box.
Check Price On Amazon
---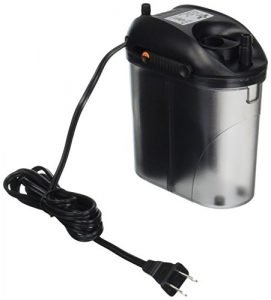 This product should be a good choice for Betta keepers who want a canister filter for their smaller aquariums. The engine is separated from the filter media so you don't have to worry about your engine intakes getting clogged.
The smaller container needs to be cleaned more often as the chamber and contents clog more quickly than larger container systems.
Operation is limited by design as this system is made to operate with minimal effort. The media chamber can be packed with any type of material you want to use for filtration purposes.
Benefits
Can provide three stage filter canister filtration without being over the top in smaller Betta tanks
Suction of the filter at start-up is easy to do
Water supply hoses are located on the top of the unit
Cons
The design of this product is a bit heavy as it has a tapered base
The media room is smaller due to its more compact design, which can be a disadvantage for some aquarists.
Check Price On Amazon
---
Consider this Aqueon internal filter for a 10 gallon tank. The flow rate is 57 liters per hour and only uses a small replaceable cartridge. This is a fairly versatile filter.
It is internal and can be hung vertically as well as horizontally. In addition, the flow, direction and height of the water are adjustable.
This is great for Bettas as they don't like overly turbulent water and they prefer a smooth flow.
There are 3 stages of filtration. The first is made of dense foam that traps all particles and dirt. Then there is activated charcoal to stop toxins, discoloration and odors. The last BioGrid phase in which ammonia and nitrates are removed by micro-organisms.
One more important thing to mention is that this filter comes with a limited lifetime warranty.
Check Price On Amazon
---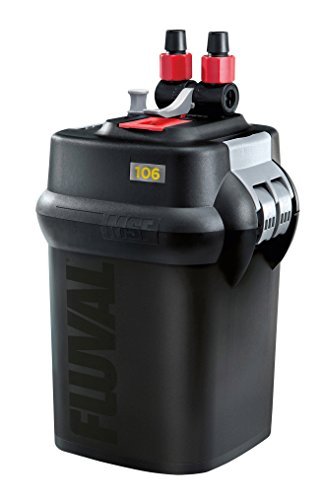 The Fluval 106 circulates 100 liters of water every hour, making it ideal for Betta tanks up to 25 liters. A strong seal ensures that the pressure builds up evenly and ensures a smooth flow of water through the medium used.
Fluval is one of the most popular filter systems due to its durable design and reputation for cleanliness in the market.
This filter is made of durable materials that you will enjoy for many years and is guaranteed by the manufacturer for three years. The drive paddle is damped allowing it to work quietly in any room.
Benefits
An in-line strainer helps prevent this system from clogging during use
AquaStop valve helps prevent water from dripping when opened
Media baskets help keep materials separate while water flows through them
Cons
This system is priced higher than most of the other products on this list.
The strong seal makes it more difficult to open and clean during maintenance.
Check Price On Amazon
---
Another great option if you're looking for a pendant style filter is this one from Deep Blue Professional. Filters 16 liters per hour and is designed for small tanks up to 5.5 liters. That turns out to be a great size for a Betta tank.
This filter also allows you to adjust the flow rate and has an optional inlet extension tube so you can draw water from the bottom of the tank if desired.
This filter has a 2-stage system. The first is a mechanical polyfiber filter that catches dirt and coarse dirt. It is also the perfect place for biological colonies to grow, allowing microorganisms to eliminate harmful ammonia and nitrates.
Check Price On Amazon
---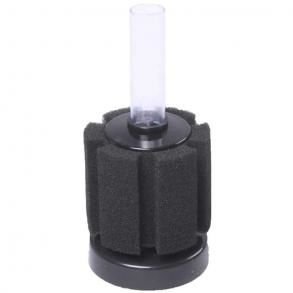 Sponge filters are simple single stage filter systems powered by an external air pump. They gently suck water through the sponge and physically filter debris before returning the water to the tank. Because they don't use filter media, they don't remove drugs or toxins such as ammonia. This sponge filter from Lefunpets is perfect for a 2.5-10 gallon betta tank. Provides a gentle stream as the water flows through the sponge and out of the tube at the top. The small sponge and tube will fit most tanks and even the largest betta bowls.
This sponge filter is located at the bottom of your tank and hooked to an air pump with a plastic hose. I recommend going with Tetra's very quiet Whisper Pump. Unlike many other lesser quality air pumps, the Tetra is designed to minimize vibration and is truly one of the quietest I have ever used. You'll need some tubing to match your filter and air pump, so I'd consider this 25-foot length from Penn Plax. You can easily cut it to size and it is always useful to have extra pipes on hand for adjustments.
Sponge filters are one of the least expensive options and come in a variety of shapes and designs. If the Lefunpets filter isn't quite your style, consider this corner box filter. It is similar to a sponge filter, but also has a compartment for the growth of colonies of good aquarium bacteria. However, it is not suitable for raising young birds.
Benefits
Inexpensive installation that is easy to adapt to almost any tank size or style, including betta bowls.
Ideal for raising young fry and for short quarantines or hospital tanks.
Provides the ideal smooth flow rate that betta fish prefer.
Cons
The single-phase filter does not remove toxins from the water, only physical waste.
This setting requires weekly maintenance and water changes to prevent the filter from clogging.
The air pump may be too noisy for a bedroom Betta tank.
Check Price On Amazon
---
This Marina Power Filter is a hanging filter with a compact design that is perfect for aquariums up to 10 liters. Installation is really easy, you don't even need to prime it!
It is also a silent filter, because the motor is submerged in water. It has an adjustable flow so you can find the perfect speed for your betta. They also include a sieve sponge to prevent smaller bettas or other debris from entering the filter.
One of the reasons this is such a good filter is the cartridges. It comes in 2 different grades, Bio-Carb and Bio-Clear. Both contain Ceramitek, an extremely porous ceramic filter that provides enough space for biological filter organisms to thrive.
Check Price On Amazon
---
One of the easiest ways to set up a filtration system is to buy a tank that contains one. It may be a bit more expensive to buy an all-in-one Betta tank, but it will save you the trouble of choosing a filter style and figuring out how best to fit it into your tank.
The Aqueon 7.5 Gallon Aquarium Kit comes complete with the basic supplies you will need to set up your betta tank. It has a 2-stage soft filter with a filter pad and a replaceable carbon cartridge. What I like about this setup is how easy it is to access the filter.
You can check the filtration system from the top of your tank by lifting the lid, it's that easy! This setup is an ideal choice for a beta fish and the filter is soft enough to also raise fingerlings and shrimp. At 7.5 liters you have enough space for an adult fish and decoration, and there is no reason why you cannot grow live plants in this tank.
Benefits
The complete aquarium setup contains everything you need to start a betta aquarium.
The 2-stage filter removes dirt and cleans the water, reducing the frequency of water changes.
The filter is integrated in the hood and is easily accessible.
Cons
It may be more expensive to purchase a complete configuration.
Because the filter is built into the hood, the noise level can increase as the water evaporates.
The filter cannot be reused separately for other tanks as it is built into the aquarium.
Check Price On Amazon
---
What is the best Betta filter?
Your Betta will love all of these filters, but the Penn Plax pendant filter is the best. It is the perfect size as it works with tanks up to 7 pounds and installation is very easy. The built-in spirit level keeps the filter submerged.
If you have a Betta that is particularly skittish, this is a great option because of the adjustable flow rate. You can slow it down when it's time to eat to avoid getting hit by an overcurrent.
This system uses all-in-one filter cartridges that are very easy to replace. Each lasts 6-12 weeks and provides the 3 major stages of filtration your Betta tank needs: mechanical, chemical and biological. You even get some filters to get you started, so you can set everything up right out of the box.
What kind of filter for Betta Tank?
While any filter is better than no filter, there are some features that a good Betta filter should have.
It should be easy to maintain and maintain, especially if you don't want to spend too much time on maintenance. All-in-one filters are the easiest to use because you don't have to do anything other than remove the old one and put in a new one.
A filter that is placed under water is quieter and ensures less movement through the tank. Hanging filters are good too. They are easy to install, but the backflow can cause a lot of ripples on the water surface.
Bettas naturally live in calm waters and don't really care about water with too strong a current. An underwater motor and adjustable flow rate are two things that give you control over the flow so you can make the changes your Betta prefers.
FREQUENTLY ASKED QUESTIONS ABOUT THE BETTA FILTER
HOW OFTEN SHOULD YOU CLEAN IT?
Typically, you'll want to clean your betta tank filter about every 10 days. However, you should never do this with tap water, hot water, or distilled water.
They should only be "cleaned" with your existing aquarium water to avoid killing the beneficial bacteria in them.
ARE SPONGE FILTERS GOOD?
Some sponge filters are good, some are not. It really depends on the brand and build quality. If you choose foam or sponge filters, choose only those from companies you already know and trust, or who do veteran aquarists if you're a newbie, or who have very high ratings from real users on sites like Amazon. .
DO FILTERS DAMAGE BETTAS?
In general, the filters do not harm the fish. However, the circumstances where this could be different are if you have vulnerable fins, such as bettas, with a filter that is too powerful for the environment.
Make sure to always adjust the size of your filter to the number of gallons of water in your aquarium.
CAN BETTAS LIVE IN A BOWL WITHOUT A FILTER?
Bettas should never live in an aquarium. They need at least 5 gallons of water per betta.
And technically, bettas can live in small aquariums without filters, but they will probably just survive if they do. Use filters to keep your home safe, pure and healthy throughout your life.
Conclusion
As you can see, choosing a filter for betta aquariums is not a difficult decision. It mainly comes down to which style you prefer and which suits your tank best. Adjusting your aquarium filter with a baffle or sponge filter over the inlet tube is usually an easy and affordable way to get almost any filter to work with your aquarium.
If you are still unsure which filter style to get for your aquarium, consider this final tip:
If you have a 10 gallon or larger tank, consider the best HOB filter, the Aqua Clear. You may need to adjust it for your setup, but it's a great option for most larger betta tanks.
If noise is an issue then the best underwater filter, the Aqueon Quietflow, is a great option and very reasonably priced. It's so quiet you might forget you even have a filtration system in your tank.
If you need a small filter for your betta bowl or tank, consider going for the Azoo Mignon which is rated as the best filter for nano tanks. It's a good choice for 2.5 to 5 gallon tanks, and I love that it comes with an inlet sponge filter.
Having the best sponge filter configuration out there is never a bad idea if you need to install a hospital or quarantine tank. It is also a great option for all sizes of betta filter tanks. Since it is a 1-stage filter, you will still need to do weekly maintenance and water changes, but your beta fish will probably love it.
Hopefully my quick guide on betta filters has been informative and helpful to you in planning your tank. I'd love to hear your thoughts in the comments or tell us about the filtration system you use in your betta filter tank!