Aggressive Cichlids have often been unfairly stigmatized due to a lack of understanding about their behavior, care requirements, and compatible tank mates.
In this article we will provide a summary of a selection of popular cichlids considered to have an aggressive nature.
Our hope is that we can shed some light on the least risky approach to keeping this species.
The fish we feature are, by nature, aggressive and for that reason should only be kept by aquarium enthusiasts who are willing to put the effort into learning about the needs of these fish and to set up their tanks to be suitable for housing them.
By taking the correct steps, the risks of potential upsets will be avoided.
There are certain aggressive cichlids that simply will never be acceptable to be kept in a community tank due to their excessive natural aggressions, whilst there will be others that can live with tankmates so long fish keepers understand what considerations are required.
Why Keep Aggressive Cichlids?
Aquarium enthusiasts keep aggressive cichlids for the curiosity and perhaps the exhilaration of watching their behaviors. Watching their fish defending territory, breeding, hunting food and challenging one another, all add to the lure of this type of fish.
In addition, many aggressive species of fish have spectacular colors together with an "attitude". spiking the curiosity of enthusiasts.
I remember one of my first experiences as a teenager, being fascinated by the behavior of a pair of Oscars kept by a friend.
He would tease the fish by holding a live cockroach up to the tank. The fish would be watching intently the squirming insect and its excitement was evident. My friend would then drop the live cockroach into the tank.
The roach skirted across the water surface. The fish immediately switched into hunting mode and tracked the cockroach. Within a split second, an enormous, frenzied splash!
The roach was engulfed! The fish then swam around with it half protruding from its mouth, proudly showing off his prize.
Prices pulled from the Amazon Product Advertising API on:
Product prices and availability are accurate as of the date/time indicated and are subject to change. Any price and availability information displayed on [relevant Amazon Site(s), as applicable] at the time of purchase will apply to the purchase of this product.
How to Reduce Aggressiveness in Cichlids?
The following steps can reduce aggression in fish:
Provide proper tank conditions: Make sure the tank has the water parameters (Temperature, pH, hardness, flow) to prevent stress-induced aggression.
Add hiding places: Incorporate extra hiding spots in the aquarium to give fish a refuge from potential predators and bullies, reducing their stress levels. It also permits more areas for fish to establish their territories.
Provide ample space: Give fish enough space to live comfortably. Overcrowding can lead to aggression. To separate aggressive individuals, consider dividing the tank.
Maintain water quality: Regularly part change the water to maintain optimal conditions. Use a suitable biological filter. Poor water quality can contribute to stress and aggression.
Use tall plants: Plants create a natural environment and provide hiding spots, helping to ease aggression.
Spread the food: Ensure food is offered around the tank, some floating and some sinking, when feeding aggressive fish in a community tank. Dropping food in the flow of power heads will help spread it around the tank.
Remove Bullies: If necessary, remove troublesome fish.
Keep fish in schools: some species benefit from being kept in harmonious groups where the pecking order has been established and they feel secure with others of their own kind.
These steps can help minimize aggression, but it's important to monitor fish behavior and make adjustments as necessary.
Prices pulled from the Amazon Product Advertising API on:
Product prices and availability are accurate as of the date/time indicated and are subject to change. Any price and availability information displayed on [relevant Amazon Site(s), as applicable] at the time of purchase will apply to the purchase of this product.
12 Popular Aggressive Cichlids Fish Kept by Aquarists
Peacock Bass Cichlid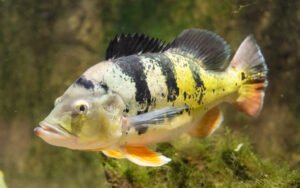 The Peacock Bass Cichlids look stunning in an aquarium. They display iridescent patches in blue, gold, black, and sometimes green or red colors. Peacocks are found in South America and are often sort after by anglers for sport fishing in South Florida,
Peacocks possess unpredictable nature. They are territorial creatures requiring ample hiding spaces due to their size.
Being predators, they are prone to eating any fish that can fit in their mouths. The best suited tankmates are semi-aggressive species such as Green Terrors, Oscars, and Zebra Tilapia.
Peacocks grow large and require a large tank to accommodate them! Provide plenty of hiding spaces, providing choice for individuals to claim a territory of their own.
Jack Dempsey
The Jack Dempsey cichlid is one of the most aggressive fish kept by fish enthusiasts. They originate from Central America's slow-moving freshwater rivers
The fish was named after the 1920's boxer, Jack Dempsey, because of its fighting appearance. Jack Demseys tend to chase, bite, and bully smaller and more vulnerable fish.
Dempseys are a beautiful fish to keep in an aquarium. They are considered quite intelligent and will interact with their owners. Adult fish display dark purple-gray background contrasted with shimmering light blue, green, and gold spangle spots.
Whether kept with other fish or on its own, provide this species with a large tank (minimum 80 gallons) and plenty of places for fish to hide. Adult fish grow to 7 – 8 inches.
Despite its hostile behavior, the Jack Dempsey can be housed with other larger species that also have a semi-aggressive nature. Oscars make excellent tankmates – keep more than one to avoid bullying.
With correct care and appropriate tankmates, this species of fish is easy to keep. Their unique appearance and personalities, make them an appealing choice for aquarists seeking an aggressive freshwater fish.
Poor Man's Tropheus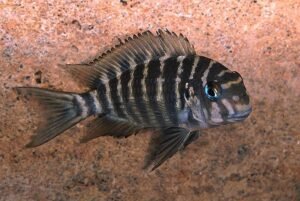 The Poor Man's Tropheus (Neetroplus nematopus) is a highly aggressive cichlid species found in Lake Malawi in East Africa. These aggressive freshwater fish can kill fish larger than itself. It displays violent behavior towards all other fish, particularly during breeding.
It is best to keep them in pairs only. Some fish keepers have had success keeping them with other fish, but most prefer housing them in pairs or as solitary specimens.
This species eats algae from rocks in the lakes they inhabit. Feed a spirulina based flake and pellet.
While not super colorful, their colors intensify during breeding.
Providing territories, in the form of caves and decorations, in the aquarium for them to defend can help reduce their aggression.
It is advisable to only keep them with fish that can hold their own against them. If kept as a single species, keep 12 – 15 specimens in a tank with at least 65 gallons.
Green Texas Cichlid
The Green Texas Cichlid is a hybrid developed by crossing the Flowerhorn Cichlid and Texas Cichlid. It is a sparkly and beautifully speckled fish making it an attractive fish for the aquarium.
The Green Texas Cichlid is known to eat fish that can fit in its mouth, making it unsuitable for peaceful community tanks.
It displays a highly aggressive attitude and temperament, especially during feeding time.
While Texas Cichlids can be kept alone, it is best to keep them with other cichlids or house them with fish of similar aggression levels that are large enough to avoid being eaten, such as Red-tailed sharks, Silver Dollars, Oscars, Plecos, Giant Gourami and Giant Danios.
They enjoy dimly lit aquariums with roots or décor that resemble roots and caves. Texas Cichlids will uproot plants in the tank, so floating plants would be better. Their tanks need to be at least 50 gallons.
Umbee Cichlid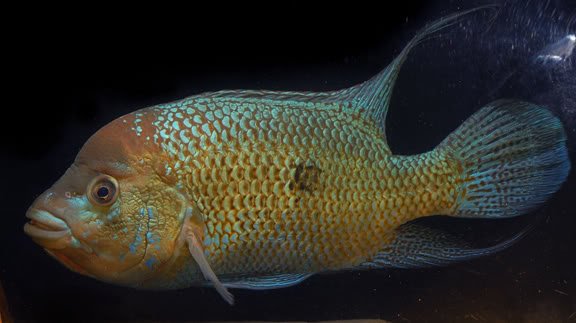 The Umbee Cichlid is an extremely aggressive fish that must be kept on its own. It will attack and try to kill any fish in its territory.
It grows to around 2 feet long and aggressively defends its fry during breeding.
The Umbee is a top predator in its natural habitat, it primarily preys on other fish but also consumes crustaceans, frogs, and small mammals.
In terms of color, appearance, aggression, and personality; the Umbee Cichlids rival other South American cichlids. Fish enthusiasts enjoy this species because of its high intelligence and how it shows interest in their surroundings.
With proper management of their aggression and other requirements, theUmbee are not difficult to care for. A super large custom tank or pond is necessary for long-term housing.
Wolf Cichlid
The highly territorial and aggressive Wolf Cichlid (also known as Dovii) should only be kept with other large fish that can hold their own against the Wolf Cichlid.
This species becomes very territorial and aggressive particularly when breeding. Therefore during times of breeding they are best kept as bonded pairs.
The wolf cichlid is a predatory species and will hunt down and eat smaller fish. They are adapted to have a large mouth strong jaw bone and large teeth, all meant for catching and eating prey.
The fish looks menacing, with its solid body, and imposing eye shape. It comes in ranging colors from yellow to silver.
If kept alone in a large tank, this fish is easy to care for and makes a wonderful pet. It is a very alert fish, responsive to its environment and showing great intelligence. Wolf cichlids will even interact with its owners.
They are not suitable for community aquariums and require specialized care.
Convict Cichlid
As juveniles, the Convict Cichlid, is a peaceful fish which seeks the security of being in a group. As this fish matures it will bond with a mate and, like many other cichlid species, becomes territorial. It is known for its unprovoked aggression, biting and chasing behaviors.
When defending their territories, they can overpower and attack more powerful fish until death. For that reason they are not recommended for keeping in community aquariums.
Provide a tank with plenty of space for this fish to move about and for its territory. Fill the tank with plenty of hiding spaces to help reduce aggression.
Providing ample hiding places in the tank can help reduce aggression.
Among aggressive cichlids, convicts are regarded as a good choice for beginner fish keepers.
Convict cichlids are popular due to their easy care and coloration – striking blue-black striped pattern on a grey-blue background.
Red Devil Cichlid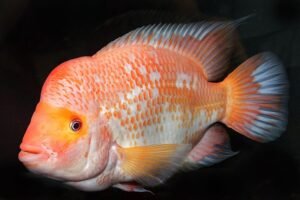 Red Devil Cichlids are very aggressive territorial freshwater fish. They will attack other fish in the tank, including other Red Devils.
They are energetic fish that are quite destructive in the aquarium, moving around décor and destroying aquarium plants. For some fish keepers, this adds to their interest in this entertaining species.
Red Devils are very popular with fish enthusiasts. They have boundless personalities and great intelligence.
Red Devils will interact with people, sometimes approaching the front of the tank as if asking for treats.
The best tankmates for this species include other Red Devils, and other cichlid species with a similar personality and aggressiveness – species such as Convict cichlids, Jaguar cichlids and Jack Demseys.
Jaguar Cichlid
Aquarists keep the Jaguar Cichlid for its striking coloration and predatory aggressive behavior. These fish grow large, up to 3.5 pounds and 16+ inches long. Males will grow larger than females. They therefore require a very large tank to accommodate them – minimum of 100 gallons for one pair.
It gets its name from its likeness to a big predatory wild cat and displays a similar mean attitude. Jaguar cichlids have striking patterns and bright colors.
Jaguars are predatory fish and will eat smaller fish in the tank. Only match them with other Jugar cichlids or other species of cichlid that can hold their own against them, such as Demsey cichlids and Red Devils.
Jaguars engage in violent fights as they battle over territory. If breeding this fish, keep them in a tank of their own as a bonded breeding pair. Both male and female should be of similar size.
When starting out with this species, populate the tank with two to three juvenile pairs. They will establish a pecking order and grow together in the tank. Don't introduce new Jaguar cichlids into the tank with already established adult fish. It will like result in the new fish being killed.
Once established with a suitable tank, Jaguar Cichlids are easy to keep and will live up to fifteen years.
Bumblebee Cichlid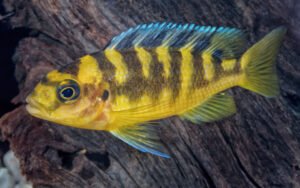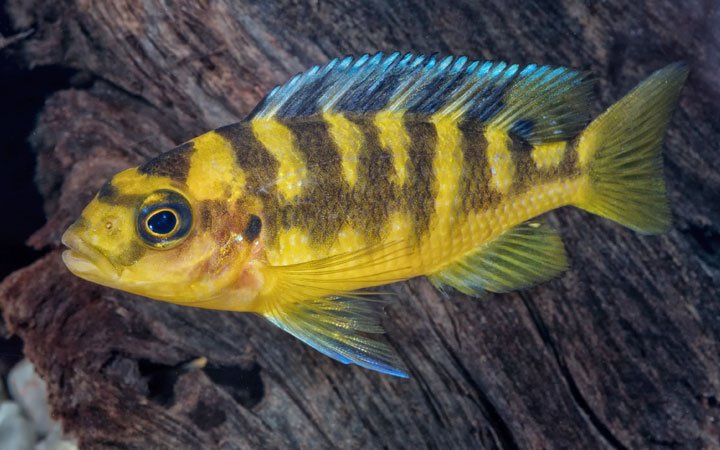 Bumblebee cichlids (Pseudotropheus crabro) are territorial and aggressive. They establish, and fiercely defend, their territories making them unsuitable for communal tanks.
Bumblebee cichlids are particularly aggressive towards other Bumblebee males. It is best to only keep only one male in the tank, with around six females.
Male Bumblebees are also aggressive towards other cichlid species. Unless the tankmates can stand up to the aggressiveness of this fish, they will be bullied and harassed.
Bumblebees look stunning in an aquarium with their yellow base color with darker brown vertical stripes, resembling a bumblebee.
They grow to around 6.3 inches, with males being larger and more brightly colored than females.
An interesting fact is that they are also known to eat parasites from other catfish species.
Acai Cichlid
Acei cichlids (Pseudotropheus Acei), or Yellow Tailed Cichlid, are generally peaceful fish and can be housed in a community aquarium. However, these fish can become aggressive when stressed or during breeding.
Acei cichlids are a species from Lake Malawi in Africa. They typically grow to around 6 inches (15 cm) in length.
Aceis have quick and relentless energy reserves, and may chase and nip at other fish's fins for extended periods.
When being fed, they can become aggressive as they compete for the food, whilst at the same time be defending their territories.
Aceis may not be a large fish, but they can still cause great damage to other fish if aggressive.
They like a moderate to high water flow and a well-oxygenated tank. Give them a balanced diet that includes both plant and animal foods.
Ensure the aquarium has plenty of rocky decor, providing hiding places and areas for establishing territories.
Keep this species in groups as this will show off their natural behaviours. Keep one male for several females.
With the right care this species can live up to 8 years.
Jewel Cichlid
When provoked or hungry Jewel Cichlids are know to be very aggressive. They will nip at other fish or engage in intense fights resulting in injury or even death of the other fish in the tank. This aggression is very evident when these fish are hungry and battle for food.
Jewel cichlids are one of the most aggressive cichlid species kept in aquariums. If kept in a pair in a community tank, they will unlikely tolerate any other fish that ventures in their territory.
Therefore it is best to keep these fish as a single fish species with plenty of space for them to establish and defend their own territories. A 40 gallon tank would house two pairs adequately.
The Jewel Cichlid has very attractive colors, especially during times of breeding when their colors are heightened. The head and stomach turn a fiery red and the scales on their sides and gill plates sparkle like blue-green diamonds.
Prices pulled from the Amazon Product Advertising API on:
Product prices and availability are accurate as of the date/time indicated and are subject to change. Any price and availability information displayed on [relevant Amazon Site(s), as applicable] at the time of purchase will apply to the purchase of this product.
Why Do Aquarists Keep Aggressive Cichlids?
Many fish keepers gravitate towards keeping aggressive freshwater fish because of their stunning visual qualities and the way these fish contribute to the dynamic ecosystem within an aquarium that has been set up right for the nature of these fish.
They are drawn to the allure of colorful hostile fish and have successfully integrated them into thriving aquariums.
Many aggressive cichlid species, demonstrate to be very intelligent and even interact with their owners.
By understanding their behaviors and meeting their specific care requirements, aggression can be managed effectively, allowing for a captivating and harmonious aquatic environment.
Prices pulled from the Amazon Product Advertising API on:
Product prices and availability are accurate as of the date/time indicated and are subject to change. Any price and availability information displayed on [relevant Amazon Site(s), as applicable] at the time of purchase will apply to the purchase of this product.
Final Thoughts on Aggressive Cichlids
Cichlids are widespread and very popular with Aquarists. In most cases these fish are easy to keep once they are well understood. With correct care, the right tank habitat, careful consideration of tankmates and a suitable sized tank, aggressive cichlids will thrive and entertain you for years.
We have an article on Aggressive Freshwater Fish where we feature Aggressive Cichlids not covered in this article. If interested in hearing what we have to say about Piranhas and Oscars check it out HERE.
..