Dwarf cichlids have big character for such tiny fish. They do well in a tropical community tank. While some species do well alone, others do best in trios and other in couples. If you have two of them, at least one of them should be a female; males can fight and, depending on the aquarium size, they might fight to the death.
Dwarf Cichlid Types
Dwarves are very diverse and occur in many different places.The information below is very general and is meant as an introduction to Dwarf cichlids in general. However, different species have very different requirements, and this article will guide you through some of these. Make sure to pay special attention to which species you have, apply the proper requirements that match that species.
Dwarf Cichlid Color Varieties
There are several different and attractive color morphs of Apistogramma Dwarf cichlids. They are a very diverse group that have been kept, reproduced, and improved in captivity for years, leading to numerous aquarium strains of many different species. They have quite diverse characteristics, featuring innumerable colors and patterns even in the same species in different geographic populations. However, males often have very different coloration than females.
How Kong Do Dwarf Cichlids Live?
The typical life expectancy for Dwarf cichlids is no more than five years, and usually less.
What Do They Eat?
Many Dwarf cichlids prey on small insects, shrimp, and fish. Some species prefer food with more vegetable matter. Their dietary patterns are as diverse as the fish themselves. The vast majority tend toward carnivorous habits, but some are strictly herbivores, while still others are omnivores and even feed on biofilms and algae. Very generally speaking, the herbivory pattern exists more among African species than South American Species.
Nannacaraanomala

(Golden Dwarf Cichlid)
Golden Dwarf cichlids are lovely little fish with a lovely golden and blue color. Their hardiness and suitability for a peaceful community tank make them an ideal choice. They are very peaceful, but they can eat small fish. They like to place their eggs in hidden places, and the female becomes aggressive during and after laying, including with the male itself. They are very greedy and will accept any food without problems. They are also relatively easy to reproduce. As they have been bred in captivity for years, they are already acclimated to the standards of tap water.
Egyptian mouthbrooder (Pseudocrenilabrusmulticolor)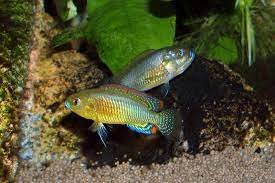 These are very aggressive fish, attacking almost everything that occupies the bottom of the aquarium. To counter their territorialism, large tanks help keep them peaceful. Males are incredibly aggressive towards other males, so if you want more than one fish – especially for breeding – you should keep a harem. They breed very easily. They are a rare species in the hobby. They live in very still waters.
Neolamprologus multifasciatus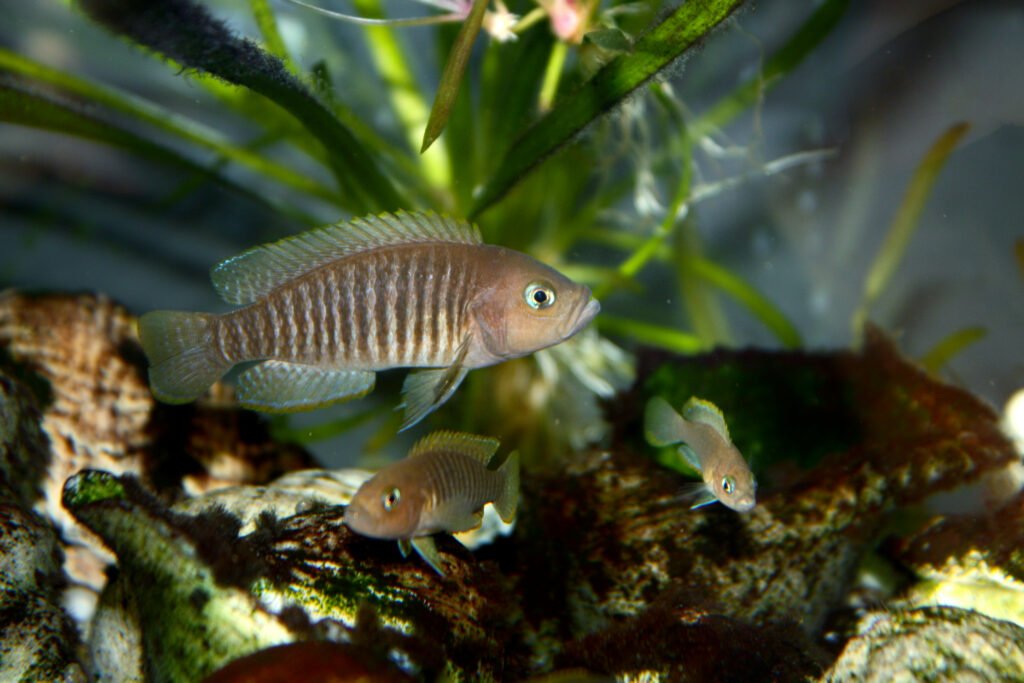 These attractive small fish have an enormously interesting trait: they prefer to form small territorial areas around snail shells. So, if you mimic their ecosystem by using a sandy substrate and providing lots of empty food-resistant snail shells, your fish will reward you with fascinating behavior. Open substrate with plenty of empty snail shells is also important for breeding and to dissipate aggression; they are territorial and will defend their space vigorously. There should be more shells than fish. Since these fish like to dig, the substrate should be thick. The fish will tolerate most peaceful tank partners, but yo0u should opt for fish with the same water pattern and that inhabit the middle and surface waters. These fish are probably the smallest species of cichlid.
Cockatoos (Apistogramma cacatuoides)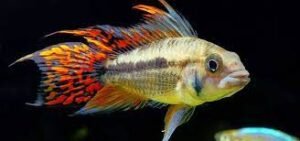 Reproduced and kept for years, Apistogramma cacatuoides are hardy and resistant fish that tolerate almost all water parameters (though they are still susceptible to nitrogen poisoning). These Dwarf cichlids are not the calmest species, especially when stressed, and will attack and eat fish that fit in their mouth, like tetras and rasboras. If you want to try breeding these fish, provide ample cover by creating dense plants and hiding places. They are easily reproduced, and they are monogamous.
Apistogramma trifasciata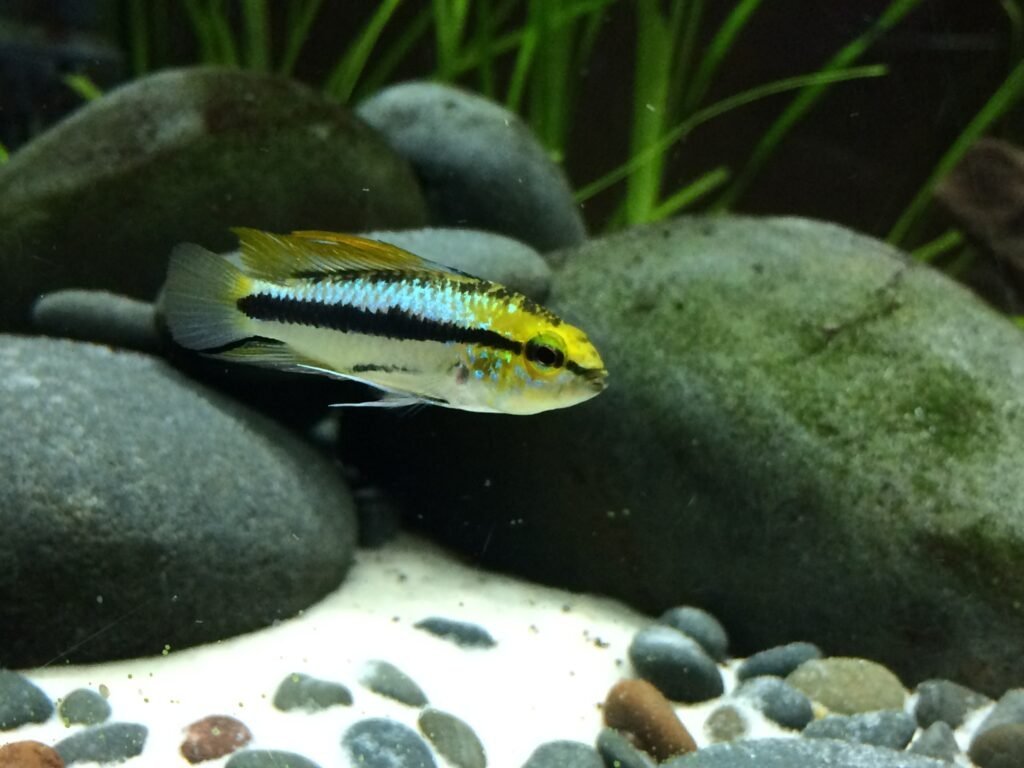 Apistogrammatrifasciata is a three-striped fish, displaying striking, dark vertical lines along their bodies and blue fins in vibrant colors. Visually, they add a lot to a tank.Since they like to stay hidden, they like to have coverage in the aquarium. They also prefer stronger currents. They inhabit a wide pH range but need low water hardness. Small in size, they are relative fragile and very peaceful, so it is best to keep them with fish of similar size. To reproduce, the males fertilize the eggs in the substrate, and the females take care of the eggs and fry while the males go after other females.In aquariums, they reproduce better in harems.
Pelvicachromispulcher
Although they are very common fish, they exhibit unique behavior. Both males and females can be aggressive, but they get along well in community aquariums as long as there is enough space. They become aggressive when breeding. The females dig out a thin burrow to lay eggs inside. Once fry hatch,fish will guide theiryoung around the tank, and the female protects them. Abundant hiding areas and caves are recommended. Their ability to adapt to peaceful community aquariums makes these fish very desirable among hobbyists. They are omnivorous and especially fond of vegetable protein.
Yellow Dwarf (Apistogramma borellii)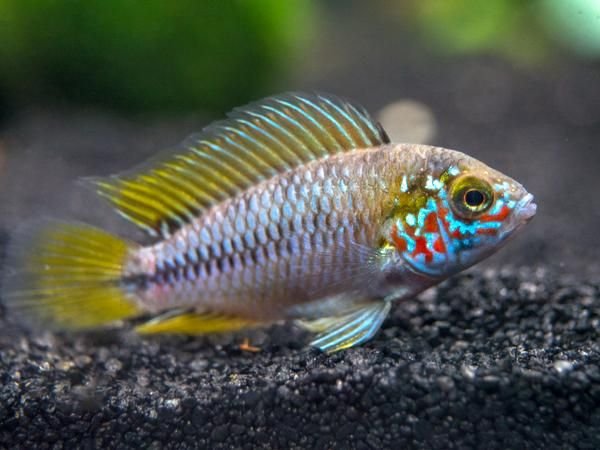 Apistogramma borellii enjoy mature, well-planted tanks with good depths of cave or resting spots. They are peaceful and hardy and adapted to a wide range of water conditions. They are an ideal choice for beginners as they are peaceful and easy to keep in a mature tank.They like low light and adapt to virtually any pH. Strictly carnivorous, they might pinch the biofilm occasionally. When dealing with wild populations, it is helpful to know the water parameters and conditions of the place from where it was collected. Commercially produced fish can be kept in almost any community aquarium,but fish collected from the wild can be very aggressive and are best kept alone. The males of this species can be very aggressive.
Appropriate Feeding for South American Cichlids
SouthAmerica cichlids do eat small fish that occur in fresh water. In nature, however, they have a preference for larvae and other invertebrates. In aquariums, they accept any type of industrial, fresh, or live food. The vast majority of South American cichlids are carnivores. Any sand used in an aquarium with these fish should be fine sand so that it does not scrape the fish.
Correct Maintenance for South American Ciclids
South American Dwarf cichlids are quite resilient in a variety of physical parameters. Periodic large partial water changes are a vital component of maintenance, as well as cleaning of the substrate and filters. In aquaria with minimal fish density, minimal germ population, and good biological filtration, the water changes should be reduced. It is advisable that these fish have access to primary plant material. Dead leaves (of sea almond, beech oak or walnut), Alder cones, or peat may be used as substitutes — or specially made liquid preparations. This kind of supplementation can be beneficial for reproduction and larviculture, as well as for lowering water hardness. Not all species, however, like being in tea-colored water, in which case leaves should be used with caution.
Final Thoughts
There are plenty of Dwarf cichlids that are suitable for a peaceful community aquarium many hidingspots and dense tree covers. As with any fish species you intend to add to your tank, always carry out some research:make sure tankmates enjoy the same water parameters (physical and chemical) and diet.
Ornaments
Oak leaves are greatsincethey remain stiff while wet. Dwarf cichlids love to swim through the labyrinth of leaves and to live in leafy habitats. You need plenty of rockwork, caves, passages, flower pots, coconut shells, driftwood and/or other ornaments. You could even add some complexity to your setup by including a layer of oak leaves across the base of your tank. Oak leaves can also be used to create tunnels and caves in your tank, or to create a maze of tunnels in your tank's natural habitat. Some species benefit from live plants in the aquarium.
Aquarium Substrate
Some species of Dwarf cichlids live in environments where the substrates are mostly mud or sand. Many species enjoy sifting through sand to find their food scraps. Sand and gravel are easy to clean with an aquarium vacuum in the water. If the sand is too deep,it has a high resistance to water. This can cause dead zones, where pockets of harmful bacteria can develop and seriously hurt the health of your fish as well as the overall water quality. That's why it's important to have fish that overturn the substrate, exposing all the parts to the water column, avoiding dead zones. Dwarf cichlids are great for this.
Plants
Dwarf cichlids do not eat or damage aquatic plants, so you can use pretty much any species of plant that tolerate water levels. Some Dwarf cichlids will pinch plants, but they won't do much damage. Floating plants provide shade and shelter from predator fish. As mentioned previously, live plants can also be great for some species.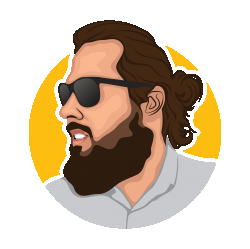 Latest posts by Marcelo Pedraz
(see all)